This past winter, I flew to Fort Lauderdale to tell a lot of business casual heterosexuals about the LGBTQ women's travel market, which actually exists, although it's one of many travel markets that are rarely acknowledged. I made jokes and opened eyeballs but before that — before that and before the man who thought he knew how to take pictures of us at the rooftop pool better than we could take pictures of ourselves and the delicious loud dinners and the gay bar in a strip mall where everything felt red and sticky — I was at home, in Los Angeles (a place I traveled to, often, for nine years before agreeing to just live here), on Surveymonkey. I needed data because I love data but also because none of the data that existed made sense. Something about y'all — this specific community of queer women and non-binary people — wasn't matching up with a lot of the data about travelers in general. So I wanted to get your numbers. Your stories.
What I learned is that our community values are present in everything we do, and travel is no exception: we are curious about other people and culture, we pursue ethical consumerism, we're hungry for experience and, as so many tinder profiles suggest, we're completely bananas about hiking. We travel to learn more about ourselves, and sometimes we travel just to be ourselves. There's an added risk of traveling while queer, risks that multiply depending on race, gender identity and gender presentation. There are places many folks living at those intersections will not go, and for good reason.
Sometimes, though, as lifelong outsiders, queers can have one thing going for them: they rarely enter a new place with the expectation of feeling immediately understood or accepted. Developing comfort with discomfort is elemental to our survival, and places that can feel like extensions of home for straight cis folks often don't feel any cozier to us than somewhere we can't speak the language.
Your open-ended answers about why you like to travel spoke to this: learning new things, exploring new cities, trying local cuisine, wandering. A lot of you really love to wander! And you wander far: 89% of respondents have a valid passport. 94% have traveled internationally and 33.5% have lived in a different country for more than six months. 86% of our U.S. respondents have a valid passport, compared to 42 percent of Americans overall, including 85% of respondents with a household income under $25k. Our group was overwhelmingly less likely than travelers overall to seek out relaxation-focused travel and more likely to aim for "traveling like a local" — and this was true regardless of your employment status or if you have children. I'll be giving you more results from that survey as the issue continues — because these numbers are complicated and riddled with caveats — but now let's get into some literary stuff about the stories we're gonna tell.
The stories in our Travel Issue are about the parts of ourselves we sometimes find easier to see when we're in a part of the world we've never been in before; the complicated internal calculus by which sometimes we can only go home by leaving it. They get at the truth that so many travelers learn: even if we get on the road trying to see something new, the journey often leaves us newly able to understand something closer to home. Our writers for this issue rediscover a moment of teenage authenticity from a drag show in Florence; find reserves of grit and joy they didn't know they had on a long road trip with a small child; navigate the landscape of all-American racism on a trip inside US borders. The ability to move freely through the world is hard-won for many, and doing so safely is even more of a gamble for queer and trans people. These are stories of risk and growth, building connections and realizing when they're ending — all the places we think are worth moving toward and the things worth returning to. 🗺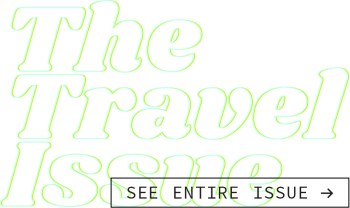 ---
Before you go!
It takes funding to keep this publication by and for queer women and trans people of all genders running every day. And A+ members keep the majority of our site free for everyone.
Still, 99.9% of our readers are not members.
A+ membership starts at just $4/month.
If you're able to, will you join A+ and keep Autostraddle here and working for everyone?
Join A+