You probably want to watch the trailer for the new movie, The Social Network, starring Andrew Garfield as Eduardo Saverin and Jesse Eisenberg as Mark Zuckerberg, the founders of Facebook. It gave us some feelings, obviously, because we're like, PART OF THIS GENERATION OF TOTAL WEIRDOS that's being depicted in this here film.
+
RIESE:
The opening was so weird, right? With the dramatic music? I want to see it! It would seem all of the world's good ideas come from nerdy smart boys who have no friends?
LANEIA:
a) That opening makes me hate myself and also all of you and everyone else between the ages of 11 and 45.
b) IS THAT JUSTIN TIMBERLAKE
c) I'll totally watch this. I actually like the lead actor and they've somehow made the story look interesting, even though I'm sure it was just cleverly edited.
SARAH: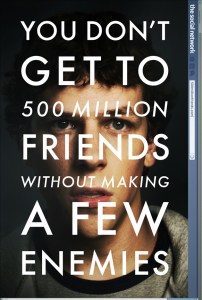 Is the kid from Squid and the Whale playing King Asshole Mark Zuckerberg? Also is the music supposed to make me feel real feelings? Remember that Google Superbowl commercial? That was way better, it took away only thirty seconds of my life, and will not cost me fifteen dollars to see in theaters.
TAYLOR:
It looks so weird I don't even know what to think. It's hard for me to take a movie about social media seriously that a) isn't a doc and b) is drenched in sweeping overwrought musical oddness. I'm surprised they didn't ask Philip Glass to make the score.
CARLY:
I actually really really want to see this. Is that weird? It looks interesting, in a totally mostly lame way. But I also really want to see Salt, Sorcerer's Apprentice, and Inception, so maybe I'm just going through something right now. I agree, I like the movie footage parts a LOT better than the "fake Facebook" parts — those bum me out.
I would just like to add that I hope Justin Timberlake's performance in this is similar to his performance in Southland Tales.
---
+
What are your thoughts? Will you see The Social Network? Or is it just too soon for this kind of weird pseudo-docudrama? What did you think about Adventureland, because most of us really liked that one.