Welcome to Hard Lacquer, your new source for beauty news and reviews at Autostraddle. The world of cosmetics is a vast and shimmering sea filled with mermaids and wonders and ships in the night; but in its fetching waters as on land, we suffer a certain invisibility compounded by the narrow social canon of femininity.
Hard Lacquer turns the tide, providing a lush cosmetic isle for beauty-seeking queers who want a bay to call their own. Each post in the series will kick off with a short roundup of the latest in beauty, followed by a deeper dive into a few special products.
---
SHINE BRIGHT LIKE A DIAMOND
+ How to apply highlighter and tell the patriarchy to go eff itself! Kidding, but not really. 'Strobing' is becoming a more and more popular phrase in the beauty world — have you heard of it? Some call it the anti-contour, some call it nonsense, but multiple sources confirm that yes, this is simply the same basic jam as highlighting.
+ In more highlighting/strobing news, MAC plans to release four new shades of their popular Strobe Cream moisturizer late next year — the new shades will be red, peach, silver and gold — but until then, just do as I do — simply mix yours with a tiny amount of liquid bronzer or desired shade of blush to create your own custom look. More on that (and gold eyebrows) in the next Hard Lacquer. 
+ The collaboration between photographer Steven Klein x NARS has debuted! I love the very Folsom-esque Fantascene Limited Edition Holiday 2015 Collection Full Service Mini Kabuki Brush Set($95), which seems to be already sold out online. There's also a fetching blush palette that caught my eye called Despair, that will make you look anything but!
+ These cool blemish-busting invisible dot sticker thingees from Peter Thomas Roth seem like the perfect thing to have on hand whether you're dealing with the occasional one-off zit from hell or struggle with acne in general. Each translucent dot is packed with salicylic and hyaluronic acids, plus tea tree oil. The best part? $12 for 24 dots makes them a pretty affordable, travel-friendly solution. Get yours here.
+ I know I keep mentioning this and harshing your makeup (hoarding) mellow, but a new study is pretty much begging us to TOSS THAT SHIT ONCE IT'S A YEAR OLD because meningitis. Meningitis! Read more here, but at your own risk because that link is not for the weak hearted, or at Beauty Brains.
+ Since I love you and want to end the beauty news roundup on a high note, here's an ingredients-based dupe of Benefit's They're Mascara (a commenter fave here at Hard Lacquer) for only $6/tube.
---
OIL CHANGE
Way back in August, I promised that we'd take a flying leap into my all-time favorite body oils, to help keep our skin healthy and hydrated as the weather starts to turn. Well, it's turned. It's turning — the temps, the leaves, the tides, and it's pulling our skin along with it. Time to switch it up!
Putting on cold lotion in the winter is the worst. Even when I lived in San Francisco, the air there always felt damp, clammy almost. I loved staying with my sister in the Sunset, but I hated showering outside of the microclimate I was used to across the bay. It's so hard to put my finger on it, but ultimately I want the sensation of moisturized skin that's dry to the touch by the time I'm ready to get dressed. Now that we're dealing with New England winters, every little second between getting out of the shower and getting into clothes counts, even with the heat cranked up high.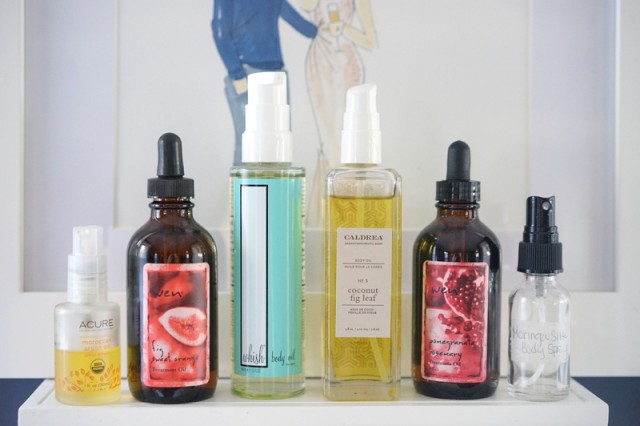 Plus, there's something about using body oil instead of lotion that feels a little more luxurious. They look gorgeous left out on a shelf. When you work them into still-damp skin (you almost never want to use it once you've towel-dried), the effect is long-lasting, glowy and radiant, without a lick of artificial sparkle. Let's call body oil the champagne of all-over hydration and bathe ourselves in it!
Both of the above body oils are cruelty-free, have excellent pumps and glass bottles, but Caldrea's got the more elegant presentation and an extra half-ounce of product despite being less expensive. It also comes in Ginger Honey, Aloe Water Apricot and Tea Olive Lime. There's a bit of violet in the one I've got, plus spicy fig and coconut. These do make for more of a fresh, gourmand-centric scent that clings to skin but dials itself down to a faded whisper.
Whish Body Oil in Blue Agave (only available at Ulta) smells delicate and clean, but doesn't linger (something that's important to me because I want to smell like the fragrance I've chosen to wear, not my body products) and comes in lavender, pomegranate, coconut and almond. I prefer it because its texture feels ultra-light and fast-absorbing. You can get away with throwing on everyday fabrics over body oil that hasn't 100% absorbed yet, but when it comes to more delicate fabrics, like silks or anything that requires dry cleaning, you'll want to be sure every little bit has sunk into your skin before you reach for your outfit!
Volition Beauty is like a mashup of Everlane and MakeUpAlley.com, with quality products co-created by consumers ("beauty enthusiasts" like you and I), honest reviews, and high quality products straight from the top cosmetic labs, chemists and formulators — no middle men, no ridiculous markups. The focus is on What Exciting Products Can We Create Together? free from the burden of bottom lines and being a prisoner to hurricane-force trends that dictate what ends up where (and if it at all) on retail store shelves. I got to sample their goods over the summer, and while all were top-notch, a few in particular have earned "I cannot live without this" status in my medicine cabinet.
One of them is their Moringa Silk Body Oil, $36 for 4 oz. (above left). It is light as a feather, sinks immediately into the skin and keeps skin hydrated for ages. Scent-free and even without their beautiful packaging, it's obvious this is a precious find. I can't wait for it to go into production, you can go here to learn more or vote and become an influencer as well!
The bonus to using body oil is how many ways they can and should be used; in the bath, pre or post shave, to target dry spots or patches, in hair for shine and to tame flyaways or frizz, and this next one even works as a face serum. Acure Organics uses "nutrition-based skincare formulas that combine cutting-edge plant technology with certified organic ingredients," and has a range of oils so numerous I can't list them all here! The Moroccan argan oil formula I have is lightweight and fast-absorbing, smells really bright and fresh with the citrus ginger, and kept my skin very happy and healthy during a chilly, 4-day trip to Chicago — and for my fussy, sensitive skin, passing the travel test gives this brand high marks. Check out their dry oils as well — you get twice as much product for the same price as the more concentrated stuff.
This duo of Wen by Chaz Dean Treatment Oils are the most expensive, but also probably the trendiest, most recognizable brand in the bunch. They come with a big old dropper, which is fun, and it's important to note that they're the only ones using dark glass, which protects the ingredients inside. People use these babies for anything from overnight oil hair treatments to body oil to conditioning and taming flyaway hair. They're very fragrant at first, but like the Caldrea, settle into just a hint of fragrance, and come in Pomegranate Rosemary, Fig Sweet Orange, Cucumber Thyme (ooh), Sweet Almond Peppermint, Tea Tree Eucalyptus and Lavender Mint.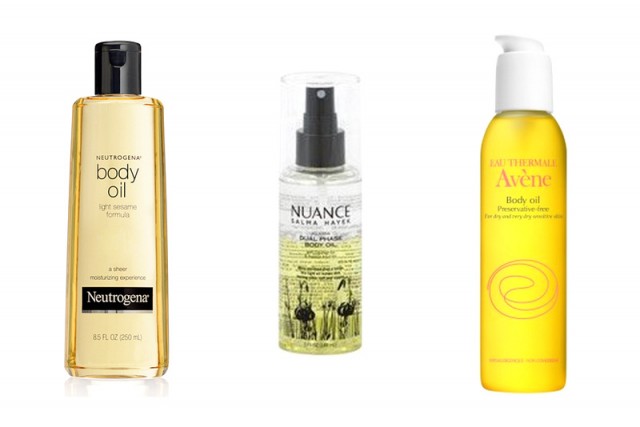 Even though you use far less product with body oil vs. lotion, even the least expensive among these can still be more than anyone wants to pay for an everyday product, and in that case Nuance Salma Hayek Jojoba Dual Phase Body Oil ($12.99 for 5 oz), available at CVS, has been my #1 repeat purchase over the years. It's lightweight, smells divine, and its spray nozzle works at any angle. Avene Body Oil is $17.90 for nearly 7 oz. of product, available at Amazon, but nothing beats the value of a massive, 32-oz. bottle of Neutrogena's Body Oil. It's inevitably always at Costco, but you can get in 8-oz. and 16-oz. bottles nearly anywhere for appx. $1/oz.
THE NEWEST TOY BOX
Without further ado, here's the Play! by Sephora new monthly subscription box. There's still a waitlist, but I thought I'd unpack my first box so you can figure out whether or not you want in! This is September's box, but they're already dropping teasers on October's theme of dewy skin.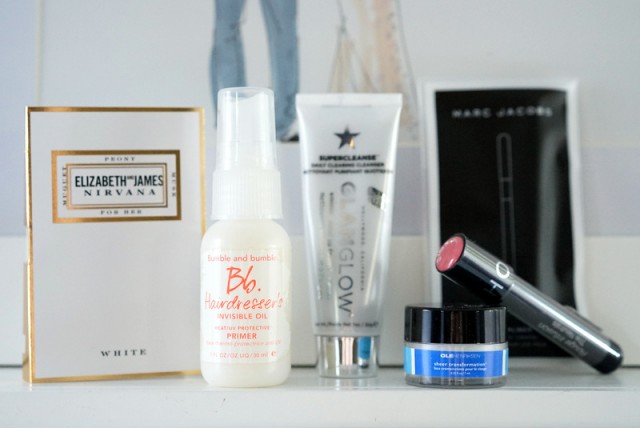 My only other subscription box is Glossybox, but that sucker is $21/mo. and usually has 5 products, 1-2 of them full-sized. Play! is $15/mo., and as you can see here, there are no full-size products. That's kind of a bum-out, but I think it's a fun, well-balanced assortment (even if fragrance samples bum me out — Nirvana for Her is pretty banal). Let's run through the rest super quickly!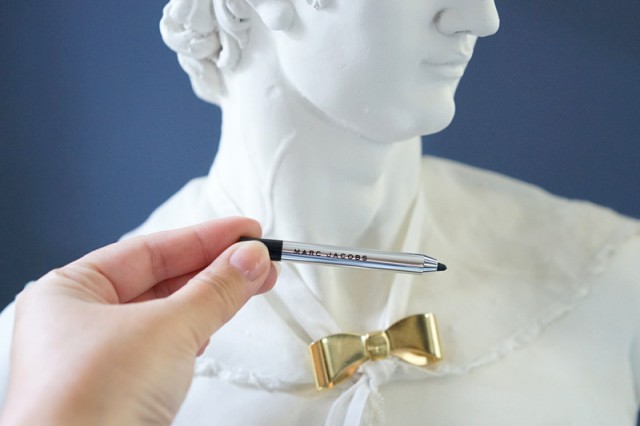 Marc Jacobs Beauty Highliner in Blacquer: Excellent waterproof, retractable, gel liner inspired by a black lacquer table. Lovely consistency, really nice packaging.
Bumble and bumble Hairdresser's Invisible Oil Primer: Smells divine, seems promising as a lightweight, nourishing protectant!
Glamglow Supercleanse: I'm making my way through a few other Glamglow samples, but so far I'm enjoying the brand overall. Not sure anyone should use a charcoal-rich product daily, but this promises to remove makeup with its unique mud-to-foam formula.
The booklet that comes in the box offers some tips, "hacks" and fun facts about the products, their ingredients, even offering unconventional ways to use them and get more mileage from them, so I enjoyed that. Six minis is great, but I hope they occasionally drop a full-size product or multiple deluxe-size samples in to make it even sweeter.
Stay well-moisturized, butterbeans, and come back in two weeks to get your strobe on.