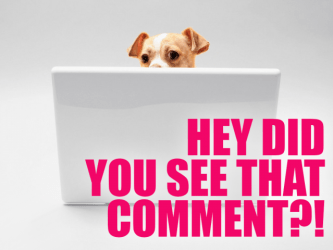 Yes, yes, yesterday the U.S. celebrated Thanksgiving (or Thanksvegan if you're Stef/a vegan). Non-Americans, aren't you so glad to still be hearing about it? Turkey-stuffed or not, you may still be interested in Gabby's take on Black Friday, these terrible vintage food ads and Crystal's former life as a professional turkey fister. And did you see the spectacular gallery of photos from our International Meet Up Week(s) in October?
Now that the holiday season is undeniably in gear, remember to use Autostraddle's affiliate links if you plan to shop online for your favorite kittens and humans. Still looking for gift ides for friends, girlfriends or fellow queers? The 2013 Autostraddle calendar (now on sale!) and homemade cassette wallets will not disappoint.
Now for those weekly gifts that keep on giving, the comment awards!
---
The Subliminal Sex Tips Award to Kade: 
On The Super-Easy Way To Support Autostraddle While Shopping Online:
The Gross Consumer Advocate/Sarcasticate Award to Ranger: "Am I right in assuming that AS gets a kickback from these links all the time? I don't just practice gross consumerism during the months of November and December and could make the effort to continually using these links, if AS keeps getting the kickback."
The Slippery Stocking Stuffer Award to discospider: "If anyone ever buys the barrel of lube you will keep us in the loop, I trust?"
On 19 Horrifying Thanksgiving Dinner Ideas From Vintage Food Ads:
The Username of the Week Award to Cuntess von Fingerbang: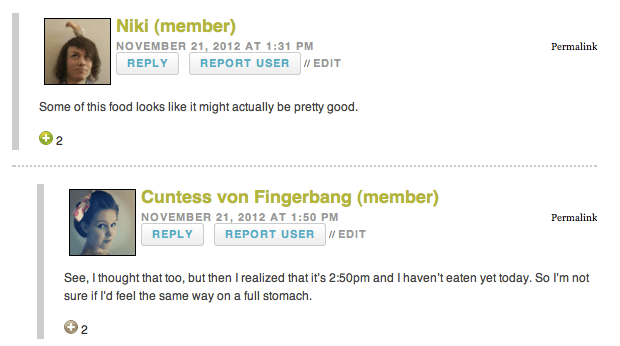 The Flaming Lettuce Award to Chandra:
On Also.Also.Also:
The Life's Thesis Award to alice:
The Nunsense Award to kd15:
---
Before you go!
It takes funding to keep this publication by and for queer women and trans people of all genders running every day. We will never put our site behind a paywall because we know how important it is to keep Autostraddle free. But that means we rely on the support of our A+ Members.
Still, 99.9% of our readers are not members.
A+ membership starts at just $4/month.
If you're able to, will you join A+ and keep Autostraddle here and working for everyone?
Join A+