MODERN FAMILY:
Cameron and Mitchell will finally kiss on the September 29 episode of Modern Family. Sure hope the world doesn't end — it's not even 2012 yet! (@ew)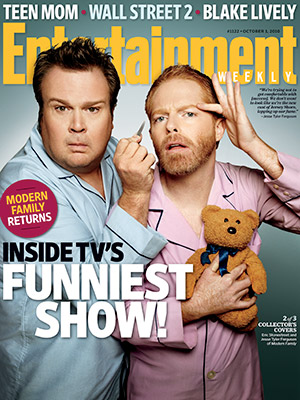 TAO LIN:
The Stranger's answer to TIME's Jonathan Franzen cover story is Tao Lin: Great American Novelist. The word for this is 'perfect.' This is a thing that we like. (@thestranger)
He says, "Hi," then waves, though we could hug at this distance. I hesitate, then wave back, careful not to strike him, and ask what he was thinking about before I returned.
Lin stares up and to the left without moving his head: the classic expression of memory access. He maintains this position for perhaps 80 seconds. This is not the kind of great American behavior that his literary predecessors displayed—or maybe it is, one surmises, thinking of Jean Rhys's heavy drinking and Knut Hamsun's psychological inscrutability, though of course Knut Hamsun was not American.
"I used to eat oranges a lot… sometimes… but I still do sometimes," Lin finally says, cryptically, and then proposes a walk to LifeThyme, the organic grocery store he has mentioned in online interviews.
The cover is a riff on this cover, btw: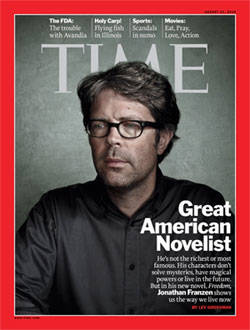 BRET EASTON ELLIS:
Ever wondered what a teen drama based on the Bret Easton Ellis brand would look like? Welcome to your luckiest, best day! (@funnyordie)
A sneak peek behind the scenes of the new CW show, All That Glitters, from acclaimed writer of "American Psycho", Bret Easton Ellis. All That Glitters takes us into the lives of the hot, young, sexy and rich crowd that struggles with everyday life.
+
ANYONE BUT ME:
The Anyone But Me web-athon ends October 1! How many new episodes do you want, hm? They've put together this cute video with Rachael Hip-Flores and Alexis Slade showing off their other talents.

PRETTY LITTLE LIARS:
New Pretty Little Liars Season 2 promo pics! While this is not necessarily a 'hoodie situation,' it is a hood, which is getting us closer to being within acceptable Critter Perimeters (refer to item ii here), I believe. I will check with the judges. (@ontd)
GLEE:
Vanity Fair catches up with Chord Overstreet, the new guy on Glee who everyone thinks is going to be  Kurt's love interest (we hear they're still auditioning people for that role, so probs not…):
So we don't know what future episodes hold, but what if that is the case? When I spoke to Dianna Agron recently she said that one of the joys of working on the show is opening the scripts and discovering all the crazy stuff that's about to happen. How would you feel if you opened up a script and found out you'd be playing a gay love interest?
It would just be one of those things where you have to do what the material says. The writers have a different twist for each episode. I signed on to do my job, so I need to do my job the best I can. I don't know if I necessarily would take my work home with me! But if that was the case, I'm sure it would be fun. I mean, I've done a couple scenes with Chris so far, and he's a talented guy, so I'm sure it would be a fun thing. Acting wise.
TOMORROW WHEN THE WAR BEGAN
I know there are a lot of fans of Stuart Beattie's movie version of John Marsden's "Tomorrow, When the War Began" novels, so this should be good news to them: Stuart Beattie will write and direct not just a sequel to "Tomorrow", but two sequels, set to be made back-to-back. And if you happen to think Beattie didn't do a very good job on the adaptation, sucks to be you, then, cause he's doing two more. (@beyondhollywood)
ADAM LAMBERT:
"E!'s The Daily 10 has been canceled by the network after four and a half years. Co-host Sal Masekela tweets the last show will be Oct. 1. Surely this has nothing to do with guest Michael Catherwood going on the program to make prison rape jokes about Adam Lambert." (@queerty)
LADY GAGA:
Like the rest of us, Lady Gaga was disappointed in Tuesday's vote to block discussion of the DADT repeal amendment. From her blog: "Not only because Don't Ask Don't Tell was not repealed by our Senators, but moreover because LEGISLATIVE PROCEDURE is being abused to stop public business, public debates, from happening while America is watching."
LIP SERVICE:
Meet a few of the ladies from BBC's new lesbian drama series, Lip Service, which is scheduled to premiere in October! Below is a preview of Frankie, who seems very Shane McCutcheon, very Dylan McKay, very Jordan Catalano. In a word: YES.
+
And a preview from the first episode, so you can get really excited for your future.
+
A PICTURE OF SHANE:
ANOTHER PICTURE FROM THE PRETTY LITTLE LIARS POST THAT IS RELEVANT TO OUR INTERESTS:
Best Arts+Entertainment fix ever, y/Y?
+