Jamie's Team Pick:
Many of you fellow feminists have likely read Bitch magazine or listened to their podcasts (I usually type that as podcats which cracks me up every single time) or possibly you follow their blog posts. They describe themselves as a "revitalizing voice in contemporary feminism, one that welcomes complex arguments and refuses to ignore the contradictory and often uncomfortable realities of life in an unequivocally gendered world," something I find incredibly appealing and empowering if I do say so myself.  If you too feel this way, have opinions, and like ranking things by clicking bubbles and even dragging and dropping graphics then you should fill out the Bitch Audience survey and share your thoughts with the rest of the class!
The survey is designed to get feedback from many different perspectives (read: even if you haven't consumed any Bitch content, they still want to hear from you!) and the data from the survey will then be used to inform future Bitch Media endeavors.  Also exciting, survey respondents receive a 10% discount at BitchMart, and are eligible to win prizes like the aforementioned lifetime subscription to Bitch magazine or gift certificates for other feminist stuffs.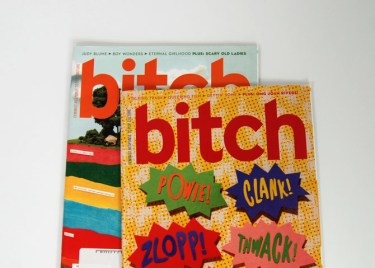 They suggest you probably shouldn't fill out the survey via mobile due to web browser compatibility issues and instead you can fill it out online, be given the survey by phone or they will even e-mail it to you as a Word document. The online survey should take you about 15 to 20 minutes and there is an optional bonus round with more in depth questions which takes another half hour or so. So tell Bitch what you think of them already!