Welcome to Hard Lacquer, your new source for beauty news and reviews at Autostraddle. The world of cosmetics is a vast and shimmering sea filled with mermaids and wonders and ships in the night; but in its fetching waters as on land, we suffer a certain invisibility compounded by the narrow social canon of femininity.
Hard Lacquer turns the tide, providing a lush cosmetic isle for beauty-seeking queers who want a bay to call their own. Each post in the series will kick off with a short roundup of the latest in beauty, followed by a deeper dive into a few special products.
---
It's Skin Cancer Awareness Month!
Hard Lacquer isn't usually a platform for PSAs, but this month is a little bit different. May is Skin Cancer Awareness Month, so I'm gonna break my rule and boss y'all even though I'm no skincare medical expert. Let's take a quiz:
Do you want to get skin cancer?
Do you want to prematurely age your skin?
I'm guessing you answered Heck no! and NOPE, in which case, you passed! Good job!
Skin cancer is the most common cancer in the US. It's estimated that one person dies from melanoma every hour, and that one in five Americans will develop skin cancer in their lifetime. And yes, risk decreases quite a bit for folks with naturally deeper skin tones (annual incidence rates are 4 per 100,000 in Hispanics and 1 per 100,000 in African-Americans, compared to 25 per 100,000 for non-Hispanic Caucasians), but it's still there.
You can learn more here, but it's safe to say that we should all be more mindful about reducing our risk by using SPF religiously. Familiarizing yourself with the UV Index and checking your weather app regularly to see what it's like where you live will help a ton in making sure you adjust your SPF regimen accordingly.
As far as aging is concerned, I unequivocally loathe our society's anti-aging vibe. Getting older is not the end of the world nor is it something to be afraid or ashamed of. Nor does age render us obsolete (especially women). I think it's gross and sexist and mean and really, really stupid that women are pressured to look eternally young or hide themselves away when the opposite is true for men. When I look at older women, it's inspiring to see so much strength and beauty and allure there; there's nothing else like it.
Hell, I see it in myself sometimes! Should I be lucky enough to make it to 60, 70, 80 and beyond, I'd like to think that I'll run at it the way I run at being in love — it's scary and exciting and maybe not always easy or picture-perfect, but so worth it, and in wonderfully surprising ways.
In addition to preventing skin cancer, regular use of SPF can also prevent photoaging (not to be confused with the sort that happens with time). Photoaging is defined as "premature aging of the skin caused by repeated exposure to ultraviolet radiation (UV) primarily from the sun, but also from artificial UV sources."
There are other lifestyle choices that can contribute to premature aging of the skin. They're fairly obvious: Tanning (whether at the beach or in a tanning bed). Smoking. Drinking (guilty). Too much sugar. Too many refined carbs. Not enough exercise. When you consider all that, slapping on some SPF seems like a no-brainer!
Still not convinced that you should take sun protection more seriously? Here's a gentle reality check from the internet's baddest Cosmetics Cop herself: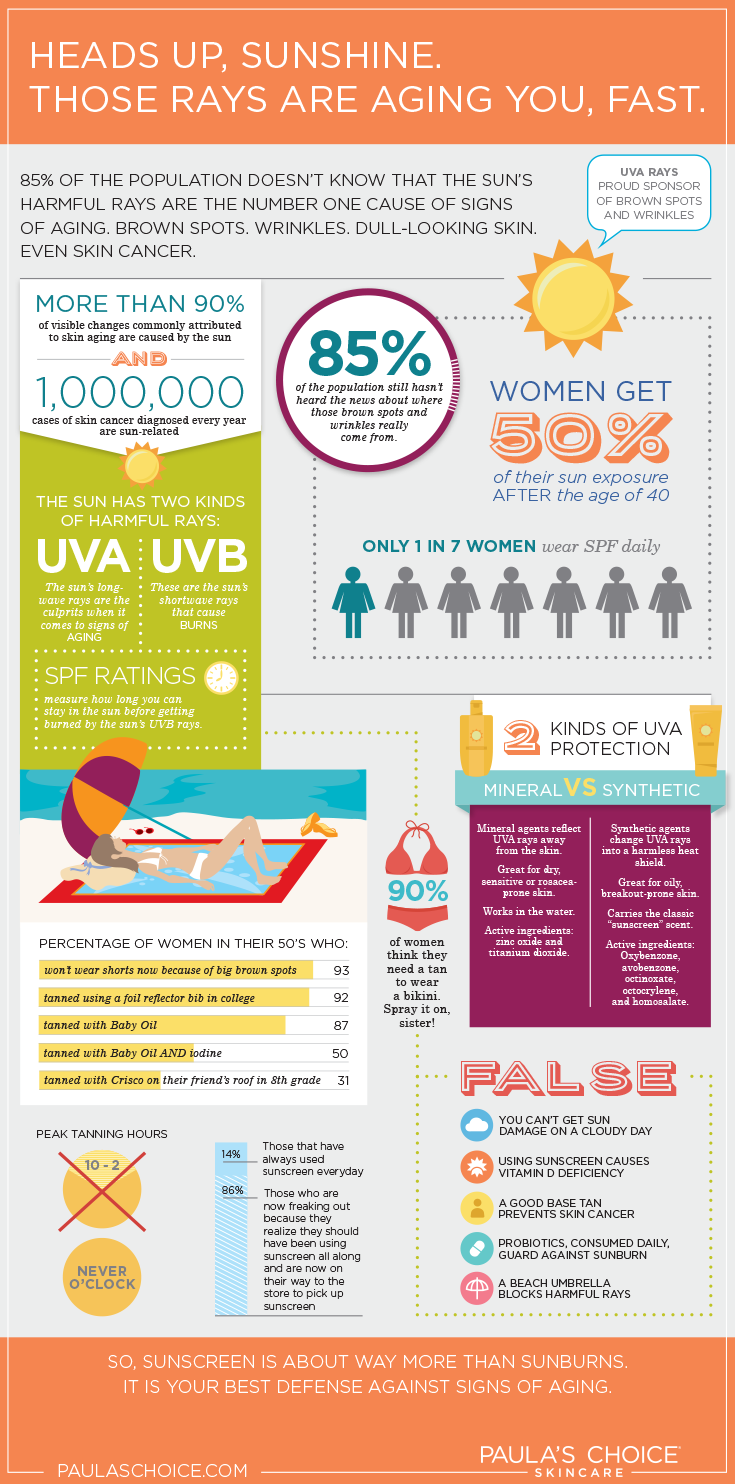 The thing is, most of us still get it wrong. That includes me! Most experts agree that SPF is best worn daily, year round, but consumers rarely pay as much attention to it outside of the summer months.
There's a lot of confusion over where to apply it, how much product to apply, whether or not reapplying on a normal day is necessary, what formulas are most effective, and just how much SPF a person needs, depending on their skin tone. (Hint: It's way more than you think.) So let's cover some basics, and then get to the good stuff: a roundup of SPF products that I totally love.
---
SPF 101
I love the sun so much. I just told a real estate agent that there can be no such thing, LITERALLY, no such thing as too much natural light, or too many windows when it comes to finding our next home, and I mean it. Living in Boston has given me an actual Vitamin D deficiency, with stern warnings from my doctor and everything. I have some honest-to-goodness catching up to do!
But those big gleaming windows I love so much have a downside, and so do yours, whether in your home or at the office — they let in up to 50% of UVA rays. UV what now? you're probably asking. There are three kinds of UV rays, actually, but only two are worrisome:
While both UVA and UVB rays damage DNA, UVB is often considered the bad boy of the two because it causes sunburn and eye damage. UVA penetrates more deeply into the skin, and results in photoaging damage like loose, sagging or leathered skin, dark patches, wrinkles, etc. Besides being unfazed by windows, it's also the stuff that can and will get you despite wind or clouds or cool weather; if you thought those things meant you weren't exposed to sun damage, well, now you know better!
Broad Spectrum Protection deflects both types of UV rays. The trick? Physical blockers zinc oxide and titanium dioxide, both mineral ingredients. Bonus? Unlike synthetic products, mineral ones are effective immediately — no more waiting 30 minutes until it's safe to go outdoors. Check it out:
Not sure what this means for you specifically? Take this super fast and easy quiz to determine when and what power of sunscreen is recommended for your skin type. I landed on the low end of a 19-24 score range, which means I tend to tan easily and am less likely to burn. The results say that I am still at risk, though, and recommends the use of SPF 15+ sunscreen and seeking shade between 10 a.m. and 4 p.m. (Lucky for me, I'm usually too lazy to hit the beach much earlier than that.)
Curious about the math? Here's more info on that. More of a visual person? Here's a chart with real people (okay, celebrities) that breaks it down by skin color.
It's also important to remember that UV levels can vary by season, your location, and time of day. UVB in the US is strongest from April to October, when folks are more likely to be out enjoying the warm weather, but even in the winters UVB rays at higher altitudes can be stronger. (And if you're into skiing or snowboarding or cross-country skiing, the snow will bounce 'em all right back at you.)
I don't want to reinvent the wheel here, so I highly recommend this outstanding read from Paula's Choice, especially if you want a quick-and-dirty rundown. It's got stellar advice and very handy common sense stuff.
Wondering about your everyday makeup, which you may have bought because it already has loads of SPF in it and saves you a step in the AM? Here's the downside: Most folks I know aren't slapping on a nickel-sized dollop of foundation on, which is how much you'd need in order for it to be effective. I use less than a pea-sized amount, which doesn't get me anywhere close to the recommended use guidelines. (Which is even more impractical where powdered makeup or powdered sunscreen products are concerned.)
The upside is that you can't go wrong with makeup containing SPF, because it's perfect as backup protection and extending the life of your daily SPF base a little further. Still, 9/10 it won't offer you the sort of protection you need. (If you're still not clear on why, read the link I just mentioned!)
---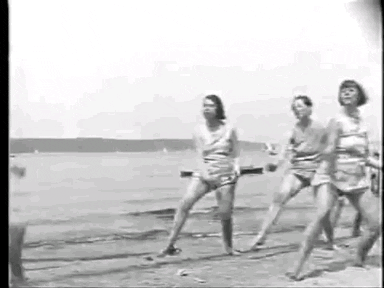 I Scream, You Scream, We All Scream for Sunscreen!
That was the tough part! Now that we know what we need and why we need it, we can have some fun. Finding products that we'll look forward to adding to our routines, knowing that we're protecting our skin, and hopefully not breaking the bank to do it. You can look at SPF as a boring skincare prerequisite and that's fine, but I know I'm more likely to stick to a regimen if I actually enjoy it.
That means I look for SPF that doesn't sting, smell or leave an ashy/whitish cast (usually achieved with nanoparticles), wears well alone and under makeup, and contains additional good-for-you ingredients that perfect or enhance the skin.
Your must-have list might look different — maybe you'd prefer something that helps clear blemishes, doubles as a primer, is vegan and cruelty-free, or good for sensitive skin. I'm going to focus on products for the face since that can be trickier than ones for the body.
Budget SPF

CeraVe Suncare Sunscreen Face Lotion SPF 30
($12)
One of the best drugstore brands out there, they consistently hit the mark when it comes to affordable skincare. This one gives you oil-free, water-resistant protection in both SPF 30 and 50, with traceless zinc to boot.
Every Man Jack Face Lotion Daily Protection SPF 15 ($6)
The cheapest brand on the list, this is a non-greasy, light SPF formula that doubles as a moisturizer. Reviews say it's fast-absorbing, but definitely smells like SPF, but with a $6 price tag, you can't be too picky!
Neutrogena Healthy Defense Daily Moisturizer SPF 50 ($14)
Neutrogena is one of those drugstore standbys that a lot of folks swear by. I need something gentler, but don't let that dissuade you — this is a consistent best-seller that moisturizes and protects with SPF 50. If it works for you, you'll get to laugh at the Luxury SPF buyers all the way to the bank, which means more summer vacation funds for you.
Kiss My Face Face Factor, Face + Neck Sunscreen SPF 30 ($10)
With top marks from Paula's Choice, this is a great brand that you can often find at Whole Foods! This product is a total standout, though, packed with beneficial ingredients that make it more like a diamond in the drugstore rough. Cruelty- and fragrance-free, it's the least expensive way to luxury ingredients for much less.
Tinted SPF

Flash Cream Radiant Primer w/ SPF 15, IPKN New York ($28)This is more of a pearly pink strobe than skin-colored tint. It absorbs nicely and if you prefer a dewy/glowy sheen and don't need anything above SPF 15, this could be right up your alley! The cool pink undertone might turn ashy for some, though, and I found that it emphasized dryness.
CoTZ Face Natural Skin Tone SPF 40, CoTZ ($20)
I'm a huge fan of the tint and smooth, whipped texture. It's on the cheaper side and wears beautifully alone, so if you're someone who never wears makeup or wants something very light-handed to look "more professional" or just give skin a little oomph, this should be perfect for you!
Argan Daily Moisturizer SPF 47 Protect + Perfect, Josie Maran ($36)
Gorgeous, healthy ingredients in a potent, chemical-free SPF formula with a dewy, perfecting tint. Want something without any color? Her Daily Moisturizer SPF 47 is outstanding. It could be my combination skin, but I did find that this oxidized a bit with my combination skin when worn alone.
Forever Light Creator CC Creme SPF 35, Yves Saint Laurent ($45)
Smells gorgeous. Silky and fast-absorbing. Comes in three color-correcting shades to give complexions a custom boost. Best suited to oilier skin, as it definitely dries down to an almost powder finish.
Luxury SPF

C+C Oil-Free Macroantioxidant Sun Protection Broad Spectrum SPF 30, NaturaBisse ($62)
Awesome citrus fragrance, absorbs almost instantly and skin just feels like normal skin. It's a really beautiful, pleasant product to use. Also from the brand: An SPF 50 "White Diamond" version and a C + C Dry Oil version. So damn expensive, though!
Maestro UV Skin Defense Primer Sunscreen Broad Spectrum SPF 50, Armani ($64)
This blew my mind. The texture is crazy; it comes out a little opaque and then immediately melts into a facial oil and absorbs, leaving skin fresh and dewy and smooth. I can't believe that Sephora users don't like this, because I think it's pretty dreamy.
Ultra Sun Protection Sunscreen, Chantecaille ($92)
Smells divine (as do all Chantecaille products, so fans of the brand will adore this). Feels lovely on, if a bit on the greasy side, clever packaging. I just wish it had more to offer in terms of skincare at this price point, because nobody needs to drop this kind of cash on an SPF product.
SPF 50 Protective Face Base, Bobbi Brown ($42)
Super nice skincare product with a great roster of ingredients, feels fantastic, is way less expensive for a generous amount of product. Highly recommend if you're looking for a tried-and-true, can't-go-wrong SPF.
Honorable Mention
Natural Face Moisturizer SPF 30, Block Island Organics ($28 via AmazonPrime)
I've written about this all-natural brand before, but they sent me a few of their SPF products to try with summer right around the corner, and I love them just as much as I love their super luxurious nighttime moisturizer. If you want something that "just works" — this does, beautifully. Shea butters and aloe hydrate while clear zinc gets to work protecting and nourishing your skin.
You can count on the line to be organic and natural, made with botanical ingredients and rich in antioxidants like vitamin C and E, and always vegan and cruelty-free!