Hi crush monsters, this is Straddler On The Street, a feature where I celebrate all of you incredible Autostraddle readers by hunting you down, demanding you chat with me, and then writing about you on the Internet so we can all crush on you. Get excited, because butterflies in your stomach 24/7 is a fantastic way to live.
Header by Rory Midhani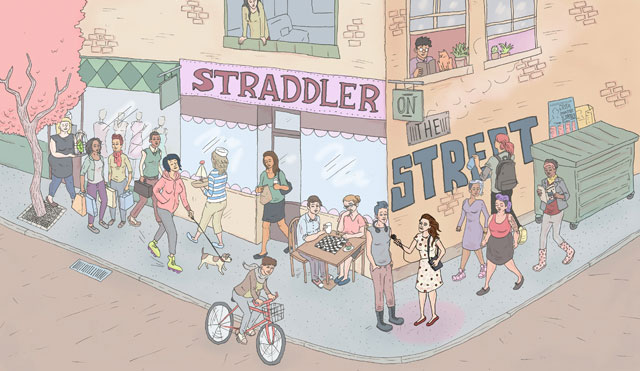 ---
Straddler On The Street: Thea, 25
Thea is 25 years young and she has done a LOT of cool stuff. She attended Hampshire College where she was a member of the peer sexual health education group The Sexperts and a member of the student burlesque troupe the Electric Velvet Revue, and where she studied feminism, psychoanalysis, and creative writing. She's worked on an organic garden in Utah (where her mom has a farm), embarked on a two-week desert survival course, backpacked through most of Central America over the course of six months, and in Honduras she passed her exams to become a PADI SCUBA instructor. She's also a published author of poetry and flash-prose, and is currently shopping around a book-length manuscript. And that's just scratching the surface! Read on to learn more about this honest and accomplished Straddler.
What are you up to these days?
I live in Vermont, though I grew up in rural Utah on a farm, so I still visit there a fair amount. Mostly I'm just trying to recover from ACL surgery, so lots of physical therapy and riding the stationary bike! Though I've also been knitting more than is reasonable. And learning to juggle. And I've done a couple lessons on HTML coding. Oh, and books! Lots of books and bad TV. Hello Buffy re-runs.
Oof, ACL surgery, that's awful. I'm sorry! What are some of the best books you've read recently?
Anything by Margaret Atwood. I recently read an amazing anthology called "Women on Hunting," which is a bunch of essays, poems, and shorts by women on the subject of hunting – many perspectives. I'm currently reading Swamplandia! and I love Teeth and Kingdom Animalia by Aracelis Girmay.
And as a huge Buffy fan myself, I've gotta ask, what are your favorite Buffy episodes?
I know everyone and their mom loves the musical episode, but I have to say it is still one of my favorites. Though I've been reliving the joy of the Faith/Buffy situation. Why they never at least made out is beyond me. Also, is Spike not one of the best characters ever? I mean really. I just pretend certain events in season six never happened.
Yes, I love the musical episode and I love Spike, despite some seriously icky feelings I had about season 6. I just really love how Joss develops all his characters, even the villains.
That's the amazing thing about the show, that it goes to such dark places, and your favorite characters are seen at their worst, but you still love the shit out of the show.
Amen! Okay, you told me about all the jobs you've held – flying trapeze instructor, art model, craft and bead store retailer, sex toy purveyor and oral sex instructor for a women's boutique, organic garden and farmer's market assistant, as well as the more tame food service jobs… and you're a published author. Whew! What has been your favorite, or most rewarding, job so far?
I don't know if I can pick only one. I loved the sex toy/oral coach job because I got to show up to Chicagoland batchelorette parties with a suitcase full of dildos, condoms, and lube. Plus I loved getting to add in lots of stuff about consent and pleasure and sexual health, which was not strictly part of my scripts, but hey, it is important. I also really enjoyed doing the trapeze work, partly for the hilarious things people do when they are 23 feet in the air and I have to lean them out to grab the bar, and partly because I got to learn some flying as well! The writing isn't really a job – nobody pays big money for poetry – but it is something I will always be passionate about.
As a fellow writer, I'm curious about your methods. What is your practice like?
I used to keep extensive journals, but over the years I've evolved a system where I jot down notes or snippets in my trusty slingshot planner, then later I punch them into a big google docs folder called "stuff." From there it is pretty much down to when I have time, energy, and artistic impulse. I go through the giant folder, pull out anything I want to work on and plunk it in a separate doc, then go to work. I love the process of revising and editing. One thing I miss about college is the workshop opportunities – I don't have anyone to give me critiques now, so I've had to become a more self-reliant editor… Writing is damn hard, dirty business, especially if you are trying to do it for yourself.
Do you have certain themes or tropes in your writing?
I seem to write about bodies a lot. And animals. Queer themes abound… separate from the animal themes, so don't get too excited, GOP.
Haha! Going back to what you were saying about including sexual health and consent education in your work as a sex toy/oral coach – do you think being a peer sexual health educator in college shaped your perspective on sex, or were you always very knowledgable about all that?
I always had older friends, so I guess I came to the table more knowledgeable than some. I also have a tendency to freak out about anything to do with my junk, so I'd have an ingrown hair and would launch a research committee of one to make sure it couldn't possibly be life-threatening and/or transmissible! But yes, the training provided for the work I did in college was invaluable, as well as all the things we learned from each other in the group. We were often forced to consider perspectives far outside our own, and then balance that with up-to-date research to be as inclusive and accurate as possible. And we got to hand out condoms and dental dams with clever slogans. Everyone loves a sexual pun.
Do you have a celeb crush?
I'm pretty out of the celeb loop, but, I would not say no to Brandi Carlisle. Or Brittani of Autostraddle fame. Is that awkward to say online?
Absolutely not, I try to talk about my crush on Sarah Croce like, once a week.
I mean, you guys are definitely celebrities in my heart!
Awwww. What are your hopes and dreams for the future?
To figure out what the hell I want to do with my life! There are just so many things to try, I'd have to live to be at least 1,000 years old. But I'd like to try getting involved in filmmaking. Also, maybe learn Portugese. Skydive. Single-handedly bring about universal healthcare. Slay demons and zombies. You know, typical girl stuff.
My kinda girl! Finally, is there anything else you'd like to share with the Autostraddle community?
If you're an Autostraddle reader and you are also a writer, but you're afraid to share your work or don't know where to start: go for it. Start with some of the publications that Autostraddle talks about, like Plenitude, (T)OUR, Broad!, and submit your damn stuff. Who knows, your writing just might change someone's life. And yes, you'll probably face a lot of rejection, as with anything you pursue, but do it anyway. Your stories are valuable and necessary and need to be heard. And don't let the patriarchy tell you otherwise.
---
If you would like to be featured as a future Straddler on the Street, please email vanessa [at] autostraddle [dot] com. Include a few photos, 3-5 sentences about yourself and put "Straddler Submission" in your subject line. Approximately a million people have submitted so far, so please be patient as Vanessa goes through her inbox – you're all sexy with really smart brains, and don't you forget it!