SKINS:
Today it has been confirmed that The Skins movie is totally, totally, totally, totally definitely happening:
Skins, the sex, drink and drug-fuelled drama that depicts teenage life as it often is rather than how parents imagine it, is to migrate to the big screen.
After a year of speculation about the E4 show, producers today confirmed that shooting would begin in September on a film to be released in summer 2011.
Steve Christian, executive producer on the film and chair of the film finance and distribution company CinemaNX, said the show – which few could accuse of presenting a sanitised picture of adolescence – was perfect for the big screen. But he added: "The biggest critics of Skins are the Skins fans so it's going to be a big challenge. The programme has this incredible fanbase despite all the characters changing."
When the Skins movie was first announced, it was said that the movie version "will unite all the casts of the groundbreaking TV show, including – whisper it – Nicholas Hoult."
"Unite all the casts"? Really? Really really? That's an exciting prospect. Well, we already know from Jack Thorne himself that Chris will not be brought back from the dead. Hopefully Freddie will return, he'd make a cute ghost.
So what are the chances that the whole gang will be seen again, together? Well, one of the (only) magical things about the recession is that actors are way more willing to take on projects they might otherwise decline for fear of being "pigeonholed" into a certain role for life (e.g., Tina Louise turning down the cinematic classic Rescue from Gilligan's Island, Lara Flynn Boyle and Sherilyn Fenn refusing the Twin Peaks movie, various Bradys declining various ensuing Brady projects) 'cause they just want a job! Seriously all the girls who expressed hesitance about being in The L Word movie have already changed their tune.
What have the Skins actors been up to?
Dev Patel (Anwar) and Nicholas Hoult (Tony Stonem) of Cycle One have done quite well; Patel was featured in Slumdog Millionaire and is currently working on M. Night Shyamalan's latest project The Last Airbender. Hoult, in addition to his modeling career, starred in A Single Man, was recently cast in the new Mad Max flick Fury Road and is also working on a mysterious flick called Sweet, currently in development.
Lily Loveless (Naomi) will appear in THE FADES, a 60-minute pilot written by Skins scribe Jack Thorne for the BBC. Billed as "a cross between Skins and The Inbetweeners, the show takes place in a "school for the supernatural." It's also the name of a band, which is really fucking confusing.
Kathryn Prescott (Emily) is filming a pilot in August for a new manga-adapted series called GOTH.
Kaya Scodelario (Effy) appeared in Shank, an action film about a London gang, and also appeared in Clash of the Titans with her Skins "brother" Nicholas Hoult.
Cycle One's Larissa Wilson (Jal) and April Pearson (Michelle) both appeared in the horror film Tormented in 2009, about a young high school classmate who returns from the dead to avenge his comrades.
Hannah Murray (Cassie) was seen at Cannes Festival this month promoting her film Chatroom, and her German flick Womb is in post-production. Her Skins on-again-off-again boyfriend Sid was played by Mike Bailey, who hasn't been working much since Skins so ideally he will be in the movie so we can find out what happened after he walked by the coffee shop in New York! Srsly. SERIOUSLY I NEED TO KNOW THIS COUPLE MATTERS TO ME.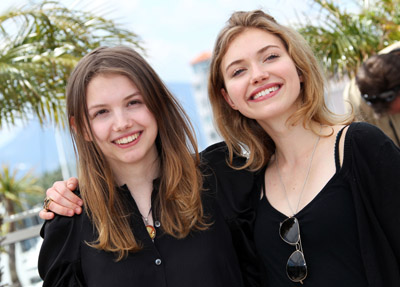 Luke Pasqualino (Freddie) appeared in horror flick The Apparition, due out in 2011, and Jack O'Connell (Cook) is working on a TV movie Dive, an adaptation of a Martin Amis story.
From The Guardian:
Christian said the intention was to bring back characters from the first four series, but there would also be new characters. The script is being written by Jack Thorne, a regular Skins writer working with the show's creator Bryan Elsley, and another regular, Charles Martin, will direct.
[Read Autostraddle's Season Four Skins recaps here and then you can read also our Season Three recaps: Skins Recap, just the Lesbian Parts: The Ballad of Naomi & Emily Part One and Skins Recap Part Two: The Torrid Lesbian Romance of Naomi & Emily]
BOOK:
The Ghosts of Vita Sackville-West is a new book about the woman who was Virginia Woolf's lover, written by relative Robert Sackville-West. The book centers around Knole, the mansion where Vita grew up:
On display in the Great Hall is a facsimile of the bound manuscript of the novel Orlando, dedicated to Vita by the author, her lover Virginia Woolf. Vita is the eponymous hero or heroine Orlando (Orlando changes sex over the four centuries in which the novel is set) and Orlando's ancestral home is a house, like Knole, with 365 rooms. The pages are threaded through with specific references to Knole and to its past and present incumbents: the head gardener Stubbs, Vita's father's elkhound Canute, and so on. (@timesuk)
ANYONE BUT ME:
It's the episode before the season finale of Anyone But Me! Liza Weil returns as Dr. Glass and Viv meets the new person in Aster's life. Can you even stand it??
ALEJANDRO:
Gaga is releasing the Alejandro video on June 15, and you can pre-order an Alejandro themed merch package on the Gaga store. It includes a candle with Gaga as Our Lady of Guadalupe, you guys!
TRUE BLOOD:
True Blood will be auctioning off a walk-on roll in season 3 to benefit the Gay, Lesbian and Straight Education Network. Did that just make you realize that True Blood is coming back soon? Yeah I just had a moment, too. And here's a photo of Evan Rachel Wood playing the lesbian vampire queen, for good measure.
DIRTY DANCING:
In a recent interview with Carrie Polansky, Eleanor Bergstein, screenwriter and co-producer of Dirty Dancing, talks about feminism, abortion and the film industry. (@genderacrossborders)
What I wanted was to have something like that in a mainstream movie, even though we didn't think many people would see it. If you do a documentary on coat hanger abortions, the only people who see it will be those who agree with you anyway. If you put one in a wide-based musical with pretty clothes, and lots of romance, it may surprise people and make them think of things they didn't think of before.
HOLLYWOOD:
Is Hollywood afraid of minorities? Looking at two of this summer's biggest blockbusters gives some evidence for that conclusion. In The Prince of Persia, Jake Gyllenhaal is supposed to be Persian (since when is he an action star, anyway?), and this graphic about sums it up as far as Avatar: The Last Airbender is concerned:
ELLEN:
Ellen Degeneres has decided to create a record label, inspired by Grayson Chance, the label's first artist. Grayson is the kid who was on her show to sing Paparazzi:
+
LESBIAN KISS:
The first lesbian kiss in 50 years on the UK soap opera Coronation Street has been cleared by Ofcom, the British censors. They decided it was like, not offensive or whatever. And now no one will be held responsible for punishment or paying any sort of fee. Well how very gracious of them. (@sun)