Sister Spit:
The Experience
It all began on Saturday when I was reading The Phoenix New Times and saw that Sister Spit was performing at The Trunk Space on Monday. I knew I had two options: don't go, or go alone. Why? Because I have two kids and although most parents have actual babysitters who watch children in exchange for money and food, I'm not one of those parents. I'm usually unable to attend events that happen in places other than my own backyard.
I immediately chose to go alone because:
1) I am constantly over-estimating my ability to seem normal.
2) I am constantly under-estimating my abilities, period.
Make sense? I want to be the kind of person who could/would show up to a Sister Spit show, totally alone, and interview the performers. And I feel like I'm at a point now where I need to force myself to be who I want to be. So, after spazzing out on Twitter about my skirt, that's exactly what I did.



The Trunk Space is a triangular-shaped room with a small stage and what we'll call a beverage nook… There's some social/experimental art hanging from the walls and a bunch of records that I didn't look through, but appreciated. The Sister Spit Van had driven all day from Las Vegas, so everyone was eating their dinner behind the merch table before the show, which I found really endearing and inexplicably dangerous. I asked Sara Seinberg if it was weird to eat while people waited for her to perform and she said no. I don't know what I expected her to say.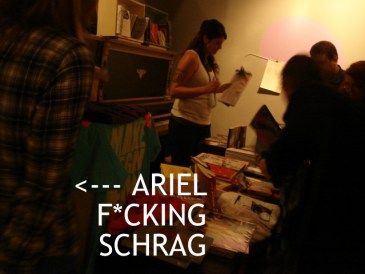 I'd read Ariel Schrag's Awkward and Definition while sitting at the Thomas the Tank Engine table at Barnes & Noble a couple of years ago, so I was familiar with her work, but really nothing could've prepared me for actually buying a book from her. (It was a choose-your-own-adventure book about a horny young woman titled Sinful Cynthia. Highly recommended.) I don't like to think of myself as a starfucker, yet there's really no other way to describe the stupidity that washed over me the instant I made eye contact with Ariel Fucking Schrag. I won't bore you with excruciating details. Just know that later that night, I dreamed I was back at that merch table, with Ariel Fucking Schrag, buying every book she had for sale. Dream Ariel took my money and advised, "You know, you can't buy friendship", which instantly jolted me awake.
Similarly, I had an idea about Michelle Tea — she has written things and I have read them, simple. No big deal. Did you know that Michelle Tea sometimes stands like a cape-less superhero? It's true. She's this burst of excitement and honesty, and you get the sense that she gives really great advice. I just wanted to be her best friend, you know? And I wasn't going to try and buy her friendship, in case you were worried about that. I don't even have any money.
The evening started with a slideshow of Sara Seinberg's tour photos, which was accompanied by "Larger Than Life", by The Backstreet Boys. I think they do this to let you know, right from the beginning, that they're having way more fun than you and that they want to inspire you to become more awesome.
Beth Lisick read a hilarious excerpt from her book, Helping Me Help Myself.
Ariel Schrag narrated the comic, Plan on the Number 7 Bus from Stuck in the Middle. Ariel also does a genius 'homeless man on a bench' voice.
Kirya Traber read from her chapbook, Black Chick, and I wrote one word on my notepad: MESMERIZING.
Sara Seinberg read from her upcoming book, The Madness of a Simple Red Stone, which is a modern re-telling of the Pandora myth set in modern-day New York.
Tania Katan, a Phoenix local, read a piece about her wife, which began like this: "Instead of driving by the Mormon Temple and giving them the finger, I married a Mormon woman."
Michelle Tea read an excerpt about a queer author trying to write a crossover novel and Rhiannon Argo read from her new book, The Creamsickle, which you should totally order right this very minute.
Ben McCoy did a really powerful performance piece highlighting transphobia and translife, noting it's "always a recession for a drag queen."
I had an opportunity to talk to a few of the ladies after the show. This basically means that I fell all over myself trying to talk to Ariel Schrag, barely kept quiet long enough to let Kirya Traber and Rhiannon Argo answer my questions, and sat entranced as Michelle Tea spoke directly to me. Wanna read it? Sure you do!
— Next Page —
Sister Spit: The Interviews
"I think what's important for a young person to know
is that there are modern, young people who write."
Sister Spit: The Interviews
Laneia: Why are you doing Sister Spit? Why are you here?
Tour Manager & Total Hottie, Beth: It's part of my job, so I'll let you…
Ariel Schrag: Well it just sounded super fun to me. I actually had the same reason [Michelle Tea] had, which is that I was always jealous of people in bands.
Laneia: So the adventure, then?
Ariel: Yeah, I wanted to be able to do the whole tour thing. It sounded really fun. And it's lived up to all of my expectations.
Laneia: What are you guys listening to in The Van?
Ariel: Everyone's iPods!
Beth: Yes, and I'm so tired of mine!
Ariel: When we're rolling into a town, we like to put on a song about that town.
Beth: We listened to Viva Las Vegas on the way into Vegas.
Ariel: When we went into LA, we listened to "California Love."
Kirya Traber: Well, I wanted to do Sister Spit definitely for the adventure, but very realistically for the career opportunities. As an artist, I perform a lot in the Bay Area. There's a strong community there, which is great, but I'm curious about the reception I'll get across the country and whether I can make this a viable career for a long time. And a lot of that has to do with spoken-word touring and sharing your work and selling your work.
Laneia: And how has that been for you so far?
Kirya: Great! It's only been a week, and it's been great! I feel really good about it.
Rhiannon Argo: I'm on Sister Spit to tour my new book "The Creamsickle." The Sister Spit of the 90s inspired me and influenced my writing, so my work definitely fits into the Sister Spit aesthetic. And like Kirya said, I love to get outside of my San Francisco bubble and reach new, different people.
Laneia: Yeah, it's impossible to find anybody's books here [in Phoenix]. Like, I went to independent booksellers & some major booksellers. Not there. At all. And I have some [books], but in preparation for seeing everybody, and I was so excited, I was like, "I'm totally gonna go get Beth Lisick! — something. Right? Nothing's here!"
Kirya: Uggh, yeah.
Rhiannon: Especially my book! It's a small press so it won't come into the bookstore unless a little queer kid comes in and asks them to order it.
Laneia: Specifically, right.
Rhiannon: And then wait a month.
Laneia: So how do you get yourself out there for the little queer kid who doesn't have anything else?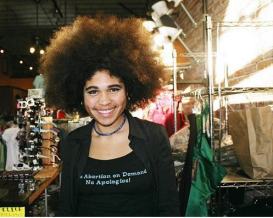 Kirya: Well, like what Rhiannon said about being inspired by Sister Spit in the 90's — see, I didn't know of Sister Spit until recently, but a lot of my friends found out about queer culture via Sister Spit and via Michelle Tea, who's one of the most published queer women authors in the world. It's generated a sort of "underground" movement. Folks from across the country can be united by, "Oh yeah, I've heard of Sister Spit," which creates buzz. That's the kind of model we're all hoping to build on.
Laneia: What kind of books would you recommend as "required reading" to young queer girls?
Rhiannon: Because there are so many different types of queers & lesbians & personal identifications, it's really great to read lit from a queer person or lesbian who doesn't necessarily live how you live. Like reading a book by a transgendered author.
Laneia: Yeah, that's a really good idea.
Rhiannon: Like, having the whole canon.
Kirya: I say, there's no bad thing to read. I didn't really get a lot of direction and I didn't have queer mentors, so all I had were the classics like "Rubyfruit Jungle" and "The Color Purple." [laughs]
Rhiannon: I read all those books, too.
Kirya: I think what's important for a young person to know is that there are modern, young people who write.
Laneia: EXACTLY.
Rhiannon: YEAH.
Kirya: So, seek it out, you know? The Internet is an amazing resource these days. And I'm not published, I just have my chapbook that my mom and I made together.
Rhiannon: [totally unsarcastically] That's so sweet.
Kirya: There's other forms of literary & artistic stuff aside from published books. There's a lot of spoken word with queer content on YouTube, and there's some visual artists doing awesome things including websites. It's important that people constantly see themselves as the bearers of queer culture and that they get together with their community, make a community out of nothing and try to do something.
Laneia: [interrupts a lot and says things like I COULDN'T AGREE MORE YES YES]
— Next Page–
More With Kirya & Rhiannon
"It was wintertime, and we were like,
"I want a website where I can go and look at hot queers!""
Laneia: What's your favorite weather?
Kirya: I like it hot.
Rhiannon: I actually really do like the fog in San Francisco. It's just moody, and foggy weather can be an excuse to stay in and write: Well, it's not sunny out, I better stay in and write a novel!
[Everyone laughs]
Kirya: Foggy weather just reminds me of middle school when I just wanted to slit my wrists.
[Unexplainable laughter from everyone ???]
Laneia: Awww, that's terrible!
Rhiannon: That's terrible!
Kirya: [laughing] It's true, though!
Rhiannon: I like the fog! Everyone hates the wind, too, and I like the wind. I'm weird!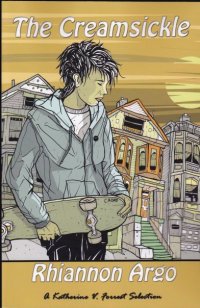 Laneia: Is your book, "The Creamsickle" part memoir? Or like…?
Rhiannon: I think when writing fiction you're always going to draw from personal experience, but when I wrote it, I was creating characters. The main character, to me, is a character. I identify with things about her, but it definitely isn't me.
Laneia: Ok, I guess that's — wait! Can I ask you one more question.. ? … are you freezing?
Kirya: No! Yeah! [She's answering my questions in reverse here. Don't worry.]
Laneia: Has there been a moment on the tour — well it's only been a week! [to Rhiannon] Did you go to Europe?
Rhiannon: Yeah.
Laneia: Well have you had a moment where — I guess in life, at all — where you think, "This is why I do this. This is why I'm writing. This is why I'm getting out there and talking to people."
Rhiannon: I have that every show!
Laneia: That's awesome!
Rhiannon: It just takes one person coming up to say, "I've never heard something like that before," like, "I live in a small town." Especially in Europe. Wow.
Laneia: Really?
Rhiannon: They've never heard stuff like this before, and if they're really young, this is gonna stay with them for a long time. Maybe they're gonna write, you know?
Kirya: I love performing. I felt really shitty today, really hungover.
Laneia: You did great!
Kirya: When I get on stage, something happens where a purpose takes over and you can feel, "this is what I'm meant to be doing." I feel better on stage than anywhere else. But it's also definitely about connecting with the audience. I have a piece about body hair–
Laneia: I watched it on your myspace. Fucking amazing. I loved it.
Kirya: Oh. Really? I usually do that piece when I'm not so hungover. [laughs]
Laneia: I was really hoping you were gonna do that one!
Kirya: Aw. How awesome! Well, at U of A there was another black femme with facial hair. It was just really cool to be like, "My sister!" [laughs]
Laneia: Yeah, like that moment.
Kirya: Yeah!
Laneia: I actually watched a lot of videos on your MySpace! I hadn't read anything by either of you, so.
Rhiannon: I hate when you go to interviews and the people don't even research.
Laneia: Are you kidding me? I had three interns on that sh*t!
[everyone laughs]
Laneia: I didn't even know about this happening until Saturday.
Kirya: Oh wow!
Laneia: Yeah, and I was like, "I'm going. I'm doing an interview."
Kirya: So is your website like local, or?
Laneia: No, it's um, the girls that do… like the main team, is in New York.
Kirya: Ooooh.
Laneia: And then some of us are spread out all over. And I'm one of those.
Kirya: Cool. What's the name again?
Laneia: Autostraddle dot com. Here, I can give you a carrrd. [gives card. so fresh, so clean.]
Them: Yeah!
Laneia: One of our main themes is that sh*t doesn't have to be totally gay to be gay. And seeing yourself represented in the media, but in a positive way. Not like, the psycho lesbian killing her roommate or whatever.
Rhiannon: That's why me and my friend did The Popsicle Project. It was wintertime, and we were like, "I want a website where I can go and look at hot queers!" So we were like, "Let's take a bunch of pictures, and some other person in the wintertime, when they're sad, and want to see some queers in the sunshine, looking cute–"
Kirya: I didn't know that!
Rhiannon: Yeah!
Kirya: When you were asking me about the reading list, for me I was thinking, I love when a book is not a queer book, but it's IN THERE. Like "The Color Purple." And I've discovered a lot of poets as an adult where you'll stop in the middle of the book and ask, "Oh, she's a lesbian?"
Laneia: My mom still, up until two years ago, didn't realize that "Fried Green Tomatoes" was about–
Kirya: Oh! It's SO GAY!
Laneia: –a lesbian! Right! And my mom's like, "How do you know that, Laneia?" And I'm like, "Mother! She's totally GAY!"
— Next Page–
Laneia Interviews Michelle Tea
"I think that there were a lot of people
who carried a lot of trauma from being queer,
so it was a real act of bravery to go out and to do this."
I went back inside to wait to interview Michelle. While I was waiting, I overheard the owner of The Trunk Space telling the members of Sister Spit about the young woman who had designed his logo. Turns out, this artist also happened to be a Suicide Girl. Interesting, right? Then I sat down on the stage with Michelle, and this is what I said:
Laneia: So, first of all, are the girls handpicked for Suicide Girls — SUICIDE GIRLS!? NO. He just said!-
Michelle Tea: [laughs] Yeah, I go to the Suicide Girls website and just ask if they write. No, yeah, I pick everybody.
[omfg]
Laneia: [laughing] Ok! Because I read that in the beginning [Sister Spit v.1] they were picked out of a hat. Was that a joke?
Michelle: No, it's not a joke. I mean, we always edited who went into the hat.
The idea behind that came in the 90s from the experience of running an open mic for two years. There were so many people to pick from, and it was hard to make those decisions, especially if we were friends, and we WERE friends with everyone, and besides it was too big and hard to figure out who would be good. So a hat seemed the fairest way to do it. Occasionally we'd pull someone and think, "oh, actually, that wouldn't work," because we wanted to make sure to pick people that aren't just strong performers but also were serious about writing, people who knew that writing was what they were on earth to do, you know? We wanted to get people who'd use the opportunity to really create a writing career for themselves.
Laneia: And that's what you're doing with these girls.
Michelle: Oh god yeah. Absolutely. I couldn't bring anybody who just thought it was maybe like a hobby. Sometimes you never know what people will end up doing with their work or what the rest of their lives will hold, but I always bring on people who are talented and take themselves seriously. And that aren't going to be crazy in the van.
Laneia: How does the Next Generation tour differ? I mean, how is the world different than it was for the first tour?
Michelle: It's different in a lot of ways. I mean, it's different in that we were definitely coasting on a wave of popularity of spoken word — for whatever reason it was really popular and hugely popular in San Francisco and similar cities across the U.S. There hadn't been poetry slams yet, and spoken word was this cool new thing. So that's different. It's not happening like that now, but our shows are still successful in spite of that, but I feel like there was that. It's hard to know what is the world having changed and what is me having changed, do you know what I mean?
Laneia: Yes.
Michelle: When we first went out, it just seemed almost scary. A lot of people who had come to San Francisco came because they had lived in other places where it was really unsafe to be queer or have an alternative gender expression. Everyone sought refuge in San Francisco and then to leave and go back out into the country felt really scary. You know? It really did.
Laneia: [nodding ferociously]
Michelle: And it just doesn't feel that way [now]. Obviously there's still hate crimes and crazy people everywhere. But I don't know if it's just that I'm used to it and I don't feel as traumatized? A lot of people who carried a lot of trauma from being queer then, so it was a real act of bravery to go out and to do this. And I think it still is, in a lot of ways. But that felt more acute. It doesn't feel as acute now.
And I also think there's a feeling of safety in people knowing of Sister Spit and the reputation we've built up. Maybe it's an illusion of safety, but that feeling is still there, that we're out doing this thing, and we'll be protected by the fact that people know us and love us, and we're gonna be okay.
And because we've been doing them for so long, our shows are bigger. We have the most amazing tour booker now, it's great. We get to do COLLEGES now, which we didn't do in the '90s!
Laneia: You didn't do any in the 90s?
Michelle: I didn't go to college, and the person I was doing it with, Sini Anderson, she didn't go to college. And it was like the whole world of college– it wasn't like, "Fuck it." — we were like, "How do you do a college? What kind of colleges are there?" I think if you go to college you like, know. You know about various colleges because you're considering going to them? We just were completely ignorant about that whole world and din't feel colleges would want us. So it's great to do them now 'cause we get paid! The tour is just entirely different. It's more professional, which sounds weird, but it is, because these are working artists so we need to add an element of professionalism to sustain i and to respect the performers as working artists.
Laneia: A lot of the performers said that the reason they're doing Sister Spit is for the adventure and also to get themselves out there. Why are you doing it?
Michelle: Oh, I just love it. It's so much fun. I'm the kind of person, if I find something that I think is really cool, I want to show it to everybody. You know? So it's kind of like that. I'm really lucky, and I've been doing literary curating for over a decade. I know a lot of different performers, and to me it's almost like that idea of the, "Who would you invite to your ultimate dinner party?" game. Who would I want to bring in the van; who do I want to know about each other and to get to travel together. And it's just really really fun! As much as I'm on the earth to write, I'm also on the earth to bring writers together and put on shows like this. It's really important for writers. If anyone has the energy to do stuff like this, they should. Because not a lot of people do. I don't know how I do.
Laneia: [laughs. nay, giggles]
Michelle: But I do.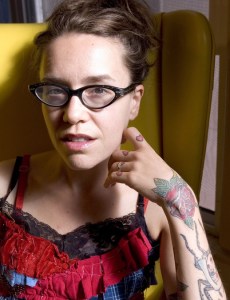 Laneia: I read a 2004 interview you did with Velvet Park and you said, "If a space doesn't exist for you, make one," which I thought was really powerful. Do you feel like your space is made now? And also, how does it feel to know that you've made a space for other people?
Michelle: Well, yeah. I mean, I feel like I have a big space. The thing that's really cool is I feel like if you do something really doggedly and with a lot of focus and energy, it just builds. Everything you do just builds on the next thing that you do. You just have to stay focused and continue to do SOMETHING, and it'll just keep happening. [smiling:] Do you know what I mean? So it's like, everything that's happening right now absolutely is happening because of the open mic that happened in '94. Do you know what I mean? There were a million steps in between to make everything, to give me the writing career that I have now.
And I love helping other people. I've been completely helped by other writers. I got my first book because Eileen Myles, without me even asking her, just took it upon herself to help me get published. And the writer Inga Muscio hooked me up with her publisher for my book, "Valencia." The writer Stephen Elliott has helped me get published in The Believer.
Laneia: Your Believer piece on Beth Ditto was awesome.
Michelle: Oh, thank you.
Laneia: So good. [what I wanted to say was WHAT YOU SAID ABOUT POVERTY AND CLASS MEANT SO MUCH TO ME. I WANTED TO SAY THAT. –laneia]
Michelle: Thank you! So yeah, writers are really generous with each other.
Laneia: What kind of books do you recommend for young queer girls? Especially those who aren't living in a really supportive environment.
Michelle: Ali Liebegott's "The Beautifully Worthless" and "The IHOP Papers," Eileen Myles, they should read "Cool For You" and "Chelsea Girls," and she's got a ton of poetry, too, so they should read all her poetry. They should read Dorothy Allison's "Bastard Out of Carolina." Linda Barry's "Cruddy," look at whoever's toured on Sister Spit and see what they've written. And they should read all of that [laughs]. And it's really cool, you can look at presses. If there's a book that you find that you feel really excited about, you can look at the press and you can see what other things they publish. Especially if it's like, a little off the beaten path, it's probably on a small press and they probably publish other writers that are similar.
Laneia: What's your favorite weather?
Michelle: Aww [laugh] hot. Hot weather.
Laneia: What's your favorite breakfast?
Michelle: I am kind of partial to eating like, yogurt and fruit and stuff on the daily. But for like a crazy breakfast, I like biscuits and gravy and I like cheese grits.
[and then my Southern heart exploded into a million tiny pieces of LOVE]
Sister Spit will be roaring through the countryside all October-long. Take a look at the tour schedule and make plans to go see them for yourself! Be sure to take plenty of cash because the merch table is awe-inspiring and you're going to want to take home one of everything. If you miss them in October, do everything in your power to catch the brand new lineup in April!
Special thanks to Amos Mac for allowing me use of his gorgeous photographs. Rhiannon and Amos collaborated on The Popsicle Project, which featured some big name homos like Brontez from Gravy Train!!!, Michelle Tea, and Sister Spitters past and present, such as Cristy Road, Sara Seinberg, Ben McCoy and Nicole Georges. It premiered during Pride month all over the walls of the Lexington Club in San Francisco and is now a purchasable book! Amos is also Editor-In-Chief of Original Plumbing, a magazine dedicated to the sexuality and culture of FTM trans guys. I'm recommending the hell out of this publication. Issue #1 is out now and available at all Sister Spit shows!
Pages: 1 2 3 4See entire article on one page