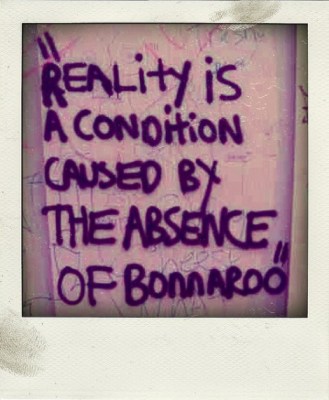 Hey guess who's hauling ass back to Manchester, TN, June 9-13, for four days of mud, sweat, panic attacks, synergy, breakfast beer and MUSIC! It's time for the 2nd Annual Autostraddle Pilgrimage to Bonnaroo and this time around, Contributing Editor Sarah and I know what to expect.
See, last year was just a rollercoaster of emotions! First I thought I was going to Bonnaroo alone, and maybe you and I have just met so I'll tell you a little secret: I don't like going to new places alone! Throw in camping and the prospect of like, foraging for food in the fields of middle Tennessee and I was thisclose to hiring an escort from Craigslist to help me put up the tent. But then, with less than three days' notice, Sarah said she could go with me! Sweet glorious relief!
Here are some more ups and downs from our maiden voyage:
+ I couldn't find the inflatable shark. Technically this happened before I left Phoenix, but I assure you the residual effects lasted for weeks.
+ We waited in line for over two hours to pick up our wristbands. Oh the humanity, etc.
+ All five cars in our convoy managed to park right next to each other for the optimal communal camping experience.
+ I missed Local Natives.
+ Sarah saw Brandi Carlile twice in one day.
+ Romy Madley Croft and I made sex eyes at each other. Just trust me.
+ One of the air mattresses we brought had a "slow leak" and we "found out which one it was" after "waking up" on the floorboard of the SUV.
+ Sarah locked her keys in her truck and sang Lady Gaga songs in exchange for a festival map at the info booth while we waited for the locksmith.
+ There was no internet.
+ There were biscuits and gravy.
+ I couldn't figure out how to leave Centeroo after the Black Keys set, so I walked in circles and followed random people until one of them happened to be heading back to the campgrounds.
+ We enjoyed the many perks of the designated press area, including an air-conditioned mess hall, cozy sofas and clean(er) portable toilets.
+ The press area was set up in a location that could only be described as "clear the fuck on the other side of the farm."
[Read more at Bonnaroo 2010: Autostraddle Takes Tennessee]
There were so very many learning experiences and we figured out a lot last year — what's worth stocking up on and what's not, the quickest way to eat a breakfast quesadilla the size of your head on the way to Centeroo, how to shave your legs in the front seat of your SUV, et cetera and so forth. Sarah and I are SO READY TO GO BACK and we want to share some packing tips, tricks and feelings that we think will meet all or most of your Bonnaroo needs!
YOUR BASIC RUN-OF-THE-MILL BONNAROO PACKING LIST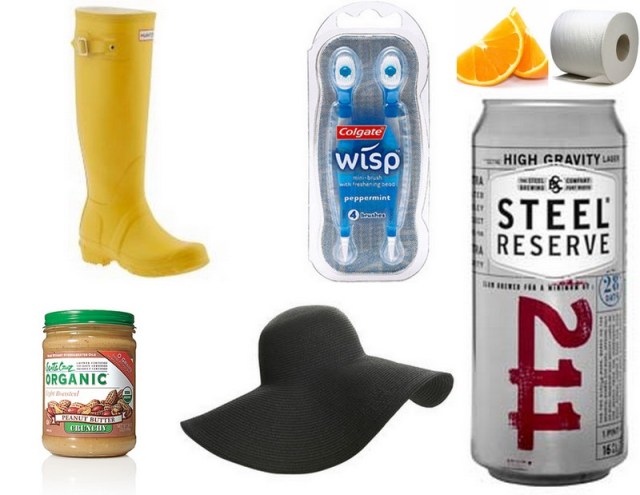 – canned beer, vodka
– water, cranberry juice, Red Bull
– peanut butter
– pretzels, chips
– fruit
– baby carrots
– battery-operated fan(s) + extra batteries
– air mattress + pump
– earplugs
– sunscreen, bug repellent
– chapstick(s)
– bandanas
– reusable water bottles
– antibacterial disposable wet wipes
– toilet paper
– black trash bags + masking tape: for the truck windows
– plastic cups + utensils
– floppy hat
– rain boots
– poncho
– small tarp: for sitting on / sitting your things on after Centeroo has turned into a mud pit (a.k.a. 'day two')
– gallon-size ziptop bags: for anything you can't throw away but don't want to smell, like those socks you just took off
– Wisps: never leave home without them

ADDITIONAL THINGS I'M TAKING THIS YEAR
1. Cookies!
Why didn't I bring cookies last year? What the hell is wrong with me?
2. Moar Water
I need one 2-gallon jug for drinking and another for washing my damn hair.
3. Moar Underwear
I don't know, I thought I'd packed enough last year? Is this too personal? I just kept wanting fresh underpants.
4. Tops and dresses with prints!
Apparently everything I own is solid, neutral-toned, and usually of the heathered variety. Hey, you know what highlights your sweaty torso area really super well? Solids! Lesson learned, oppressive Tennessee heat! Lesson learned indeed.
5. Oranges
I feel like we only took apples and bananas last year. Apples take like an hour to eat and hot bananas are so entirely unpleasant that I refuse to discuss them further. (Wait, I may have additional, more positive feelings re: hot bananas.)
6. Cash
I'm the kind of person who buys a lot of snacks before going on a road trip, only to buy even more food while on the road. I'm not kidding myself this year. I don't want a turkey sandwich that I've slapped together at the campsite — I want some of those vegetarian street tacos from that one vendor over there by that one stage. Yeah.
7. 5-Hour Energy Drinks
Sometimes when it's really hot and loud and things are so far away from each other, all you can do is just lie down where you're standing, hope it's shaded, and start crying. Exhaustion is a real bitch and I'd like to avoid it this year.
UNNECESSARY THINGS I'M NOT TAKING THIS YEAR
1. Expectations
2. Eye shadow

Okay what are we forgetting? What's your most indispensable camping / festival advice? Are you going to Bonnaroo in an RV and if so, do you have room to let two relatively small people shower and type on computers? Worth a shot.