---
There's a Reason that We Love This Town
After topping Forbes' list of 'Coolest Cities' last year, Houston continues to be an awesome tourist destination ripe with groundbreaking new restaurants, a happening bar and club scene, a healthy economy and of course, a massive rainbow shining brightly over it all. So if the things that come to your mind when you think of H-town are NASA, oil, humidity and football – think again. We rep the country's first openly lesbian mayor (Annise Parker), one of the South's biggest Pride celebrations and a whole host of hip, fun LGBT hangouts.
I've lived just north of the Bayou City basically my entire life (about 20 years) and profess an undying love for its art and museum districts, as well as the diversity inherent in every aspect of it. Yes, this is Texas, but Houston bucks many rules and gay-hating trends seen in other Southern cities. As an openly bi writer and young person in search of finding out more about my self and sexuality, I couldn't have hoped for a better city.
Houston is divided into a few distinctive neighborhoods/areas and Montrose is the predominately LGBT-friendly and invaded area. It's a quirky, Bohemian gayborhood and a huge percentage of the city's gay bars/clubs are located there. You'll see the many rainbow flags on Montrose Blvd and Westheimer Rd and feel right at home.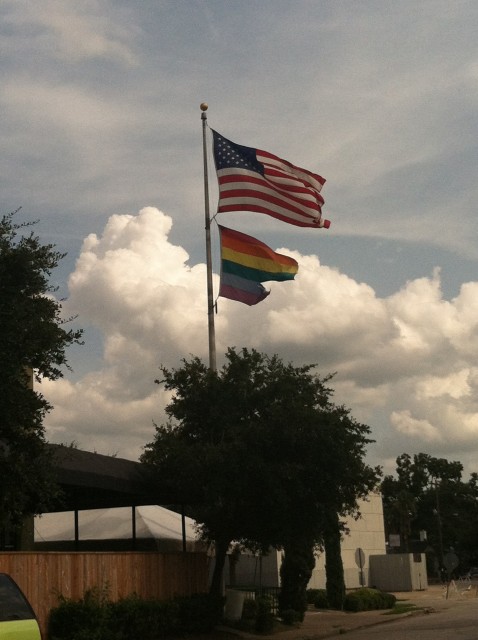 Another popular LGBT and fun, artsy area is the Heights. Just north of Montrose, the Heights is full of beautiful historic restored Victorian homes and an increasingly trendy variety of boutiques, shops, galleries, bars and restaurants.
Nightlife
South Beach (810 Pacific St, Montrose)
South Beach is the biggest laser light-filled LGBT club in town, hands down. The clientele is often more boy-based, but it's always got great house music, strong – if a tad pricey – drink options, and is THE place to go if you want to dance. On really hot, crowded nights, they will blast everyone with super cool laser nitrogen jets, which feels amazing. A little piece of Miami in the middle of Houston.
JR's Bar & Grill (808 Pacific St, Montrose)
Good ole JR's has been around for years and is still going strong. The drinks are consistently good, there's no cover, the staff is always friendly, and you're almost guaranteed to be chatted up and to meet a new friend or two. This is a great location for Sunday Funday and karaoke.
Venus (2901 Fannin St)
Though Venus is the new kid in town, this lesbian club is making a name for itself with its huge dance floor, nightly drink specials, fun drag shows and live music. There are lots of cozy, intimate pink and black seating arrangements and it's a fun place to meet new ladies and get more involved in the local lez community.
Poison Girl (1641 Westheimer Rd, Montrose)
Poison Girl is a low-key, dive-y hipster bar in the heart of Montrose with a solid, inexpensive beer selection and a decidedly chill atmosphere. The back patio is the place to be and you can impress your friends or gf with your rad gaming skills on their pinball machines.
The Usual (5519 Allen St, The Heights)
The Usual is one of my favorite bars in town. This is a very chill bar with a serious craft beer selection and a distinctively lesbian clientele. I love relaxing on the patio on the weekend (it does get hot, admittedly) and enjoying some local brews. As a dog lover, I love that The Usual is animal-friendly and the dark, cozy ambiance inside is nice.
Lola's Depot (2327 Grant, Montrose)
Lola's is a dive in every sense of the word. The bright purple facade and jammed parking lot is the only indication you'll know you've arrived because there is no sign on this beloved neighborhood bar. The drinks are super cheap (I'm talking under $2 during happy hour) and super strong, and every time I've gone the ladies have outnumbered the guys at least two to one.
Guava Lamp (570 Waugh, Montrose)
Set back inside a semi-unexpected strip center, Guava is known as a great starting point for fun, boozy nights. Recently renovated, Guava is a classier bar/lounge and regular patrons are very protective of the bartenders. It's a popular place for karaoke.
College Scene
Houston is chalk full of universities and higher education. The University of Houston (4800 Calhoun Rd) has a great LGBT Resource Center complete with school-wide panels, groups, ally training and transgender affair. The best part is there's actually a minor in LGBT studies. The University of St. Thomas (3800 Montrose) is a well-regarded, small Catholic liberal arts school located, strangely enough, in the middle of the gayborhood. Rice University (6100 Main St) is a well-reputed, lovely private university in the Museum District and is known as the "smart kid" school. Rice has an active (and wealthy) gay alumni association and even 'spotlights' LGBT students. Multiple campuses exist city-wide for Lone Star College and Houston Community College.
Restaurants
El Tiempo (1308 Montrose Blvd)
Another amazing thing about Houston is the freaking awesome selection of quality Mexican food. El Tiempo has a huge menu of great, albeit expensive food (go with a group and split a few entrees) and the best margaritas in town. There's always a big gaggle of gay guys there and the 100% Hispanic staff is cool and extremely friendly.
Empire Cafe (1732 Westheimer Rd, Montrose)
Queers and hipsters mix and mingle at this cool breakfast/brunch/coffee spot on a regular basis. They have an open outdoor seating area and are located in the middle of a bunch of super cool antique shops that are fun to peruse. The cafe mocha is to die for.
Theo's (812 Westheimer Rd, Montrose)
Known for their delicious gyros, Greek pizzas, sesame breadsticks, and for being open late, Theo's has quickly become an institution in the gayborhood. After a late night drinking at JR's and Blur, I went to Theo's around 3 AM with a few friends and had the most amazing gyro ever. It was seriously a love affair. There's always an interesting crowd on those late nights.
Baby Barnaby's Cafe (602 Fairview St, Montrose)
Be prepared to wait, but their breakfast is 100 percent worth it. You'll be greeted by rainbow flags and probably people you saw at the club/bar the night before, but again, take one bite of their breakfast tacos and a sip of their squeezed-in-front-of-you OJ and it'll all be worth it.
Tattoos
Sacred Heart Studio (327 Westheimer Rd, Montrose)
Clean, kind, quality, crappy parking. That's all there is to know about this very professional tattoo studio operating out of a cool little house in Montrose. The place is exceptionally sterile, the staff is very easygoing and all are talented artists and good piercers. Every piece I've seen done here is great, but the parking is horrific. However, if you've saved up the money and time to ink a piece of art that's going to be on your body forevermore, you can suck it up and walk a block or two.
Arts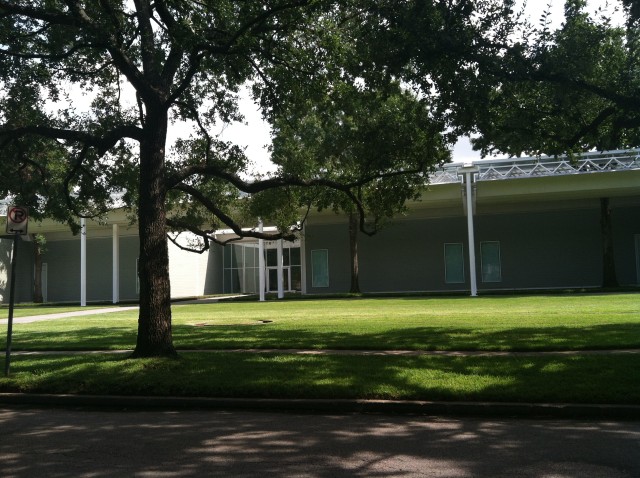 The Menil Collection (1515 Sul Ross St, Montrose)
The Menil is a true Houston treasure. Filled with unique, fantastic art for the art-minded and regular folk alike, the collection features interesting modern pieces mixed with some centuries-old African carvings. The admission is always free. When you visit, be sure to pack a picnic or bring a soccer ball as the Menil is smack dab in the middle of a gorgeous green neighborhood park surrounded by cool, vintage bungalows and beautiful trees. True story: I once visited the park and happened upon a group of shirtless, guitar-slinging hippies who serenaded passers-by with Beatles tunes. Awesome.
River Oaks Theatre (2009 West Gray)
The River Oaks Theatre is one of a kind. With a beautiful art deco design inside, you can see the authenticity of the circa-1939 theatre in all its glory whether viewing a foreign film, indie flick, or attending the interactive Rocky Horror Picture Show the theatre and an acting troupe put on the third Saturday of every month at midnight. Queers, queens, and movie nerds unite in a fantastic, freaky, 'Frank N. Furter' way.
Pride
Pride Houston
Going 34 years strong, H-town's Pride is always hot, sweaty, epic fun. Pride became a true city tradition in 1997, when then-Houston City Councilmember Annise Parker arranged a parade ordinance for the nation's only nighttime Pride parade and celebration. Nowadays, Houston's Pride is a huge deal. It normally runs during the absolute dog days of summer, late June. Expect zero parking and tens of thousands of drunk, rainbow and scantily-clad beautiful people.
Community Resources
LGBT Switchboard Houston (713-529-3211)
This is the 24-hour hotline to access any kind of support anyone could need. The website also features a comprehensive directory of pretty much every LGBT-related organization or club in the city.
Bayou City Women's Choir
I gave my ex-gf a hard time when she joined the lesbian choir, but after she told me stories of the friends she made and how much fun she had learning to sing (it's a chill atmosphere, no need to be Sinatra), I eased up on her. The Christmas performance put on by the women's and men's (Gay Men's Chorus of Houston) choirs is something the city should be proud of.
Ladies, it's been real. If you ever decide to visit H-town, feel free to throw me a line for a drink or a tour-guided night out. I'd be more than happy to oblige.
---