Last week, I was lucky enough to make a little bit of queer history at SXSW, alongside three other queer style luminaries and trailblazers; Anita Dolce Vita, creative director and editor-in-chief of dapperQ, the internet's #1 style go-to for masculine-presenting women, genderqueers, and trans-identified people; Leon Wu, CEO of Sharpe Suiting, who created a unique, truly genderless suiting technology called Andropometrics™; and Sonny Oram, friend and founding editor of Qwear, an inclusive queer style hub that caters to underserved demographics and often acts as community liaison to brands and the media (if you haven't perused their 14 Femmes of Color Whose Style We Adore, I highly recommend it).
It was the first — and only — panel of its kind at the world-renowned festival, and I'm so proud of and impressed by everyone who was involved! Let's go behind-the-scenes with photos, ephemera, and lots of words from the bottom of my tender, squishy femme heart.
---
SXSW: Your Queer Style Explainer
How on earth did we all end up on the same stage to bring queer style to SXSW Interactive SXstyle in its second year? It all started last summer, when Anita, a fellow femme and friend of mine, laid the groundwork for a proposal to SXSW to host a panel discussion and presentation to showcase, discuss, and celebrate queer style. Since you can never have enough femme in the mix, I was invited to participate and accepted with gusto. With queer style rapidly gaining mainstream attention, she knew intuitively that queer style needed to be represented – and appropriately represented – at SXSW. We made it through a multi-step vetting process that included a public vote (many thanks again to any readers who supported our efforts or were in attendance), but in the end, it was 70% up to SXSW Board Advisors and Staff, who believed that our work and voices deserved visibility and recognition this year.
SXstyle is a Convergence Track that was born in 2015, three years after Style X, a now-defunct, then democratized fashion and trade show hybrid, decided to part ways with SXSW. There's no question about whether or not the hype around noteworthy festival style spreads like wildfire through Austin during SXSW (and then reverberates to fashion nerve centers around the world), with some in the know predicting that its relevance rivals or even supersedes Fashion Week, so debuting a special track "that explores the complex ties between fashion, art, culture and technology" seems like an easy "Hey, why didn't we do this sooner?" no-brainer to those of us who live at the intersections of fashion (and beauty) and tech, especially ones savvy to the fact that tens of billions of dollars are spent annually by consumers online in those areas. SXstyle is a critical must-have for such a world-renowned event and ensuring diversity in self-expression across the board — not just in terms of sexual orientation or gender expression but also in terms of size and self-acceptance, challenging the beauty myth, empowering one another with ways to tap into or fight for ignored markets; all areas covered in this track in this year's programming — is a crucial platform for being heard and helping to set healthier, more honest and inclusive trends.
Like anything this massive, SXSW catches a well-deserved amount of criticism when it blows something big, like the safety or well-being of its attendees or the kind of programming it keeps or cancels (and why), but it's really the only thing like it on earth, moving about a quarter of a million people through each of its three sections (interactive or the tech side, music and film), plus other exhibits and parties over the course of ten totally insane days.
This year, the festival made history in a totally different area when it was announced that President Barack Obama was Austin-bound to help deliver the SXSW Interactive Keynote…taking place right before our panel. Just yesterday, First Lady Michelle Obama shared the stage with Grammy Award-winning songwriter Diane Warren, Missy Elliot (who needs no introduction), actress/director/activist Sophia Bush, with none other than Queen Latifah moderating, to kick off SXSW Music.
Fun fact: My mother has no idea what SXSW is and didn't believe that I literally had to wait for Obama's keynote to end before my panel could begin. Love you, mama!
How Does A Femme Pack for South By?
Look, if memory serves, I've only ever been to Texas for layovers, one of which involved a canceled flight and an overnight stay at an airport hotel. I vaguely remember driving around DFW and that it was hot, but that's about it.
We came this close to moving to Austin instead of Boston back in 2012. I'd fallen in love with the Ann Richards School for Young Women Leaders for the kiddo and friends of ours — even queer ones! of color! — loved living there, so I researched neighborhoods but after a few tearful meetings via phone with Equality Texas HQ, I realized that in spite of Austin being a landlocked liberal oasis with somewhat affordable real estate (in comparison with SF, anyway), one of the myriad reasons my wife and I married was to protect our family. I couldn't bring myself to seriously entertain relocating to a state that could not recognize it at the time. Plus, she is deathly afraid of bats, so that was the end of that.
Aside from that and cursory knowledge of the general vibe among SXSW's sartorial elite via internet over the years, I basically kept an eye on the weather and curated a lean selection of FFAF-worthy outfits for four days, assuming a wardrobe change or backup outfit per day. Anyone who went to A-Camp with me would be super impressed that I only packed a tiny little overhead piece of luggage (even though my wife was very exasperated with me for bringing a bag without an inch of wiggle room left after I had my way with it).
One day I'll have to do a photo tutorial of how to get eight dresses, workout clothes, one pants outfit (eyeroll), three pairs of shoes plus toiletries and other beauty sundries jammed into a 21" Samsonite. I had two possibilities for the day of our panel, but then I went to Buffalo Exchange on Guadalupe and found myself with another five vintage dresses to choose from (and then two more after a breezy afternoon at the shops on North Loop, which rhymes with Guadalupe, you know). Ultimately, I went with what was going to be the prettiest and most comfortable, and settled on this little number:
What They Don't Tell You About SXSW
We'd all gotten together the night before at a massive Lake Travis Airbnb for BBQ and a proper run-through of the presentation, soliciting feedback from the non-panelists present over piles of deliciously grilled ribs, chicken, sausage, and pork tenderloin, thanks to Leon, who was out there hardcore barbecuing in the rain in flip-flops. (My apologies that there are no pictures of that awesomeness — I wish!) We made a few small tweaks in our remarks and in the order of speaking, but otherwise our months of prep and back-and-forth really paid off, and Anita had pulled together a slick visual presentation with super rad video footage of the NYFW Verge queer fashion show from September.
It rained through the small hours of morning the next day. Friday was the first day of the festival, and of course Obama was speaking so lines and traffic were expected to be just brutal. Despite varying levels of chill in our group (clearly demarcated by East vs. West Coast), we settled on a fairly reasonable meeting time in the morning to pick up our badges and get our bearings. Do they tell rookies that at least 50% of South By is waiting and missing this thing and then that thing? Well, it is. By the time we were officially checked in and had corralled everyone back together, the sun was shining and hanger had fully kicked in, and after rejecting the prospect of a $55 per plate BBQ tent, we trekked over to the Westin for a little Southern comfort to help calm our nervous empty bellies.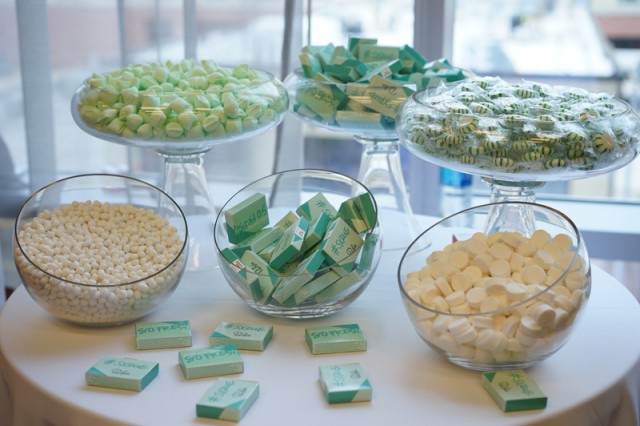 Graciously, the green room was large and open enough to accommodate our gang early, and we took turns exploring our neck of the SXSW woods; the room next door was a quiet zone, dark and stocked with four different types of infused water (rose peach was my favorite). A few doors down, RueLaLa had a GIF photo booth and loads of little treats to take home, and the lobby was bustling constantly with speakers, presenters and attendees. A few sweet and kind-hearted volunteers showed up to lend us a hand, which is how I ended up with some great photographs!
Defining Queer Style
I should tell you that we arranged a videographer for the panel, so sometime in the near future video and audio will be available for viewing on any of our websites, and SXSW. But I'm sure you'd love a briefing in the meantime, so I'll do my best without giving it all away!
After opening remarks, the panel kicked off with the footage I mentioned from the Verge fashion show, setting up a really key question: How is this fashion show different from other NYFW shows? Seeing something so powerful and dynamic spring to life really helped bring the topic of our panel into focus right away: Queer style as visual activism, how fashion is political, should be political considering not even half the states in the country currently have laws in place prohibiting some combination of sexual orientation and gender identity discrimination, how it's been political historically both in and outside of queer fashion, and of course some prime examples of the embracing of queer style in modern day fashion, including facing backlash as well as the incessant appropriation of QPOC fashion in mainstream pop culture.
In an attempt to define queer style, we all agreed that while trends are gleefully embracing unisex or "genderless" clothing and more androgynous styles today, the default for what that looks like leans masculine. When you identify as queer or trans and your appearance suggests anything outside of the heteronormative lines we're all supposed to color inside of, you become more visible whether you want to or not, but equating queer style with that specific visibility only tells part of the story for what is a huge, incredibly broad spectrum of queer style that can't be distilled into a central aesthetic or OSFA roadmap.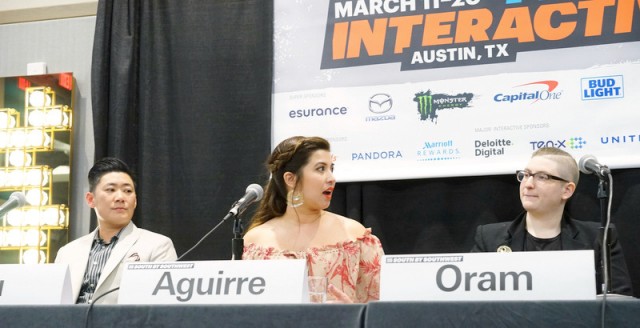 I talked about how so much of my work with FFAF or here at Autostraddle is really just a sort of queer femme lighthouse keeping. I'm here, you're not alone, this is a perfectly alright way to be, let me help you. To me, that's the gist of demanding media representation and having access to role models and mentors for anyone who is othered or part of a minority group. It is ever so much harder to be what you can't see. When you feel how and who you are is modeled positively in the world, there's so much power in that. Sharpe Suiting chimed in to note that they have outfitted Hollywood stars who, moments before walking the red carpet, felt not-small amounts of trepidation and insecurity about being the only woman in the room not wearing a ball gown.
What we all have in common is a very human internal struggle with visibility, whether it's the danger in having too little or too much of it, often depending on the situation and who else is in the room, and wishing that it didn't have to matter, that we didn't have to always measure and calibrate the risks when we get dressed in the morning. That we could just do us. "To transcend fashion," Sonny added, "we must transcend beauty."
---
I hope you enjoyed this insider look at South By life and the insights to queer style and fashion in general. You'll be the first to know when audio and video become available, and if you happen to be in the New England area and would like to attend, I'll be speaking at Boston College Women's Summit: Own It! in April.
More information about that soon over at Fit for a Femme. In the meantime, here's where you can find the other panelists:
Maybe we'll see you there next year!