full disclaimer: the author is a consultant with the National Gay and Lesbian Human Rights Commission.
---
I wasn't supposed to meet any of them to begin with. I should have been somewhere between the Midwest and Los Angeles on my way to grad by now. Yet here I was, driving down a narrow tree-lined street looking for the landmark rainbow flag hanging off the side of their offices.
It was September 2016 when I walked into the National Gay and Lesbian Human Rights Commission's (NGLHRC) offices in Nairobi, Kenya to meet with their Executive Director. I knew nothing about the organization other than there was an office full of queers who weren't afraid to say they were queers. When the Executive Director walked in wearing a shirt that read, "Some People Are Gay, Get Over It," I knew I had stumbled upon that rare breed of individuals whose purpose in life is to unapologetically shake things up.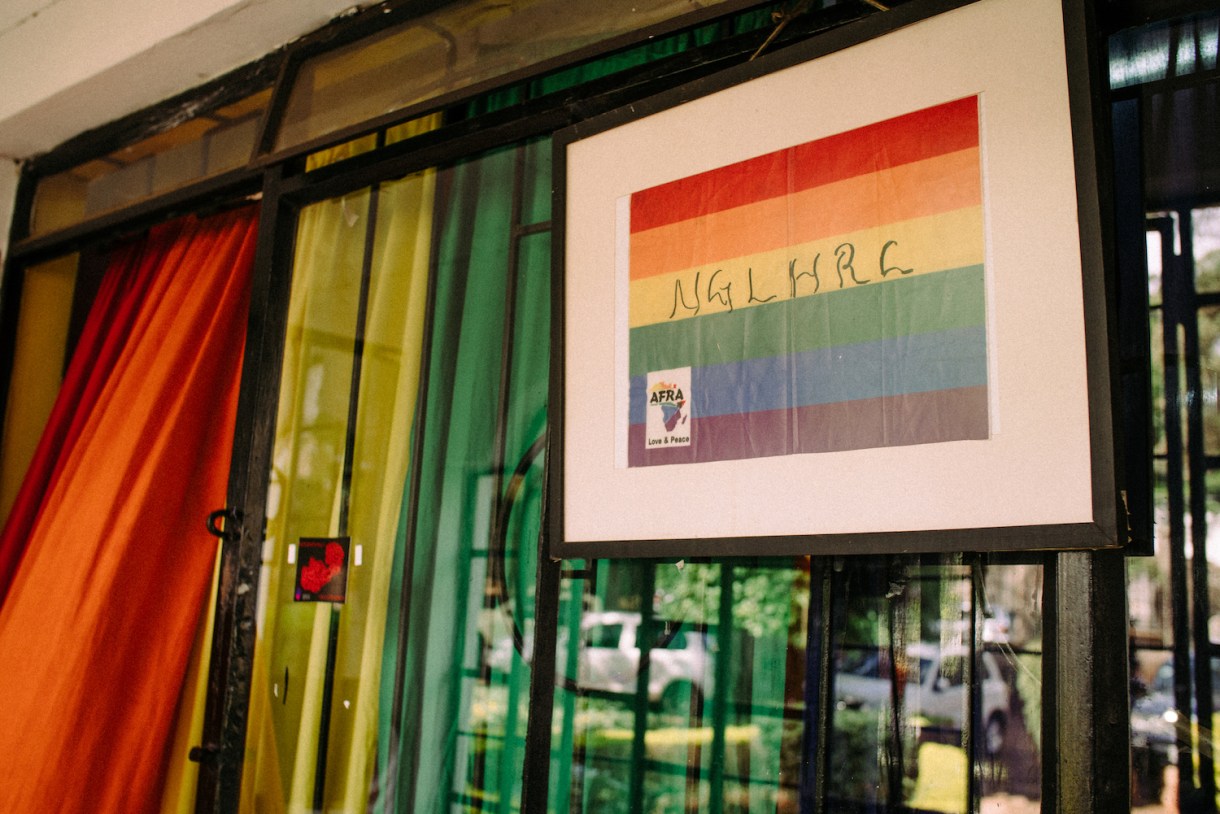 In a country that remains culturally homophobic, and that criminalizes same-sex intimacy with up to 14 years in prison, the National Gay and Lesbian Human Rights Commission is an anomaly — and not just because of the rainbow flag that hangs proudly from their balcony. Or because the majority of their small staff of eight are fierce Black African Queer Womxn, or because their work has the potential to set regional precedents in East and Sub-Saharan Africa. NGLHRC is an anomaly because of its primary mandate: providing free daily legal aid throughout Kenya for individuals who have been victims of discrimination, harassment and violence because of their perceived or actual sexual orientation and/or gender identity.
Founded in 2012, by six young lawyers, NGLHRC is the only nonprofit in Kenya advocating for protection and inclusion of LGBTIQ folks using a legal argument. Njeri Gateru, acting Executive Director, Head of Legal Affairs, and one of the nonprofit's founding members tells me, "We were trying to find solutions for LGBT people at home. At the time, we were working for an org that was resettling LGBT refugees and we realized there was an actual need to provide solutions for queer people at home. Organizing at that time was not sufficient particularly as regards engaging the law."
Identifying this service gap, its founders decided to form an organization that would provide a legal aid response mechanism to respond to, and prevent discrimination of LGBTIQ individuals living in Kenya—coupled with trying to push for more progressive policy and laws towards LGBTIQ and gender nonconforming folks. The community, Njeri and her co-founders agreed, needed to make a legal argument for equality in addition to public health arguments for inclusion which other LGBTIQ organizations had been making for decades now (such as inclusion in HIV/AIDS policy and other health initiatives).
The court of public opinion was moving too slowly. With a new constitution in place, perhaps establishing legal rights to protection through the courts would be a faster means of achieving equality on gay rights.
"The constitution guarantees equality and nondiscrimination as citizens of Kenya," Njeri tells me. "It allows [people] ways to seek redress when there are violations. Like going to court or engaging with different arms of the government."
Their legal aid clinic opened in March 2013 and has received over 3,000 reports of violations against LGBTIQ and gender nonconforming individuals in Kenya. The majority of cases involve blackmail or extortion, violence or threats of violence, evictions and targeted harassment. Of the hundreds of cases the nonprofit receives annually, it is able to offer direct assistance in about half of them. However, even in cases where NGLHRC is able to offer their legal aid services, many times the victims are unwilling to see the case through.
Imani Kimiri, Security and Response Personnel at the nonprofit tells me, "We don't force people to go through the courts system. We advise our clients that all court matters and police suits are public documents. So in the event that a person is not yet out or comfortable with the person they are, then we don't force them. We give them advice or warn them of issues they may experience. For example in the case of MSM [men who have sex with men] who are often the victims of blackmail, we inform them that they can go [on a date] with a friend or be cautious when meeting people for the first time."
There is also long history of violence, blackmail, harassment and even rape by law enforcement representatives that has built a well of deep distrust within the LGBTIQ community. But NGLHRC is working to repair this frayed relationship through its other programs.
On any given year, NGLHRC visits about 10 cities and towns, stretching beyond the rural/urban divide, educating LGBTIQ folks on their fundamental rights under the constitution, sensitizing police officers on issues facing the LGBTIQ community, training court users, judges, first responders, and even Parliamentarians on the legal and psychosocial needs of a community that remains criminalized, yet also protected by current laws. In itself, identifying as gay or lesbian or trans isn't illegal in Kenya. Neither is lesbian sex criminalized — only sodomy or sex between men. More importantly, the 2010 Constitution passed by a majority of Kenyans provided a wider array of protections for individuals and asserted the equality of all Kenyans under the law.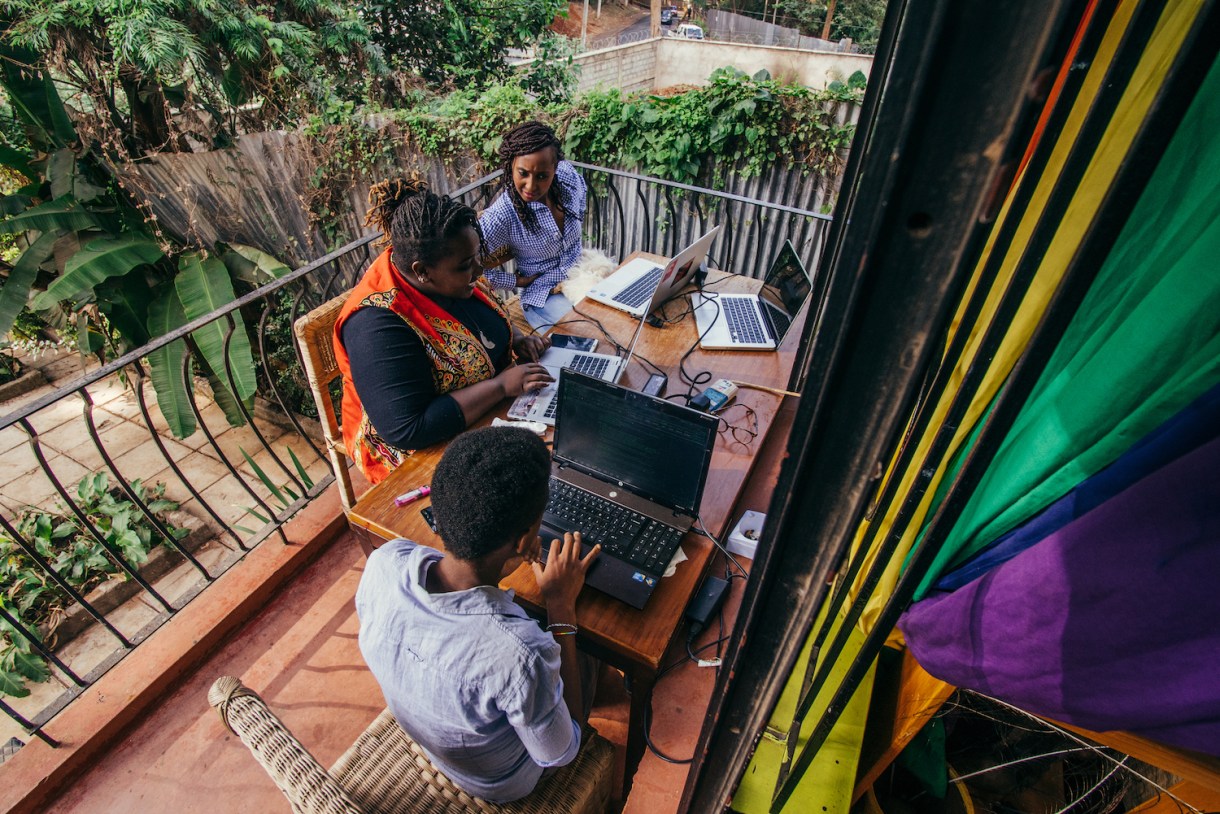 A 2015 High Court ruling in favor of NGLHRC affirmed this very fact. After the Non-Governmental Organizations (NGO) Coordination Board, responsible for registering NGO's in Kenya, refused to register NGLHRC with the words "gay" and "lesbian" in its name, NGLHRC sued the Board. After a nearly two year court process, the High Court in Nairobi ruled that sexual orientation is protected from discrimination in the constitution, ordering the Board to register NGLHRC. Within their judgement, the three presiding judges also found that individuals who identify as gay and lesbian are guaranteed equal constitutional protection like every other Kenyan citizen.
This case was NGLHRC's first play in its goal of using strategic litigation to move the LGBTIQ movement forward. Strategic litigation, as Waruguru Gaitho who conducts research and data collection for NGLHRC states, is about, "creating opportunities for the rights of sexual minorities to be affirmed in the law through judicial precedent." For the nonprofit this means choosing to pursue specific legal cases, such as their registration case, that if successful will lead to a domino effect in the gay rights movement. In this case, that no nonprofit can ever be denied the right to register because it specifically caters to the LGBTIQ community.
NGLHRC currently has three cases in Kenya's High Courts. Its most important case to date takes to task the Sexual Offences Act that criminalizes same-sex intimacy. Set to be heard in Kenya's High Courts in 2018, the case will pit a bevy of Kenya's best attorneys and six petitioners who identify as LGBTIQ and gender nonconforming, against its Attorney General. If successful, the case would effectively decriminalize same-sex intimacy and has the potential to set regional precedent and drastically shift the treatment of LGBTIQ individuals in Kenya by striking down a law used as a cover to harass, discriminate, blackmail and initiate violence against the community.
Amidst all its work, NGLHRC has also created programming that targets the needs of Lesbian, Bisexual, Queer and Trans diverse individuals, realizing that Lesbian, Bisexual, Queer and Trans diverse individuals remain further marginalized within LGBTQI programming as a result of sexism and patriarchy. Guided by the vision of Njeri, the nonprofit rolled out a successful monthly forum, Because Womxn.
Started in Nairobi in 2015, the group offers a much-needed space for LBQT and gender-nonconforming women to share their unique challenges and needs. It is a space that gives them a chance to both vent and celebrate their lived realities. The success of NGLHRC's Nairobi forum has created an opportunity for the nonprofit to expand Because Womxn into two other cities where LBQT and gender-nonconforming women have been facing greater attacks and expressed a strong desire for spaces in which they could self-organize on the local issues they face.
Njeri's vision for an all-inclusive LGBTQI movement has meant not just providing programming for all LGBTQI individuals but also strengthening spaces and creating opportunities in which LBQT and gender-nonconforming women can interact, connect, lead and movement build with each other, such as the organization's first annual Uzima (meaning wellness in Kiswahili) Camp held in June this year. The camp invited LBQT and gender-nonconforming women and survivors of sexual violence for an all-expense paid trip to a beautiful farm in rural Kenya for four days of conscious living and loving, bell hooks style. Topics ranged from sex and pleasure to finances to leadership to body politics and emotional and mental wellbeing for 25 women, many of whom are on the frontline of the fight for gay rights across the country. Attendees of Uzima Camp expressed gratitude for a space in which they could talk about themselves openly, while taking a break from their often hectic lives. The nonprofit hopes to expand the number of spaces available and open the camp to women from across East Africa in the coming years, building a regional network of LBQT and gender-nonconforming leaders in their respective fields with the collective power to shift dialogue on gay rights.
It is programming like this that continues to set the National Gay and Lesbian Human Rights Commission apart from its contemporaries. Led by youth, a steadfast belief in legal justice, and their right to exist fully and wholly in a country whose mainstream rhetoric remains staunchly anti-gay, NGLHRC refuses to shy away from its mission: to promote and protect the equality and inclusion of LGBTIQ individuals and communities in Kenya. When I ask Njeri what this future looks like for her, she lists off a long list; decriminalization of same sex intimacy, the continued right to register their organization with the NGO Board, better engagement with the Kenyan government and other stakeholders, expanding the spaces in which civil service society organizations can thrive, increased fundraising, less violence towards the community, increased economic security, and so much more.