If you find the popular Fox television show Glee to be intensely problematic, then you'll really really really just flip out in ecstasy over This Ain't Glee: A XXX Parody. Yup, porn parodies remain a fairly successful merchandising area for the mainstream porn companies that churn them out (with the Sarah Palin-inspired "Nailin' Palin" at the front of the pack). They're often offensive, sometimes ridiculous, and always, always, always fucking hilarious — or, at least, the cover art is hilarious, we've never actually watched any of these. For the best pop culture parodies, complete with trailers, check out this article from The Houston Press. And here's some of your favorite (and least favorite) movies and television shows, porn-style, just for funsies, because they're funny. Aren't they? I mean. Really — we even made a gallery for you (click to enlarge):
---
Additional NSFW Links
+ Today in "hypothetical questions with no legitimate base in reality," a recent Life Time Fitness survey found that in order to lose ten pounds, women would rather give up sex before they'd give up their cell phone.
+ According to a study in The Journal of Sex Research, most heterosexual women don't orgasm and don't receive oral sex from casual sex partners:
"Women are a far more likely to perform oral sex during a hookup than to receive it, which is one of the reasons that college age women report climaxing only one-third of the time in first time hook-ups, and no more than half the time in repeat hook-ups (more than one sexual encounter with the same person)."
But is that true for lesbians? What do you think?
+ "Female horniness is an important, and missing, narrative in our culture.  We have a well-developed idea of female sluttiness, but that's a different thing."
+ In Isn't the World Fantastic news, Utne Reader reports on The Dirty Girls Ministries, which preaches about the "evils" of female masturbation!
+ So, having sex changes your brain forever. Just FYI.
+ The 2012 Pirelli Calendar is here! (includes total nudity)!
+ I don't know if you've already seen this, but Lindsay Lohan was in Playboy and we have all those photos for you. Furthermore, a sexy holiday gift guide also exists on this fabulous website.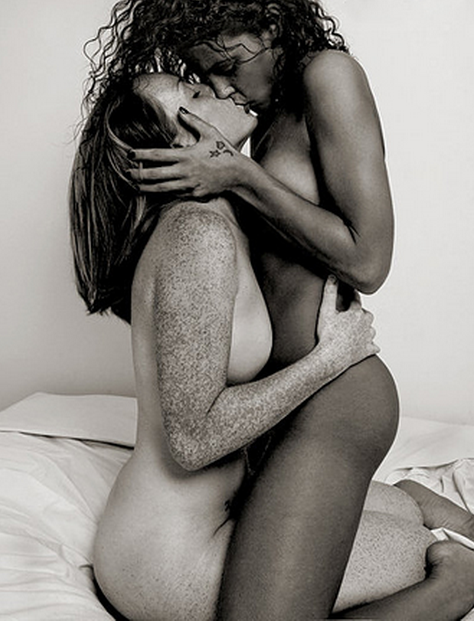 + Cool sexy photography and words in German that I don't understand on I Look At Myself.
+ Pussy Calor: A tumblr you might like.
---
Autostraddle Anonymous Sex Toy Reviews #12 & #13:
It's our 12th and 13th Autostraddle Anonymous Sex Toy Reviews! Over the last few years, we've been propositioned frequently by sex toy companies wondering if we'd like to review their toy in exchange for, you know, their toys. In 2011, in addition to "saying yes to the dress" we are saying YES to the sex toys!
This week we have two fun Holiday Kits from Good Vibrations.
---
Calla Click 'n Charge Vibrator
Please Gel
Blossom Organics Pure Arousal Gel
This kit is so chill and unintimidating. The Calla vibrator is waterproof and rechargeable, which is something I've come to expect from all the vibrators lately. I also expect that I'll need to read the instructions, because there are settings and locks and patterns and things can get complicated. The Calla, however, is remarkably uncomplicated. The only thing that stumped me was how it charged via the Click N Charge system. After watching a few videos online, I'd mastered the art of connecting the two magnets — a feat that ended up being much simpler than I'd been making it. The charging system was the most interesting element of the Season's Pleasing Kit for a good part of the evening, then I turned it on.
The Calla has a velvety texture, which isn't nearly as weird as it sounds and pairs really well with the Please Gel. It's soft enough to be maneuverable and bendy, but not too squishy. There are three pulsating patterns — all interesting and enjoyable — and five speeds. I tend to hover in the low to medium-low speed range, and I can say with confidence that the Calla's higher speed settings would definitely be enough for someone who liked it… speedier.
Also there's this lip — the pleasure petal — that's positioned to be in clit-range during insertion. This is what we call 'attention to detail' and it was greatly appreciated. Yes.
I usually stay away from lubes and gels because they all seem to end in burning and sadness, but the Please Gel and Blossom Arousal Gel were both very friendly. No burning, no sadness. Just slippery slippery sex.
The best part of the Season's Pleasings Kit is that you get the Calla vibrator and two different sex gels for $10 less than you'd normally pay for the Calla alone. That's crazy!
---
OhMiBod Freestyle G wireless vibrator (pink or purple ABS; 5 1/2″ insertable x 1 1/4″ diameter)
Rhinestone Pasties
Please Pleasure Cream
Please Liquid Lube
The Freestyle G is quiet, rechargeable, and feels delightfully smooth to the touch. I found the multiple music settings clumsy to navigate: juggling an iPod, the transmitter, headphones, lube, and the actual vibrator was such a distraction that it felt more like Writing a Review of This Sex Toy than it did like sexy funtimes. With a stereo/iPod dock and the accompanying penchant for listening to music during sex, I think this would be really awesome (and without, it does vibrate delightfully to the music, but feels a little too distracting). Eventually I gave up on the vibrating-with-the-music settings and used the regular vibrator settings, of which there are seven.
This is also the best g-spot toy I've used (of two). It lights up and is purple (or pink) and vibrates and, while if you are going to play around with the settings you should probably do that before you start using it because it gets slippery as, um, fuck, it was easy to use and mostly easy to grip and did not end up punching me in the throat when I used it with my girlfriend, which is always a good quality in a vibrator.
Like many other sex toys, it is also handy for tickling.
As another reviewer mentioned, the Please Liquid Lube is awesome because it's glycerin-free and doesn't tingle. The Please Pleasure Cream definitely does tingle (on your lady bits, but if you test it on your wrist it just feels a little cool), and has menthol in it and a hot/cold sensation that I think will be very love/hate (and a little more love with something that vibrates).
The Rhinestone Pasties were basically hilarious. They stuck on really easily (all the little pieces were connected with transparent sticky webbing so there was no spending hours putting individual stones in place, ala whoever did wardrobe for "Toxic.") and, even though putting them on seemed really funny, laughing during sex in a positive way is basically always a good thing.
Disclaimer: All of the photographs on NSFW Sundays are taken from various tumblrs and do not belong to us. All are linked and credited to the best of our abilities in hopes of attracting more traffic to the tumblrs and photographers who have blessed us with this imagery. The inclusion of a photograph here should not be interpreted as an assertion of the model's gender identity or sexual orientation. If there is a photo included here that belongs to you and you want it removed, please email our tech director at bren [at] autostraddle dot com and it will be removed promptly, no questions asked.