Laneia — Autostraddle's resident DIY enthusiast and shouter of the phrase "BUY LOCAL!" — takes a closer look at a few of our favorite small businesses (and raffle prize donators!) and explains why indie is the way to go.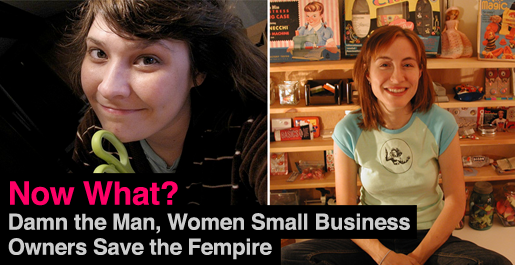 Let's start with some truths about what local businesses can do:
SPREADING THE WEALTH – LOCALLY: Almost half of the total revenue of local businesses is spent within the state, compared to about 15% for chain stores like Target and Home Depot.
STRONG COMMUNITIES: Local businesses support other local businesses! Banks, manufacturers, newspapers, accountants, printers, internet service providers, repair people – the list is endless. Awesome!
GO GREEN: Most local businesses use local suppliers, manufacturers, etc. which requires less transportation, packaging, etc. On the other hand, chain stores, who have their goods shipped in, requiring the use of large transportation vehicles and packing materials that are seldom, if ever, recycled.
GIVING BACK: According to a case study done in Maine, locally owned businesses donate around 0.4 percent of their total revenue to charities, which is four times as much (relative to overall sales) as Walmart and twice as much as Target.
+ An especially interesting and vindicating bit of knowledge from Intern Vashti:
Back in the 40s, sociologist Walter Goldschmidt [who worked for the USDA], did a study on the civic consequences of concentrated economic power. He studied two farming communities [Dinuba and Arvin] in the San Joaquin Valley. The two communities were practically identical with the only variable being that Dinuba was all about family-owned farms and Arvin was slave to large agribusinesses. What he found was that Dinuba had a higher standard of living than Arvin. The median income was higher, there was less income inequality, community infrastructure was far superior in both quantity and quality, and there were more than twice the number of civic and social organizations. Because the USDA was under a lot of pressure by the giant agribusinesses, Goldschmidt was fired and his study was never published. Fast forward to early 2000s when Thoms Lyson [Cornell] and Charles Tolbert [Baylor] picked up where Goldschmidt's research left off. They focused more on large-scale statical analysis [as opposed to case studies]. Their findings proved Goldschmidt right. Communities run mostly by local, independent businesses "have less income inequality and lower rates of poverty, crime, and infant mortality. Their civic life is also much more vital. Residents are more likely to attend school-board and city-council meetings as well as to join neighborhood organizations. They also vote in higher numbers."
One of the many, many great things about independent artists and businesses is their willingness to network with like-minded entrepreneurs. You get the sense they really do want you to succeed — that success is something we all share, if not monetarily, mentally. If they succeed, so do we, and vice versa. Because if people are buying local and supporting indie efforts, then we all have a chance to win this game.
Of course, here at Autostraddle, we have a soft-spot for the ladies. Female-owned small businesses have been a huge part of the First Ever Autostraddle Pride Raffle!
I had a chance to talk to three of these independent women. Here's what they had to say about getting into the business, following your dreams and being a force of nature! Also? Free popcorn!
The Ladies:

Ali from Buttonhead.org: Queer & crafty Ali Puckett is probably best known as Buttonhead, the maker of buttons, temporary tattoos and other fun stuff for online sale. When not making buttons, Ali is a full-time artist and involved in various creative projects including "The Decadent Boys" (musical collaboration) and "The Indie 5 Collective" (video resources for crafters).
Dianna, RelaxU.com,: Dianna started RelaxU when she was a student at the Muscular Therapy Institute in Cambridge, Massachusetts, in the winter of 1992. From the start fifteen years ago, RelaxU has distinguished itself by adhering to its primary objectives of quality, purity, efficacy, and education.
Leah from Craftster.org: A computer programmer and self-proclaimed craft junkie, Leah started Craftster in August 2003. She resides in Boston where she was a founder of the "coolest store ever," Magpie, and for 7 years was an organizer of the not-your-grandma's craft fair Bazaar Bizarre.

Tell me a little about the unique opportunities presented to you as a female indie business owner.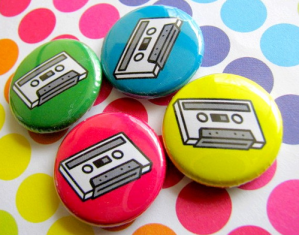 Ali: Etsy.com has presented me with a world of unique creative opportunities for my business including resources for starting & maintaining my company as well as a place to network with other indiepreneuers.
Dianna: I think women are geared to comprehensive solutions. As an indie business owner, this helps me create unique products that deliver over and above what's expected. Women are also, (speaking in broad strokes here, no pun intended) by their nature, consensus builders and this helps when you've got a small business with a few employees and everyone's wearing many hats. Occasionally being a female business owner simply opens doors to other small businesses owned by women. Women like to work with women who get things done in the best way possible. Not necessarily the cheapest or the fastest, but the overall best. It's a much less linear route but a better one from a holistic standpoint.
Leah: When I was first deciding whether it was a wise move to quit my day job and go out on my own, I took advantage of as many free or cheap small business classes I could find, such as those offered by the SBA (Small Business Association). When it comes to being a female, in Boston there's a non-profit group called the Center for Women & Enterprise, which was particularly great. Sometimes it pays to be in the minority because there are extra resources like this available.
Being an indie business in particular can be great for a couple of reasons:
You can advertise in a grassroots kind of way that's not really acceptable if you are a big business. So for the Boston Bazaar Bizarre, one way we promote the show is via artist-designed fliers on coffee shop bulletin boards. A big business can't really do that.
Another thing that indie businesses have going for them is that many people have a soft spot for endeavors like this. That's not to say by any stretch that these people feel that all big businesses are bad and all small business are good, but many people do tend to feel emotionally aligned with small independent businesses and want to try to make the extra effort to support them.

In three words or less, describe the first year of running your business.
Ali: Ramen noodles.
Dianna: Exhilarating chaos.
Leah: Busy, frightening, hopeful.

What's your favorite way to get the word out about your products?
Ali: I love networking with other people who are interested in crafting. Since I started offering custom product services, I've been able to work with like-minded individuals to help them develop marketing strategies to make their businesses stronger, too! It's really rewarding to help others, while promoting my own business.
Dianna: Referral, word-of-mouth. Folks researching on the web, finding our product and embracing it has been soooo much better than a hard-sell type of approach.
Leah: I feel that one of the best ways to get the word out is to do something so different that other people talk about your business for you. Even if your business isn't in and of itself very unique, you can still do something that gets people talking about you to their friends.
And with Craftster, when it first started, the idea of somebody under the age of 70 knitting was unheard of to many people. So the fact that all these hip young women where crafting made it something that the media found really interesting to write about.
I've been lucky that Magpie, Craftster and other projects I've been involved in like the Boston Bazaar Bizarre all have this very unique "twist" to them which makes them a fun "talking point" amongst other people and the media as well. So for example, there are a lot of shops in Boston that sell handmade gifts and they might get written up from time to time in local magazines and papers but the media tends to find a store like Magpie pretty novel to write about because the things for sale are just so unique or funny or irreverent or clever.
And with Craftster, when it first started, the idea of somebody under the age of 70 knitting was unheard of to many people. So the fact that all these hip young women where crafting made it something that the media found really interesting to write about.
So even if your business is very traditional, it's great to think outside the box regarding what you can do to draw attention. One small example that comes to mind is that there's a local independent hardware store near where I live that has an old-fashioned popcorn pushcart in the store every Saturday and they have really friendly employees giving out the free popcorn all day long. I'm sure many people including myself stop in just for the popcorn and maybe end up buying something or at the least they walk away with a great feeling about that business. And they likely mention the free popcorn to their friends.

Have you faced any challenges that you felt were specific to a female business-owner? If so, how did you overcome them?
Ali: I have found the crafting scene to be a very open and supportive environment for women. There are an increasing number of talented male artists in the community, but we are definitely still the majority, and we are good at keeping each other motivated. Go girl power!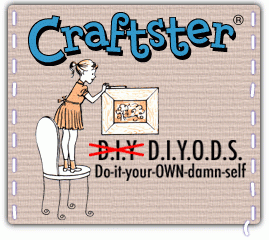 Dianna: As the owner of a manufacturing company I deal with the inherent sexism that goes along with anything mechanical that has to be purchased or repaired – they're always waiting for a man to get on the phone. But I ignore it and bulldoze through it and 99% of the time it is a non-issue. The willingness to problem solve and share information opens doors, particularly in very male dominated areas of the business world, like banking and purchasing. Competence and experience help too! It helps to be a force of nature and really act like it!
Leah: I can't say I came across any challenges as a female specifically. Sometimes I have felt that my business was not taken as seriously as I would like by others but that probably has had more to do with people not "getting it" than the fact that I was female. I think some people still don't see things related to "the arts" as something one should be allowed to make legitimate living at. I've just always stuck to my guns because I knew in my heart that the endeavors I've been involved in really were something end-users or customers would like to engage in and the perseverance has been important.

Any words of wisdom?
Ali: Owning and operating your own indie business can be a rocky road, but if you follow your passion, you really can succeed. I left a high-paying corporate job to start the Buttonhead business. It was a huge sacrifice at first, but now I can honestly say, I've never been happier.
Dianna: GO FOR IT!
Leah: One thing I'd recommend to anyone starting their own business is to get as familiar as you can with technology. So obviously this means learn all about email newsletters, creating a website, tweeting and facebook-ing because they can be low-cost ways of reaching many people at once. But also it really pays to learn more in depth skills like how to write raw HTML and how to process images and do some basic graphic design. This will not only make you more self-reliant but will also give you a competitive edge because you'll be able to come up with technological solutions that other might not have.
Special thanks to Ali, Dianna, Leah and Intern Vashti — all of whom were probs in charge of the sunrise this morning! Wheee!