Hansen's Team Pick:
For the past hour, I've been staring off and on at the counter and twitter feed on the No Homophobes website. It just keeps updating with hundreds and hundreds of statistics and tweets with the words "faggot," "no homo," "so gay," and "dyke." It's strangely mesmerizing and disturbing at the same time.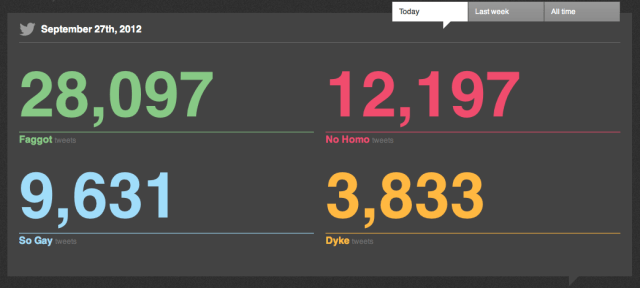 The website was created by The Institute for Sexual Minority Studies and Services (iSMSS) at the University of Alberta. No Homophobia's info explains that the website was designed as "a social mirror to show the prevalence of casual homophobia in our society." Words like "faggot," alienate and isolate LGBTQ youth, and thus the website was created in order to make a stand against using homophobia and transphobic language in our daily lives, the same way we no longer tolerate racist and sexist language.
The website also has a running feed of tweets with the homophobic words. All of the tweets shown are public and sometimes it's pretty astonishing and disturbing what people are willing to say in the open. They also have a graph showing word usage throughout time.
No Homophobes does a really wonderful job of raising awareness because not only does it communicate how negative the homophobic word usage is, it shows us how prevalent it is. Seriously? The word "faggot" was used nearly 30,000 in one day on twitter alone, and two million times on the website's graph. This doesn't count school hallways, dorm rooms, or text messages. If nothing else, the sheer shock of the immense volume of this language should make people think twice about their language use.
But what about the inclusion of "dyke" on this counter? Is it justified to be here on the same page with these words? Is dyke appropriate to use within our community or about our community, and where is the line that makes it inappropriate to say?
Gabrielle said, "I feel very conflicted about …the use of the word dyke because I primarily identify as a dyke and a lot of the activism I do is around taking that specific word back, and to see it listed as an insult kind of feels like a setback in a lot of ways."
Fonseca, Laneia, and I all agreed that we use the word dyke in a non-negative reference to lesbians and ourselves. What about the Dyke March I participated in this summer? The word dyke was used around 4,000 times on Thursday, and I doubt all of those times were lesbians using the word positively, although Fonseca has a bet going that around 60% were dykes themselves.
On the other hand, the people of Twitter are still using dyke negatively. While watching the feed, I found negative usage of the word dyke primarily by young women, with tweets including,"lol dyke," "yeah I play softball doesn't mean I'm a dyke," and "I remember in like 6th grade I used to skate and dress like a dyke. lulsz." Lulsz, indeed.