Happy December! I really should've brought this up a couple of weeks ago so you'd have plenty of time, but look, the world is imperfect and it's fine. Do you want to make your very own advent calendar for your weirdo kids? Or your roommates? Or your gal pal, or yourself, etc? Well you can! You can and you should.
Last year I made a Paper Mountain advent scene like this one from You Are My Fave. The postcard writing aspect of this year's advent was inspired by this Pine Branch advent calendar from A Merry Thought. Another year I wrapped old and new books and tucked them into a box to open and read each night, kinda like this one. I'm showing you how to do an activity-based advent calendar that hangs from a literal stick on your wall, but there are roughly 742 versions of DIY advent calendars in the world, so you can definitely find something to fit your style if this one doesn't!
This project doesn't have to be expensive (though you can certainly make it that way!) and doesn't have to take a long time to put together (unless you're me).
You'll need:
A sturdy stick or branch
Paper lunch bags
Washi tape
String
Paper
Things to put in the bags
The best part of making your own advent situation focused on activities is that you can personalize it to coincide with your schedule and your interests. To keep things organized and simple, I made a spreadsheet numbered 1-24 to prioritize date-specific things, like Megan's days off, school activities, other pre-planned events, and family traditions. Then I filled in the rest of the days with our favorite things, like game night, movie night, takeout, and whatever else I thought we could squeeze into the month.
Some people fill their advent calendars with little gifts or trinkets, but because mine is based on activities, I went with treats and explainy cards. A small card explains that day's event, plus there's little treat for each kid. These are things I know they'll like but that I wouldn't normally have in the house, like Gushers, fancy chocolates, and suckers. On days without an event, I wrote a joke or a SUPER CLEVER and cool treat-related pun, like, "Start the week off on the right FOOT! Only 6 days 'til Christmas!" with a Fruit by the Foot snack. Feel free to steal that one.
Get creative with how you announce your activities. For examps, I put a bag of popcorn in the bag for movie night and a tiny matchbox for the Solstice (to light candles). Is this cheesy? Yes. Is that the whole point? Also yes.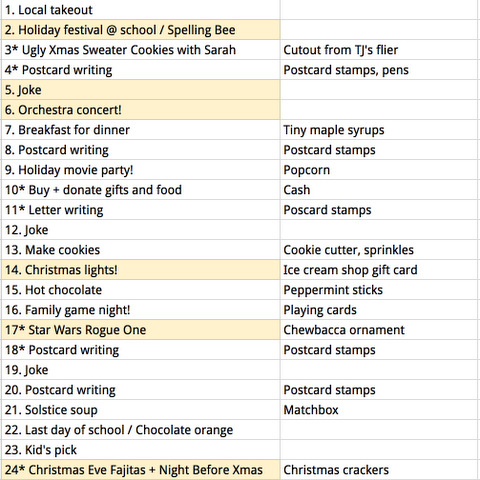 Make labels for your bags numbered 1-24. It was around midnight by the time I got to this step, so my labels are basic as heck — you can spruce yours up as time allows. Then I like to organize everything into piles so I don't forget anything or mix up my days, because I've done both before and it's sad. If you're following my lead, you'll have a numbered bag label, an explainy card, a treat, and any relevant activity-specific item in each pile.
I prepped my lunch bags by cutting them in half to make two types of pouches: one with a wide base for larger items (the bottom half of the bag), and another that could stay flat and be taped up for smaller items (the top half of the bag).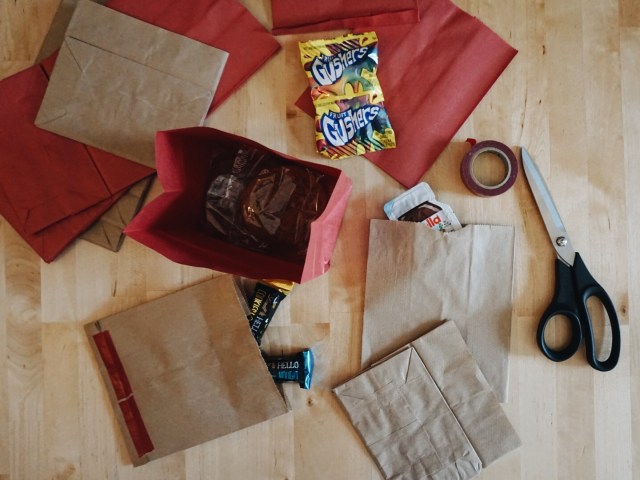 Now it's time to assemble! Go to pile #1. Put everything in that pile (except for the label) inside the pouch, then fold down the top and tape it shut. Attach your number label to the front with cute washi tape. Repeat 23 times.
It was 1am when I reached this point in my journey, which is not the best time to tie pouches of varying weight to a stick you've hung on your wall, but what are you gonna do? Time marches on! You could use math and science to attach your pouches to your stick so that they'll be removed working from the outside in, insuring that your stick stays balanced and doesn't need to be repositioned every day like mine will. (It's fine.)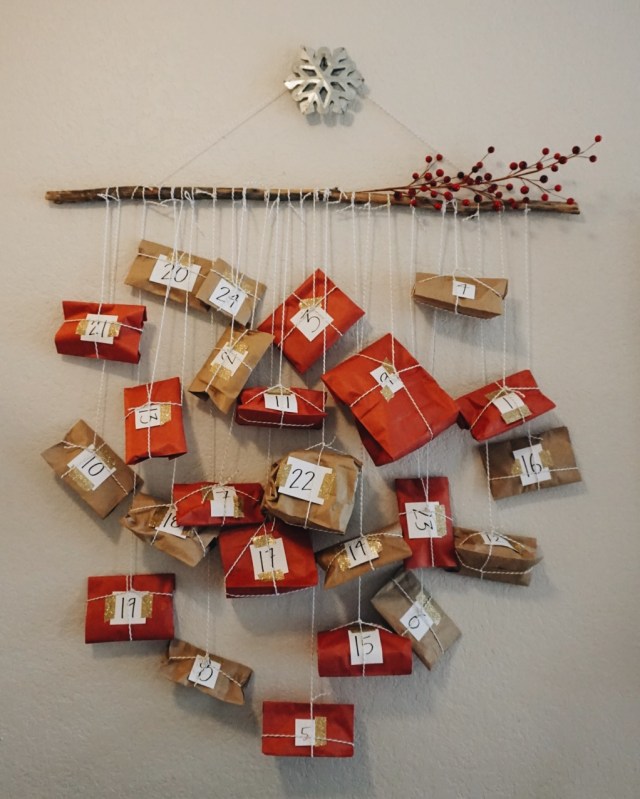 There's a lot of string going on here, lots of pouches. The number labels could use some fancier handwriting. The holly spring is extra. But it's mine! My very own advent calendar.