Happy #AutoPride, butter beans!
It's mid-June in Boston and all the festivities (most importantly one incredible 11-minute demonstration) took place last weekend, leaving a gaping rainbow-shaped hole in my heart. When I lived in San Francisco, traveling to Pride destinations in other parts of the country or the world never really crossed my mind, but a few years ago I accidentally booked a trip to London with my wife during their Pride and discovered how amazing it can be to revel abroad, or even just outside my comfort zone.
Thankfully, the good humans at Lonely Planet are several thousands of miles ahead of me, and just released Lonely Planet's Guide to Pride: 20 Cities & Their Celebrations, an iBooks exclusive highlighting 20 the biggest, most-welcoming and jump-on-a-plane-worthy Pride events around the world.
Let's check out a few highlights (or you can skip ahead and download the entire guide totally free here).
London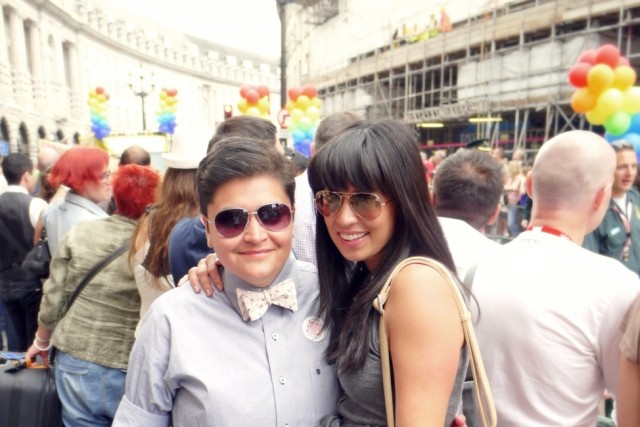 When: A Saturday in Late June
London Pride stole my heart. As I mentioned, my wife and I found ourselves in London during Pride by happy accident. "This is probably going to be a disaster," I cringed when the realization hit me, but from the moment we spilled out of the tube we were warmly enveloped into the raucous-yet-polite crowds and had a blast. I didn't feel for a second like a tourist or that we didn't belong, on the contrary.
The spirit of the parade seemed to balance all the spectacle and celebration with messages of solidarity around work yet to be done, and I think that made things feel vibrant and important, even to those cheering from the sidelines. It felt smaller than some of the ones back home but was easily the least commercial and most community-driven, politically powerful one we'd ever attended.
It was unexpected and lovely, including a handful of after-parties we didn't peel ourselves away from until dawn had already started to break!
For a closer look, visit the London Pride Parade with FFAF here. Or discover Kensington's charm, hop on the London Eye and peek inside a party, take in all the umbrellas in London and have a little South Bank stroll.
Atlanta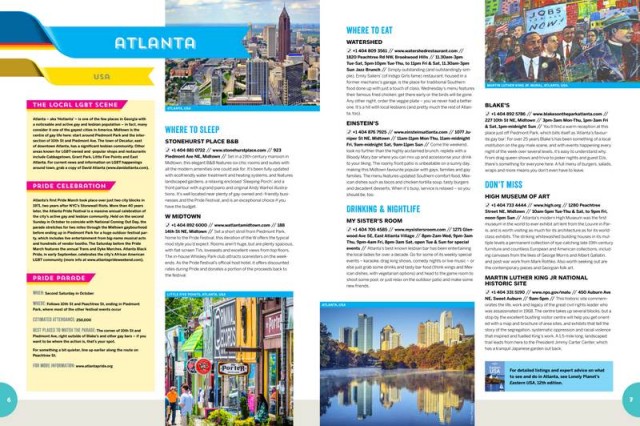 When: Atlanta Black Gay Pride – First week of September // Atlanta Pride – Second Saturday in October
This year, Atlanta Pride falls on National Coming Out Day! Cute stuff! Sure, the calendar tells you the official dates are in September and October, but June is Stonewall Month and the gaiety is already in full swing with pre-game Pride parties, film screenings and mini-docs, family nights, 5Ks and drag shows. Nothing, not even time, can contain Atlanta's pride. They're just getting warmed up!
If SF Pride is a marathon, Atlanta Pride is a triathlon. (I'm really bad at sports analogies but I think you get it — both the best coast and dirty south go pretty hard.) Atlanta Pride just announced a new Executive Director along with some cutie pie additions for 2015: a family-friendly zone for the kiddos, the adorably named Gray Pride for seniors and elders, plus a new youth space, marketplace, car and moto show and more.
Last year the Trans March saw its biggest ever turnout, so it sounds like progress and growth abound on all fronts. Get out there and support it! Also Delta wants to help you get there in style.
Side note: Fingers crossed that my next destination Pride will be in Atlanta 2016. So many kind, awesome folks have highly recommended it that it's definitely top priority on the Pride Bucket List. Read more in the LP Guide to Pride and definitely read up on Autostraddle's Atlanta Queer Girl City Guide before you go.
San Francisco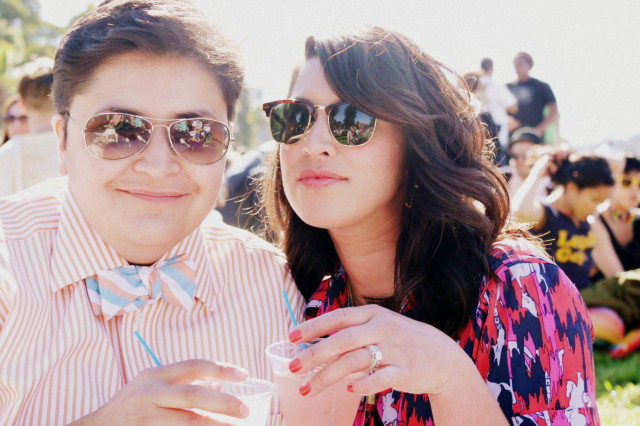 When: Last Weekend in June
Ah, here I am in my element at the 2012 San Francisco Dyke March. This could be your element, too!
If you have the good fortune to live in the Bay Area, SF Pride eventually takes on the same familiarity and tradition as any other holiday (they don't call it "Gay Christmas" for nothing). Facing June and wondering how you'll coordinate making it to all the parties and art shows and film festivals and still have energy left to support your friends events and properly self-care while running a four week long queer marathon is a straight-up glorious non-problem to have.
If you're "just" visiting, luxuriating in the rainbow glow is an easy thing to do when people come from all over the world to celebrate in the City by the Bay. Who needs earthquakes when San Francisco practically undulates with raw sexual freedom and giddiness through a mirage of shimmering glitter and goodwill each June, from City Hall to the rainbow-lined — and now painted — streets leading all the way up to the big pink triangle on Twin Peaks? (We need the infamous fog to keep us from getting too hot and bothered with all that going on.) There is always something for everyone in a city that prides itself on letting its freak flags soar.
Even if the city's color and vibrancy has diminished in recent months, it hasn't gone out altogether, and whatever it is you're looking for this Pride, chances are you'll find it somewhere in my beautiful hometown. And lucky y'all, there's an #AutoPride meetup at the Dyke March again this year. You should go!
Madrid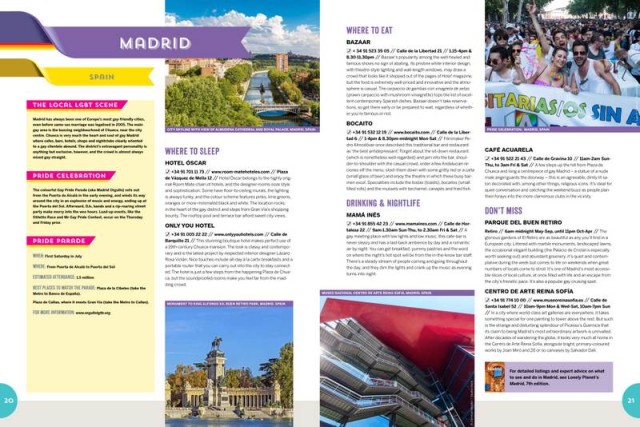 When: First Saturday in July
This is Europe's biggest and arguably its best Pride celebration, with nearly two million attendees each year.
According to the Guide to Pride, "The colourful Gay Pride Parade (aka Madrid Orgullo) sets out from the Puerta de Alcalá in the early evening, and winds its way around the city in an explosion of music and energy, ending up at the Puerta del Sol."
I love that each year provides a new and pertinent theme for the community to rally behind. They've been wonderful in the past; 2008's focus was to increase visibility for lesbians, and the 2014 theme was Marching For Those Who Can't, meant to give a voice to victims of worldwide homophobia. The slogan this year is Leyes por la Igualdad Real, ¡Ya! or Real Equality Laws Now! (Please forgive my poor translation and feel free to correct me in the comments.) It's accompanied by a manifesto that calls for anti-discrimination laws that reach every region of Spain, condemns transphobia and supports the need for more inclusive legislation around health care, public education, and hate crimes.
Of course, it's still Spain, so don't expect things to die down after the parade. The street party continues with live music and deejays through the wee hours of the morning. Let the sangria de cava and good vibes flow 'til the sun comes up. I'm personally deeply in love with Spain and this only makes me love it more. Some say that Madrid has Barcelona beat in terms of a thriving scene for lesbians and queer women as well. I feel pretty up to the task of finding out for myself!
Bonus: In 2017, Madrid will be the site for WorldPride – mark your calendars now!
Dublin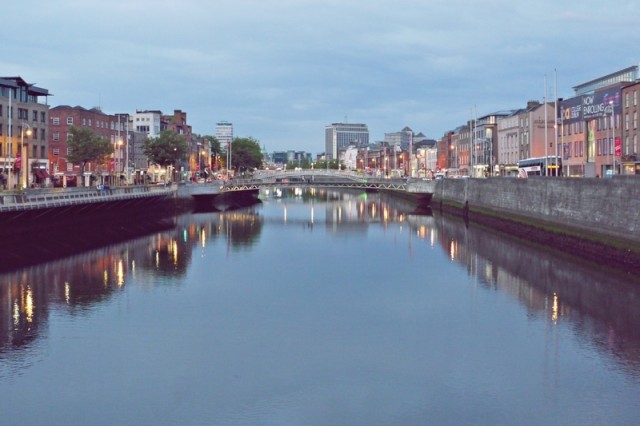 When: Last Saturday in June
I wanted to hear from actual Dubliners on what makes Dublin Pride special, so I turned to the same friends who blew my mind by taking me to the best drag show I've ever seen at PantiBar a few summers ago:
"Irish people are great at not taking life too seriously, but knowing when to be serious, and Dublin Pride captures that. There's a lot of excitement knowing that Ireland has changed massively in less than 25 years. We were many years behind other countries in decriminalising homosexuality, and now we've introduced marriage equality by popular vote, and one of the most progressive pieces of legislation for transgender individuals in the world."
Folks, I believe that's a bona fide mic drop.
In addition to the big parade, which draws crowds upwards of 30k, Dublin opens its arms to the LGBT community with Pride-centric art exhibitions, dog shows, family picnics, concerts, political debates, remembrance ceremonies, and of course, lots of grand parties. Also worth a visit is Outhouse on 105 Capel St, a year-long community hub for the LGBT community which hosts many events for diverse groups. Last but BEST, there is the #AutoPride Pre-Dyke Night gathering.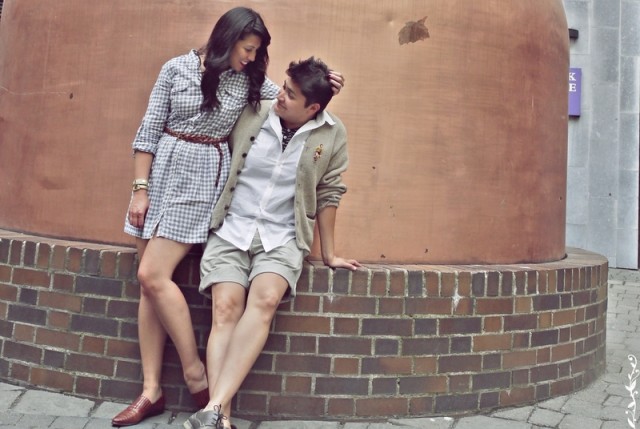 You can take a virtual tour of Dublin with FFAF if you want to: Get Schooled at Coláiste na Tríonóide // Drink all the Jameson // Visit the Wicklow Mountains for A Celtic Butch/Femme Fairy Tale // Life, Love, Liffey!
Which of the 20 Prides have you been to? Tell us all your expert destination Pride tips and sweet dreams in the comments, pretty please.
I'm gonna go find a rainbow piggy bank to start saving up for Atlanta, Madrid, and Taipei!