Happy Fundraiser!! Did you put on your fundraiser hat and your fundraiser pants today? I DID. I painted my face like a fundraiser, too, and changed my ringtone to the unofficial fundraiser theme song, "Take It To The Limit" by the Eagles. I LOVE FUNDRAISER. Maybe you're wondering why we're fundraising? Nicole has anticipated this curiosity of yours and she has you covered with six reasons reader support is independent media's only shot at survival.
What about the PERKS, you say? The physical, limited edition, extremely queer MERCHANDISE. That's what I'm here for. Have a seat, take this all in. Just let it wash over you like a perks ocean, like a murmuration of perks starlings flying overhead, resplendent.
---
Might as well start with our most popular offering: The Gay Agenda Journal. Good gracious on toast, y'all really love this journal and I don't blame you! We wanted you to have a place to put all your gayest, most homosexual schemes and dreams, but we also wanted to keep it subtle okay? I think we nailed it.
---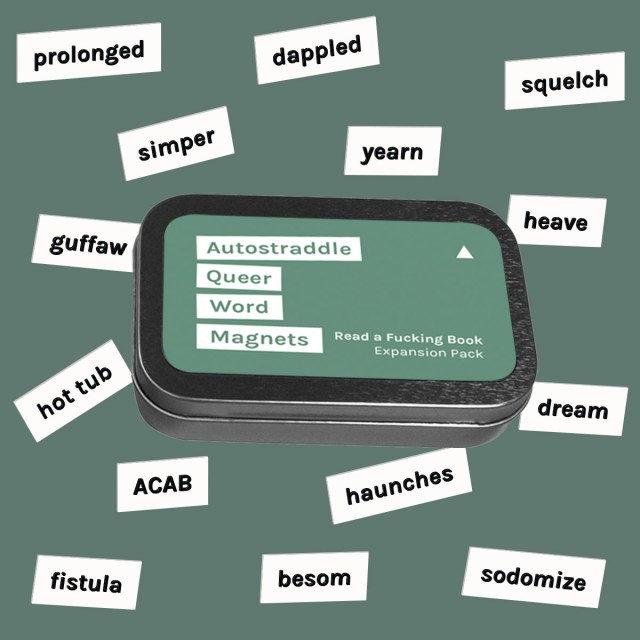 You've heard of Autostraddle's Queer Word Magnets, but did you know we're currently selling two (2) new expansion packs? The Make It Gay You Cowards! pack comes with 80+ words all about your favorite queer TV, with words chosen by our very own TV Team. The Read a F*cking Book! pack is 80+ literary words that are sure to elevate your poetry and prose. These words were chosen by Esmé Weijun Wang, Roxane Gay, Leah Johnson, emily m. danforth, Gabrielle Korn, Daniel Lavery, Grace Lavery, and Kamala Puligandla.
The handiest part of all this business is that both of these packs come with the option to add an original Queer Word Magnet kit to your order! Ugh we have well and truly thought of everything.
---
Our sticker options are gorgeous, innovative, totally new and did I say gorgeous? I did. We're talking about a Queer 4 Queer Media bumper sticker, a transparent Have a Nice Gay! sticker, and two holographic situations — The Gay Agenda and Queer 4 Queer Media — that'll have you tilting them in and out of the light for hours on end. We just want you to have a good time! And, if you love them all but for some reason don't want that bumper sticker, we have a sticker pack with all three of the die-cut babies at a slightly reduced rate! Ho ho hooooo what WILL you do with all these stickers??
---
Now I know what you're thinking: This is all well and good but Laneia, where is my tote? Friend, your tote is right here.
I happen to be a mother of at least two people, so I'm naturally hesitant to declare a favorite anything, but this Have a Nice Gay! tote is my favorite tote ever. It's clever, it's roomy, it's bright and cute and I wanna put all my library books in it! Just as soon as we can go to libraries again!!
---
Some of you are probably feeling a little overwhelmed here. You can't decide what you want and listen, I get it. These are limited edition situations! They support the future of Autostraddle! You have a lot of surfaces on which to stick a lot of stickers! If this sounds familiar, might I interest you in a whole box of everything all at once? That's right, one of each! (Well, not the original Queer Word Magnet kit, but you can get that anytime from our store!)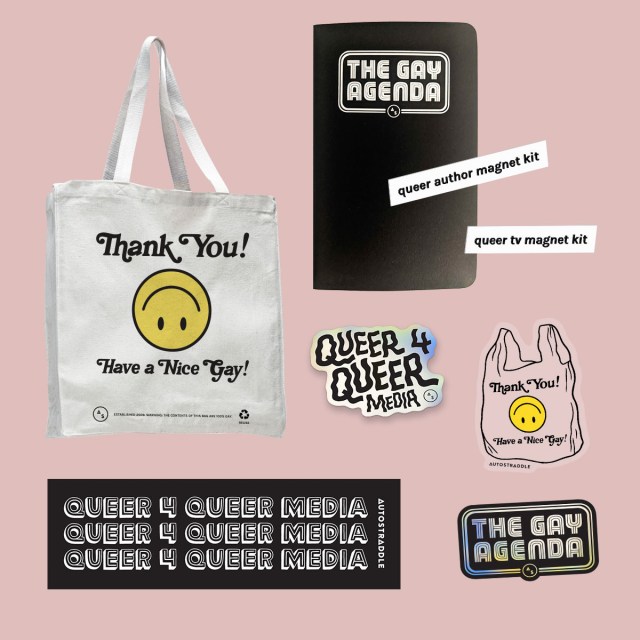 Get over to the Fundraiser Perks store and grab your limited edition goodies while you still can!
---
Support Independent Queer Media
We're raising funds to make it through the end of July. 99% of the people who read this site don't support. Will you be one of the ones who do? Joining A+ is one of the best ways to support Autostraddle — plus you get access to bonus content while keeping the site 99% free for everyone. Will you join today?