feature image via Shutterstock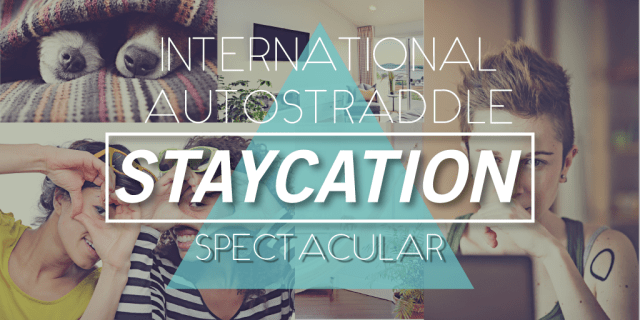 On March 14, we want our readers to stay in together as part of Autostraddle's International Staycation Spectacular! Follow along with everyone's hotel parties, spa days, and indoor picnics around the world with the hashtag #StaycationSpectacular, and join us on the day of for the A+ livestream!
---
So you're having a #staycation! Got your movie/TV show marathon planned out, a radtastic playlist queued up, and delicious snacks to last you for days. But why stop there? Have you considered leveling up your staycation plan? Have you considered putting up a hammock and setting up a blanket fort?!? Is there any situation that wouldn't be improved with a hammock or a blanket fort or both? I posit that there is not.
Now there's just the question of figuring out how to hang a hammock inside and/or truss up a vacation-style blanket fort.
Y'all, I got you. Not only am I a pro staycationer ("my own home" is #3 on my list of ideal vacation destinations), but I happen to be friends with a foremost expert in the fields of hammock-hanging and blanket-fort-constructing. In fact, her knowledge is so great that she has a hammock permanently installed over her bed and supports for a blanket fort to go around it, so multi-level hanging out can happen at a moment's notice. I hung out with her for a day, went and looked at some potentially hammock-able households, and learned some real tips for all you staycationers right here. Let's get hanging'.
---
Ways to Make Your Place Hammock-able
See If You're Allowed to Drill Into Your Walls
Landlords and university housing agencies tend to be anti-drilling, for whatever reason (okay for good reason), but if you're allowed to put some big-ass holes in your walls and you're down with doing a little bit of construction, then this'll be super easy! Just pick up an indoor hanging kit, and get to drillin'.
Make sure you're drilling into a place in the wall that can support your weight, otherwise you'll end up on the ground with possibly a giant chunk of drywall. Wall studs are good, visible support columns are even better. If you have a reliable stud finder, use that. (Here's a video about how to find your wall stud as well!) As a rule of thumb, door moulding is usually nailed to studs, so check out where they're nailed in. I would also generally trust anywhere on the wall that would support a hanging TV, so if you've got one set up, you already have one reliable anchor point.
Get Creative With Doorways
If you can't or don't want to punch holes in your walls, you can still hang a hammock! Do you have two doorways in close proximity and/or rope to extend your hammock's reach? Then you're all set. Just pick up — or repurpose — a pair of doorway pull-up bars. There's a variety that goes over your door moulding without any screws needed, and there's a variety that expands to fit your doorway — if you use the second type, definitely mount it with the brackets that screw into your doorjamb. Don't rely on friction to hold up your body, unless you like your staycations full of risk.
Things to consider when hammocking between doorways: are you blocking a hallway? Will this annoy your roommates, if you have roommates? Will you ever use these pull-up bars for anything other than hanging your hammock? Do you even want to do that?
Use Counterweights And Exposed Columns
Suppose you can only find one reliable anchor point, and you just don't trust anything else in the room. That's fine! Do you have a couch? A bookcase? A piece of sturdy furniture? Go ahead and drape the other end of your hammock over it, then tie it to something heavy that will counter the pull of your weight on the furniture — an ottoman, a bed, a kitchen table, a sandbag — as long as it's hard to move and weighs at least as much as you. You can also go the old-fashioned route and tie the other end of your hammock all the way around, say, the corner column of your breakfast nook as though it's the trunk of a tree. Or an exposed pipe (make sure it's not a conduit or water pipe. I-Beams are great, if you happen to live in a warehouse-ish space). Generally speaking in terms of materials to tie your hammock around, wall-mounted metal is better than wood that you can see is better than wood that you cannot see.
Absolutely no curtain rods, though. This is an emphatic non-endorsement of curtain rods as a hammock anchor point. Same goes for door hinges. I also strongly advise against tying your hammock to glass or plastic structures.
Consider a Hammock Stand
A hammock stand is a bit more of an investment, and a bit harder to carry home than a pair of hooks or pull-up bars, but it's guaranteed to support you in your hammock and you don't have to do anything to your walls or furniture. It's also a practical choice if you're probably gonna move a few more times in your life and can't guarantee that your next place will accommodate other methods of hammock-hanging.
#Staycation That Hammock
Now that you've gone through all the work of hanging your hammock inside, do absolutely no work to get out of it. Cocoon yourself in vacation. Before you get in, set up a shelf or side table within reaching distance, so you can have your books, laptop, speakers, snacks, flashlight, rubber band ball, tiny zen garden, or any other sundries your little vacationing heart might desire. Pin up a string of Christmas lights. Hang a few pieces of glass or crystals that'll catch in the light, if that's a thing you would like to look at.
---
How to Hang the Ultimate Blanket Fort
If you can't quite hang a hammock in your home, or, heck, even if you can and you like options, you can create an awesome vacation space in your home with a few blankets and strategic placement. There are generally two ways to go about forting: with a line and without a line.
With a Line
If you have some rope laying around, great! Remember all those spots that don't work for hammock-hanging? They're pretty ideal for blanket-draping. Curtain rods, door hinges, cabinet door corners, coat racks, sturdy picture frame hooks — all that's fair game. I'd still avoid glass and plastic structures. Just tie a line between two points, throw a blanket or sheet over it, then repeat.
Without a Line
If you don't feel like putting up rope or going to get rope, you can still use a lot of the anchor points you'd use with a line. Thread the corner of your sheet or blanket through the spot where you'd thread the line. Grab a Small Wide Thing (I used a tennis ball for a door hinge), wrap your sheet around it, and then tie it off with a rubber band or hair tie, creating a little stopper that'll keep your blanket from being pulled out of its anchor point.
Doors and table corners are also great for draping, as are hanging light fixtures, the backs of couches, music stands, etc.
Fortifying Your Fort
I typically see blanket forts in living rooms and bedrooms, but, y'know, this is your staycation. Do you want to have easy access to snacks? By all means, annex the fridge into your kitchen-based blanket fort. Get the microwave, too, while you're at it. Want something a little lower? Crawl under your desk or dining room table and weigh down your blankets tabletop with heavy books and things (plates and glasses are not advised, in case a blanket edge catches and the weights get pulled down to the ground). Feeling the possibility of a shower beer? Hell yeah make the door to the bathroom one of the walls of your fort.
---
Whatever you decide to do with your hammock/fort/both, dream big. Bring lots of pillows. Relax to the max. And take some pics and add them to social media using #StaycationSpectacular so I can see what your beautiful staycation nest looks like!