feature image via via Madame.De
It can be supremely annoying to restock the quintessential winter staple of basic black tights and leggings. First of all, I'm almost certain we'd rather spend our hard-earned dough elsewhere. Second, it's about as thrilling as paying an electricity bill (unless you are Rachel Syme — god love ya, girl) and finally, the risk of disappointment with the purchase is too damn high.
Generally speaking, I think we all look for the same main ingredients when buying tights or leggings: maximum opacity so our junk isn't hanging out everywhere, comfort (you definitely can't sit with us, Spanx) and warmth without sacrificing durability — absolutely no pilling, tears or losing shape or color after a few wears! Other must-haves might include a waistband that doesn't fall or roll the hell down the second we yank them up, and it'd be nice if they didn't cost a total fortune.
Heaven knows it doesn't help things that they're often packaged in a way that makes them impossible or impractical to try on. Often it's the essentials that can be the trickiest to shop for, so I made you this roundup to help you find your forever pair.
---
Let's start with tights! They're the lightweights of this post, but a major wardrobe essential.
H&M
H&M gives you reliably cheap, high-denier tights as well as fleece versions that should last you a few seasons or more (yes, even in New England winters). They tend to stay up and have a superior fit to Uniqlo's standard or HeatTech tights. Most of these are footless, which I don't prefer, but stores usually have both options available.
In my experience anything 100 Denier or less from H&M (or closer to a nylon or sheer tights) won't hold up well. Last weekend I threw out a $12.99 pair of back-seam tights that weren't too opaque, but weren't sheer either, after just eight hours of wear. They tend to easily run or rip on me.
---
Hue

I feel like this brand has been around since I was a wee little lass; they came about in 1978 and their parent company says 80% of their products are made in the USA. Hue's mindbogglingly extensive range of products are available all over — Macy's, Bloomingdale's, Nordstrom, you name it — and there isn't a single pattern, color, style or variation they haven't made (yet).
The gold standard Absolute Opaque Tights can run you $18.50/pair, but I found some at Nordstrom Rack for $7. Right now Macy's has a 2 for $30 sale on them, and similar deals on all Hue tights in stock! Their basic black legging is $27-$36 and has a nice wide waistband, if that's more your speed.
---
Capezio

When I lived in the Bay Area, there was a little dance shop in Oakland that I'd always pop into to stock up on hair pins and tights. When you need a pair of tights to just do their damn job perfectly without having to think about it, it's time to borrow from the ballerinas!
Capezio has been making shoes and hosiery for professional dancers since the late 1800s, and their products have to stand up to the rigor of all that breathtaking movement and friction and moisture from hardworking bodies.
My top picks are the classic Hold & Stretch Footed Tight (above left, $14), Self Knit Waist Stirrup Tight (center, around $16) for a full-leg look with a mostly bare foot, or the Ultra Soft Transition Tight (second from right, $17) if you'd like the option to wear it footed or footless. All prices here are for the plain black pairs, FYI.
---
Wolford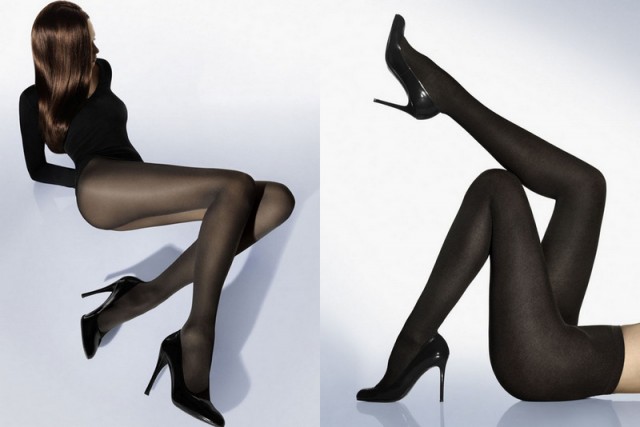 Touted as the crème de la crème of hosiery (or one of them, at least), Wolford is a solid luxury brand.
If for whatever reason you feel that most tights are too casual or informal, or you need yours to have more polish without sacrificing warmth, or you're FANCY AF, you might want to reach for these.
If the price scares you off, I get it; you can find deals out there, though. But if this is where you want to splurge and pamper yourself, I'm certainly not going to judge you. YOU ARE WORTH IT. (In some ways, it's almost logical to spend more on something that feels and looks delicious that you'll reach for frequently — cost per wear rationale!)
Try the Matte Opaque (around $50-$60) or Cotton Velvet ($35-$50) versions, and intern Raquel swears by her Mat Opaque 80s!
---
When you're meticulous about clothing and something as banal as leggings interferes with how a skirt falls or the way a dress moves, it can be incredibly frustrating. From teggings and jeggings and ultra-thick treggings that are pretty much pants, we've got you!
Here are some safe bets according to me, the Autostraddle team and our cutie pie friends.
---
Old Navy

Staff Writer Lyn loves Old Navy's Jersey Leggings for being comfy, relatively durable and cheap. I love that they come in a standard version ($10-$20), but offer  cropped (left, $12), plus-size (second from right, $20) and cute button-front (right, $11) options as well!
---
Target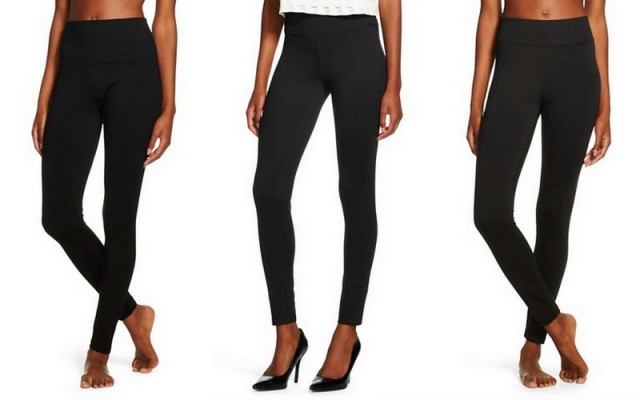 Target is a popular staff pick even though my kid, who lives in leggings, won't touch them. (She says the material is too thick but not comfy or soft enough, and that they slide down.) Merona makes the most opaque pairs, with the Seamless High-Rise (left, $18) and a Ponte Mid-Rise (right, $18). In the center are a pair of Hanes® Premium Women's Leggings, $20.
Mossimo Jeggings (not pictured) come highly recommended, and are BOGO right now! For a plus-size option, Hanes JMS are usually there in stock but that link will take you right online to the Hanes store.
---
H&M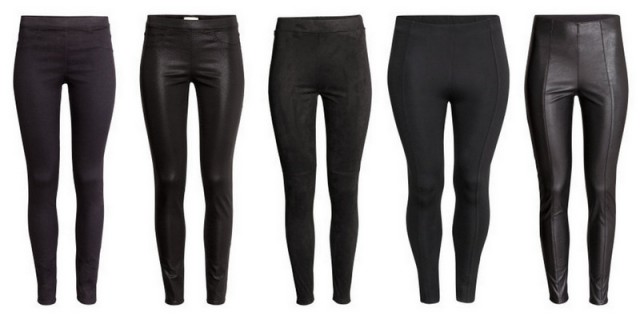 H&M's Treggings (trousers x leggings) are incredibly popular and super inexpensive. The basic slim-fit tregging (left, $17.99) comes in a ton of colors, including denim shades, as well as different patterns and textures (coated, second from left) that change out with each season. There's also black imitation leather (far right, $29.99) and suede (center, $19.99), satin and plus-size versions (second from right, $24.99) in super thick jersey, and pricier, high waist iterations.
---
Aerie


Aerie's leggings range isn't overwhelming, but they are well-made. You can count on them to be thick and opaque, nice and warm, and my favorite pair have a wide high waistband with a snug fit for $19.95. You can get them in midrise if you prefer, without or with a zip (pictured above, $24.95), and in sportier versions with and without pockets for slightly more. Simple, toasty, sturdy! Currently buy one, get one 50% off, so they're basically $15 per pair on sale.
---
Max Studio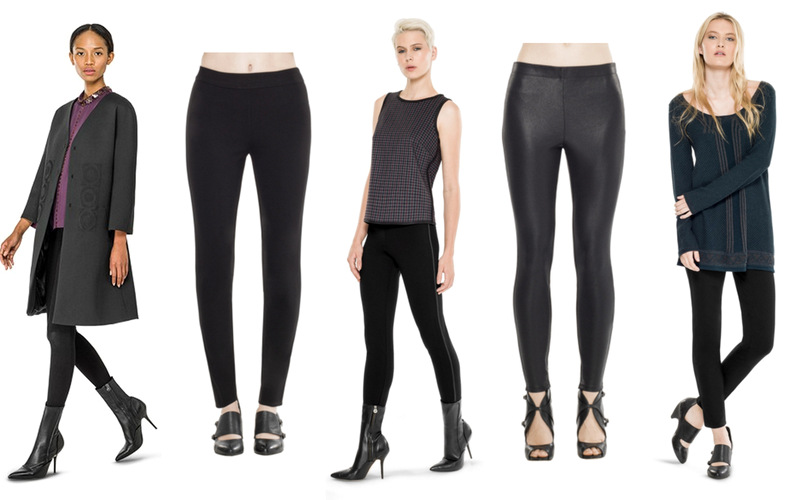 This is my go-to brand when I need something heavy-duty that has more polish and completely and totally covers my bum, the way a pant or trouser would (without the bulk or fuss of either).
Unlike jeggings or treggings, these aren't really trying to be pants, they're just sleeker, comfortably snug, more utilitarian ponte leggings. An evolved legging, if you will. Where some leggings won't let you, you can truly get away with almost any top in these, which makes them so much more versatile.
My two pairs have been going strong for at least four years, and they never fade or lose shape in the wash. These usually retail for $98, but you can snag the heavy ponte (right or center/second from left with leather tuxedo trim) or leatherette (second from right) versions for just $38 right now, and the double knit version on the left is on sale for $68 (sizes may be limited).
---
ReDress
I'm pretty sure these babies need no introduction. They are the cult favorite among every single plus-size, badass babe I know, a tights/legging hybrid exclusively from ReDress. They're made in the US and come in tons of colors, available in Regular, Extra-Long and with a Fleece offering on pre-order. These will run you $22-$26 per pair. For sizing, the website says "one size fits up to a size 4x, but these have fit sizes 30 and larger successfully as well, as they are seamless."
Because I love you and femme power is everything, here is a code for free shipping on your order: SHIPFREE. You're welcome!
---
Honorable Mentions

Riese and I have to give a nod to Uniqlo's Women HeatTech Leggings, because they are unbelievably soft, comfortable, and well cut. You wouldn't want to wear these alone; they're more like long underwear for bundling up and layering in super cold weather. Perfect as a base layer for skiing or snowboarding, or to get through long and brutal winter days.
Their men's version is more obviously long underwear, so definitely scoop these babies up if you need that kind of warmth and if the men's department is more your steeze (you need to stay warm in the winter, too). Riese also loves the Knitted Extra Long Leggings for layering, while Carolyn loves Uniqlo's Leggings Pants. I do, too! I wore them here for a holiday style guide awhile back.
Of course, Modcloth has a great selection of tights for plus-size babes, but most are of the fun, patterned, more sheer variety. Still, worth a look if you're in the market for something cheeky!

On the fancy side and still looking? Lysse is a luxury brand that doesn't go too nuts in terms of budget (pictured above, pairs start at $60 and top out around $128), plus they have tons of vegan leathers and really smart styles. Available at Amazon and you can save a ton if you buy yours on sale at Bloomingdale's right now.
Madewell leggings have high reviews, and Topshop has a seamed ponte version for $30 at Nordstrom. James Perse, whose ultra-soft line can do no wrong in my book, has a pair also at Nordstrom for $68. If you're looking for something fleece, Shopbop has a pair from Splendid for $68 that might be worth a look.
Feel free to drop your faves and suggestions in the comments and ping me with any questions!