There's this little thing that goes down sometime around March in Austin, Texas — South by Southwest? You've heard of it? Music! Art! So much hype and independence and relevancy and just livin' L-I-V-I-N' et cetera.
Well ok yes, but were you also aware of GayBiGayGay? It's this apparently kickass, definitely queer little get-together at the end of SXSW — the brainchild of  Hazey Fairless and Silky Shoemaker (please PLEASE I need a GBGG name to rival these two). Here, this explains things better:
"For the past six years, our friend Hazey Fairless has opened up her East Austin backyard to the likes of Erase Errata, Diamond Rings, Big Freedia, Lesbians on Ecstasy, Shunda K from Yo Majesty, Dynasty Handbag, and other big-name queer acts, offering homemade food, cold beer and southern hospitality to a motley throng of queers, queens, dykes, divas, breeders, bois, and anybody else who thinks sitting on a blanket on a sunny Sunday surrounded by nice people listening to free music sounds like a good idea."
Um hey, THAT'S ME. So I'm pretty damn sure I'd really love this new book from Monofonus Press — GAYBIGAYGAY: Portraits of a Backyard Gaytopia. It's a mix of photography (from Ben Aqua and Amber Rademacher), artist blurbs and, I don't know, just pure awesome??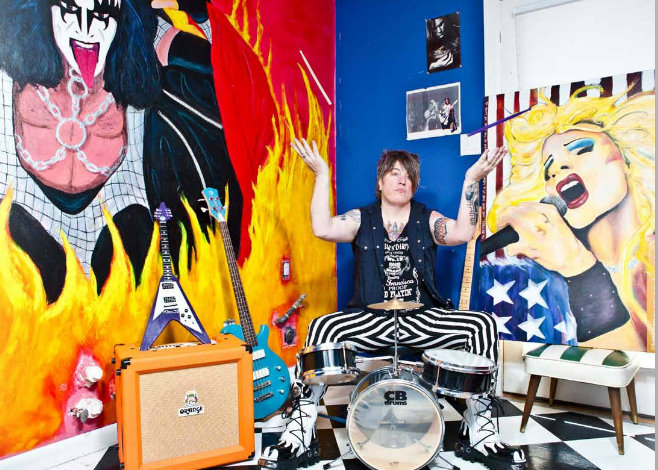 I feel like you'll really love this quote from Paul Soileau:
"GayBiGayGay is a baby that's getting old. The baby's growing up, the baby's getting bigger. So how do we keep that baby safe, keep that baby smart and keep that baby kind? That's the kind of fear I feel when I see it getting bigger. I want to nurture that thing and keep it good. And I don't think that's a dangerous kind of of fear and I don't think it's a threatening fear. I just think it's a natural fear for something you love."
Oh Paul. Yes.
You can / should pre-order your copy of GAYBIGAYGAY right now. You should make plans to be part of GBGG next year! Good grief you should just change your name to 'Part Of The Revolution' because baby, you are.