UGANDA: We've been following the Uganda story pretty closely and were encouraged to hear that President Museveni has reportedly assured American authorities that he will veto Ndorwa West MP David Bahati's proposed anti-gay law.
Reuters South Africa Reports:
"Uganda will soften its proposed anti-gay legislation, but the government denied on Wednesday that it was bowing to an outcry in the West over a controversial bill that could have seen homosexuals put to death.
Ethics and Integrity Minister Nsaba Buturo told Reuters that the revised law would now probably limit the maximum penalty for offenders to life in prison rather than execution: "There have been a lot of discussions in government … regarding the proposed law, but we now think a life sentence could be better because it gives room for offenders to be rehabilitated," he said in an interview. "Killing them might not be helpful."
Also check out this Ugandan paper's piece on Understanding Homosexuality.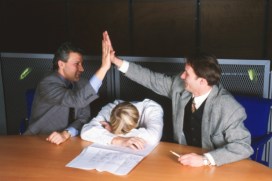 LAWSUIT: A fired lesbian lawyer (and Harvard Law grad) is suing her former firm for $50 million, saying she endured "repulsive harassment and discrimination" because of her sexual orientation and was not promoted because of her orientation. She says females were hired laterally rather than promoted from within. The whole thing is super confusing 'cause the specifics are vague, $50 million is a lot of money, and we don't get why she wants to work there. We want to give her the benefit of the doubt … any legal eagles wanna make sense of it for us?
Julie Kamps, who wears men's clothing and "does not fit into typical feminine stereotypes," according to the lawsuit, claimed at least one partner at Fried, Frank, Harris, Shriver & Jacobson wrote "highly negative, gay-bashing and damaging comments" about her, according to The New York Post.
Also Julie we have lots of ideas for redesigning your website once we finish redesigning ours, so uh, give it some thought! (@abc)
THE BEAUTY MYTH: On a somewhat related topic — though women have made significant gains in all other areas of life, one thing just keeps getting worse: the standard of beauty – Are impossible beauty standards a subconscious cultural reaction against women's growing political power?:
It's fine for women to do everything men do — as long as they stay skinny, sexy, young, and soignée at the same time. The surveillance culture of the Internet and the tabloids sends a message to all women that to let oneself go for even a moment is to open oneself up to a psychotic Greek chorus of abuse.
RIP:
Ann Nixon Cooper died Monday at the age of 107. In her lifetime, she saw women get the right to vote, the end of legal segregation, Martin Luther King and the civil rights movement of the 60's, and more recently, Obama's election to the presidency. You might remember Cooper from Obama's election night speech, which highlighted the achievements America had made during her lifetime:
[Ana Nixon Cooper] was born just a generation past slavery; a time when there were no cars on the road or planes in the sky; when someone like her couldn't vote for two reasons – because she was a woman and because of the color of her skin.
And tonight, I think about all that she's seen throughout her century in America – the heartache and the hope; the struggle and the progress; the times we were told that we can't, and the people who pressed on with that American creed: Yes we can.
The president and first lady released a statement of condolence for Cooper yesterday, in which Obama said "It is especially meaningful for me that she lived to cast a vote on Election Day 2008." Also, there's an article over at NPR about Cooper before Obama's victory. It's a very touching look at her full life written by Karen Grigsby Bates, who helped Cooper compose her memoir A Century and Some Change: My Life Before the President Called My Name. (@nytimes, @npr)
GOOD LOOKING CORPSES: The 50 Hottest Dead People of the 00s. I don't know how to feel about this. (@buzzfeed)
CENSUS: Next year, the U.S. Census Bureau will once again go about the task of counting everyone in the country. This time, the census will include gay married couples, but it doesn't ask everyone about sexual orientation. One group wants that question included and will give you a big pink sticker to help get the point across to the bureau. (@queerthecensus)
TRANS 101: Feministing posted this interesting video that's an overview of what it means to be transgender. You might know a lot of this already, you might not, but it's still a refreshingly straightforward and educational look at trans issues. They should show this in grade school health classes, for real. (@feministing)
ATHLETES: The AP nominates two HORSES for female athletes of the year: Was it really so hard to find ten athletes who are women? (@feministing)
SWEDEN IS JUST SO MUCH BETTER THAN OTHER PLACES: More Swedish Women Having Sex With Other Women: According to The Local, an online study of 855 young people between the ages of 18 and 24 reveals that 31 percent of females 7 percent of males report that they are most often sexually attracted to people of the opposite sex, but sometimes they are attracted to people of their own gender. (@carnal nation)
INFLUENCE: Moyers, Moore and Maddow are the Most Influential Progressives. The three M's — Bill Moyers, Michael Moore and Rachel Maddow — scored highest in a recent AlterNet survey* asking more than 5,000 readers to rate the most influential progressive media figures. (@alternet)