Jane Lynch has reached the pinnacle of mainstream acceptance: she's been tapped to write her memoir, which will likely put her on the New York Times Best Seller list and therefore become a household name to your grandparents.
Happy Accidents will be released in September (probs to coincide with the Season 3 premiere of Glee — cross promotion, ya know) and will:
"Recount her comedy career at the Second City improv theater and her work in films like "Best in Show" and "The 40-Year-Old Virgin" while addressing how she learned to her embrace her homosexuality and overcame alcoholism, and perhaps show how intertwined she and her "Glee" persona are."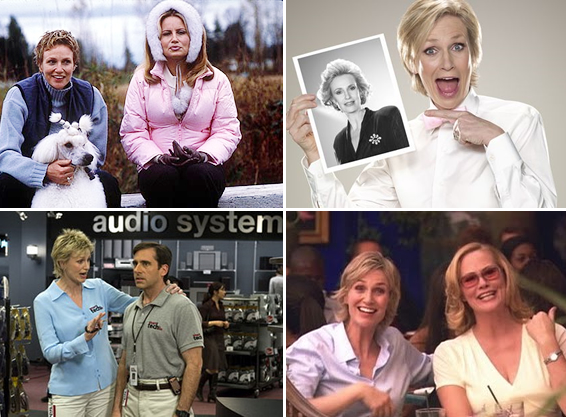 I'm curious to learn more about Jane Lynch – the person – and it seems her memoir will delve more into her personal life:
"Sue Sylvester didn't come out of a vacuum. She's someone that lives very deeply in me. I kind of liked that shaming, vengeful energy during different periods of my life. I was in therapy and I was complaining about somebody not following the rules, and my therapist basically started laughing at me and said, you must write a monologue about this, because it's hilarious stuff."
As a reference point, let's review Sue Sylvester's diary entry from last year:
The good news is that she is sure to go on a cross country book tour which means you can come face-to-face with the Lynch at your local Barnes & Noble! I went to Portia de Rossi's signing/Q&A here in New York and it was splendid.
So, what's your favorite Jane Lynch role? She'll always be Joyce Wischnia to me.