When I saw Google's support of "Ban Bossy" by Lean In creator Sheryl Sandberg, I was fully prepared to hate it. I clicked on the link expecting to see more Sandberg-branded sexism under the guise of feminism (women, you're just not working hard enough!), and instead was pleasantly surprised by what I found. Ban Bossy raises the question: why are boys so often described in ways that affirm authority, while girls are so often described in ways that imply overreach?
From Ban Bossy:
When it comes to girls and ambition, the pattern is clear: girls are discouraged from leading. When a little boy asserts himself, he's called a "leader." Yet when a little girl does the same, she risks being branded "bossy"—a precursor to words like "aggressive," "angry," and "too ambitious" that plague strong female leaders. Calling girls bossy is one of many things we do to discourage them from leading. It's no wonder that by middle school, girls are less interested in leadership roles than boys, a trend that continues into adulthood.
Here's Beyonce with more information:

One of the things I hate about "lean in" feminism is that it leaves sexism intact while putting the onus on women to fix it, or work around it. What I like about Ban Bossy is that it confronts sexism at its source. Here, the message isn't for girls to put their little noses to the grindstone; this campaign largely targets adults, calling for reflection on internalized sexism. Ban Bossy flags a specific example of sexist doublespeak and asks adults to stop and think when they hear that word, to catch themselves before they propagate sexist double standards. This thing is potentially most important when you're young, which is probably why the Girl Scouts got involved.
Is the word "bossy" inherently bad? Obviously not. (I mean: HELLO Kellis!) Overly authoritative behavior is a thing that exists in this world, and it's useful to have a word that describes it. It's not the word itself that is unsettling (arguably we could just reclaim the word rather than "ban" it); it's how it's applied. "Banning" the word "bossy" is hyperbolic. After all, we wouldn't have a language anymore if we removed all the words that have been used to oppress women. But I suspect the creators of Ban Bossy phrased it this way knowing that the strong language would spark debate.
We've seen banned word discussions play out before, and honestly, I wish Ban Bossy had gone another route in their marketing. However, I do think it's worth raising discussion about the larger pattern of how language is used to sneakily further sexism.
Because as we all know, "bossy" isn't the only word used to undermine women's authority. In my adult professional life, it's usually "bitchy" that gets muttered or jokingly ascribed. At my first engineering job, the floor manager liked to tell me how "feisty" I was – which I think had a racial aspect to it, because he also liked to compare my features to various Latina movie stars. No one has ever really called me "sassy," but I frequently hear that descriptor pinned on assertive young black women. These words each have their distinct flavors, but they generally serve a similar function: to backhandedly reinforce the idea that it isn't normal for women to be self-assured, speak up, or be in charge.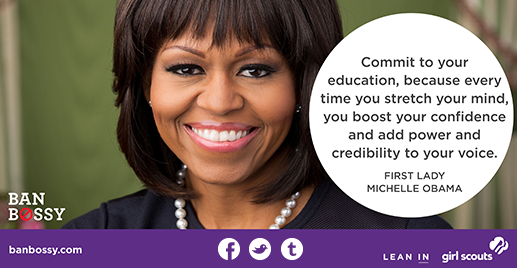 My hope for Ban Bossy is that it gets more people thinking about their part in the system. I hope people will hear the message of Ban Bossy and make the jump to the next conclusion that, "hey, these other words aren't great either," and "isn't it eerily similar how women are dismissed based on appearances but not men," and "wow, it's really wrong that women's work is seen as less valuable than men's, we should totally raise the minimum wage and get to work on issues of economic justice, wtf is wrong with everything and everyone."
I realize this is asking a lot.
Mostly, I want this campaign to be successful, and I want to see its success snowball. I want it not to be a fluke, or the one "women's issue" that gets funding and attention this quarter. I want Ban Bossy to actively and explicitly help people make those connections, and work their high profile connections, resources and visibility to focus on the follow through.
I want actual change.