Last year I wrote the most comprehensive guide you'll ever read regarding parenting and interacting with children during the holidays. I can't ever top that post. I recommend you read this guide as a companion piece to last year's genius masterwork, How To Live With, Be Around and Give Gifts To Kids: Holiday Season Special.
If a road trip stands between you and your holiday festivities, you're obligated to listen to tons of music on the way. Older kids will probably have their own personal music situation, but what of the babes? Or what of making the older kids listen to music with you anyway because it's family bonding time and one day they'll thank you for this?! But children's music, generally speaking, is where you put your ears so they can bleed out. I mean the genre, not the music that comes from children — that's the sound of a thousand angels, duh. Here are some albums that will feel more like sticking your ears in soda, or something — something fun.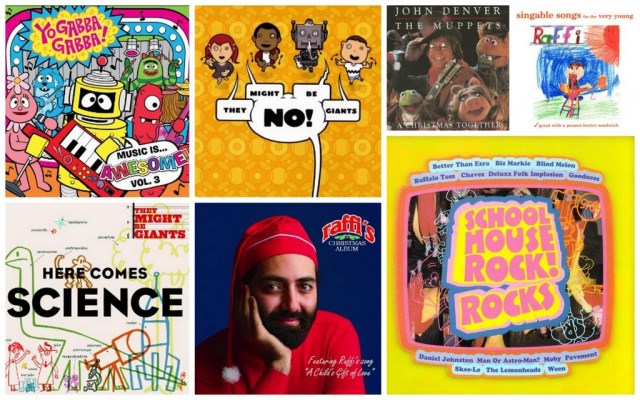 Raffi – Singable Songs For The Very Young
Yo Gabba Gabba! Music Is Awesome! Volume 3 – Sure there are Volumes 1, 2 and 4, but 3 has The Killers, Devo and Band of Horses. I KNOW, YOU'RE WELCOME.
They Might Be Giants – No! and Here Comes Science
Schoolhouse Rock! Rocks – This one is actually just for me.
Raffi's Christmas Album – You will not regret this.
John Denver & The Muppets – A Christmas Together
And now for the gift guide!
The gifts I remember loving the most — aside from Strawberry Shortcake's Berry Happy Home, obviously — were the ones I didn't ask for. I felt weirdly guilty when I received something I'd requested, like it took away from the magic of the whole situation. And since I'm such a thoughtful motherperson, I like to throw random shit into the mix that may or may not be of interest to the kid. Because here's the thing about kids: they're not done yet. There's a whole world of things they've not tried — not even been introduced to — so how could they know to put it on their wish list? They can't, silly. It's your job to show them a bunch of new things, and it's not even really about seeing what holds their interest or doesn't — it's the fact that they met a new thing. The introduction is the important part, the thing that will help make them good and interesting people.
Maybe this year you can just skip the wish list and the asking what they want, and just give them something awesome without any regard to their unique desires or self-evaluated interests!
Try-Something-New Kits
Outdoor Adventure Time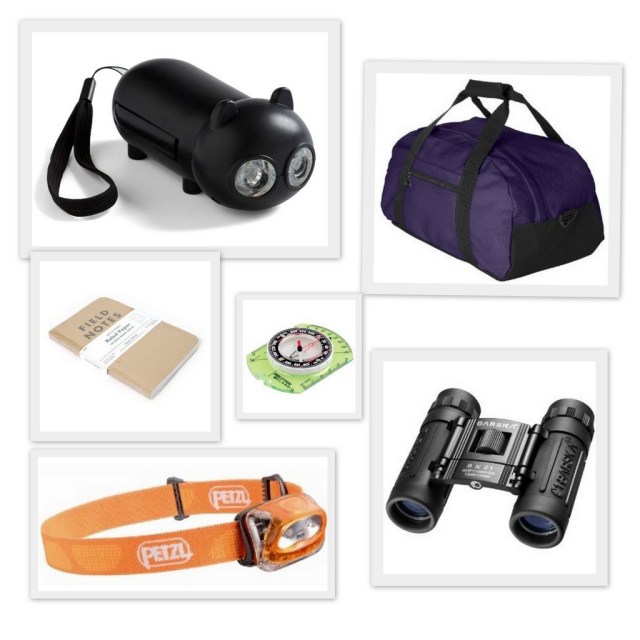 Get an inexpensive duffle bag and fill it with all the necessities: headlamp, flashlight, some specimen containers, water bottle, binoculars, compass, notebook and astronaut ice cream. Optional items could be local hiking maps, books about insects, trees or birds (especially the ones native to your area), maps of historical monuments and sites, and geocaching supplies.
Petzl Tikkina 2 Headlamp ($20)
Fraidy Cat Flashlight ($10)
Astronaut Ice Cream and Space Food Sticks ($14)
Barska Lucid View Series Binoculars ($14)
Brunton Classic Compass ($11)
Field Notes: Ruled Paper Memo Book ($13)
*Extra Random Fun Science-y/Outdoorsy Things*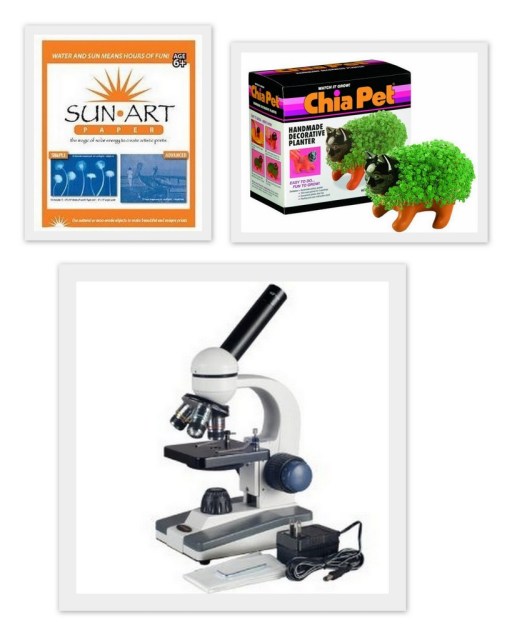 LED Student Microscope ($90) – First you'll have to look at a strand of hair, then someone will prick their finger so you can examine the blood (this will dry quickly on the slide, so don't dilly dally), and then you're on the hunt for a dead bug. The adventure and learning never ends here, is what I'm saying.
Sun Art Paper Kit ($12) – Using solar energy, time and water, you create images on this magic paper — sorta like developing film, but a shit ton more fun. (Or possibly frustrating as hell — let me know.)
Chia Kitten ($22) – Obviously.
Journal/Scrapbooking/Zining Situation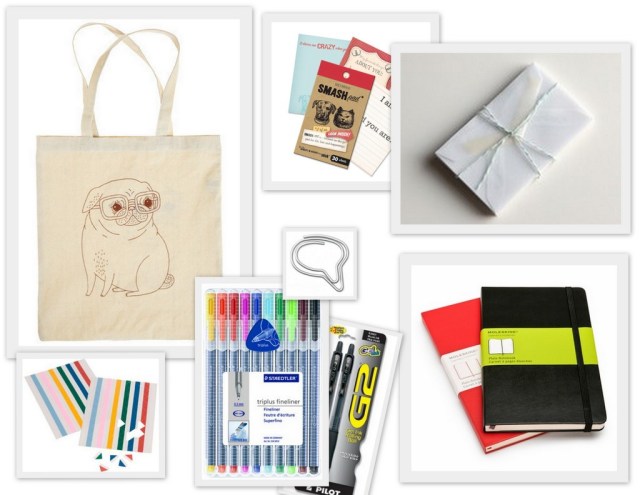 Fill a tote bag with a journal or notebook, pens, fine-tipped markers, small envelopes, tape (double-sided and regular), glue sticks, brads, paper clips, stickers, photo corners, and some nice paper.
Wisdom by Winston Tote ($18)
Moleskine Plain Notebook ($13)
Pilot G2 Gel Pens ($3) Only the best pens ever.
Staedtler Triplus Fineliner 10 Pack ($11) Some amazing people brought these to A-Camp in September and I ended up with a green one and it's basically changed my life.
Zots Adhesive Dots ($2)
Copper Mini Brads ($2)
Self-Adhesive Photo Corners ($5) – Also comes in rainbow colors!
Talking Bubble Paper Clips ($7)
Smash Pad ($4) – The Smash Book line of stuff is SO FREAKING CUTE. It's like a tumblr you can touch.
Mini Foodie in a Box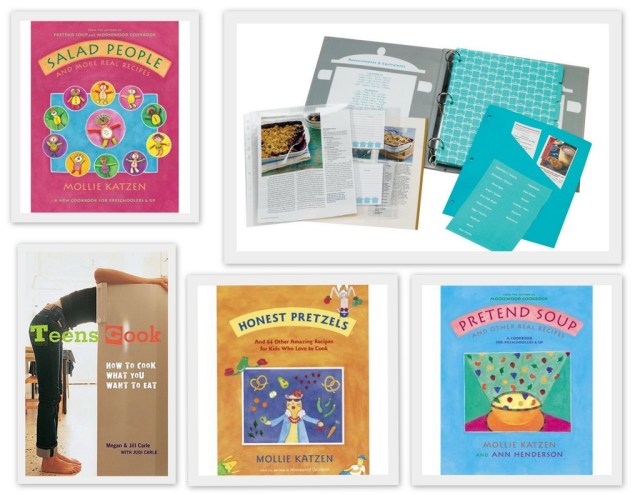 This actually probably won't fit in a box, but it sounds better that way. Cookbook(s), nylon knives, ridic dish towels, sprinkles (because why not). It would also be cool to give them a way to organize recipes that they'll come across outside of their cookbook, so maybe a recipe box full of blank index cards or a spiral-bound photo album or scrapbook. No matter what, when you give the gift of recipes to someone, tradition demands that you include a recipe of your own, so don't forget that super important step.
Pretend Soup and Other Real Recipes by Mollie Katzen ($13) – Preschoolers
Salad People by Mollie Katzen($13) – Preschoolers
Honest Pretzels by Mollie Katzen($13) – Ages 8 and up
Teens Cook: How to Cook What You Want to Eat by Meghan and Jill Carle ($14) – Teens! I feel like teens hate things with 'teens' stamped on them, but probably this is useful.
Collected Recipes Binder ($16) – With a variety of storage sheets inside, for index cards and full-page situations.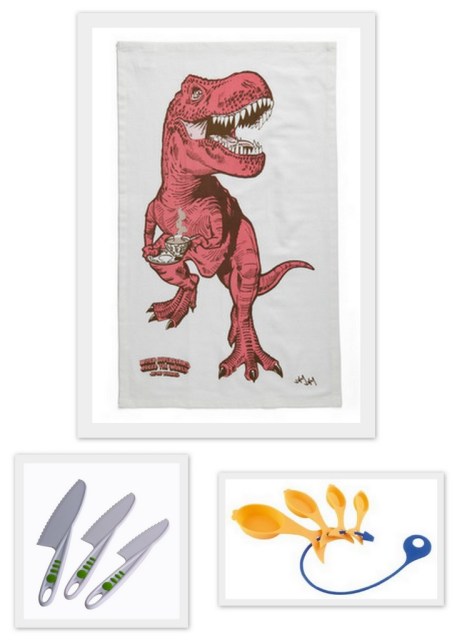 Diner-saurs Tea Towel ($13)
Curious Chef 3-piece Nylon Knife Set ($6)
Kinderkitchen Gold Fish Measuring Spoons ($13)  Shit these are cute.
You can find more neat kitchen supplies for kids from these fine folks:
Very Important Painter Kit
Put a few tubes of acrylic paint, some paint brushes of varying sizes and a small sea sponge into a cigar box (you can pick these up at cigar shops for super cheap). Laura says to not forget the smock, which can just be an old men's button-up. Add a little plastic palette and a small stretched canvas or canvas boards and you've got yourself a pretty sweet gift.
Acrylic Paints ($4-$9)
Stretched Canvases ($6-$15)  – Lots of sizes to choose from.
Folding Palette ($4)
Acrylic Paint Set ($18) – This includes 12 paints, brushes, painting boards and a paint knife.
Take A Picture, It'll Last Longer Kit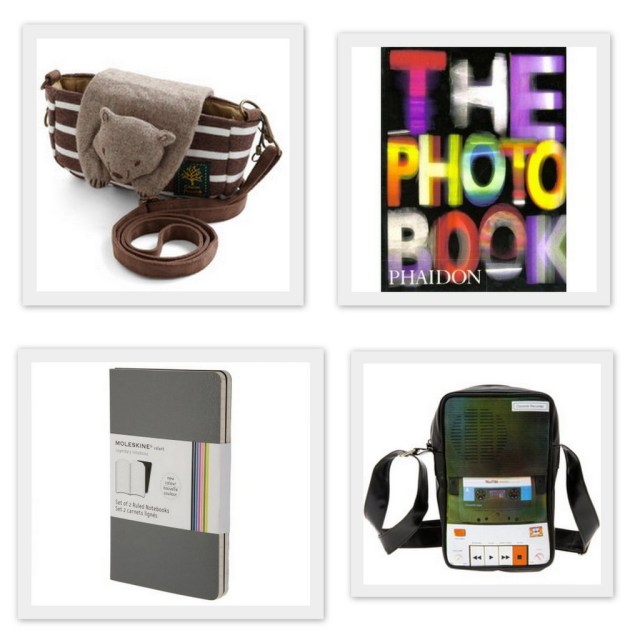 Stick a small photo album in a tote bag or camera bag with a memo book and a short, simple book of photography — not the instructional kind, the inspirational kind.
Cassette Player Bag ($18)
Paws For Photos Camera Bag ($25)
Moleskine Grey Extra Small 2-Pack ($6)
The Photo Book ($10)
Now you get to choose the camera!
Fujifilm Waterproof Disposable Camera ($10) – Disposables are super inexpensive, just be sure to include a gift card to whichever nearby store develops film.
ActionSampler Camera ($35), Lomography Fisheye ($40) – The lower-end Lomography cameras are super fun. With these you'll need to pick up some film and a gift card, or you could buy the film with development services for a few extra dollars.
Canon PowerShot 16MP ($80) – Digital cameras range in price from $80 – $2,000+, so you could probably find something to fit your slightly larger budget, if you have one. For the digital camera, I'd still throw in a gift card to Snapfish or maybe just some 3×5 photo paper.
If you're feeling extremely thrifty, it's worth noting that you can usually pick up a decent (or at least working) 35mm camera for about $3 at Goodwill!
+++
How do you feel about giving unsolicited gifts to young humans? What are your plans this year? What's the most ass-kicking gift you've ever gifted to a giftee?