Welcome to Hard Lacquer, your source for beauty news and reviews at Autostraddle. The world of cosmetics is a vast and shimmering sea filled with mermaids and wonders and ships in the night; but in its fetching waters as on land, we suffer a certain invisibility compounded by the narrow social canon of femininity.
Hard Lacquer turns the tide, providing a lush cosmetic isle for beauty-seeking queers who want a bay to call their own. Each post in the series will kick off with a short roundup of the latest in beauty, followed by a deeper dive into a few special products.
---
HAND ME MY LEATHER
+ It seems like ages ago, but my Christmas stocking was packed with beauty goodies! I continue to be impressed with my wife's knack for finding gems that weren't at all on my radar. Yves Saint Laurent Mascara Volume Effet Faux Cils Babydoll is above and beyond the original Faux Cils formula, "lifting and separating lashes" in an intense black with 24-hr. staying power that nearly smacks my lashes back into my brows. In four shades (though Sephora only carries Fetish Black), $32.
+ Givenchy's Le Rouge-á-Porter is like a luxury car version of lipstick, all shiny chrome and real leather. My shade, Framboise Grifée, is one of the bolder, deeper wine tones, but there are a ton of nudes and pinks, too. It's hydrating, buildable, sheer-without-being-shy color that goes on like a balm, no mirror needed. Reminds me a lot of Chanel's Rouge Coco Shine! At Sephora, $36.
+ In "Why the hell didn't I think of this first?" news, here's a timely roundup: 7 Hairstyles That Look Great with Beanies. I especially love this messy side braid!
+ The babes at Simone Digital put together a killer post on gorgeous red blushes on darker skin tones. There's also a great interview with power style blogger/plus-size swimwear designer and model Gabi Gregg that discusses everything from women's college and black feminism to depression and perfectionism. It's a great read (and the photos are gorgeous), even if it's light on actual beauty talk.
+ Now that it's 2016, are you wondering what's on the horizon? Here's a sneak peek: liquid lipstick will tempt you to throw out all your old-school tubes (MAC's entirely new, permanent line of Retro Matte liquid suede lippies have gotten lots of buzz), K-beauty will keep going strong, indie brands like Colour Pop and Milk Makeup will make waves, and the boldest among us will have lots of color to play with. Think grey or orange lips, bubbly metallics, and cerulean blues and lavenders for eyes.
+ Hungry for new looks now? Here's an excellent little roundup of Best of 2015 makeup tutorials you might find handy — they ran the gamut from tips like perfecting lip lining or getting smudge-proof eyeshadow to a reverse smoky eye and both classic off-duty supermodel and old Hollywood looks. And another just for hair — I'm loving this more subtle version of a full-on flower crown. (DIY, anyone?)
+ Beauty editors are going nuts for NARS Velvet Matte Skin Tint SPF 30, a new no-makeup makeup available tomorrow, as well as the new Giorgio Armani 'Maestro Glow' Nourishing Fusion Makeup Bi-Phase Elixir Broad Spectrum SPF 30 (OMG, that is a mouthful). The original version of the latter is one of the best foundations I've ever used, next to Chanel's Vitalumiere Aqua, and this new one is supposed to really pack a glow.
---
BLUSH FOR BEGINNERS II
A recurring theme in the Hard Lacquer comments section is folks looking for more of a primer than an indoctrination, which is totally understandable. You wonderful people have skills ranging from "I wouldn't be able to name three different eyeshadow brush shapes to save my life" to "I can name three brushes in each product category in 30 seconds or less WHILE APPLYING MASCARA WITHOUT A MIRROR IN THE DARK," so I'm going to try and meet y'all somewhere in between. Last month, we started with blush, which has been covered here before but not quite as thoroughly as our Lick My Chops lipstick series.
I decided to help y'all out with a deep dive into the world of rouge. If you missed the first installment, you can find it here. The plan of attack was to split the subject into quadrants, first reviewing types of blush and then the best tools for applying it. This time round we're going to talk color and application, and finally get to answering some of your burning questions!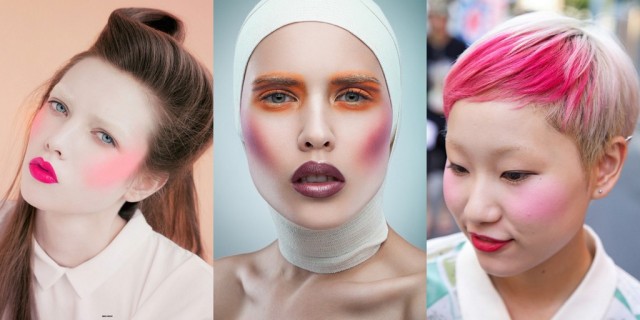 Color
Look, I feel like a broken record here but I'm just going to say it: There are no rules and there is no wrong way to do blush. I just told you to try orange and grey lipstick, do you really think I'm going to say you can't wear whatever shade of violet or peach tickles your fancy? Absolutely not. Do you, at all times, by all means. When it comes to color, if you're determined to rock a shade you've been told you can't pull off because of your skin tone or whatever, take heart! Chances are there is a tone within that color family that works for you, and often the trick is merely in having a light hand.
If you're looking for easy, no-brainer color, the good news is that two shades work perfectly on just about anyone: bright pinks and peaches. You just have to find one that makes you feel all dreamy.
Still, there's nothing like a good visual to break things down, and these are fantastic guides for novices and old pros alike. Let's have a look.
OLIVE: Olive skin is one of the trickiest types to accurately identify, but if everything's a goddamn pain in the ass when it comes to finding an exact match for foundation or concealer, WELCOME TO OLIVELAND. (One of the biggest tip-offs is if you've been staring at your wrists for hours going, "Wait, in this light my veins are like, bluish green, but over here it's definitely more of a greenish blue!" and your cat is staring at you like, "Dude, no one cares. Can I get some people water or…?") Reach for coral, raspberry, rose and bronze — anything too cool can turn ashy, anything too pale won't have payoff.
FAIR: Fairer, more pale complexions tend to have cooler undertones that look lovely in soft "baby" pinks. Still fair but slightly warmer tones do well in peachy pinks or super sheer plums for something with a bit more oomph.
MEDIUM: Medium skin can afford to go a little bolder with pigments and can pull off pretty much anything, lucky ducks! Think apricots, mauves and deeper berries.
DARK: Deeper tones get to play with raisin and fuchsia, or brick red and bright, fiery oranges, but like olive tones, try and avoid anything that will go ashy or get lost in the gorgeous depth of your skin!
Someone asked how to achieve a nice flush "without having people ask if you are feverish." Other peoples' manners aside, this has to do with both color and application. To play things safe (and the majority of folks do), opt for something soft and natural. You want to subtly mimic nature. Here is the easiest way to figure out foolproof blush for you:
Ask your crush to send you a filthy text message.
Stand in front of a mirror drenched in abundant, lovely natural light.
Open your camera app, read the filthy text, then take a selfie. Voila! That flush is the direction you want to head in.
I'm sure there's a way to do all that without a filthy text from your crush (or an actual romp if you're going for bona fide afterglow vibes), but where's the fun in that? The idea is to recreate the healthy, brightening effect when you blush naturally.
Another expert tip for ID'ing your best shade is to pay attention to the color in your lips after you've rubbed them together a bit, or just that little inside part of your lips in general. If you don't blush naturally, think of blush as bringing warmth into your skin. If you've got redness or rosacea and have become wary of blush, I totally hear you. A concealer pen is your best friend! Blending a little in around the nose and laugh lines can go a long way in canceling out color where you don't want it so that your blush can stand out on its own.
Someone asked why some colors looked good and others jarring, so let's talk a little more about tone. My best guess has to do with the reader's skin tone; the flattering colors likely matched it and the jarring ones were probably the opposite. As for whether or not you must match your lipstick to blush, I think that'd be terribly boring as a rule. The bolder your lipstick, however, the more you may want to aim for keeping things on the same page in terms of undertone (warm, cool, neutral). Always put lipstick on first, then blush — much easier to judge whether you need a whisper or a wallop of color that way.
For more on skin tone, I loved this one debunking the whole shebang and this one for gently guiding you through the basics.
This is another great, easy-to-understand resource.
Placement + Application
The good thing is that application isn't rocket science. After you've done all your makeup, you pick up color with a brush or your fingers and you go to town. With the lightest of touches, of course!
That means after concealer, and you can go either way with bronzer or highlight (both of which are 100% optional). A lot of the time, a sweep of blush is plenty to draw out your facial structure, but in any case the name of the game is blend, blend, blend. I'm personally a big fan of blushes and ultra-light bronzers that do double-duty and are swept from apple to temple and even above the browbone for an all-over, glowy radiance.
Hey, let's watch a super quick how-to from our pals at Sephora!
SO EASY. I love how that video is just like, "Blush City, here we come!" There's something really soothing about it, because people really overthink blush and it's so lovely and easy. That brings us to placement, because I think that stumps beginners more than the rest of it.
Apples: Smile! Now sweep blush on the top part that sticks out the most, steering clear of the nose, under-eye area, mouth, temples and the hollow of your cheeks. This is definitely old-school but there's a reason it works like a charm. This technique can soften angular faces and emphasize round ones.
Cheekbones: Mash your little finger into the bottom of your cheekbone and then follow it wherever it leads on your face. Got it? Awesome. Now sweep blush right along the top of that line, right up to the temple. This is a very fresh, low-maintenance route that emphasizes angles and balances out roundness. I love how it just warms me up and adds a little dimension in the pic above!
Top Corner: If you're feeling brave or are going for a really bubbly, perky vibe, hit the corner right where your cheekbone ends at your temple. Then sweep the color down, stopping just before you hit the apples. After working the color in, you can take any excess and just barely kiss the apples with color, it's up to you. I'm definitely trying this soon, so keep an eye on my Insta for an update!
1 vs. 2: In the video, a measure of two fingers from the nose is recommended as a starting point for traditional application, but others say just one is best. All faces possess different real estate, so try both and see which you like best, bringing the color out toward the temples as you go.
My final note on applying blush is to take your sweet little time about it. You can start off with a hint of color and build up as you get more confident or step back from the mirror and think, "Pretty! But I could go even stronger next time." If you happen to accidentally overdo it, there's no need to panic. It's super easy to repair a little overkill in the blush department; a clean fluffy brush can buff excess color out, a damp sponge can lift/soften/re-blend cream or gel color into your base with a few pats. Feel free to try either method using a small amount of setting powder, foundation or even concealer if you went nuts and see if that saves you from having to wash your faceand start all over again.
One thing I've noticed about my own blush artillery throughout this two-part puppy is that even though I have loads of different shades and tones, they are all on the demure side. You almost can't screw 'em up because they won't go all clownish even after piling and piling the color on. Sure, they work beautifully and it's nice not to have to think about it, but I'm going to take this as a personal challenge to pick up something a little bolder next time.
Even I learned something today, hooray! Still have burning questions? Tricks that work for your skin tone or facial structure you can share? Drop 'em in the comments!