Welcome to Hard Lacquer, your source for beauty news and reviews at Autostraddle. The world of cosmetics is a vast and shimmering sea filled with mermaids and wonders and ships in the night; but in its fetching waters as on land, we suffer a certain invisibility compounded by the narrow social canon of femininity.
Hard Lacquer turns the tide, providing a lush cosmetic isle for beauty-seeking queers who want a bay to call their own. Each post in the series will kick off with a short roundup of the latest in beauty, followed by a deeper dive into a few special products.
---
LOVE/HATE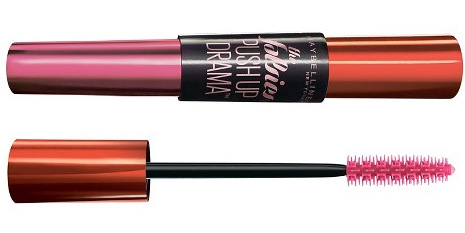 + This is the sleekest, prettiest drugstore mascara packaging I've seen in ages!
+ Speaking of mascara, I've either given away or run out of every tube I reviewed in the inaugural Hard Lacquer post. Currently working my way through a rotation of four samples and two full-size products and so far, NARS Audacious is beating out YSL, Clinique and Lancome. Thanks to yet another stabby rubber brush, though, I don't love it more than Chanel, which is probably what I'll end up repurchasing. Anyway, here's a fun follow-up from a friend who made a purchase based on one of my top recommendations from that post:
I love/hate you for recommending that Chantecaille mascara. I gave it a try and it's perfect so now I can never go back, despite it's price tag. But my lashes look and smell divine. And I can't believe that so far, no clumping, flaking or smudging (but it washes off beautifully)!
+ Oh my goodness. US-based Korean beauty and skincare site, Peach & Lily, has opened up a brick-and-mortar store-within-a-store at the Macy's in Flushing, NY. It looks stunning and is basically a Christmas miracle and I hope my wife forgives me for the Queens detour on our next trip to NYC.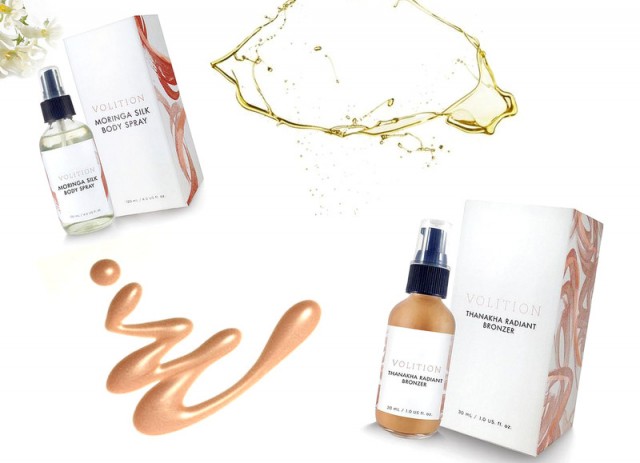 + Keep an eye out for the scrappy moringa leaf, rumored to become the next superfood! Mighty moringa's moniker varies around the world, from the "never die" tree in Senegal to "mother's best friend" in the Philippines, but whatever it's called, expect this trend to be bonkers. I introduced it here in the form of Moringa Silk Body Spray from Volition Beauty in October (which you can now purchase thanks in part to your many excellent votes). While its efficacy in oils and pure form seem like pretty safe bets, you'll want to be sure and do your research before popping capsules or dumping powdered versions into your morning smoothies. For now, my custom moringa recipe for a warm winter glow is adding a drop or two of Volition's Thanakha Radiant Bronzer to the namesake body spray and calling it a (gorgeous) day.
+ Here's an easy five-minute makeup tutorial that works with any lipstick shade.
+ Wanna forego the glow? Try this neat trick using only a Beauty Blender sponge and water for mattifying or reducing sheen in a moisturizing, luminous, dewy foundation. I also found you this handy cheat sheet vetted by makeup artists for foundations that photograph beautifully and look natural in person.
+ And finally, this is your winter reminder to get a humidifier before brutal cold and dry air start wreaking havoc on your lovely skin! This one is almost chic, even.
---
BLUSH FOR BEGINNERS
A recurring theme in the Hard Lacquer comments section is folks looking for more of a primer than an indoctrination, which is totally understandable. You wonderful people have skills ranging from "I wouldn't be able to name three different eyeshadow brush shapes to save my life" to "I can name three brushes in each product category in 30 seconds or less WHILE APPLYING MASCARA WITHOUT A MIRROR IN THE DARK," so I'm going to try and meet y'all somewhere in between, starting with blush.
Blush has been covered here before, sans the scope and depth of the Lick My Chops lipstick series, and was a request from several of you. Let's start there!
There were also really good questions like Where does it go? Apple of the cheek, hollow of the cheek, both? Are fingers ok when using a cream blush? Concealer before or after if concealing spots on the cheek? Do I match the blush to my lipstick (not exactly but warm, cool, neutral etc)? Why do some blushes look good on me and others look jarring? How to get a nice flush without having people ask if you are feverish? What types of brushes are best for what kinds of blushes?
Another commenter wanted to know whether or not they should start wearing blush, and if so, what color or formula to pick. And someone booed the Google machine for all that nonsense around minimizing "bad features" and just wanted to know how to emphasize their face's natural squareness.
We'll get to all those burning hot questions, but first let's start with some background and basics.
What Is Blush?
Blush (also blusher or rouge) is a makeup product normally applied to the cheeks to give them more of a flushed look, or to add shape and dimension to the face. It's been used — and not just by women — since the days of ancient Egypt and in ancient Greece, and back then it often did double duty on the lips as well, which is also true of many excellent versions available today.
We naturally blush when shy or excited or embarrassed and even angry. Blushing is generally less intense than our physiological flushing, often closely associated with sexytimes despite there being many other causes for it. Both are fetching in their own way and often emulated through the use of blush makeup. One cult product by NARS is literally called Orgasm; Urban Decay has an entire blush line named Afterglow with shades like Quiver and Bang. Very cheeky!
Unfortunately, blush gets a bad rap for all sorts of (outdated) reasons; over many hundreds of years it's gone in and out of vogue depending on high society's whims. They'd randomly decide it was for peasants and poor people, or for women with "low morals." Or, like, clowns. Screw them! Who the hell would trust anyone who once employed bloodletting and shellacking layers of egg white onto the face in order to whiten or gray their complexions? Barf.
Should You Use It?
If you want to, you definitely should!
If you're not sure you do, you won't know until you try. Here's why I think it's worth a shot. Blush is a product that is meant to enhance something our skin does on its own, so even if you don't wear a full face of makeup ever, but still want to experiment with giving yourself a tiny bit of color, you won't look like a maniac. I promise. Blush has the potential to impart a youthful glow, bring out your cheekbones, and wake up an otherwise sleepy face.
Why else might a person use blush? Folks who need or prefer full coverage foundation like it because it breathes life back into their complexion — after you've created this perfect, blank canvas of skin, blush is one of many colors in a possible palette to liven things up.
Girls-next-door types love it for for being low-maintenance chic, femmes and other makeup enthusiasts adore it for being straight-up fun and really pretty. And often the powder versions are a thing of beauty all their own, from the packaging to the shape and product itself!
Even Rachel, who confessed that wearing makeup is a (and pretty much feels like) drag for her, has said blush can be "really easy and totally not a big deal and also really bump your makeup-self up a notch if you just go easy with it." (And seriously, if you asked about wearing makeup for professional reasons or just feel like you "have" to suck it up and slap it on sometimes, go read her old post, Makeup 101: A Reluctant Girl's Guide to Face Editing. It's the exact thing you're looking for!)
As for downsides, there are few outside of the fact that you're adding another product, step and expense to your routine. As with most things, it can require some patience and hilarious failed attempts to get past the initial learning curve, but that's why I'm here!
OK, I'm In. Help!
Yay! There are four main things to consider when it comes to choosing and applying blush;
the type of blush product
what you'll need for application
the color (of course)
finally, the application itself
We're going to work our way through the first two sections and come back next time for color and application because there's a lot of ground to cover!
BLUSH TYPES
All you need to know if you're just starting out is that your skin type is probably the single best indicator of what kind of blush to try than common knowledge, which says that powders are best for beginners, while formulas that are cream or liquid-based are usually longer-wearing and more difficult to master.
Combination skin tends to fade creamy or gel formulas, which is why I find the reverse to be true. (I also suspect common knowledge is very outdated; new technology means there are entry-level blushes in all categories.) Blemish-prone complexions will also like powder because it tends not to emphasize troubled spots.
Drier skins will love the way cream blushes melt into parched skin, whereas powders can emphasize dry patches, which may also soak in a watery stain or gel unevenly (and will be a pain to correct). If your skin type shifts with the season, it's likely your blush will, too, so keep that in mind.
Normal skins have the pick of the litter, so if you're new to blush and want to streamline things, match your makeup base with the same blush type. TM/BB/CC/liquid foundation with cream, gel, or liquid blush. Powder foundation with powder blush.
If you're putting blush on a bare face with just moisturizer/SPF on, I'd lean toward creams or creamy gels, and avoid or tread lightly with more potent stains or liquids. Powder on totally bare skin, in most cases, is ill-advised.
In terms of what's what, tints differ from stains in that tint implies a much lighter, sheerer wash of color, whereas the premise of a stain is to impart a bold, immovable pigment. Both come in all types except powder. Gels are sometimes gelees, creams come in pan or stick or tube or unicorn form or even cream-to-powder (which is great if you want the ease of blending a cream in but the staying power of a powder), and powders can be shimmer or matte, loose or pressed, mineral or baked.
As you can see, it's kind of a wild west out there, but we'll make some sense of it! For each type, I'll break down who it's good for and how hard it is (easy/average/difficult).
Creams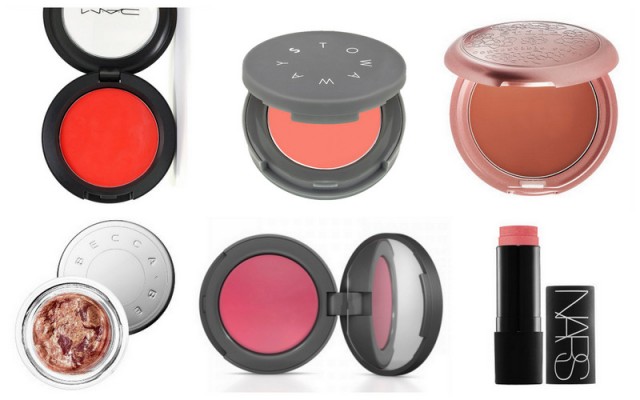 Standard cream blushes come in pans or pots, just like powder blushes. I'd also put mousses in this category, even though some of those come in tubes; their viscosity is closer to creamy than a gel, oil, or liquid. Sticks are a popular way of packaging creams as well. These are definitely easy, entry-level blushes that will melt into skin and blend with little effort.
You can also build up color and many products in this category double for lipwear, but if you choose to use them that way, just be diligent about working with squeaky clean fingers and lips to reduce risk of contamination. Here is where you'll find the cream-to-powder formulas as well, such as the NARS Multiple or Becca Beach Tint Shimmer Soufflés. Stowaway makes three super flattering, no-brainer colors in affordable midi sizes.
Gels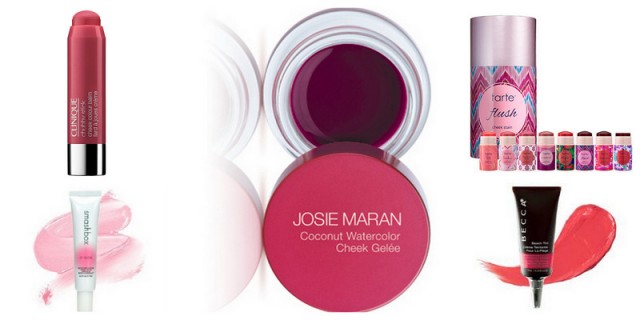 Gels are also a breeze, for the most part. In the pot, they have a squishy, bouncy, sheer texture. In stick format, like tarte's cheek stain or Clinique's Chubby Stick Cheek Colour Balm, you get to just swipe 'em against your cheek and blend — both are well-loved for being natural, dewy and long-lasting. Josie Maran's Coconut Watercolor Cheek Gelée is as foolproof as it gets, I've got one in Pink Escape and almost never touch it because it hasn't got enough oomph for my taste.
Becca's standard Beach Tint is a great example of a gel blush in a tube, and if you're easily overwhelmed and just want a miracle product that'll do all the work for you, try a tube of Smashbox's O-GLOW Intuitive Cheek Color With Goji Berry-C Complex™ — it's blush that adjusts to your skin's pH level for a perfect, custom flush of extremely natural, wearable color.
Liquids & Oils
These puppies can be the trickiest category! If something says it's an ink, it's probably not fucking around. The quintessential stain BeneTint by Benefit? Total misnomer, it is definitely not fucking around. Cha Cha, Posie and Lolli Tints are creamier, almost milky, and really belong more in the gel camp for their malleability. Even their texture is different, the difference between water and heavy cream, almost, though all are incredibly pretty.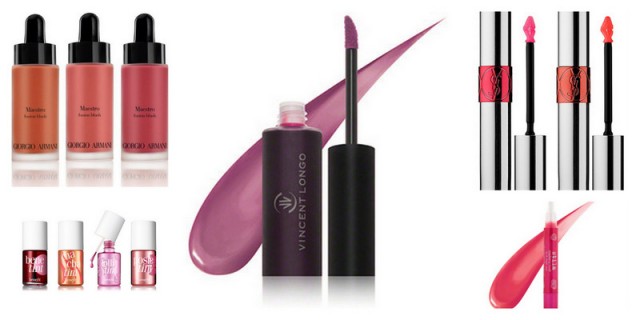 Stila's Lip and Cheek Stains are your standard click-pen-brush situations, and Giorgio Armani's Maestro Fusion Blush is so intense that reviewers layer it under their foundation to tone it down (which is not a bad trick for easing your way into any blush, FYI). I used to adore Vincent Longo's Lip and Cheek Stain but it's the bloody Rottweiler of stains; in the wrongs hands it is Bad News Bears, but done right? Beautiful, severe, unwavering efficiency.
I recently fell in love with a sample of Yves Saint Laurent's Volupté Tint-In-Oil in Cherry My Cherie No. 5: I've never seen anything fake the whole "I just whooshed in from skiing Heavenly under blue skies with Lake Tahoe shimmering in the backdrop" ski bunny vibe the way this does, it's incredible.
Powders
There's honestly nothing to fear in a powder blush. Nothing about them is old-fashioned or scary, but if they make you all twitchy, just start with something mineral in a soft and neutral shade.
I constantly reach for a discontinued MAC Mineralize Blush called Nuance, a low-key peach shot through with subtle gold shimmer, because it's a sheer, no-color color for my skin tone. MAC still makes those blushes, just not in that shade, and Dainty (pictured below), Warm Soul or New Romance could all be excellent replacements for you, depending on your skin tone. Darker skin tones might reach for Love Joy, Gentle or Gleeful. Dainty looks just like Nuance, actually!
When I want a hint of warmth and to look healthy and radiant, Nuance never fails me. That's precisely what a no-nonsense blush is meant to deliver!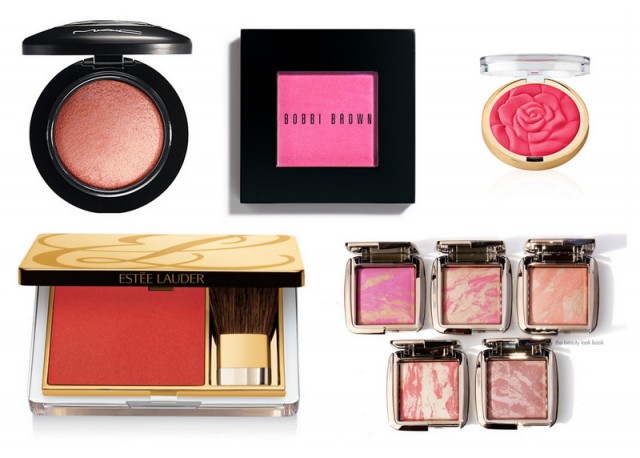 When I want something rosier, I reach for Bobbi Brown blush in Pale Pink (above, top center); it looks straight-up alarming in the pan but soft and subtle on.
PSA: This is where I urge you to go outside your comfort zone. Even if you swatch a powder on the back of your hand, it is going to look 100% different when applied to your face lightly, with a brush.
The Milani Rose Powder blushes (top right) are a great drugstore alternative and some shades are on sale for $5.99. Woop!
If you're looking for more intensity, the Afterglow range I mentioned from Urban Decay, NARS blushes and Estée Lauder Pure Color Blush (bottom left) are all excellent brands. MAC, of course, has great, super pigmented shades.
For something in between, I love the Hourglass Ambient Lighting Blush Palette, but any of their beautiful, baked blushes (bottom right) will last you ages and work in nearly any setting — it's all in the application. One or two swipes of Mood Exposure (bottom left in that collage) in the hollow of my cheeks gives me a straight-up editorial look in seconds. Adding a pop of coral or pink to the cheekbones or temples brightens me up and has a "come hither" vibe I simply haven't been able to recreate using other products.
TOOLS
Three options here, pals. Brush, sponge or fingers.
The rule of thumb is that powders should be applied using only natural hair brushes, anything else with a synthetic brush, fingers or a sponge. It's fine to start there — you certainly aren't going to screw anything up by playing it safe — but know there are no rules. You can, in fact, use a natural brush to apply cream blush over powder foundation, even. It is not sacrilege.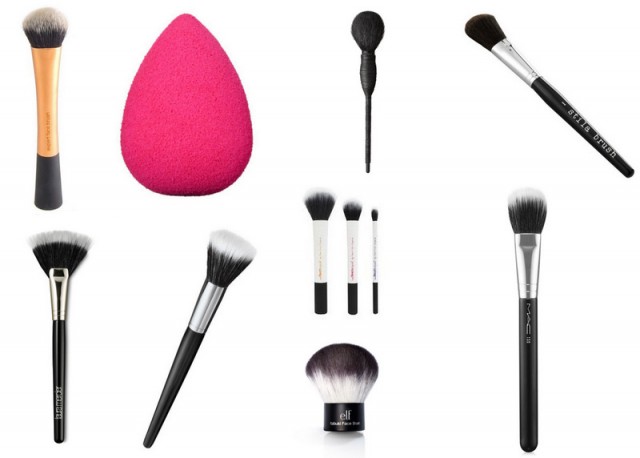 Sponges
I'm not gonna front. I'm averse to sponges because they need to be thoroughly washed and air-dried after each use and hello, #LazyFemme. However, folks seem to love them for "bouncing" liquid, gel or cream colors into the skin for very sheer, natural coverage.
Try one from Real Techniques or spring for the OG Beauty Blender.
Pro tip: They are also good for taking product "away" when you've overdone it. You can experiment with using them damp or dry.
Fingers
For anything that isn't powder, 99.9% of the time I'm using my ring finger to pick up and apply the product, and then I add my middle finger to blend it in. You have a ton of control, there's no guesswork in how much product you've picked up because you're the one deciding how much pressure to use, and by warming up the product with your fingers, it makes blending that much easier and seamless looking in the end.
Brushes
I also can't pretend that there's any rhyme or reason to choosing a brush when it comes to powder blushes. Um, the clean one? (I'm looking at five fluffy ones and they are all in desperate need of a thorough cleaning.)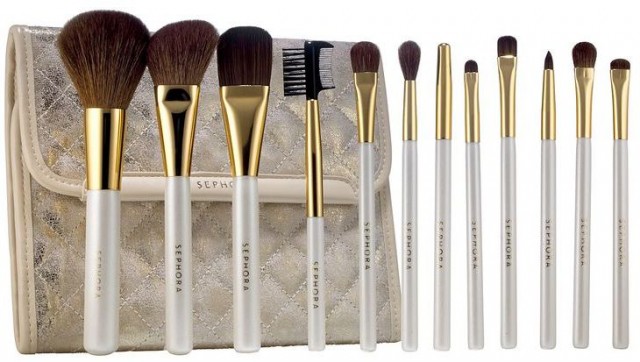 My brush collection has been pared down to almost exclusively Real Techniques. They feel like luxury brushes, with high-quality synthetic bristles that are hella soft, but they're cheap and cruelty-free, found in most drugstores or on Amazon.
I also have a Limited Edition set from Sephora, pictured above, that I love. (I like this striking set for being on the lower end, price-wise.) Sonia Kashuk at Target and ELF Cosmetics make excellent, inexpensive brushes. Sonia's sets are often super fun and playful — I've never seen one that read as fancy queer as this blue and turquoise situation! LOVE.
In terms of buying brushes, you can ask your gal pals for recs, and read reviews to make sure they blend well and don't shed. There's nothing worse than a brush that screws you over by shedding like crazy.
Let's break down the handful of brushes you might use to apply blush.
Easiest
Blush Brush: Your classic, tapered fluffy blush brush. The shape is great for following the contours of the cheek. Easy to use.
Contour or Sculpting Brush: These are going to be tapered asymmetrically to run right along the cheekbone.
Powder Brush: These tend to be on the bigger side, but they're also multipurpose.
More Difficult
Stippling or Duo Fiber Brush: The skunky brushes! A 2-step brush of sorts, the finer hairs at the tip pick up a small amount of product and then by applying more pressure, the thicker hairs help to work and blend it all in. Takes some time to master.
Fan Brush: The cilantro of face brushes. People either swear by them or loathe them. Great for ultra-light dusting of product.
Essential
Kabuki Brush: Sometimes flat across or tapered, these have densely packed bristles that make them amazing at blending.
Blending/Buffing: Tightly packed, super dense face brushes for foundations or cream products. Look for words like "buffing" or "blending" and flat-across bristles. These are definitely multipurpose and will save the day when you need to really blend in any face product, including all kinds of blushes, bronzers, highlight, etc.
My recommendation would be to pick one from the Easiest or More Difficult Category, as well as one from the Essential group for powders. If you're going the other route with a cream, gel or liquid, you'll be okay starting out with just a blending or buffing brush (or your fingers, honestly).
For $18, you can get Real Techniques Core Collection and have both bases covered plus two additional brushes that might come in handy for you elsewhere.
You can absolutely get away with just a blush, contour, sculpting, or fan brush, but I do think having the secondary brush on hand for blending once you've applied will make your rosy little life a lot easier, ultimately.
Next time we'll get into color, placement, application tips and tricks, and I'll show you some of my favorite colors and ways to wear them! I'll also try and incorporate a handful of drugstore buys that won't break the bank.