Welcome to Hard Lacquer, your new source for beauty news and reviews at Autostraddle. The world of cosmetics is a vast and shimmering sea filled with mermaids and wonders and ships in the night; but in its fetching waters as on land, we suffer a certain invisibility compounded by the narrow social canon of femininity.
Hard Lacquer turns the tide, providing a lush cosmetic isle for beauty-seeking queers who want a bay to call their own. Each post in the series will kick off with a short roundup of the latest in beauty, followed by a deeper dive into a few special products.
---
BLOW ME
+ According to Elle, a study published in the (somewhat mysterious) Annals of Dermatology revealed that air-dried hair showed significant damage to the "cell membrane complex." Blow-dried hair? Not so much. Apparently low-heat at least six inches away from the hair after a gentle towel-dry is the safest bet a healthy, shiny mane.
+ One of the top budget brands for micellar waters has answered your prayers and packed the elixir into makeup wipe form.
+ Attention all QPOC/Speakeasy babes! black|Up Cosmetics are now sold at Sephora.com and will hit 10 stores on 9/15. Some of you may already be familiar with the Parisian luxury brand for women of color, but this is the first time it's hitting shelves in the US. The Contour Stick seems amazing, and their nail lacquers in a 7-shade nude range will probably sell out the second they become available. Head over to The Cut to see how three editors felt after testing the brand, and to find even more beauty products geared toward WOC under one chic roof, check out DooBop!
+ Maybe lash primers don't have to suck after all. One beauty editor explains how she got her stubborn lashes to finally hold a curl, finally.
+ Move over contouring, there's a new method in town. It's name is ridiculous — 'tontouring' if you must know — and it requires the strategic (and sparing) use of self-tanner in lieu of the whole rigamarole usually employed in the application process. Full disclosure: I've actually done this to a very subtle effect before I knew it was "a thing," but you might enjoy this rather amusing video of someone who tried it and found his trepidation toward tontouring not without warrant. If you're brave enough to have a go, might I suggest the Clarins Radiance-Plus Golden Glow Booster or tarte's marajuca bronzing serum? Just remember, easy does it.
+ Guess what else is getting the contour treatment? Hair.
+ Luxe-hungry beauty babes rejoice: The Outnet is working with brands like Lipstick Queen, Natura Bisse, By Terry, and Ren to kick off a limited run of beauty products starting October 25, according to Byrdie. This will be a great way to get your paws on bargains from brands that are usually priced sky-high, which means it will also be a great way to bleed your bank account dry. Proceed with caution, consult your expiries, cross-reference with low pan levels in your vanity, choose wisely, etc.
+ You should also probably just scoop these up now for that special someone on your naughty list later, if you catch my drift:
+ You know those super freaky sheet masks for the face? Bless their hearts, beauty bloggers photograph themselves rocking these things and I wouldn't be caught dead in one, y'all. My wife is constantly goading me into wearing one just so she can point and laugh at me. One time I gave a pair to my daughter and her friend during a sleepover and they transmitted the whole giggling ordeal to the rest of their friends via Snapchat. Not even supermodels can make them any less jarring to look at:
Furthermore, you kind of have to, like, sit real still while they do their thing. HOW ANNOYING, DON'T THEY KNOW WE'RE ALL VERY BUSY AND IMPORTANT AND NETFLIXING? Here's a tip: Get more mask for your money by cutting off a corner of the packet and squeezing out enough product to apply it as you would a standard face mask. Toss the remainder into a ziploc and store in the fridge. Voila. All of the benefit, none of the BS.
Here's one that's got stellar reviews on Amazon with super cute packaging:
---
STOP ME IF YOU THINK THAT YOU'VE SEEN THIS LINE BEFORE
Did you know that some makeup artists clench their toes while applying eyeliner? Apparently, it helps to steady the hand. Steady hands are important because you're working with mere fractions of a centimeter at a time, on a completely unpredictable skin surface, with a medium that can range anywhere from runny to rock solid.
For this edition of Hard Lacquer, we're gonna walk through the eyeliner basics — types of eyeliner, common ways to use it, plus #1 eyeliner picks from all your pals here at Autostraddle.
I love that eyeliner isn't exclusively a femme thing, that even though we're all taught not to put sharp things near our eyes, eyeliner teaches us how to trust ourselves, and that unlike mascara, how and why we wear it is so much more communicative when it comes to our individuality. Eyes are organs, crucial ones. Honestly, the mechanics and physiology of them are hella creepy, but they're so beautiful. Using eye makeup reminds us that our eyes are exposed organs that do stuff we don't want them to do sometimes. They tell us in really inconvenient ways when we've pissed them off, especially when foreign substances are involved. It's good to remember all of that when you're using eyeliner — back off when your eyes ask you to.
Furthermore, everyone's eyes are different, and reactions are not uniform. Like the skin around my eyes is sensitive, and they water in the tiniest amount of wind or cold. I wear contacts and have dark circles unmoved by plentiful sleep. My friends complain of eyelids like oil slicks and waterlines that repel even the sootiest liner. All of those unique little things can affect wearability, longevity, maintenance, and so on.
I support your wildest eyeliner dreams, but you'll have to work at them. Practice and patience, kittens!
TYPES OF EYELINER
Look, it's a family tree for eyeliner! The only thing I see missing is Benefit They're Real Push-Up Liner, a waterproof gel liner in pen form with a slanted tip, and tarte's Tarteist Clay Paint Liner, a waterproof clay cream liner that comes in a tube with a miniature palette/brush combination. They're too avant garde for the family tree!
PENCIL LINER: The classic liner, and certainly the most forgiving, entry-level option. Comes in all kinds of colors, including shimmers and metallics. Both manual and automatic pencil liners should be creamy so they don't "drag" the skin around your eyes, and so you can smudge or blend the color before the liner "sets." They should give soft as well as buildable color for more dramatic or smoky looks, and be smudge-proof after they've set. You sharpen the pencils, obviously (a plus if you need a pointed tip for flicks or cat eyes).
LIQUID LINER: For sharp, precise lines. Beautiful on its own with curled lashes or mascara, but often applied with eyeshadow and pencil liner. I favor pens, which are like felt-tip markers, over brushes — the latter seem to require a bit more patience and artistry for tiny flicks and kitten eyes, which are my go-to liner looks. The inkier, the better. Water-resistant or waterproof are the best bets here, because you don't want all that sharp, precise, bold excellence to budge even a millimeter.
CAKE OR SHADOW LINERS ("COMPACT"): You can use a clean eyeliner brush with your eyeshadows to line your eyes, and you can get more of that pigment to stick if you add a tiny bit of moisture (water or a setting spray). Ditto pressed cake liners, like Laura Mercier's. It's good when you need a certain color or are after a nice softness.
GEL POT LINERS: Gel pot liners, like this one from Bobbi Brown, are wonderful because they are forgiving and give you more time to get it right. The texture is soft and creamy, but the color payoff holds its own against liquid liners, and of course you can also smudge and blend these as long as you're quick about it. Once they set, they shouldn't budge or crease. Requires a brush and lots of trial and error.
Here's another cheat sheet that might help:
BUT, LIKE, WHY?
Why would a person use eyeliner? Why not? Because it's fun, because it pulls together a makeup look, because it makes the eyes stand out, pop, pierce, you name it. It's quite possible that no other element of eye makeup has the ability to convey straight-up attitude as much as eyeliner does. It can be the only thing you've got on, like, literally.
Take a look at this step-by-step cat eye progression if you don't believe me.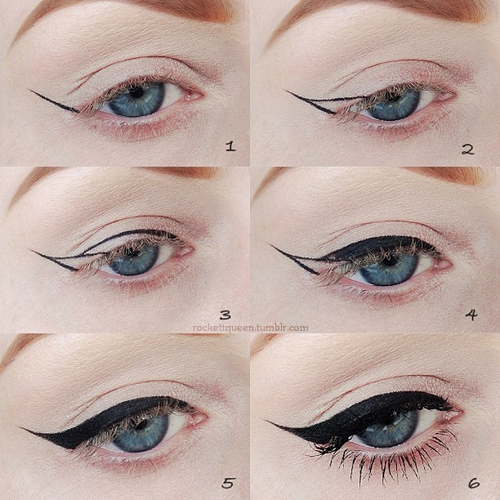 Here's some slept-in liner with bedhead for good measure:
The possibilities are endless, and kind of overwhelming. If you're not quite sure what your signature liner look is, I recommend finding some photos of what you like. They can be from a magazine, printouts from your favorite Tumblr, an Autostraddle recap screen grab seared into your memory, whatever. You know what? Do this even if you have a signature liner look, it's good to shake things up once in awhile. Once you've got some inspiration assembled, find out if they've all got a common thread, and start there.
Or, if they're all pretty different, choose whatever looks the least complicated, master that, and then move on to the next one, and then welcome to my life — an endless rabbit hole of different makeup looks YOU HAVE TO TRY IMMEDIATELY EVEN IF YOU'RE JUST GOING TO GET SOME MORE DORITOS AT CVS JUST FIVE MORE MINUTES WAIT.
Also this will probably happen to you a lot at first, and bafflingly, it will happen again after you've done it perfectly consistently but then suddenly have a fun thing to be at where you'll inevitably be photographed:
Just breathe, tell yourself you're the most wonderful human ever, and then thank me quietly for having you buy some of these. Begin again. Cheat with concealer.
Something you may have heard all your life is that ____ eye shape means you can't ____. Obviously, that's garbage. There is a 99.9% chance that a version of the eyeliner look you like is doable for your eye shape, so don't listen to any nonsensical rudies. I don't really believe in limiting oneself based on "eye shape" (or "body type" for that matter), so if you've fallen in love with something, google it + your eye shape and peruse a few tutorials to see if there are any tips or tricks that'll give you a running start on achieving it. Makeup artists are bananas talented evil geniuses and luckily for us, they share their trickery freely on the internet. You can totally do this.
LAZY LINE PAINTER JANE
Now that you are so so knowledgeable and confident, let's get to the good stuff. I'm gonna show you my eyeliner arsenal and explain what I use each product for, in an attempt to make this a little more hands-on:
See anything familiar? I use both Rimmel nude liners on the lower waterline and inner corner of the eye, to brighten and widen. White, peach and gold are all fantastic alternatives for creating this effect.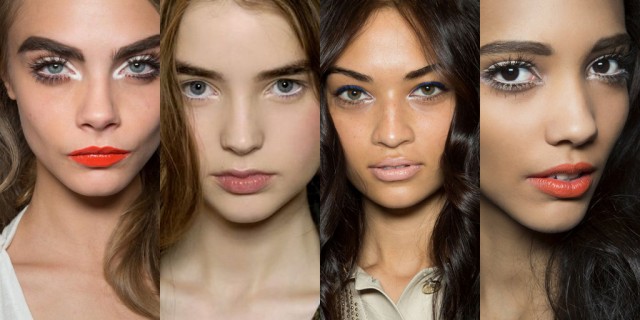 For sharp, precision lines (like stabby little flicks, kitten or cat eyes, or just very fine lines), I pull out 3-5. Eyeko and Physician's Formula have excellent options, too. I use Benefit when I've got a bit of time or want a really dramatic eye, Urban Decay Ink for Eyes when I'm in a rush or just can't dick around, and Koji Dollywink when I want something subtle and don't need to worry about staying power.
As I mentioned last time around, the Face Stockholm Eye Pencil is a revelation, super versatile with good staying power. The shade is lovely with my brown eyes. Mostly I follow the upper lash line in a lackadaisical fashion, blur a tiny bit on the lower outer corner, and just go in and muss it up a little with my pinky. Topped with a coat of glossy mascara and groomed brows, and you've got a very soft, sophisticated (and very "safe") look. That it delivers a little flick without even having to sharpen the pencil is an added bonus!
Ditto with the Julep pencil, which goes on ultra-creamy and sets after about 20 seconds or so.
The MAC Fluidline was limited edition and is perhaps just a tad past its prime, but holy smokes, it's the closest thing I've got to a silvery shadow that hasn't instantly aged me 84,000 years! Technically, it was a disaster as a liner, even brand new, but it's absolutely gorgeous as a sheer wash over the top lid, and smudged into the lower lash line. Perfect daytime smoky eye, and since it's meant to be a long wearing liner, it doesn't bloody go anywhere. If I want to punch up the drama, I add a jet black cat eye over it, or use it like a MAC Paint Pot (which is how it behaves) as a base to give eyeshadow something to really cling to.
Why did I include it here if I don't even use it as a liner? Because I know tons of you have fought and lost battles with "waterproof" eyeliners that wouldn't stay put, transferred, smudged, and ended up places eyeliner shouldn't on your face. It sucks! Using a Fluidline or a Paint Pot to line and/or smudge that tomboy rocker vibe could be exactly what you need, so get thee to a MAC store or counter, do your thing, and see how it wears for 6-8 hours or however long you need. Fingers crossed!
Last but not least, we've got the basics, and by that I mean straight-up classic black pencil liners. I can't ever see myself using anything other than Perversion for tightlining/lining the waterline, but the Make Up Fore Ever Aqua Eyes was a sample so I suppose I'll give others a whirl if they fall into my lap. What is that, you ask?
Ooh, pretty. So how do you do it? This generous creature made a wonderful gif, but PLEASE BE CAREFUL if you're giving it a go for the first time:
Want more instruction? Here, in baby steps. Got the hang of it but want to make sure it stays there forever and ever, or at least all night? Of course you do! Looking for more tips, more information, just more of all of it? I've got you, babe. Do you just wanna know what everyone else at Autostraddle is using? Alright, alright:
Audrey likes Maybelline Eye Studio Color Tattoo Color Pigments Loose Powder Shadow in Wild Gold. "It's technically a shadow, but I use it as a liner on my lower lid." Impressive!
In Stef's dreams, one day she'll master liquid eyeliner and always have glamorous cat eyes, but for now she uses Revlon ColorStay Eyeliner.
"As much as I experiment with other ones, that shit really does last forever. I've been raccooning myself ever since I decided I wanted to be Shirley Manson in the Only Happy When It Rains video, and never looked back."
Rachel and Laura M. both use Stila's Stay All Day Waterproof Liquid Eye Liner. Laura says "the felt tip makes it super easy to draw pointy and precise cat eyes. I started using it when that adorable lesbian couple Lucy and Kaelyn recommended it on YouTube." It's also a runner-up for Kaelyn!
Laneia's top pick is Rimmel SpecialEyes Eyeliner Pencil in Black Magic, then she goes in with a Lancôme Dual-End Smudger and Liner Brush (#24) to smudge it out. "It makes it look like soft tiny baby caterpillars are spooning my lashes." I'm sold, even though I was attacked by a caterpillar on my couch just yesterday.
Mey has been using L'Oreal Infallible The Super Slim Liquid Eyeliner, but says "Honestly, I've never bought the same eyeliner twice. I just haven't found my one true eyeliner love yet, I guess." I wonder if any of us truly has, I mean, I certainly haven't. As usual, Mey can come sit by me.
Yvonne's #1 jam is MAC Pro Longwear Eyeliner, but she wants to venture into liquid liners and I'm excited to see which one she tries!
Riese uses CoverGirl Perfect Blend Eyeliner Pencils in black/brown. "I have been buying it for probably 15 years and every time I try something else it's just not as wonderful," and she also points out that they're an excellent inexpensive pick — 2 for $8 on Amazon!
Lydia is all about Annabelle's Kohl Eyeliner Pencil in Lapis. Annabelle is a popular Canadian drugstore brand, and Lydia says it's "a super pigmented inky blue, stays put and makes me feel super alllllllluring."
Kaelyn hoards a retired Mary Kay liquid liner by buying it on ebay and amazon. In addition to the Stila runner-up, she also likes the Benefit They're Real Push-Up Liner. It's always nice to have backups (for backups)!
Kaitlyn likes NYX Super Fat Eye Marker because "it's basically just a big marker, but it still has a fine tip. If I put it over an eye primer it lasts forever, and it goes on easy over eyeshadow when I want to be extra dramatic!"
Last but not least, sweet Maddie says, "I believe my eyeliner is considered a 'pencil.' It is brown in a green tube thing that it twists out of, and it tickles my eyelids. I wear it maybe once a month but I feel SUPER HOT when the stars align and I put it on." NEVER CHANGE, MADDIE.
May all your eyelashes tickle someone's neck with every perfect blink. XO.