Welcome to Hard Lacquer, your new source for beauty news and reviews at Autostraddle. The world of cosmetics is a vast and shimmering sea filled with mermaids and wonders and ships in the night; but in its fetching waters as on land, we suffer a certain invisibility compounded by the narrow social canon of femininity.
Hard Lacquer turns the tide, providing a lush cosmetic isle for beauty-seeking queers who want a bay to call their own. Each post in the series will kick off with a short roundup of the latest in beauty, followed by a deeper dive into a few special products.
---
JUST BROWSING
+ Queer-friendly product alert! You don't need to be a full-on makeup buff to appreciate a good brow. For those of us who lack the time, practice and patience for most brow-enhancing beauty products, Glossier's new Boy Brow is a fuss-free tinted pomade that anyone can use for quick, cursory brow grooming. Comes in blonde, brown or black for $16. And really, just how refreshing and adorable is their marketing here?
+ Uh-oh, here's the latest "kerfuffle" between (reader favorite) Paula's Choice and (editor favorite) Beauty Brains. The beef? Alcohol. (It is an old beef that never dies, apparently.)
+ Still working on perfecting your cat-eye? Here are handy, step-by-step GIFs — bookmark now and knock yourselves out later.
+ Champagne taste on a PBR budget? The beauty steals I mentioned awhile back are now live at The Outnet. Here's your friendly reminder that a ton of Lipstick Queen deals and steals await your pretty little lips, plus lots more!
+ This Guardians of the Galaxy tutorial from Sam at Pixiwoo is fascinating, and her behind-the-scenes insights into Zoe Saldana's makeup for the character of Gamora are a lot of fun — even though when all is said and done she warns the audience not to go down this (messy, incredibly difficult) road. (And have I raved about Pixiwoo's brushes before? They're affordable and my absolute favorite for working with cream or liquid products — try the Real Techniques by Sam & Nic Chapman Core Collection if you're looking to try 'em out.)
+ Are you planning a makeup-intensive look for Halloween this year? Now that the Pop Art trend has died down a bit and everyone should know better by now than to appropriate Day of the Dead makeup (among myriad other things), I'm looking forward to seeing more fresh (and spooky) looks like Tayler's incredible space alien tutorial. Riese gave you a list of couples costumes and Mey brewed up a gazillion alternative witchy ideas in case you need some inspiration.
I personally don't know if I can outdo my own personal individual and couple bests — a dead prom queen and Baz Luhrmann's Romeo + Juliet (above, for a 90s themed Halloween party), respectively — but I'm hoping I'll have a midnight hour stroke of genius.
---
SCREAM QUEEN
Gather round, sweet gemstones. I have a scary beauty story to share in honor of October. Yesterday morning, I reached into the medicine cabinet for a little something to pop under my moisturizer to give it an extra boost. I still had a tiny sample vial of Paula's Choice RESIST C15 Super Booster, so I squeezed a few drops out onto my fingertips and started working it into my cheeks. "That's…orangey," I thought, and shrugged. It's vitamin C serum, it's orange, eh. (In my defense, that makes perfect sense when you haven't had any coffee yet.)
Then my nose was like, "Ooh, girl, I don't know about this" so I unscrewed the dropper and put more product into my palm. So orange, so runny. I poked and dabbed at it, gingerly lifted it up closer so I could sniff at it again. Ack! So pungent! What does that smell like? I just couldn't put my finger on it, and then it hit me — SELF-TANNER.
I had straight-up smeared undiluted self-tanner all over an unmoisturized, completely naked cheek part.
So I flew into ohogodnogodnogodnogodnoWHYpleasepleasenonono panic mode, as one does, and started re-washing my face ASAP. I exfoliated, I washed again. I hoped for the best and I think I'm in the clear? Worst case scenario, there's a faint patch that could just as easily be run-of-the-mill splotchiness. It'll be FINE. I have no recollection of how self-tanner would have ended up in there, but since I checked and Regina George isn't hiding under my bed, I must have repurposed the tiny empty dropper bottle and filled it with the last bits of a self-tanner from another container.
Honestly, it's a mystery, but consider my lesson learned. No more random repackaging or re-bottling of things. Feel free to share similar beauty lessons — self-tanner or otherwise — down in the comments. Don't leave me hanging!
HITS & DISSES
Confession: Aside from the most awesome rock 'n roll wedding I've ever been to, October just hasn't been my month. In addition to the self-tanner incident, I was sick for the better part of two weeks, then my wife got sick, then I took a spill down the stairs just when I'd turned a corner and started feeling well (I'm still sore). So instead of the hands-on highlighting lesson I had planned for y'all, I'm going to do something a little less…intensive.
When I'm poring over dozens and dozens of beauty articles and posts to share on Hard Lacquer, one thing I always appreciate is hearing both the good and the bad in honest reviews. Sometimes things just aren't awesome or worth our hard-earned dough, and often a product can leave me with mixed feelings. I know what doesn't work for me might be your holy grail and vice versa, so I try and be as clear as possible. If you ever have questions or want more detail, let me know in the comments. Here are some products I've recently picked up and kicked to the curb, followed by some I really like!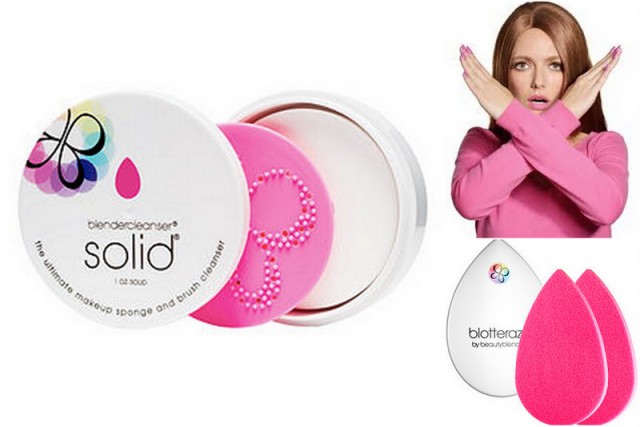 Miss No. 1: beautyblender blotterazzi™ by beautyblender®
I'd run out of boscia Green Tea Blotting Linens 
and this caught my eye from the grab-and-go bins full of last-minute temptations at Sephora's checkout. I figured these could be a more economical approach to periodically dabbing away excess shine, along with Beautyblender blendercleanser solid. If it actually worked I might be able to get past the cheesy, bulky design, but it's definitely a blotting no-go. The solid cleanser, however, is a godsend, especially as a great way to clean brushes and beauty sponges off while traveling.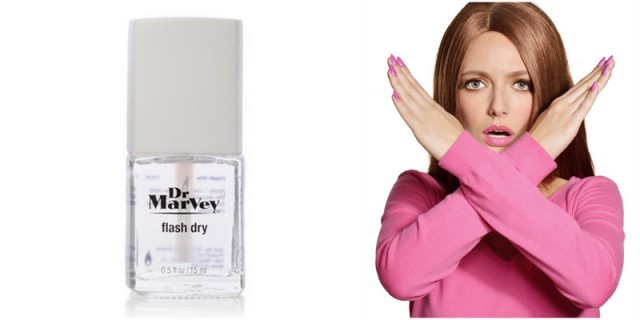 Miss No. 2: Dr. MarVey Flash Dry
I spotted this at Walgreen's and was excited to see a 5-free drugstore alternative to Seche Vite, reigning queen of lightning fast-dry top coats. While the formula itself performed exceptionally well, I don't think I can get over the poorly made brush. It was so uneven I had to trim the bristles myself, and the bristles were so stiff they pulled at and left streaks in my fresh polish! Maybe I got a dud bottle, but I also couldn't get the square outer cap away from the applicator, which made the whole thing extra cumbersome and awkward.
Misses No. 3-5: Lip Balm Assortment
Goldilocks of lip balms reporting here. Burt's Bees had way too much slip, Chapstick's Hydration Lock wore off in an hour (never mind eight of them), and First Aid Beauty's ended up being mildly irritating, not repairing. Boo, hiss! I'm pretty picky about lip care (you can see more of my suggestions here), and usually regret straying from my trusty standbys. This time is no exception, sadly.
---
Hit No. 1: Fresh Soy Face Cleanser
Moving on to the exciting new finds, let's start with Fresh Soy Face Cleanser. The gal at Sephora recommended this after both my wife and I somehow forgot face wash. I bought the smaller tube in case it didn't work for us, but I've been using it nonstop since. The texture isn't quite a gel or a cream, but it does the trick to get the day off and I look forward to using it every time. I can't believe I'm saying this, but I might stop using the black soap I've been devoted to for years!
Bonus: It's tomboy-approved. My wife usually goes for more tomboyish stuff from the Anthony or Jack Black lines, but she loved the clean cucumber and rosewater scent of this! Win-win!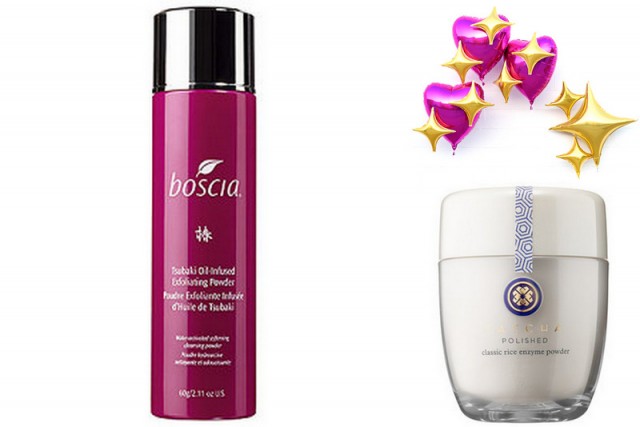 Hit No. 2: Tatcha Polished Classic Rice Enzyme Powder
I've been on the hunt for a good rice bran powder product for ultra-gentle daily exfoliation. I'm dialing back daily use of my Clarisonic Mia to twice weekly, but in the mornings it's nice to use something like this to help wake up the skin and make it glow. This is really lovely, but $65 for 2 oz. of product is pretty steep! For something even more natural and gentle, and about half as expensive, reach for boscia Tsubaki Oil-Infused Exfoliating Powder instead.
Bonus: Tatcha founder Victoria Tsai launched Tatcha Giving with Room to Read, so every purchase of a Tatcha skincare item sends "an incredible girl to school for day through our Beautiful Faces, Beautiful Futures partnership." That's a pretty gosh darn awesome mission to get behind, if you ask me.

Hit No. 3: Tweezerman ProCurl Eyelash Curler Rose Gold
After slowly realizing that I can never, ever seem to find my Shiseido eyelash curler anywhere, I decided to pick up one of these after reading a review that said it grasped every single lash, from the little babies at the inner corner to the longer rogue lashes at the outer corner. They were spot on, it really does do the job, and now I have a nice rose gold backup as a security blanket for my lashes.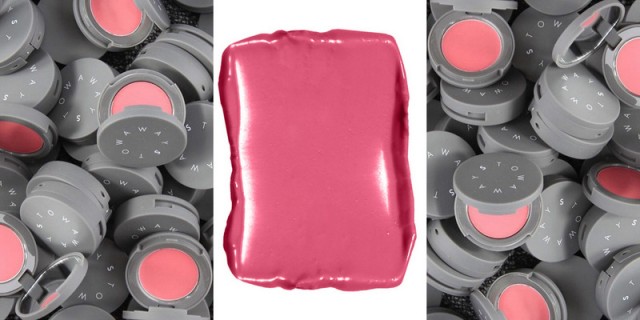 Hit No. 4: Stowaway Cheek & Lip Rouge Pot
I've mentioned Stowaway Cosmetics before, but only just recently got my hands on their products. So far I'm loving the rouge pots and Peony is my favorite shade — there's a lovely dark rose and soft coral as well. These little multitaskers are packed with softening and soothing cocoa seed butter, shea butter, apricot kernel and grape seed oils, and are really nicely pigmented.
The brand aims to size and price beauty products "right" to help consumers streamline and downsize their beauty routines and reduce waste. They also offer a convenient, totally customizable subscription plan to ensure products are delivered to your door exactly when you need them, as well as hassle-free returns. I'm looking forward to reviewing the full line soon, but in the meantime you can get a free mascara with your first order here.
Barring any further illnesses or injuries, I'll see you here next time for Highlighting 101 and Advanced Highlighting: Mixology for Your Makeup.