Welcome to Hard Lacquer, your new source for beauty news and reviews at Autostraddle. The world of cosmetics is a vast and shimmering sea filled with mermaids and wonders and ships in the night; but in its fetching waters as on land, we suffer a certain invisibility compounded by the narrow social canon of femininity.
Hard Lacquer turns the tide, providing a lush cosmetic isle for beauty-seeking queers who want a bay to call their own. Each post in the series will kick off with a short roundup of the latest in beauty, followed by a deeper dive into a few special products.
---
ONE-STOP BEAUTY SHOP
+ It looks like H&M's new beauty department is open for fall business, and products are already selling out online! The 700-piece collection hits stores October 1.
I haven't got my hands on any of it yet, but much has been said about the packaging. It does look very sleek — the kind you'd be perfectly content to leave out and let guests admire (even if it some of it seems nearly identical to haircare line R+Co). Equally noteworthy is that H&M has stepped up to support the #BeCrueltyFree campaign to stop animal testing in China!
+ I found y'all some epic giveaway contests: Here's one from cult favorite Glossier (I am dying to try their range), and another that includes $200 worth of minimalist brand Stowaway's right-sized beauty products. Good luck!
+ The most exciting beauty box for women of color to come along in awhile is here. (Well, almost — the official launch is in October!) Curated by beauty experts at ESSENCE, and featuring a product from a Black-owned business every month, the five goodies in this $15/mo. delivered-to-your-doorstep box will be carefully selected to ensure that they fit the needs of women with darker skin tones. Find out more and subscribe here. Looking for more beauty boxes tailored for women of color? Have a look around.
+ The average nighttime beauty routine for three women "took 5:07 from the first splash of water to the last stroke of lip balm," according to ITG. Freaking out about the order in which you apply your products? Don't, say the experts at Paula's Choice (that's a relief). My own evening regimen (of course I timed it) took about 4 minutes. Here's what it looks like broken down:
Brush teeth first (don't do it last, kids!)
Remove makeup with raw African black soap
Deep cleanse using the Clarisonic Mia, a drop or two of black soap or rice bran cleanser
Pat dry, then spritz with Lush Eau Roma Water
Work in a serum or treatment like Sunday Riley Good Genes or a facial oil (this one's good) — here's a good time for a mini face massage!
Slap on some eye cream and moisturizer, being careful around the delicate eye area
Bonus: Sometimes I'll sleep in a moisturizing or extra-gentle mask instead of moisturizing — try it sometime!
+ London Fashion Week (Lydia's favorite — she swoons every time it's mentioned over here) is in full swing, but I'm still basking in the glow of NYFW beauty for S/S 2016. It's all perfect-skin-is-perfect, from Public School's fresh-as-a-daisy glow to wholesome vamp vibes at Cushnie et Ocs, Jeremy Scott's painted-on sci-fi lashes and Michael Kors' invisible bronze and preternaturally pretty pouts. So much swooning.
SPEED ROUND
+ Whoa! Fruity, at-home DIYs to whiter teeth? Why not?
+ Holy smokes, hand-pressed hair coloring glass is here. Would you try it?
+ Gwen Stefani x Urban Decay? Yes, please. What you waiting what you waiting what you waiting for? November, when it hits stores.
+ Don't wash your damn face in the shower. Just don't!
---
#AUTOEMPIRE
Last night Empire kicked off its second explosive season and I am going to be completely and utterly glued to every episode, recap, and mention in our newly revamped, biweekly Boob(s On Your) Tube roundup (memorize that hashtag, our own Carolyn is going to knock this out of the park).
Riese already touched on the fact that the new season upgrades bisexual hip-hop artist Tiana Brown to a series regular and that "there'll be a new lesbian character, Forbes list billionairess Mimi Whitman, played by Marisa Tomei." No sight of the former yet, but the latter knocked it out of the park.
To pay tribute to this show and what it's doing for black queer narratives, black television in general, and champagne toast where it's headed, I'm taking a look back at the best of Empire beauty.
Don't watch the show (yet)? You don't need to be a fan to appreciate the genius behind Empire's beauty dream team, led by makeup artists Beverly Jo Pryor and Ashunta Sheriff.
Check out the top picks, why I love them, and take notes on my hand-picked (and test-driven) product recommendations from Milani, a high-quality, cruelty-free drugstore brand that's sometimes vegan and always $10 and under.
---
COOKIE
Matriarch of the Lyon empire, mother and mastermind. A little bit mad, a lot Do Not Mess. Favors shiny, shiny hair, perpetually amused/judgmental brows, bold lips, soft skin, and nails that say they can and will claw your throat out if given no other choice. Let's start with her soft side!
The Look: Daytime smoky eye with a "YLBB" nude and just a bit of warmth and dimension for contour.
Why we love it: This is how Cookie dresses to go and sweet talk an old crush at his ranch. Romantic, sideswept hair helps offset all the black (GIVE ME THAT BLAZER CAPE THING) as well as the tough-as-nails nails and accessories. It's perfectly balanced!
Get the look: Warm up a matte base with Milani's Powder Blush in Tea Rose and for a stay-put nude lip, try Amore Matte Lip Crème in Adore. For eyes, use a primer before blending in a gel powder eyeshadow like Bella Charcoal over the lid, and line with Supreme Kohl Kajal Eyeliner. I love this Brow & Eye Highlighter in Vanilla/Natural Taupe because it's fairly soft — her brows are defined here, but not super intense. (All products pictured above.)
This is a similar look with an even softer eye, so you could try out the Bella Eyes shadows in taupes and nude shades, or try one of the Fierce Foil Eye Shine Palettes — I'd try one of the two below!
For a slightly pinker, satin lip, go with something like Rose Femme, Pretty Natural or Naturally Chic in Milani Color Statement Lipstick (apply with a brush and blend well, because this is light-handed application). A little goes a long way with these super creamy lipsticks!
The Look: Bold lips with a capital B. (For business. Or bawse. All of the above!)
Why we love it: How can you not love a bright violet lip to match your stole exactly IN A BOARD ROOM!?
Get the look: I'm going to tell you a secret. Milani's Amore Matte Lip Crèmes I mentioned above? On par with the 3x more expensive Stila Stay All Day Liquid Lipsticks. I would run-not-walk to snag up one or more of these brand new lippies at $8.99/pop. They come in eight shades, and yesterday I test-drove Embrace (a punchy reddish plum) for 8+ hours. Even after a delicious, steaming hot plate of rich, creamy pasta and garlic bread for dinner, it was still seriously vibrant.
Any wear or fading looked like an intentional ombre lip — a très chic lazy femme bonus. Plus, they smell like funfetti cake batter and give you a fuller-looking lip.
The Milani Color Statement Moisture Matte Lipsticks ($5.99 each) come in twice as many shades and are an excellent way to a bold Cookie-esque lip as well. When you apply, they feel creamy and emollient before drying down to a matte finish that you totally forget you've got on. Witchcraft!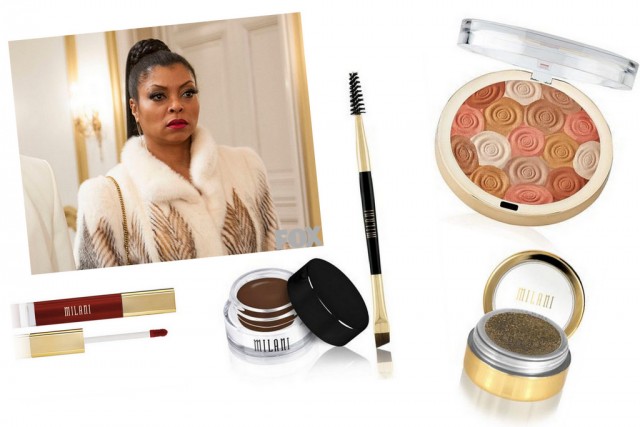 The Look: Cookie's gilded white party look. Red lips, loads of lashes and luminous skin.
Why we love it: Because it gives the finger to anyone who says you have to choose between a strong eye and a strong lip. SUCK IT, HATERS.
Get the look: Stay Put Gel Brow Color for bold nighttime brows, plus Milani Fierce Foil Eyeliner in Black Gold. The latter blends nicely, so you can sheer it out over the lid by blending, but it still creates a nice line for definition. Get a warm glow with the Illuminating Face Powder compact, this one is Amber Nectar, and try the lip creme in Desire or Romance (pictured) for a classic red lip. Below is another super gorgeous, slightly vampy look — swap out the smoke for a kitten flick (and lingerie).
---
ANIKA aka BOO BOO KITTY
Poor little boo boo kitty, caught up with the big cats over here. Anika is beautiful in a very safe way that is always perfectly beyond reproach. It would be almost boring if her inner world weren't so turbulent and on the precipice of self-annihilation at all times! Let's take a look.
The Look: Soft, elegant cat eye with a sheer wash of khaki brown shadow, red lips and a bit of contour. Oh, and bold straight brows!
Why we love it: With the finger waves and flawless skin and sequins, it's a whole 1920s starlet vibe, but modern.
Get the look: I'd reach for the 7-piece Milani Brow Fix Brow Kit in Dark; it's got two applicators, a mini pair of tweezers, 3x magnifying mirror and three powders to achieve perfect brows on-the-go, one for a highlight and two-tone brow shades. Anika almost always has an extended kitten or cat eye, so the 'semi-permanent" Infinite Liquid Eyeliner will give you a 24-hr. precision line like hers, and this Bella Khaki shadow is nearly identical to the shade she's wearing here.
For her next look, I'd keep the brows and liner the same, swapping the shadow out for classic nudes, and switch the Baked Blush shade to Fantastico Mauve (which I have, and it's gorgeous) or Berry Amore. The delicate gold shimmer on the inner rim of her eyes gives her a really vulnerable look, and to get that glossy, ombre pout, I'd pair a darker lip creme with one of the Milani Brilliant Shine Lip Glosses in a complementary shade.
I wouldn't be so quick to underestimate this one, though. Red is her power color, and I can't wait to see where her character goes in the new season. Both she and Cookie are like high femme catnip in all their unapologetically glamorous and super-feminine glory, and it's really refreshing.
The Look: RAH-RAH-RED.
Why we love it: Because I'm an Aries.
Get the look: She's got a graphic, clean cat eye, her signature straight, bold brow, but this time they're paired with rose gold cheeks and a bright red version of the same glossy ombre lip as before. This Baked Blush in Red Vino has a kiss of berry and gold shimmer to keep matte foundation from looking too flat. To give the lip lasting dimension, line first, go in with a matte lipstick, and seal in the color with this Lip Intense Liquid Color gloss, concentrating the color at the center. Check out Lick My Chops for more red lip tips!
---
TIANA
While she may look the part of the fresh-faced ingénue, Tiana is quite established in her $40M career with three studio albums, a huge social media following and a hot girlfriend (and on/off boyfriend), all at the tender age of 21. Her screen time is more or less split between looking like a babycat and looking like she's being groomed to perfection as a young, rising pop star.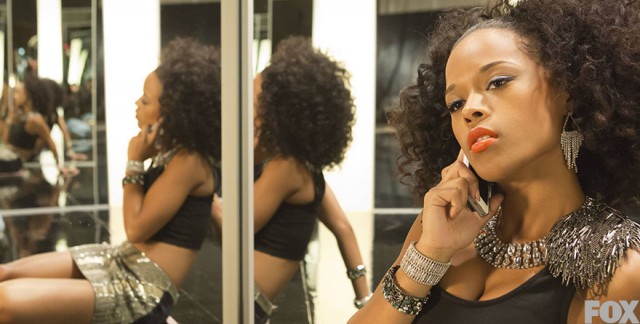 The Look: Edgy liner and an orange lip! Very catwalk-worthy.
Why we love it: It's so much fun, and it ties in perfectly with her ridiculously awesome (awesomely ridiculous?) outfit and halo of curls.
Get the look: Start with clean, bare skin (or makeup that gives that effect) and natural but groomed brows. Layer white or silver liner right above a line of electric blue liner in equal widths, extending just the blue slightly past the outer corner of the eye. Her eyes are also faintly, faintly tightlined all the way around.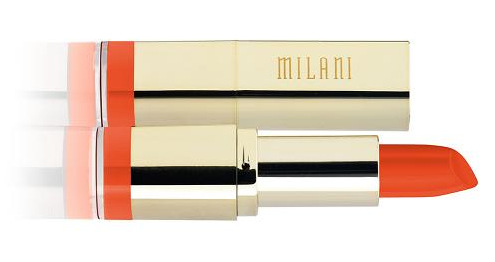 Grab a tube of Color Statement Moisture Matte Lipstick in Matte Luxe (a vibrant warm orange) and buff it into the lips with your finger for a soft, muted look, and then take the excess and blend it up high on the cheekbones for just a little kiss of the same color. Unlike traditional lipsticks, these blend sort of like a cream-to-powder foundation, almost. Multitasking!
This is her more cherubic vibe; a little definition to open up her eyes, a soft gloss that lets her natural lip color shine through and loads of sweet, flower petal pink on the cheeks. And her hoops! Always her hoops with the awesome hair.
---
HONORABLE MENTIONS
I really wish we could fit every rad character into this post, but I'm going to quickly work my way through just a few more and maybe we'll revisit midseason and give some other characters a closer look. Up next is Porsha, who plays dumb but clearly isn't, and often provides much-needed comic relief when Cookie is off having a tantrum somewhere (don't even get me started on her "I gotta boo boo" line last night). I'm grouping her with IRL soul singer V. Bozeman since their looks were so similar!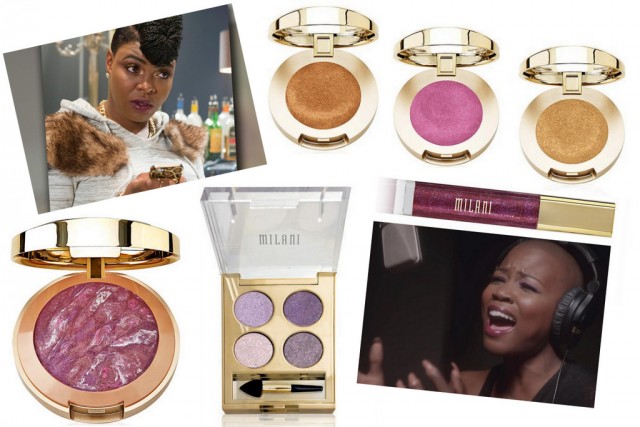 The Look: A mix of orange-gold and purple or warm plum shadows with a shiny, deep plum lip and loads of mauve blush.
Why we love it: It's pretty versatile — dialed down, it's really elegant and wearable on V, but turned up a notch or two on Porsha, and it has a much edgier, rock 'n roll vibe.
Get the look: With an eye like this, it's all about blending. Warmer tones tend to look best on darker skin tones, so keep that in mind when mixing. The top three gel eyeshadows are Bella Copper (left) and Bella Gold (right), with Bella Fuchsia in the center. The Fierce Foil Eyeshine palette is called Rome, and this Baked Blush is perfect for rich, saturated, flattering color (Fantastico Mauve). This Fierce Foil Lip Gloss is one of few things in this post I haven't tried, but it looks gorgeous in Florence, a sheer berry with golden and opalescent flecks throughout.
I saved the best for last. I couldn't help myself, I had to snag a screengrab of Becky from last night's new episode. In my opinion, she completely stole the show in the premiere as Empire's new Head of A&R. (She was known to be a scene-stealer last season, too.) The promotion suits her, and while she's still sporting the same sleek blonde as last season, her style's upped the ante to match her new title. Let's take a peek at one of my favorite scenes (no spoilers, don't worry):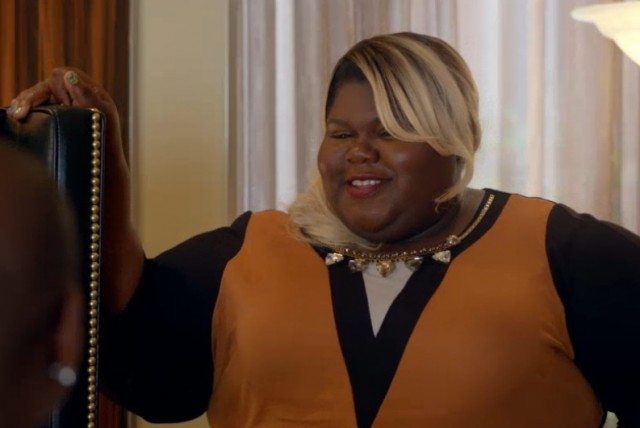 The Look: Super fresh, dewy skin and quintessential "keep it pro" makeup.
Why we love it: Bold color blocking and a blonde pony together could be a harsh combo, but the sideswept bangs and romantic but work-appropriate makeup soften things up. I feel like Becky's character is always trying to maintain whatever peace and sanity and reasonableness can be had in her glitzy, berserk workplace, so to me it makes sense that she keeps her work attire on the chill, pulled-together side (as opposed to taking cues from those around her and adding to the visual chaos). ALSO LOOK AT HER NAILS! No two are the same color and they seem to be foiled. I digress, let's get to the makeup.
Get the look: I love cream-to-powder foundations because they tend to go on and blend with the ease of a heavier, creamy liquid foundation, but give you a nice, demi-matte finish. Milani's have been reviewed as giving a truly gorgeous, flawless medium coverage, and using a combo of highlighter and spritzing with a facial mist will give you Becky's glow. If you have a darker skin tone and are looking for makeup tips and trick to up your beauty game, I loved this quick, informative video.
For the eyes, I chose a soft, rose gold shadow for all-over lid and brow bone color, with a nice copper to make the center of the eyelid pop, plus a black eyeshadow pencil — if you look closely, Becky's shadow sits over an ultra-blended black line sitting close to the lash line. It will also give the shadow something to cling to. More is more when it comes to blush and highlight — she's super radiant here, so just build and blend the color and highlight until you're happy. Top with a creamy berry lip and you're all set!
Loving Empire's beauty and fashion and glamour as much as I am? YAY! I wanna hear about your favorites. Have you tried Milani before? Same! Head into the comments section and share your thoughts and loves, and as always, I'm around if you have questions about any of these products or just wanna shoot the beauty breeze.
'Til next time, when I'll give you the DL on the new Play! By Sephora box, and lots more.