Welcome to Hard Lacquer, your source for beauty news and reviews at Autostraddle. The world of cosmetics is a vast and shimmering sea filled with mermaids and wonders and ships in the night; but in its fetching waters as on land, we suffer a certain invisibility compounded by the narrow social canon of femininity.
Hard Lacquer turns the tide, providing a lush cosmetic isle for beauty-seeking queers who want a bay to call their own. Each post in the series will kick off with a short roundup of the latest in beauty, followed by a deeper dive into a few special products.
---
ARE YOU READY?
+ Guess who got an exciting packaging makeover? If OCC lip tars are your favorite love/hate product due to super pigments in lo-fi packaging, you might want to give their revamped version, Lip Tar / RTW, a go. You'll definitely pay for the convenience of a new tube and the doe-foot applicator, but I think we all know the answer to the question above (and I'll take one in Hoochie, thank you very much).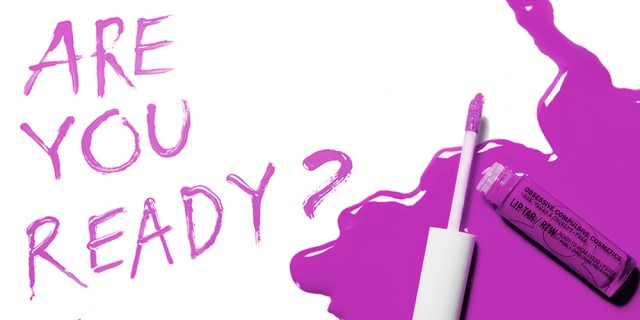 + Eyebrows may be our most important feature, according to science, but $925 semipermanent tattoos important? Check out first-person accounts here and here (if you dare).
+ Bellaoggi's Gel Effect Keratin Nail Polish and Fast-Dry Effect Top Coat are the best polishes I've tried in ages, and easily the least expensive at about $5 apiece. A single coat gives you rich, even, chip-free, long-lasting color, and the top coat can quickly dry a bottle of Seche Vite under the table. Sad news for those of us stateside, though, because this affordable Italian brand isn't sold here. At least I picked up one bottle, superchic Bitter Sangria.
FINE, I WAS WRONG
+ Remember when I was all, "Glossybox, you bore me to tears, get out of my life?" It turns out I can no longer live without this ultra-creamy bluish grey eye pencil from Face Stockholm they sent me. As a liquid liner devotee, I don't even know who I am anymore! It's such a gorgeous, soft smoky way to play up my brown eyes, and somehow delivers a sharp little kitten flick despite a dull, unsharpened tip. I take it all back.
+ I once bought like six Cargo blushes/bronzers at once because sales will make you do weird stuff sometimes. In 2008, pals. For what it's worth, I don't actually use them, but for reasons that also defy explanation I haven't tossed them in the bin, either. Here's an easy guide to follow for cleaning out your makeup drawer:
As with everything else beauty-related, opinions — professional, scientific and otherwise — vary wildly, so use your best judgment and if anything looks, smells, or seems off or has separated, better safe than sorry!
---
NOW IN (OB)SESSION: FALL BEAUTY 101
Hey-o, it's the second edition of Hard Lacquer, beauty tubes! Get out your notepads and make sure you have plenty of space for new tabs in your browser, because we have a lot of material to cover. Let's look at the best of what Fall 2015 beauty trends have to offer! After a cursory look at the best of A/W 2015 Beauty Trends, I'll walk you through the hype (and science) behind mystical micellar cleansing waters.
WILD EYES
The kind of amazing thing about eyeliner this fall is that it does not require precision, nor is it meant to be pretty, even. How refreshing! While full-on rocker chic, kohl-rimmed, fall-out-and-see-if-I-care liner is a big deal, the graphic lines and flippant cat-eyes below are something else entirely. All I see in this look from Anthony Vaccarello is an upside-down cat ear. HECK YES.
Meanwhile, a single jewel-toned slash through the socket, haphazard flicks winged out to the temple or flying high above the waterline, or straight-up What is even going on there? doodling over the entire eyelid — truly anything goes, no steady hand needed.
BARELY THERE
Forget contouring. Forget it. Forget heavy coverage, forget loads of concealer, forget ultra-matte powder, forget all of that. Imagine a glowing canvas of radiant skin, and now imagine that a little butterfly with a tiny baby feather duster with the itty bittiest trace of blush just sort of grazes it against your cheekbones. That's what fall's fresh faces are all about. Your skin, a hint of color, and a very light hand.
For a glowing base, I love mixing a drop or two of liquid luminizer or highlighter into barely-there liquid makeup or moisturizer for sheered-out, ultra-dewy coverage. If your current coverage is on the heavier side, you can play with adding more sheen by mixing in something light, like Embryolisse or a few drops of face oil, as well. If you're a little wary, try mixing up small amounts on the back of your hand and blending it into your cheekbones first, and see how the light hits it, adjust accordingly. You can always buff a small amount of coverage in with a brush if you accidentally went overboard. Fan brushes and I don't get on too well, but they're a safe bet for this season's barely-there blush.
TWIGGY WITH IT
A nod to mod with spiky lashes, top and bottom! I love the super wearable version below, but there were bolder takes on the runways: clumpy lashes, spiderleg lashes, you name it. Bonus points for tightlining the lower lid with white, ivory, nude or peach eyeliner to make 'em pop! Rimmel's is great, and inexpensive. You can always give yours a boost with a set of falsies — these ones from Shu Uemura look perfect.
Those are just a few, but they're my favorite because they're not a lot of work and you don't necessarily need to rush out and buy a brand new product to achieve the looks. It only takes a little creativity and willingness to experiment and baby step outside of your comfort zone. Still not sure which A/W makeup trend you should try? Here's a handy dandy quiz that'll help you figure it out.
Just remember, there are still 28 summer days left before you start making apple picking and leaf-pile-jumping-in-cozy-sweater dates! Honorable mentions to the following tends that didn't make the cut:
Fluffy, full eyebrows forever and ever
Metallic eyeshadows or metal accents in the usual autumnal shades, but especially pretty in dark shiny chrome, copper, and greenish gold
1980s eye makeup ranging from power suit femme blended shadow, heavy New Wave a la Siouxsie and the Banshees, and bold electric pops
For hair: bangs (sob), severe side parts, severe ponytails, severe updos, Cali girl waves, all sorts of trinkets/embellishments/doodads
Does it seem as though I'm suspiciously ignoring lips? BECAUSE I AM! You have something amazing to look forward to next week, I love you.
What are you excited about? Anything you think is just pure ridiculousness? Need more tips for getting it right? COMMENTS.
MICELLAR WATER — MYTH OR MAGIC?
As legend has it, this non-rinse, soap-free, micelle-molecule rich cleansing water has been a standby in French pharmacies and makeup artists' kits backstage at runway shows since the dawn of time. They just feel newish because they're suddenly everywhere. Reading up, the first thing I realized was that almost no one says in plain English what soon becomes obvious: This is glorified makeup remover created 100 years ago to help fancy French ladies deal with incredibly hard water.
Fair enough. Neither soap nor water nor soapy water nor toner exactly, it's kind of like a very mild cluster (the micelles) of the things that make soap soap (surfactants) suspended in soft (as opposed to hard) water. Since the micelles are attracted to dirt and oil, when you douse a cotton pad with the solution and slide it across your skin, it removes the impurities and you're good to go — no rinsing or harsh soap necessary.
Its proponents claim this makes it gentler and more moisturizing for sensitive or dry skins, but I wouldn't be so sure — it took far too many cotton pads, a healthy amount of pressure, and my face felt not just not clean but also pretty dry and kind of like it'd been through the ringer. For the record, I had on Perricone's No Foundation Serum, a swipe of mascara, and a hint of Becca's Beach Tint Shimmer Souffle on my lips and cheeks — by no means a substantial amount of makeup. I have a medicine cabinet full of scrubs and exfoliants and a bloody Clarisonic that feel gentler than using micellar water did!
To be fair, I'm also a religious nighttime face-washer, and rarely ever crash with makeup on. (Even then, I usually keep a pack of organic makeup wipes on my bedside table, plus a bar of Lush's Full of Grace serum to stay hydrated through the night if push comes to shove.) This may very well be a godsend for those of you who can't bear the whole makeup removal routine at night, or folks with skin that pitches a fit with traditional cleansers and makeup removers.
In short, there's nothing wrong with micellar water — it dutifully removes all but the most stubborn makeup with a little elbow grease, gets skin reasonably clean, and most formulations are extra-gentle. It's no miracle product, though, and not a 24/7 replacement for actually washing your face. Most reviewers said they do indeed follow-up with a traditional cleanser (even the French ones), and that's how my daughter's using hers as well.
I think it's probably best to consider this something of a Makeup Remover +, rather than a miracle product that can remove makeup and thoroughly cleanse and moisturize the skin. Check out some options I rounded up below.

THE HIGH TECH | Perricone MD Blue Plasma Cleansing Treatment, $39 for 4 oz.
THE ORIGINAL | Bioderma Hydrabio H20, $12.95 for 8.45 oz.
THE ROSE | Nuxe Micellar Cleansing Water with Rose Petals, $22 for 6.7 oz.
THE SENSITIVE ONE | Darphin Azahar Micellar Water, $40 for 6.8 oz.
THE STEAL | Simple Cleansing Micellar Water, $5 for 6.7 oz.
Did I leave out your favorite brand? Are you going to try it out, or do you think I should give it a second shot? Let me know in the comments, and we'll see you back here in two weeks. I think we'll talk eyeliner basics and dig into my all-time favorite body oils, to help keep our skin healthy and hydrated as the weather starts to turn!