Hi, baby birds! It's Riese's birthday, so I, Haviland Stillwell, am here making some birthday magic! Whee! We're all very biz-zay up in here, so I'm going for brevity!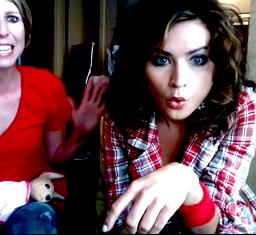 IF THESE WALLS COULD TALK: Chicagoan turns her house into a set for lesbian movie Hannah Free which "which chronicles a love story between two lesbians over six decades." Brava for female driven films! The last full on lesbian film to be shot in Chicago was GO FISH? Really? That was before Ellen, y'all. My mom's former assistant had a poster of GO FISH on her wall. Oh, Sharon Gless is in this!
HEROES: The two-hour series premiere is "Redemption," AKA Heroes' Season of the Lesbian Carnivalesque. Hayden Panettiere's "Claire" has a lot of new, confusing feelings. Save the cheerleader, save the world. I think we can read into that, la-la-ladies!
GLEE: I need to express my adoration for the adorable Chris Colfer. He's the new Enrique Vasquez!
WHIP IT: Whip It! is having nationwide sneak previews this Saturday. All the tickets in L.A. are sold out, FYI, but the idea is really nice!  A couple of years ago, before I knew what roller derby was, someone asked me to be on their team. I'm a really proficient roller skater, so I went with it…but um… it's not just roller skating. Had Drew and Ellen been there to teach me the ways of the Derby girls before then, I could have avoided a lot of bruising. In addition to it looking totally hot, and being Drew's first directing gig, this movie is basically preventative health care. Obama-rama! (@foxsearchlight)
TYRA: Tyra examines gay exorcisms with help from insane people. (@jezebel) Um…k.
INTERVENTION: Intervention does a follow-up with Allison, the huffer who was walking on sunshine. Yay for getting it together, Allison! Sobriety is fun! (@jezebel)
MOVIES: Girls on Film: Loathsome Female Cliches. I have many feelings on this, as I have played everyone of these cliches…this goes to show you all that you should get out there and WRITE! some new STUFF! (@cinematical)
IDOL:This show is a machine, y'all…Ellen's going to be fantastic. I mean, look how far our little country has come! "On [yesterday]'s Ellen DeGeneres Show, Ellen felt she needed to further explain why she'd be a good American Idol judge: "I have spent my whole life being judged, so I know what it's like to be judged. I will be an honest judge without being mean." So if that whole "I'll be the people's judge" campaign didn't speak to you, perhaps "I'll be a judge who is able to identify with contestants" will. (@popwatch)
Happy Birthday to the bestest little CEO on the interwebs!!!!


READ A F*CKING BOOK WEDNESDAY:Full Frontal Feminism: A Young Woman's Guide To Why Feminism Matters (2007) was written by Feministing.com founder/executive editor Jessica Valenti, so you know it has enough sass to keep things interesting. I mean, the second chapter is called 'Feminists Do It Better (And Other Sex Tips)' so you know there's no dancing around any 'touchy' subject matter. And one of the best tips in the book: "Reject Maxim, Playboy, and any other form of pop culture that tells you you're not hot enough. Start your own magazine that highlights what's really "hot" about women. Or, if you're really lazy, just snarl in sexist mags' general direction."