I've come to realize that you can find almost everything on Etsy. Vaginal coin purses: check. Gourd lamps?: Obvs. But did you know you can find cute girls on Etsy?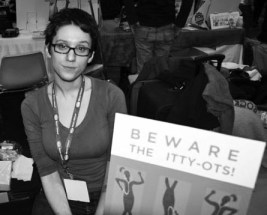 Well, I did, and she wrote a book, too! See, I was meandering through some 'zine how-to's and tucked-away queer blogs when I was informally introduced to Ms. Carissa Halston, author of A Girl Named Charlie Lester, among other works, and an official Etsy seller. We exchanged niceties through Etsy convos. I may have flirted a little. There may have been extended back-and-forths on our facebook walls. She may not have minded. Incidentally, have you ever heard someone use the phrase "face down in estrogen"? I hadn't. Thank G-ddess for Carissa!
I sat down with Carissa at her château in Toulouse to get some answers. Or maybe it was via Google Talk in my kitchen. You be the judge!

Carissa Halston: Do you know of the French word "Bof"? It means, "Hmm, not so good" or, "I don't think it can be done". What an incredible three letters.
Green: That's a lot to pack into three letters.
CH: That's what I mean… Those three letters are incredibly long-winded.

G: Is it safe to say that your entire childhood was spent inside your local library or in front of a dictionary?
CH: Actually, it wasn't. I didn't really love reading — by love, I mean wholeheartedly — until 10th grade, when i read The Tragedy of Julius Caesar.
G: Julius Caesar changed your life.
CH: It was Shakespeare, actually, but close enough. It was the way the story was handled. Very deftly told. First of all, it's named for Caesar, but it's actually a story about Brutus. And there are themes therein which I think about to this day. (e.g., only the innocent can sleep.)
G: Now I wish I knew more about Shakespeare, so we could have a hot, steamy, literary conversation about Brutus and themes, etc.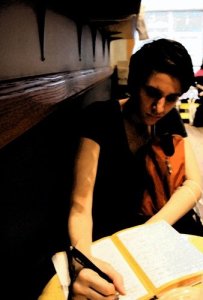 CH: Oh, honey, two girls talking about any sort of literature makes me at least a little lustful. Unless it's boring stuff, but only because I'm an eLITist. See what I did there?
G: That's what you do! My first clichéd question was going to be, "What book changed your life/influenced you the most?" — would you say we answered that?
CH: I think the book that changed me most as a reader was actually Dreiser's Sister Carrie. It definitely fostered my belief that sad, open endings are infinitely better than moralistic ones.
G: Enlighten me.
CH: The version that I read was the original that Dreiser wrote. It ends [in a specific way]. But Dreiser's wife/manager and editor convinced him that audiences wouldn't want such a depressing story. So they made him rewrite it.
G: That's terrible!
CH: And he gave it a moralistic ending. Luckily, the original version is still published. I highly recommend it if you're interested in reading American Lit.

G: Oh! I meant to ask you what you're wearing!
CH: Blue jeans, rainbow leg warmers, orange socks, and a black fitted sweater. Et tu?
G: 7 yr-old jeans, grey panda t-shirt, white hair clip, Vans footie socks in pink check.
CH: See, I think your outfit wins.
G: I do not win! You're wearing leg warmers!
CH: But they're under my pants.
G: I wish "but they're under my pants" could be worked in as a pull-quote. Ok, let's get sexuality on the table. Do you label yourself? If so, how?
I wish "but they're under my pants" could be worked in as a pull-quote.
CH: If I had to label (and this is only if I had to), I'd go with bisexual. Otherwise, it really just depends on the moment. When I see a really attractive girl, I'm not considering the other sex at all. And vice versa.
G: Have you experienced any weirdness within the GQBLT community with regard to your being married to a full-on man?
CH: Just confusion, I think. But that's only when I'll be hanging out with BLT who don't know me very well, and I'll make some sort of girl-on-girl comment which makes them say, "Wait, what?" I also think it confuses straight people I grew up with. I worry that people will think I'm one of those girls who says things just to get reactions out of people and it's not that at all. I just lead a very honest existence.
G: So when did you come out? What was that process/non-process like?
CH: You know, it wasn't really a process at all. The first guy I "really" dated said to me one day, "For a long time, I thought I might be gay." And my face lit up and I said, "Me, too!" It was very freeing to be able to say that. But I was 18 and before then, I had been practically vacant during sexual encounters, so it wasn't this grand leap. It wasn't like becoming something new so much as becoming something at all. Shortly thereafter, I met this girl at work who had it in for me, shall we say? We didn't date, but there was an atmosphere which became these dramatic trysts an then an inevitable downward spiral (as is a must when drama is involved). I didn't meet my first actual girlfriend until years later, after I wrote the first draft of Charlie, oddly enough.
G: I have to ask — how much of Charlie's story is autobiographical? Because there were times, reading the book, and even though I don't really know you, that I felt like you had met that guy before, or had that conversation. It was written in such a way that it felt strangely firsthand.
CH: That's actually hard to calculate precisely. When I wrote the first draft, every character talked like me and sounded alike. It was a very tasking book, so I had to change that. The entire thing experienced a massive overhaul. But I can still look at parts of Spot or Gwen or Ray or Charlie and say, "That's me."
G: Spot was amazing. I didn't want to like him — based on his name alone — but I couldn't help it.
CH: I love Spot. I wanted to have a character named Spot for years. He lived up to all my expectations.
G: Did you feel any sort of obligation while writing the book? To tell a certain story or have it end up a certain way?
CH: I did have a goal for writing Charlie. I wanted to tell a story that had anti-corporate sentiment, but was also a character-driven tale that made the reader think/feel something, a story about feeling disfranchised. Charlie took the road less traveled and didn't go to college and that made things hard for her. Charlie wasn't gay — a label that holds social stigma but also provides a community of like-minded people. But she also wasn't straight, so she was an outsider among the outcasts. I like heroes with flaws, and virtues in villains.

G: Let's talk about being self-published. Tell me about Aforementioned Productions. How did it start? Do you publish other people?
I hope a mammoth company like Amazon wouldn't be so stupid to behave like an overgrown convenience store who picks and chooses the material it peddles, rather than letting the consumer find what he or she wishes.
CH: Aforementioned Productions started when we were publishing my play collection "Cleavage" in '05. We do publish other people, most notably in our online literary journal, apt, which comes out bi-monthly. Ahh even our magazine is bi. I love that. Soon we're releasing a chapbook by a poet named Michael Lynch, called "Underlife and Portico." He's very talented.
G: How is it to be self-published with Lulu.com?
CH: I like being in charge of what my books look like, and Randolph's a graphic designer so he makes it all look divine. But most bookstores won't carry self-published books and there's a problem with the blurb for Charlie, when it was released to the online bookselling networks, and my synopsis was cut in half. Also, I hated Amazon long before the homophobic debacle and it was impossible to get them to fix the main page's blurb. But being self-published also allows me to take part in DIY things like Etsy.com, which provides an excellent community.
G: As a writer of GQBLT fiction, what was your first response to the Amazon debacle? Because hacker or no, it didn't fell entirely out of the realm of normal to me. As if I expect people to be that homophobic. It was shocking and not shocking at the same time.
CH: I hope a mammoth company like Amazon wouldn't be so stupid to behave like an overgrown convenience store who picks and chooses the material it peddles, rather than letting the consumer find what he or she wishes. Also I know many people who said they wouldn't purchase anything from Amazon 'til that matter was rectified, and since I'd already been boycotting Amazon, I felt smugly justified. More justified than smug, I hope.
G: Yet another reason to support your local booksellers!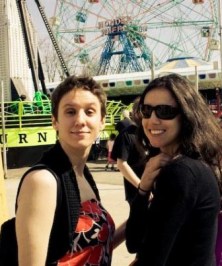 G: Tell me something about yourself that we probably shouldn't know. A SECRET.
CH: Okay, so here's something you shouldn't know… I hope. I'm submissive, mainly. And whenever it comes up, my friends are shocked. I can't help it though… All I really want is to be bound. It's fantastic.
G: Well, I did not know that. And now I hate Randolph a little. BUT WHATEVER. You wouldn't happen to have an open marriage, would you? Just wondering. It's not for me — it's for a friend. She wanted to know.
CH: Unfortunately not. I have tales of woe involving polyamory that my heart has not yet healed over.



G: Last official professional question: What are you reading?
CH: Right now, I'm reading The Wisdom of Whores, which is about prostitutes and AIDS infection in Asia.

G: Explain your altered version of word association, please.
CH: Let's say the first word is 'jump'. The next word has to be related and start with either a K (next alphabetical letter after J) or a P (last letter of the last word used). You follow?
G: That's not free association at all! But let's play. I'll go first because I'm a bitch: bananas.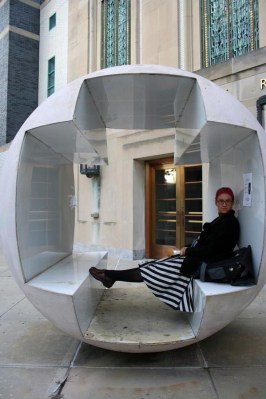 CH: Well you started with an easy one, so I'll not say apple. Instead, I'll say cream.
G: Mess.
CH: Slop
G: Trough
CH: Hovel
G: Lewd
CH: Mischievous
G: Naughty
CH: Obscene
G: Ego
CH: Fanatic
G: Celebratory
CH: Debutante
G: Evil
CH: Lair
G: Monkeys
CH: Okay, if there were a way to win, you'd have won just now.

Carissa's one-woman reading tour, Portraiture, begins in September! Keep abreast of tour info and dates on her blog or Facebook. Here's a taste of what's in store.
SaveSave