The season is upon us! The one where you try to find the perfect gifts for the people in your world, and hopefully you even take a minute to treat yourself to something grand. I'm biased but you should definitely consider YES CATS! which is on sale now in the Autostraddle Store!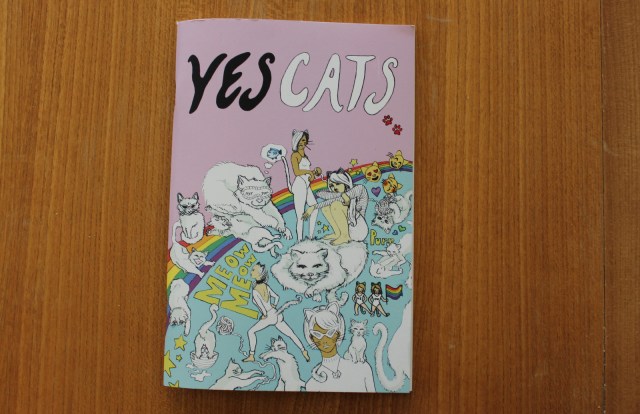 This is the fourth issue of the BETTER TOGETHER 'zine series, co-produced by Autostraddle and Everyone is Gay. We smashed our brains together in search of a theme that made our hearts sing and went back and forth a few times on a few ideas AND THEN suddenly, Kristin and Riese lit up like lightbulbs: CATS. Y'all love cats! We love cats! (Ok, Riese actually hates cats, but we accounted for that, too.) YES CATS! is exactly what you're looking for, from your favorite writers and weirdos, including illustrations by the amazingly talented Laura Rosenbaum, whose work you may recognize from Nylon, Glamour and ModCloth, because she is AMAZING.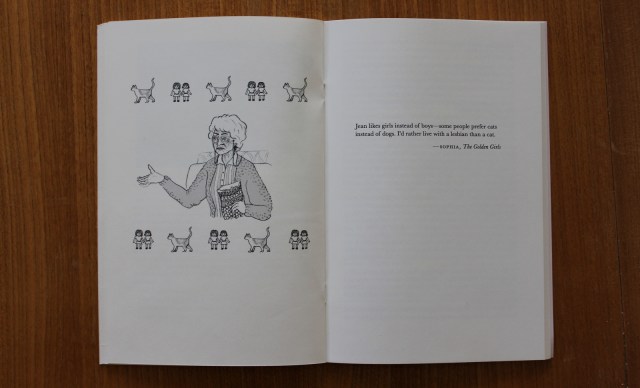 For YES CATS, we gleefully rounded up all kinds of cat advice, including adopting your first cat or kitten and how to celebrate Pride with your cat. You'll find stories of kitten (and self) rescue, the meaning of life/lives, take a trip to America's first cat café, and learn what you should do when you think your girlfriend has mistaken you for a cat.
We're also super excited to include an exclusive, limited run of cat stickers illustrated by Yao Xiao! I personally cannot even handle how excellent these cat stickers are, and I'll bet you won't be able to deal with it, either. Better buy a copy for your bestie so you can process these cat sticker feelings together.
YES CATS includes:
Brand new essays by Heather Hogan, Mey Rude and Rachel Kincaid
Beloved essays by authors including Stef Schwartz, Sarah Hansen, Riese Bernard, Laneia Jones, Phoenix Casino and Robin Yang.
Gorgeous illustrations by Laura Rosenbaum
"Songs From Your Cat's Point of View" playlist by Dannielle Owens-Reid
Advice from Everyone is Gay
Saturday Morning Cat Cartoon by Cameron Glavin
PLUS:
Limited edition YES CAT STICKERS by Yao Xiao.
While you're there, check out the first three issues in this series: OMG I'm Gay and I Broke Up Like This and Queer Sultry Summer!
Support independent women's media and the good work done by Everyone is Gay and Autostraddle!