Before we get to the recipe, I need to talk about myself, obviously. This is the first dinner that my girlfriend and I cooked together over a year ago, which I realize means nothing to you but like, the world to me. It's also the first time we shared a bottle of wine and the first time we listened to albums and the first time she spent the night. This dinner is magic. It's also loaded with fat and garlic! So that's neat.
What you've got here is a butter sauce with lots of fresh ingredients, a steamed artichoke appetizer that you get to eat while standing up in your kitchen (best), and a good excuse to drink lots and lots of wine, as if you needed one.
You're My Favorite Pasta Night
with special guest: dinosaur
Artichoke Appetizer Situation
artichoke
water
butter (straight up butter is good, or you can add lemon)
Pasta
olive oil + butter
2-3 cloves garlic, minced
2-3 tomatoes (or 2 handfuls of cherry tomatoes), seeded and roughly chopped
fresh basil, torn
feta (I use herbed feta)
kalamata olives (optional)
parmesan
farfalle pasta
Also
wine
fruit salad for dessert (strawberries, apples, oranges and mint) (this isn't really optional)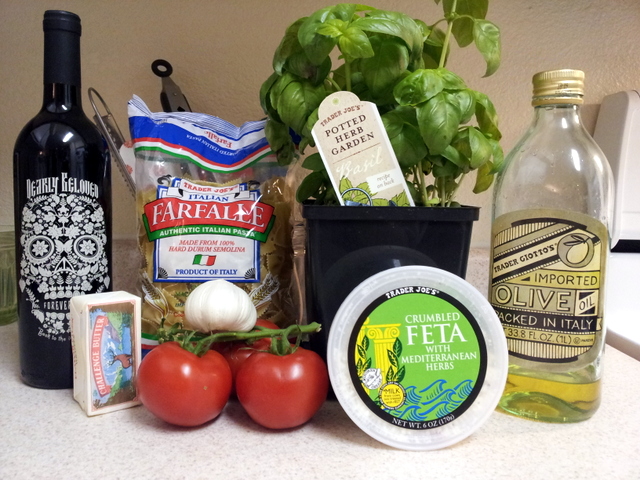 1. Pour the wine and toast to how much you love this night.
2. Fill a giant pot with water and salt for your pasta. While it's coming to a boil, heat a moderate-to-ungodly amount of butter + olive oil in a saute pan on lowish. I prefer a 2:1 olive oil / butter ratio (which these photos don't depict because shit got crazy) but you might like something different. That's ok. Add the minced garlic and let that hang out for a bit. Keep the heat low so the garlic doesn't brown! You're kinda just infusing the oil with garlic, you know?
3.  It's artichoke time! We're gonna steam it in the microwave because that's all I know how to do.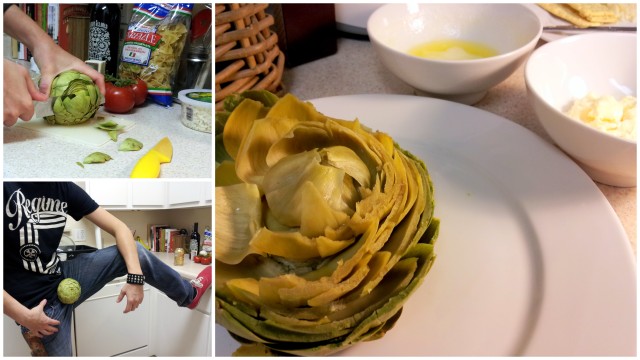 A) Remove the dry outer leaves until you get to the layer that looks like an edible vegetable — you'll know it when you see it — then wash your artichoke. Trim the stem leaving about one inch, and cut off the top third of the artichoke. Some people will tell you to trim the tips of the the outer leaves, but that's not necessary
B) Put the artichoke upright in a bowl that's taller than your vegetable and add about a half inch of water. Cover with plastic wrap or whatever, and microwave on high (or 70% power, if you're a weirdo like me who prefers to microwave things slowly, therefore negating the convenience and purpose of the microwave) for 5-10 minutes or until it's tender. This will obviously depend on how big your artichoke is, so check on it every couple of minutes. You'll know it's done when it starts to fall away from itself. Let it cool slightly.
C) While this is going on, melt some butter. Do you like mayo on your fries? You might like mayo on your artichokes! It's worth a shot.
D) To eat the artichoke, just pull a leaf off by its tip, dip the bottom part in butter (or don't), then put the leaf into your mouth and sorta scrape / bite the flesh from the leaf and discard. There isn't a better way to explain this without pictures, so you can look at this super useful how-to if you need it. As you get closer to the middle, the leaves will become more and more edible, which will result in your purest happiness.
NOTE: If you eat the fuzzy choke part of the artichoke, you'll be so mad. Read the how-to linked above to learn how to remove this part.
4. While you've been snacking on wine and artichokes, the pasta water has certainly come to a boil, so add the farfalle. When the pasta has ~3 mins left, add tomatoes, basil feta and optional olives to the garlic butter and continue simmering on low. The exact amounts are up to you, but prepare yourself to use a lot of everything, because why not.
5. Drain pasta. In a large bowl, toss the pasta with the butter sauce; salt and pepper to taste. Serve with a little extra basil and fresh parmesan.