It's such a good day to make an apple bread pudding. You should invite your friends!
Apple Bread Pudding
Ingredients
1 bag (12ct) bakery rolls, not super fresh, cubed
3 smallish/medium apples, peeled, sliced (kinda thin) and chopped
2 Tbsp butter
3/4 cup brown sugar
1 3/4 cup milk
1/4 cup margarine NOT butter
1 tsp cinnamon or apple pie spice
2 eggs
1 tsp vanilla
Ridiculous Vanilla Sauce
1/2 cup brown sugar
1/2 cup milk
1/2 cup margarine NOT butter
1 tsp vanilla
1. Preheat your oven to 350°F and lightly grease a 7×11 pan. I don't have one of those, so I used a 9×13 and no one died. Peel, slice and chop the apples into flat 1″ pieces. I guess you don't have to chop them, but I can't fit an entire apple slice into my mouth at once, so I like to set myself up for success. Cook the apples and 2 Tbsp butter in a medium saucepan on low until they're sorta tender or you're done with the other steps, whichever comes first.
2. While the apples are cooking, combine milk, brown sugar and margarine in a small saucepan and cook on medium-low until the sugar has dissolved. You've got two saucepans slowly cooking things, so this is a good time to cube the bread. Wheee!
3. When you're tired of waiting, put the bread cubes and the cooked apples in a large bowl and toss in the sugary milk mixture. Spread this evenly in the baking dish.
4. In a bowl no bigger than your head, whisk together 2 eggs, the cinnamon and the vanilla. Pour this over the bread apple milk situation in the baking dish. Now everything looks unappealing. Put it in the oven for 40 minutes or until it's set.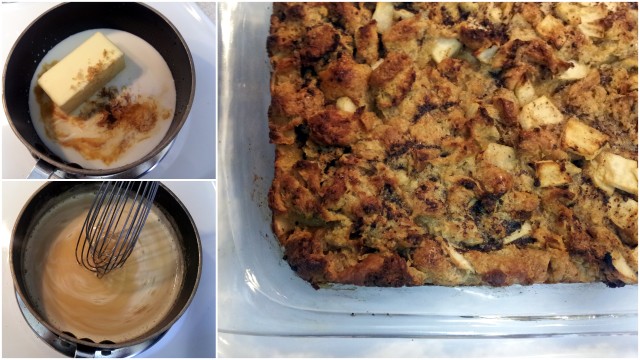 5. When the bread pudding has about 10 minutes left, combine the sugar, milk and margarine in a small saucepan over medium-low heat for the vanilla sauce. You want it to come to a boil, but I'm always afraid I'm going to scald the milk, so I put mine on low and it took forever and that was fine with me. When it's boiling and you're feeling superior for not scalding your milk, remove it from the heat and stir in the vanilla. BAM you just made sauce.
6. Oh my god the bread pudding is done. It's gorgeous. I mean, it's brown bread and beige apples, so it's really only gorgeous if you're about to eat it but WHATEVER. Cut a big chunk of this, put it in a bowl and spoon some vanilla sauce on top. Do not be shy with the vanilla sauce, people.