Every single time my wife and I pack for a trip, whether it's a quick mini-break, staycation or a real getaway, she teasingly asks me how many kimonos I'm packing this time.
The inside joke references one of the best scenes from Christopher Guest's Best in Show, where Scott and Stefan — daddies to Miss Agnes, a Shih Tzu show dog — get ready for their trip to the Mayflower Kennel Club Dog Show in Philly. Like any couple, there are some packing…quirks.
"Counting those, I, I have you — oh, you've already packed six kimonos."
"That's — alright, so here's seven."
"We're in Philadelphia for 48 hours."
"So that's seven, so I need, actually, I need one more. I need eight."
"I mean, how many tea services can you do? Why are you doing this?! I think we're overpacking, don't you?"
"Well, no."
While I technically own zero authentic kimonos (though I was recently tempted by UNIQLO's more casual Yukata Collection, launched late last year), my personal stash of vintage dressing gowns, cheeky short robes, and kimono-style robes is plentiful. The joke is funny because it's true, I definitely pack more robes than necessary when traveling — I feel quite naked without them at home or on the road. I like having choices! "But they have perfectly nice robes in hotel rooms," you might be thinking, which is so practical and correct. Some of them do.
But a robe isn't just a robe. A robe is many things and can serve many purposes. It's high time we start taking them more seriously.
---
The Quintessential Robe Shopping Guide for Everyone
So you want to wear a robe. People wear robes for a number of reasons, but usually one or more of these:
Coverage — Whether you have roommates or children or just need to answer the door on a Sunday morning, robes have you literally covered.
Warmth — Even lounging at home requires layers in the dead of winter or on chilly nights. Housecoats and dusters hit the spot!
Bath — What feels nicer than slipping into the comfort of a soft, absorbent, dreamy cotton robe after a hot shower or bath?
Boudoir — When the point is to gradually become uncovered, of course.
There are so many kinds of robes, like morning or dressing gowns, smoking jackets, and even voluminous tunics or caftans get included in the category. Lengths range from short (mid-thigh or higher), knee-length, mid-calf or ankle, and weights flutter from transparent chiffon to soaking wet, half-inch thick Egyptian cotton. All robes have sleeves ranging from babydoll to gaping, wrist-swallowing lengths, and most collars are flat, shawl or hooded.
Some ought to never see the light of day and others can be mixed and matched with clothing to wear out in much the same way you'd toss on a long cardigan, wrap or light jacket. Just look at this stunner from Nasty Gal, it looks so chic just tossed on over waxed denim and a faded black tank!
With such variation on form and function, it's easy to see how one might get addicted to these essential garments. Of course, no one needs a ton of options or even more than one to hang on the hook of their bathroom door, but I've rounded up some highlights to illustrate different kinds of robes and styles for practical and purely aesthetic purposes.
If you're curious, in the market for something new, or just love to swan around in your sexiest/coziest/finest/fluffiest, read on.
Considerations
Coverage
What do you need this puppy to cover? All the things? None of them? Will you wear it mostly closed? Or open over bedclothes? Or both, or don't you know? Should it be sheer or basically an invisibility cloak?
Personally, I've found that the more I throw on my robes over other stuff (like little lace-trimmed chemises or pajama short sets when it's warm, leggings and drapey tees, turtlenecks or paper thin cashmere for colder days), the more I utilize them, layering up year-round at home. I enjoy them more that way, too! They also work well over joggers or long johns and thermals in chillier weather, oversized sleep t-shirts when you can hardly stand to have a lick of clothing on. Mixing textures and making it your own is half the fun of getting dressed, whether you're staying in or going out! There are no rules, which brings me to a bit of an aside.
Some of us very reasonably don't give a damn what we look like when we're literally Netflix-and-chilling, but some of us do, so let's fill in the gaps between the extremes of Agent Provocateur and Snuggies. Watch this video from La Perla if you're at all interested in dressing strictly for home in an elevated way; the collection is prohibitively expensive and the styling certainly isn't for everyone but it's very refreshing to see alternatives to the staid old standbys usually available in menswear especially. The ideas and thought behind layering in particular is really inspired and intriguing in ways we can all benefit from.
For me, being femme isn't something I peel off at the end of the day when I'm ready to slip into something a little more comfortable, it's more like switching gears. I'm sure there are plenty of you who feel similarly, however you identify. Robes help me feel like me when what I've got on underneath is more girl-next-door than glamorous. But I digress.
Warmth
With coverage comes sacrifice. The single greatest annoyance with robes in general is a bit of a catch-22: You need the sleeves to ward off chill, but they get in the way and you're constantly shoving or rolling them up or resorting to weird rubber band hacks (I personally haven't, but hear it's a thing). This is a design flaw we robe lovers simply put up with for the most part.
To help with this, look for shorter or 3/4 length sleeves that won't soak up dirty dishwasher while you're over the sink or catch fire as you toil over a batch of pancakes (or perhaps make you smell like a distillery if you're making cocktails, I don't judge).
Much like the office cardigan, the lightweight jersey robe is perfect for taking the edge off a draft or windy day with the windows open, aggressive A/C or just to feel a tiny fabric hug over whatever else you've got going on. Try linen if it's always warm where you live or your summers are extra-hot, but ultra-thin cotton should be fine if the texture or feel of linen isn't your thing.
Go for something a little more substantial, like flannel, fleece or a nice thick satin if you want more warmth (or coverage — those fabrics tend to be more opaque as well). These ones are neither girly nor frumpy, and come with two bonuses: pockets and button sleeve tabs to help them stay put! Consider longer lengths, too, just like you would with a coat.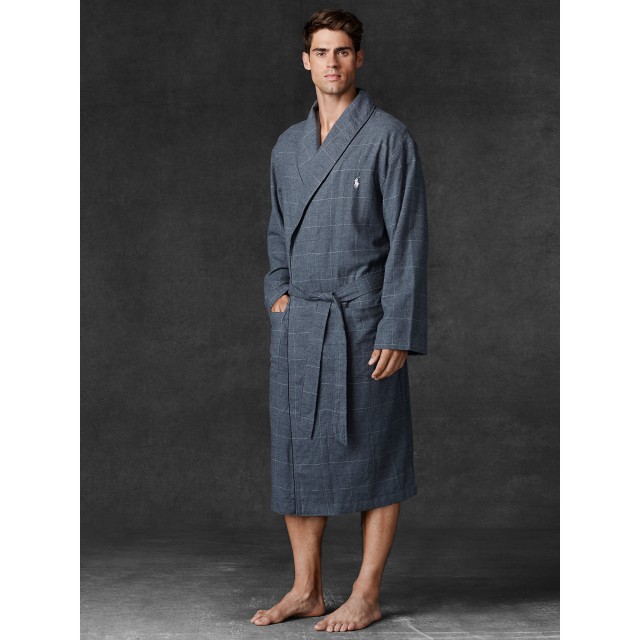 Here's a menswear version in grey windowpane plaid flannel from Ralph Lauren — a super steal at $29.99!
If you need something heavyweight, plush microfiber with touches like faux sherpa or shearling collars and cuffs should keep you warmer than Mary Lambert's girlfriend. There's always the quintessential heavy bathrobe, which I'll get to very shortly, and I can't think of anything more indulgent than a pure cashmere robe for cold weather.
Style
Now that we've ticked off the boxes where function is concerned, let's get down to brass tacks: Do you love it or not? Because you should! When you're reaching for a robe, the sky is the limit. It's really up to your taste, which may or may not align with the rest of your underthings, but it should definitely make you happy. Like an instant jolt of self-care.
Take this banana leaf print robe in soft yet structured rayon. So cheery and vibrant, like a quickie mental vacation! I really appreciate how the hem dips down in the back, it's a really thoughtful, simple touch that makes all the difference in wearability. (Just picture yourself sipping a cup of coffee on a tropical balcony and NOT burning your bum on a chair that's been baking since sunrise!)
But maybe you only wear black boxer-briefs — here's a no-nonsense black terry bathrobe to match, just this side of luxe.
Or say you're a cotton bikini cut 6-pack from Target kind of girl, but want something pretty-yet-minimalist to liven things up when you hit the hay. Bam, here's a dip-dyed cotton crepe kimono in saturated, monochrome blues.
You can be a La Perla princess and still want to throw on a ridiculously cute crazy cat lady robe at the end of the day. Why not? By all meows, play one last round of Neko Atsume before turning out the lights. (And yes, there are matching flannel pajamas and slippers.)
Still not satisfied? Custom YDY is always a good option. There are a million folks willing to embroider just about anything you want across the back of a robe, or monogram them. You can splurge on a set of matching robes for your slumber parties or IDK, your future A-Camp bunkmates. (BE RIGHT HERE, anyone?)
Fit
To ensure proper fit, the idea is that when you cross the front layer over the one underneath, you've got two large swaths of fabric lying one on top of the other, but you probably already knew that! Most robes will inevitably fall open or gape a little no matter what (you probably already knew that, too), but those of us with curves that cannot possibly be bound by one measly and often slippery scrap of self-tying fabric haven't got a chance if the thing isn't a good fit to begin with.
What can help with fit for any body type is to have an interior self-tie, which will keep things secure even if the outer belt falls or slips loose, so if intermittent modesty is important to you (hey, even sex kittens have to open the door to accept room service), keep an eye out for that in the item description, or peek inside of your current robe to see if you've already got some. I've threatened to sew baby snaps into my most troublesome robes that don't have interior ties, but haven't actually done so yet! You might also take yours to a tailor who can put either in for you at a small cost.
Another important note on fit and short robes: If you've got some junk in the trunk or you're on the taller side (or both), well, first of all KUDOS and second, join the club. Robes that fall at mid-thigh or higher probs won't pass the bend-over test, my friends, which is either awesome or mortifying depending on who's standing behind you as you pull fresh-baked cinnamon buns out of the oven on a sleepy Sunday morning. Fair warning in case you want to play it safe with a slightly longer length!
Bathrobes
This is a good place to start. Sensible, practical…but sumptuous. The good news is that there's lots of selection available even though it's a pretty straightforward staple. The bad news is that they do tend to be on the expensive side. While you can't skimp on quality here — it's not dissimilar to the difference between nice cashmere and so-so cashmere — there are ways to save on this laid back investment piece.
Think outside the box for the best deals — Pottery Barn has several gorgeous versions under $100 — and even if you don't normally shop the men's department, that's often where the nicest, hotel quality bathrobes live. Since these robes tend to be unisex anyway, you shouldn't let that small detail stop you from picking up a steal if you don't normally shop the men's department! (Lucky you if you already do!) They also tend to go on sale at gift-giving holidays, so this is a really great time to be looking.
The top priority when shopping for a bathrobe is maximum absorption and comfort, so you'll almost always want to look for the softest pure 100% cotton you can get your hands on for the best price. Your patience will pay off and your soft skin will thank you.
In terms of variety, lightweight options are the traditional cotton waffle bathrobe (above) or even linen (below). Waffle and linen cotton robes can be ultra-thin and great in warmer weather, but still dutifully wick away moisture from the skin. Spa robes combine fluffy cotton terry on the inside — the same stuff in your bath towel sets — with super soft, silky plush or velour cotton or even microfiber on the outer layer, which gives them a slightly more sleek look. Classic bathrobes tend to be bulkier and heavier on the body. Personally, I love the feeling of a thick and decadent terry bathrobe, as long as the cotton is soft and bouncy!
Length is entirely your personal preference, but just remember what I said earlier if accidental flashing is a concern. Ditto with very thin waffle versions, which may let on more than you'd like under some circumstances. As for color, white is the most popular choice — toss it into the wash with a capful of detergent and bleach and it'll always be like new — just know that, like washing your bright or very dark towels at home, it might take a few laundry cycles before a similarly colored robe stops shedding. Most bathrobes promise to only get softer and lovelier with each wash cycle!
Standard Robes
This is pretty much everything that's neither a bathrobe nor a sexytime robe, making it the biggest and most versatile selection of robes, and certainly the most popular, affordable, and easy to come by. It's where you'll find your garden variety short robes, an endless plethora of novelty print robes, short or long dressing gowns and smoking jackets (new and old, and both of which have crossover potential into the boudoir and outerwear categories) as well as outerwear).
They're what you reach for to cover up in a pinch. They're also great if you need to keep your arms free and unhindered by thick, heavy sleeves.
As you can see, even when looking for a "plain black short robe," it's easy to sail directly into the stormy seas of Decision Fatigue. I bolded my top picks above for nailing the perfect balance of design and function; neither could be accused of being boring (though all of these are solid picks).
This category also has the greatest potential for crossing over into loungewear-centric street style, a trend that's been kind of ebbing and flowing for awhile now — and I don't mean the velour tracksuits and PJ pants + Uggs combos beloved by so many American college students. I'm talking highly styled, more layered than a seven-tier wedding cake, Yes-this-is-sleepwear, no-you-shouldn't-overthink-it fashion. It's not for everyone, but it's definitely A Thing (as our Style Editor, Lydia, is more than happy to tell anyone who will listen).
Vintage finds are especially great for this purpose because the prints and patterns can be so unique and special you don't want to hide them away. A few Christmases ago I found a gorgeous navy cotton men's robe for my wife at a vintage shop in Boston, printed all over with tiny white griffins, in perfect condition. It's a beautiful piece, well-made and well-designed, but practical and perfect for temperate weather. She'd never wear it out of the house, but I just might!
Lingerie
No robe guide would be complete without a foray into lingerie. When you're online shopping, there's Loungewear and Sleepwear and Nightwear, some retailers simply refer you to "Pajamas and Robes," which is all well and good but it isn't lingerie.
Lingerie is elective. No one forces us to wear it. Remarkably few people care whether or not we do; it's our personal choice, our business, and 100% optional. That said, I'm perfectly happy to spend an equal amount of time on providing some inspiration in this category, because it is a cornerstone in the closets and wardrobes of many queer women. Almost every single femme friend of mine has a soft spot for the stuff, self clearly included.
When it comes to robes in the lingerie category, it really comes down to two key types: sexy robes for when you want to be sexy and sexy robes for when you want to be sexy and keep warm (or cover up). It isn't difficult to find sexy robes that do it all, y'all.
All my robes live in this magical land, even my "least sexy" robe is still a silky charmeuse wrap by Natori in a bright tropical pink. My warmest? Nearly identical to the one pictured above — rich, floor-length velvet and satin fit for a silver screen siren in steely blue, fluttering bell sleeves trimmed with Jonquil's signature lace glinting with hints of bluish silver.
These wispy little things from Nasty Gal are great examples of sexy for sexy's sake – they're very silly if you need anything a standard robe provides, like coverage or warmth, heaven knows they can't absorb a thing and you'd look pretty silly if you wore them out in public, even layered. But they're sweet and coquettish and perfectly suited for a play party of one or more. And in case it needs saying, yes, it is perfectly acceptable and even encouraged to wear lingerie purely for your own pleasure and enjoyment.
I loved these for plus-size babes. Not called Showstoppers for nothing, they have this gorgeous metallic sheer lace at the sleeves and lovely floral trim around the collar. They're on sale at The Rack, but Bloomingdale's carries them as well. Here is where I plug my gal pal and fellow femme Nicolette Mason, whose Big Girl in a Skinny World column at Marie Claire has been a truly reliable source of plus-size lingerie love over the years. Not necessarily robes, but for lingerie you can check those out, as well as her style blog, for loads of ideas and brands that excel in what they do. I'd also like to point out that the brand Cosabella has plenty of chemises with built-in support for the bust, because I know that's a dealbreaker for a lot of folks.
If you want something soft and romantic with just a hint of come hither, I really love this mother/daughter designer team from Australia, Piyama. There's no rule that says white is just for bathrobes or brides, and the classic silhouette combined with quality fabrics and stunning lace embellishment, all made to order, means that these can be worn anytime, not just for special occasions or bedroom dancing.
Anti-Robes
Hello, robes that aren't robes aka robe alternatives! Sometimes you're like, "Robes are garbage, what the hell is even happening?!" because it's freezing and you work from home and have kids and pets and spouses and a lot of shit to do but you want to feel cozy doing all of it. Also you are not wearing an "outfit," you know why? Because you barely got yourself dressed and fed and awake after managing sixteen crises by noon and did I mention that you want to feel cozy, above all else? What are you, gonna wear a jacket or a coat inside the house? Come on.
But guess what looks cute even over a pair of ratty joggers and a long-sleeved painter's tee from J. Crew? And workout clothes? And stained boyfriend jeans with an old Mickey Mouse sweatshirt? And that babydoll dress over heat tech leggings from Uniqlo?
YAH, GIRL. Welcome to Duster Cardigan Land. They have pockets and it's like wearing a freaking blanket. High five forever! They beat big loose capes and shawls or oversized scarves because your movement isn't limited in any way; capes basically leave your arms naked and blankety shawls shrug loose and fall off or get in the way even if you aren't physically doing very much. Also? Feel free to ignore the styling shown here; I've seen so many not-at-all girly hunks rocking MOC dusters lately and I have NO IDEA WHERE THEY GET THEM; this one is a coat and this is kind of just a longer cardigan, so maybe they're all borrowing from the women's department or there's some secret duder duster store, which is awesome. I hope so.
Wear these babies at home like you would a robe — stay warm, stay covered up, stay cozin' — just maybe don't walk around in them with nothing on underneath. Might get itchy.