Spring decided on fashionably late this year, as you might have noticed, but (with a few holdouts) it's here! Hooray! The arrival of more pleasant weather, fragrant blooms and flowering trees means, yes, allergies knocking you senseless (bless you), but it also means there's a good chance that someone you know is getting ready to tie the knot. Go fetch your prettiest handkerchiefs and let's help you get dressed for the happy occasion.
We're gonna warm up with a Jennifer Lawrence bridesmaid photo, because we can and it's adorable:
Turns out that's a fall wedding, and also please don't wear anything this close to white unless instructed to by the bride, but I'll bet you already knew that! Since it's spring, I'm sticking to florals at different hem lengths. I'm not the kind of gal who is married to one particular hemline; I like them all and just try to be mindful of proportion so I'm not heaving myself off an awkward point. (Life's too short for that nonsense.)
---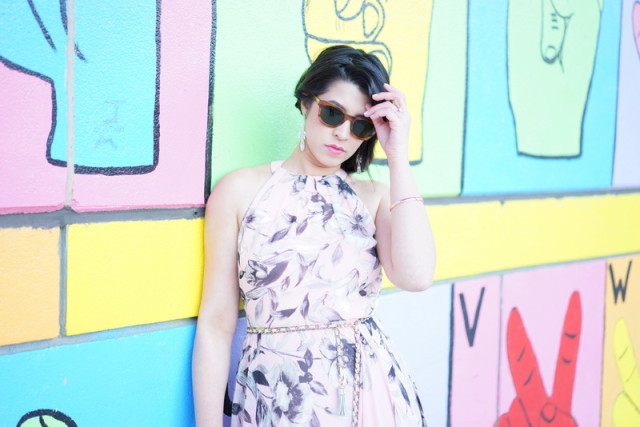 Magical Maximum Flow
I don't mean mad rhymes or that time of the month, yo. The beauty of a maxi dress well done is that it's elegant, dramatic and easy all in one generous cut of cloth. Even the shoes you pick out don't matter all that much, because I guarantee you almost no one will see them. (And if they do, shame on them! Pay attention to the happy couple!) Another nice bonus is with the right sort of neckline, accessories are made easy – throw on a pair of vintage stunners and drop the mic on getting dressed.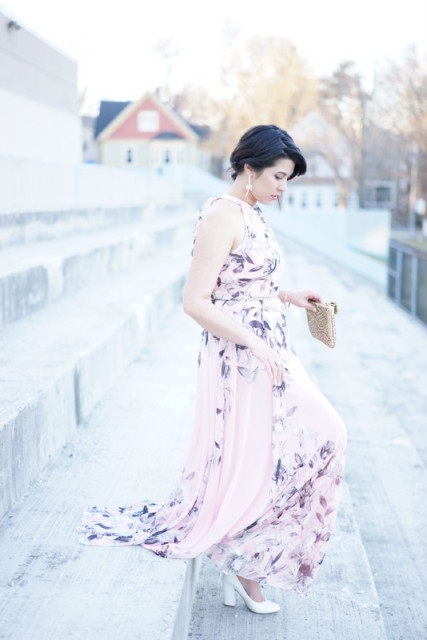 This dress is from Modcloth's amazing wedding style collection (and sadly, it isn't available anymore), but the placement and softness of the floral pattern is what makes it stand out. The delicate gold belt it came with was fine, but because I have a braided leather and gold version with some heft, I thought that would complement the colors and fabric even better. Plus, it gives my gold laser-cut clutch something to "talk to."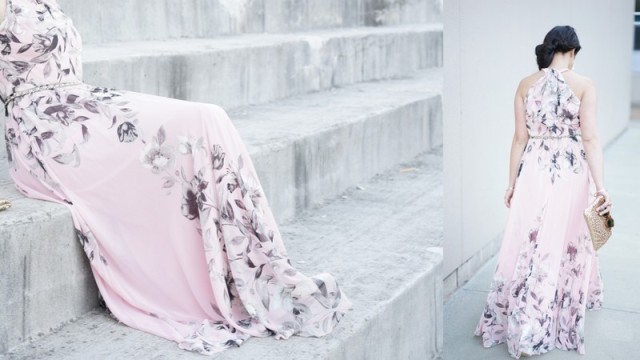 See what I mean about the shoes? I could just as easily have on absurdly expensive gold sandals and guess what? They'd probably sink into the grass and get ruined at a spring wedding, hence the chunky white pumps. The earrings are vintage and I am in love with these Warby Parker "Dean" shades from the Spectrum Sun Collection. "Hall" in Cherry Blossom would have looked incredibly chic with this outfit, too!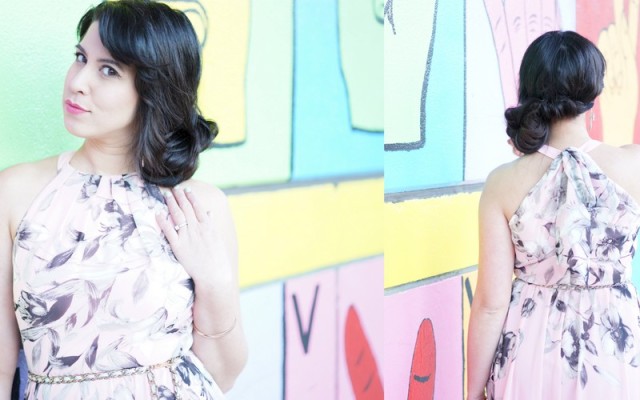 And finally, the hair! With a back like that, it would be criminal to leave your hair down. Show off those sun-kissed shoulders (mine are still pale from New England's winter, sorry) and at least one of your earrings. Here's a tutorial for how to get the twist, you can leave the pony down or just pin it into a loose bun or chignon. I also am a huge fan of this style, too – it's really easy and always looks so polished!
PS. In case you're wondering, I would 100% wear a cropped black leather motorcycle jacket over this, no matter how fancy the wedding.
Here are some maxi dress pairings I like a lot:


Long bridesmaid dress / Ryu halter dress / Beaded dress / Erica Weiner boho style jewelry / Rhinestone stud earrings / Beading jewelry
---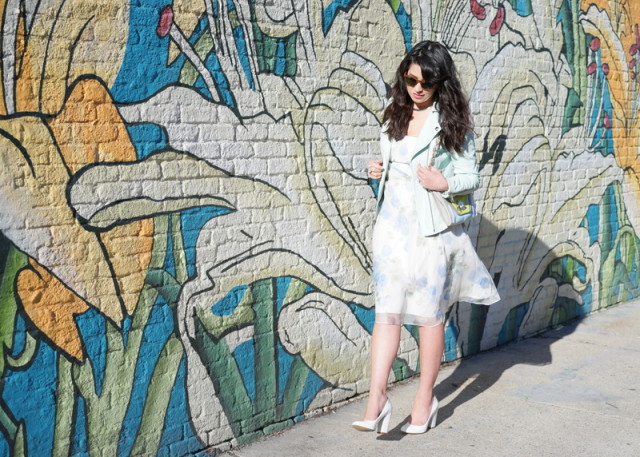 The Midi Touch
Every 30 years or so, midi or tea-length skirts come back into vogue. Since the 1940s happen to be my favorite fashion decade, I'll wear them wherever they are in the 30-year cycle, but they've been having a nice long moment for several years now. Who doesn't think "garden party" in the spring? Finger sandwiches! Petit fours! Little white gloves! Skwee!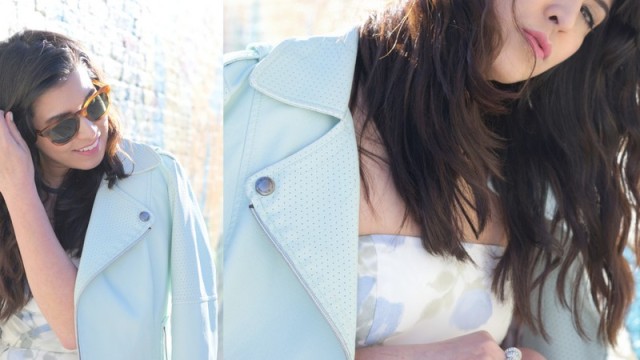 What do you when you're wearing a dress that feels a little softer than you actually are? I thrifted this years ago in the Bay Area; it's strapless, cotton-candy sweet with watery florals on shimmering silk and angled pleating at the bodice. Add the fact that it hits just below the knee in a subtle fit-and-flare shape, and it is in dire need of some contemporary edge. I started with a trendy faux-leather biker jacket in a complimentary pastel.
Then I painted my nails to match. (This is Gargantuan Green Grape by OPI.) Then I grabbed this bold graphic clutch with its braided chain (um, maybe I have a problem), and I'm wearing the same chunky white pumps and an icy rhinestone ring that would do some real damage if it connected with someone's face, not that I encourage fisticuffs. Voila! It all pulled together rather nicely, especially with loose, messy beach waves.
Check out these minty fresh options: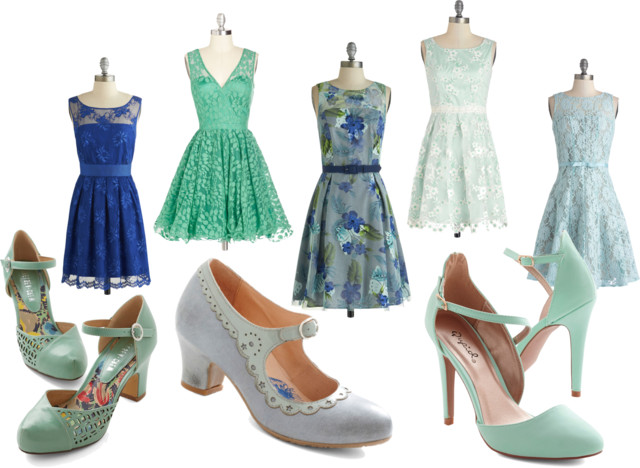 Eva Franco pleated dress / Sweetheart wedding dress / Crochet dress / BB Dakota bride dress / Jack BB Dakota a line wedding dress / D'orsay shoes / Brako leather mary jane pumps / Maryjane pumps
---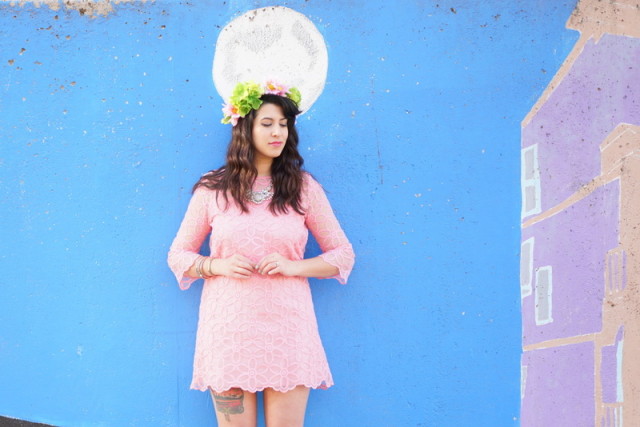 What a Shift!
You might recognize this dress from my Valentine's Day post way back in February, but the sheer floral organza and vintage mod vibes work for all sorts of spring soirees. It's a great shape and style for more casual, laid back, boho weddings. A handmade flower crown (my teenager made this one last summer, actually) takes festivities to the next level!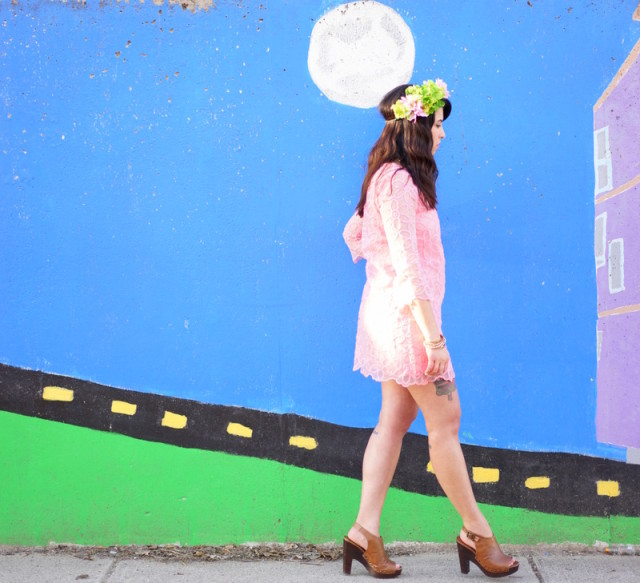 And so do the clunky, toffee-colored platform mules. Brass rivets along the leather, and a little buckle, make them seem truly vintage (they are, in fact, a pretty old pair of Dolce Vita babes). I love these shoes, they are comfortable as all get-out, and best of all they can be slipped on and off – for some reason ankle straps and I usually don't get along.
A pile of mixed gold bracelets on one wrist for good measure – one is twisted into the slender ankle and hoof of a horse, made by the lovely Erin Wasson. This look could easily have done without the statement necklace, but the tomboy urged me to keep it on and I'm a sucker for sweet talk. I did all the work for you, just take your pick and get your shift on: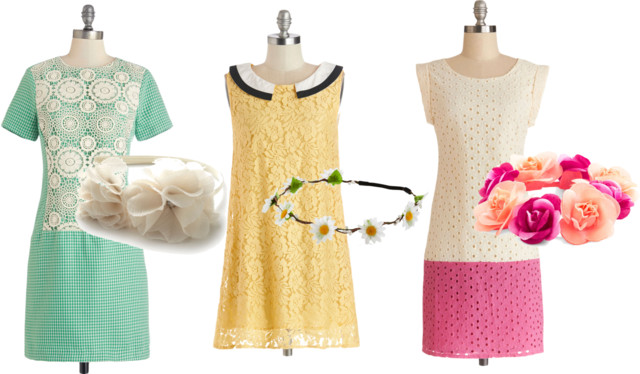 Lace dress / Sheath dress / Party dress / Flower headband / Braided headband / Garden Partygoer Hair Tie
---
I hope you found this post fun and inspiring, and most of all I hope you've found something in here you'd wear not only to spring weddings, but to all sorts of really fun, warm, gloriously sunny spring things. I know I will! I saw tulips in the garden this morning!
Want more FFAF? Bookmark the blog, like the Facebook page, and follow on Instagram!
As always, shoot me any questions in the comments or at fitforafemme@gmail.com.
XOXO,
FFAF