I don't know about you, but this winter has me wondering if I'll be able to drag my frostbitten native Californian limbs across the February finish line. Last night I foolishly looked up the length of flights from Boston to Bermuda. COME ON, PRETTY MAMA. Turns out that's not a super gay-friendly locale. So, nope.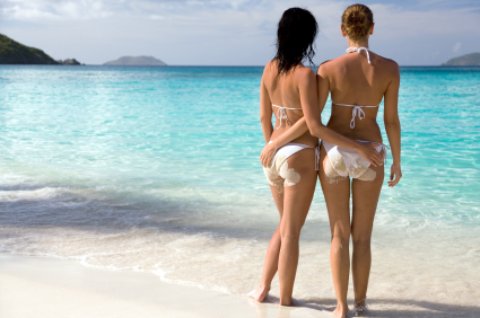 In much happier news we are so close to March and the first official day of spring, so let's talk spring style before summer is here with its humidity and sweat and fewest articles of clothing humanly possible. (Remember that?) Specifically, let's talk about how to layer some really fun pieces in a few different ways, and by fun I mean clothes with kittens on them.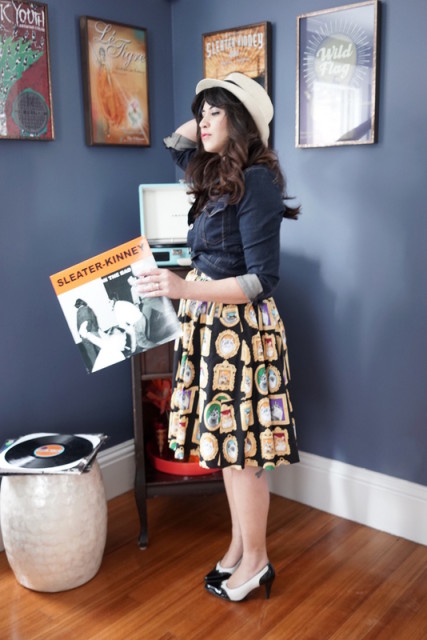 Despite allergies, I was strictly a cat person until I met my wife. My wife's dog was deranged but loveable. After we got married, we got another deranged but loveable dog, and after we moved to New England, it was only a matter of time before I brought home an actual barn cat. Ever since then I've become one of those IDGAF cat ladies, and now I own a shameful lot of clothing featuring cats. This skirt is pretty much the epitome of IDGAF cat lady style, but it's also full and colorful and comfortable and has a pocket and is made of soft, happy cotton, so really it's many things, this skirt.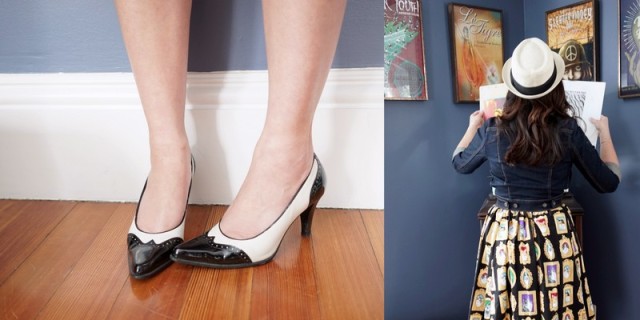 I threw on a plain Everlane Ryan tank under a Levi's denim jacket, twisted and buttoned at the bottom to give it a tied-at-the-waist look. The hat is completely optional, but it brings things together nicely with the shoes and printed skirt. Speaking of these shoes, move over Manolo, because I've had these black and white spectator pumps for years and I'm pretty sure I got them second-hand for under $20.
These ones from Chelsea Crew are vintage-inspired and very sweet, and this boot version is tomboy-friendly. If creepers are more your jam, check these out maybe.
Bonus styling tips: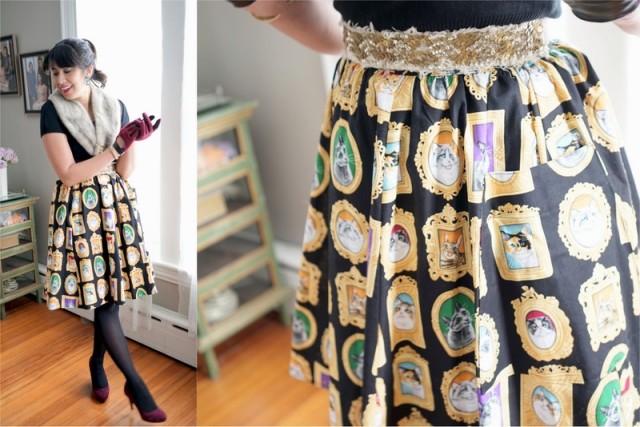 For days when the gloom is upon you, or you just want to dress it up a little bit, try a simple short-sleeved sweater in black (a black turtleneck would be magic), and a vintage fur or faux-fur collar for extra warmth.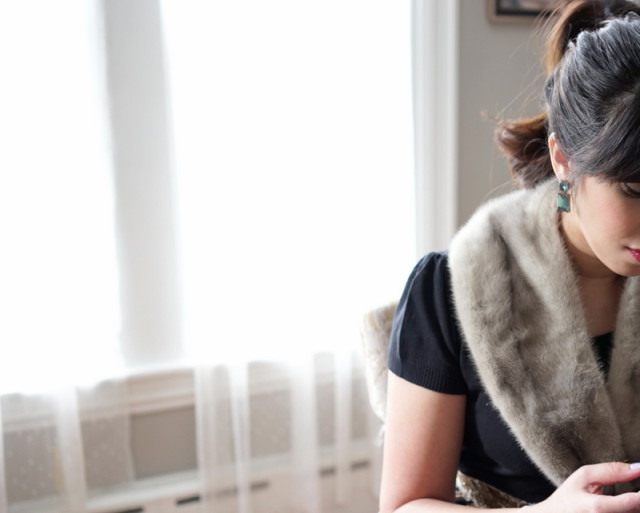 I added driving gloves to go with the suede pumps, and some sparkle in the form of earrings, a pin to close the collar, as well as a sequined raw-edge belt. Then I enjoyed a cup of heavenly white tea from a mug with little masked kittens all over it from back home. Let's move on!
Oops, wishful thinking. A little too summery, but shorts definitely can and should come out once things start to truly warm up.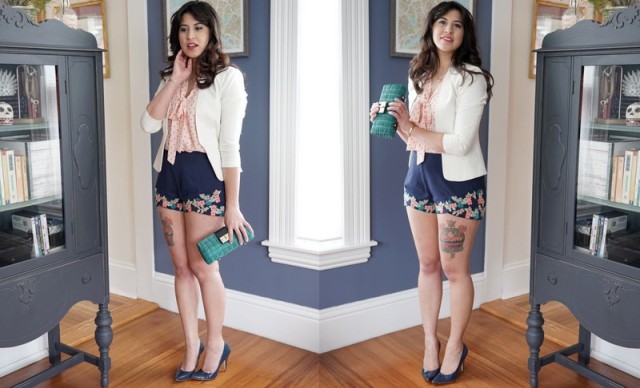 Add a blazer and voila! Perfect al fresco mimosa brunch outfit.
These shorts are fantastic – they almost have the feel and heft of a nice crepe silk without the fuss, and the pastel-heavy floral embroidery on overlapping navy hits about a million spring trends all at once. Adding tights for warmth if you need it is a no-brainer, and a long cardigan in lieu of a more tailored look with the blazer would work, too.
I chose a soft tie-front tank and let the blazer tone it all down. Finish it off with a fun clutch and heels or flats, plus a few simple pieces of jewelry. You can do a million variations of this outfit all spring and summer long.
Furthermore, the tomboy version is easy with shorts like these or these, paired with button-downs, t-shirts, boyfriend blazers and brogues. You name it, it can be done. I mean, check this dude out:
Who doesn't want that outfit? Who doesn't need a cream blazer? Exactly. We all do. (God, I love Street Etiquette.)
Wide-leg denim will have to sub for the shorts for a little while longer, though. It's FINE.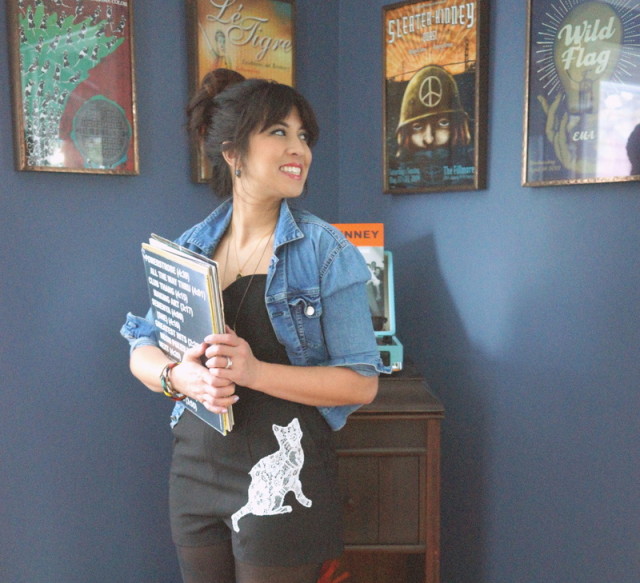 Did you miss the cats? ME TOO. Look at this romper. Some people might say women past a certain age shouldn't wear rompers, let alone rompers with kittens on them, but those people can go straight to hell. It's lacy and friendly! We do what we want! And and and? Cat Fashion is totally a thing. C'mon, let's go buy some records at all those garage sales everyone's gonna have in like a month. Maybe someone will have a box full of kittens, just meowing and looking around.
Tights! Of course, and you can wear stompy black Docs or little rock 'n roll boots instead of heels. Any old denim will do — this one is a melt-y soft Theory number that's been in my closet forever — but an oversized denim shirt would work, an old chambray would work, whatever you want. It helps make things feel more casual and takes the edge off the twee (only a little bit, it IS a lace kitten after all).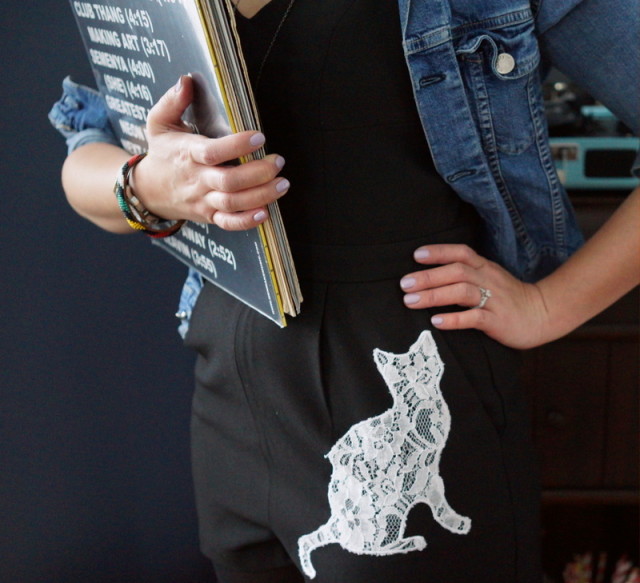 If lace isn't your thing, here's another cat romper, and if you love black and white but don't do shorts, this jumpsuit is pretty wild in the best way.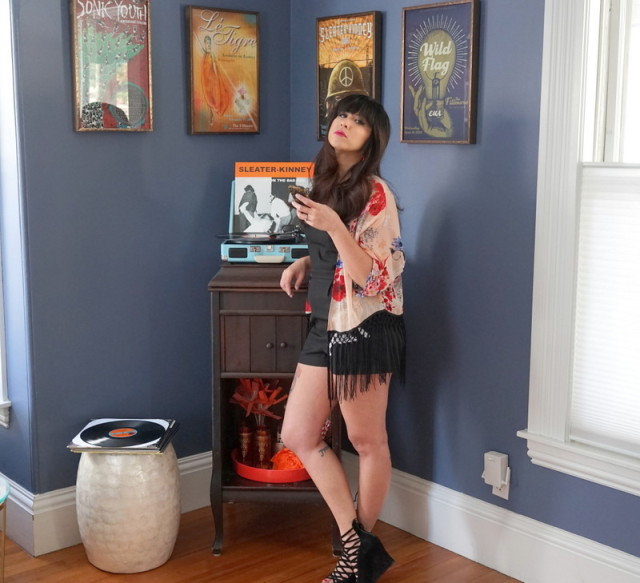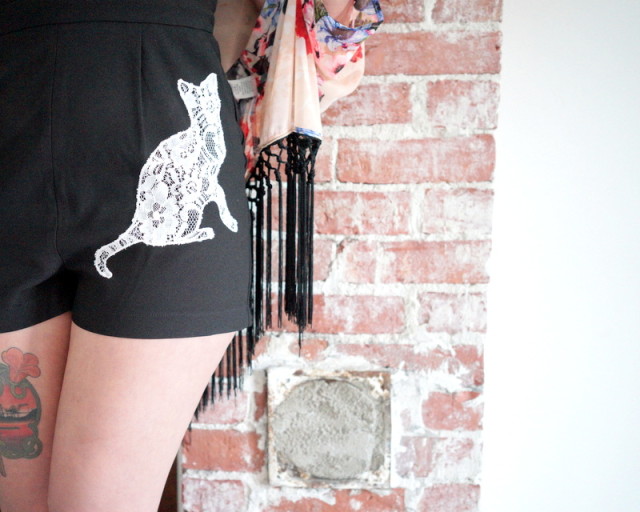 Or, you know, throw a gauzy kimono-style jacket over it and get thee to the nearest music festival. Or maybe a bonfire. Mm, bonfires. So warm and toasty. Keep the fringe away from the flames, though, while you're channeling Stevie Nicks.
That's it for now! Tell me all your spring feelings and quandaries in the comments, or write to me if you'd like. Head over to Fit for a Femme where we're just gonna keep rolling with these wintry sucker punches like champs, and definitely keep an eye on A-Camp news to hear more about what all kinds of trouble we're gonna get in together come May!