feature image by intern geneva
Our spectacularly successful Indiegogo fundraiser, Autostraddle: The Actual Website, will come to an end in just over two short days and we really, really want to reach our new goal of $100k! Did you know that if each person who's already donated would donate just $10 more right now, we'd reach our new goal? It's true! Someone did the math for us while we were writing about the RNC and packing for A-Camp. See:
Well, this seemed like a pretty spectacular idea, so we decided to officially present it to you as The Final Push. We're eternally and deeply grateful — I'm serious, I never say shit like that unless I mean it — for every last contribution that's been made to this fundraiser! Our lives have already been changed for the better (more on that a little later), but what level of utopia would be unlocked if we reached $90k, $100k, or even more? We're only around $12,000 away, you know.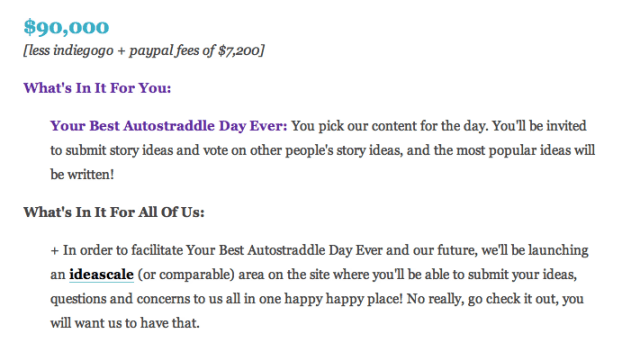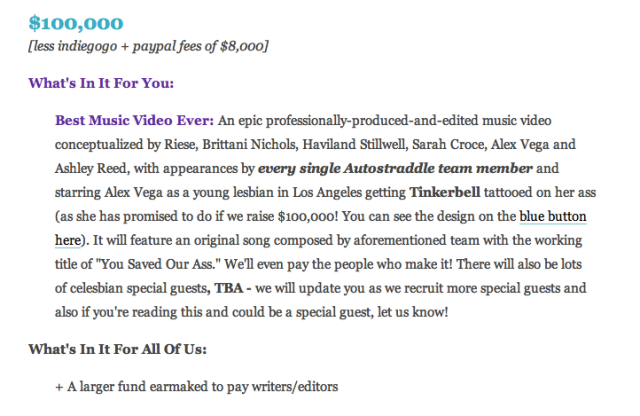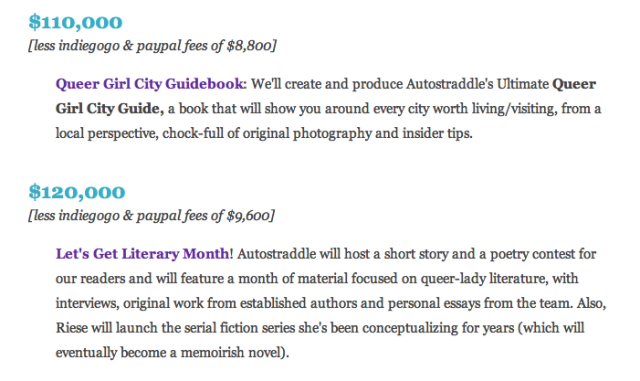 ARE YOU EXCITED YET. We are!
Do you wanna call the shots for a day and see Vega's ass get perma-tagged with Tinkerbell's likeness? Printed Queer Girl City Guides! Let's Get Literary Month! Mobile apps and an Autostraddle Tour! The limit does not exist, dear reader. To inspire you to give just ten more little dollars, or to give your very first ten dollars, we've collected a list of things that you could go without buying, so you could then take that ten dollars you've saved and donate it to our wonderful cause, which is you! You're our cause.
20 Things For $10 That You Don't Need, Shouldn't Buy
with illustrations by Kristen
+
1. A mini goose
2. Four packages of the gross "cream puffs" they sell at the gas station
3. A hot dog at the Indy 500
4. Two bottles of MD 20/20
5. Ill-fitting jeans from Goodwill
6. Going Rogue by Sarah Palin
7. Ted Nugent CD
8. Campus parking ticket
9. 3-pk of Summer's Eve
10. Subscription to Cosmo
11. 2/3 of a drink at a bar during NYC Pride
12. Season 1 of A Shot At Love on iTunes
13. Abduction staring Taylor Lautner on DVD
14. Papa John's pizza using the 'early week mania' coupon
15. Subscription to Cleveland magazine
16. Love at First Bite: The Unofficial Twilight Cookbook paperback
17. A used LACK end table on Craigslist
18. Toto IV album
19. A toilet paper doll
20. Snorkel flippers
You don't need those things! We just saved you so many ten dollars. Now would be a good time to donate it to our bitchin' fundraiser! We have pretty fantastic perks for your generous donations, and for $10 you'll enjoy the Be A Voice perk. Or! I have a neat idea — you could donate a little bit more and find yourself the proud owner of some exclusive AS swag, like a Read A F*cking Book bookmark and Whiskey Kitten sticker. You could even donate a little bit more and more and wouldn't you know it, you'd get your very own You Do You shirt or maybe a special zine or even a VIP A-Camp experience plus a lifetime pass to future A-Camps! Holy moly that is a lot of really awesome opportunities.
+
Let's take a look at all the perks one more time!
+
Awesome F*cking Perks
with illustrations by Leese
+
Be A Voice! – $10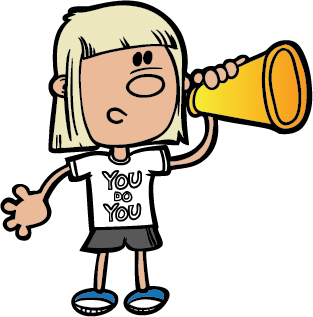 Access to supporter-only updates and sneak-peeks that we'll post here of the project-in-action where you can voice your opinions and suggestions! You're part of this project now too, and we want to hear you!
Also you will be honored on our Relaunch Hall of Heroes.
+
Lifesaver Package – $25
We're making a cool sticker package just for this campaign which includes one of each of the following: Hand spraypainted "Read a F*cking Book" bookmark, Autostraddle temporary tattoo, Whiskey Kitten sticker, and a mini "You Do You" sticker!
+
Cookies! – $50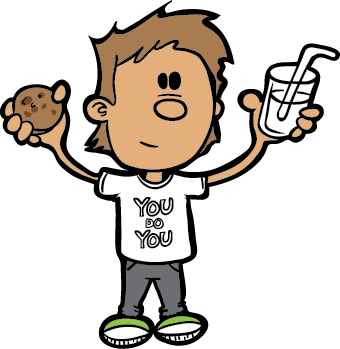 SOLD OUT!
Read a F*cking Bookmark AND Home-made cookies will be mailed to you from one of our resident bakers.
+
A-Camp Priority Registration – $50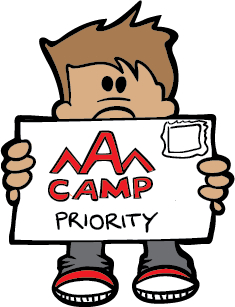 SOLD OUT!
We'll send you our "Autostraddle Lifesaver Sticker Package" ($25) and hold a guaranteed spot with your name on it for any future A-Camp of your choice.
+
You Do You T-Shirt – $100
Lifesaver Package AND Super Special/Awesome Limited Edition Autostraddle "You Do You" t-shirt. We're only printing 300 exclusively for this campaign. This is the only way you can get one!
+
Homemade Card – $100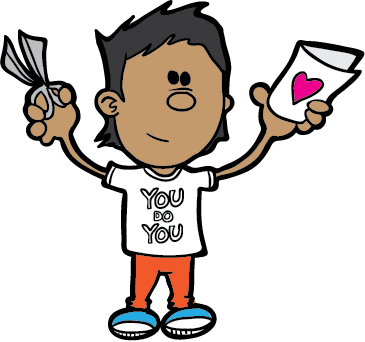 We'll send you our "Autostraddle Lifesaver Sticker Package" ($25) and a handmade thank you card (or a birthday card for your mom, whatever you want) from the Autostraddle editor of your choice.
+
Week of Advertising – $150
We're building a prominent Redesign-Supporter-Only Ad Spot into our new website layout. You will get to place an advertisement in there for one week. Want to promote your business, blog, service, or maybe ask your girlfriend to marry you on our website? This is a pretty damn good way to do it.
+
Redesign Supporter Zine
Get our first and only 32-page Redesign Supporter-Only Newsletter we made just for this campaign, featuring completely original and never-released writing and content from Riese and the other editors, as well as behind-the-scenes photos and all sorts of special stuff that will only exist in this newsletter.
We'll include our Lifesaver Package!
+
Connect With Us – $500
We'll send you our "Autostraddle Lifesaver Sticker Package" ($25) and you pick from one of the following:
1 hour Photoshop, Illustrator or InDesign tutorial from our Design Director Alex via Skype (or in person if living in or willing to travel to Los Angeles)
30 minute Therapy/Advice/Brunch Skype session with Riese, Rachel & Laneia or any two (2) Autostraddle team members of your choice.
A short story or essay workshop/tutorial with Rachel & Riese.
+
Let's Meet Up – $1,000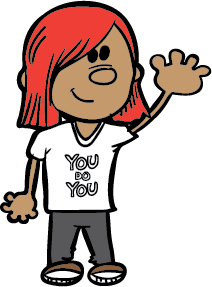 We'll send you our "Autostraddle Lifesaver Sticker Package" ($25) and two (2) or more Team Members will…
A) Coordinate an Autostraddle Meet-Up for you in your town
OR
B) Take you out to dinner!
You must live in, or within 2 hours of, or be able to get to the following cities: San Francisco, New York, Los Angeles, Washington DC, Montreal, Sydney, Ann Arbor/Detroit, Phoenix, Portland, Cincinnati, Columbus, Chicago.
+
Feature Article About YOU – $1,300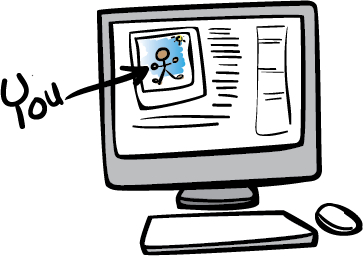 Reach the audience of over 400,000 eyeballs that view Autostraddle.com each month. We'll write a feature article about your company, website, band, blog, TV show, webseries, club, project, product, yourself, anything! We can even do it interview-style. Whatever you want.
We'll send you our hand spraypainted "Read a F*cking Book" bookmark too.
+
A-Camp VIP – $5,000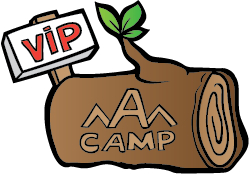 Come to A-Camp… as a team member! You'll be the toast of our little town in the woods.
Hang out with us, come to pre-camp training, participate in planning activities, whatever your little heart desires! You'll get a special VIP cabin accommodation and special gift-basket that we'll be all cute and make just for you. Cause we're cute like that.
Plus, you'll be guaranteed a regular spot at all future A-Camps for life.
Only two days left! Please donate!
UPDATE: We've reached over $98,000! Next stop, 100k!