Parents! Some of us have them, some of us are them, and some of us have complicated parents situations! So many parents feelings! Regardless of your aforementioned parent feelings, you're in for a treat: Our pals Kristin Russo and Dannielle Owens-Reid over at advice-giving and lip-synching Everyone Is Gay dot com, are embarking on a new undertaking called The Parents Project. Here's the skinny, according to Kristin and Dannielle:
"In our work with LGBTQ youth, we realized that many were struggling with talking to their parents, specifically. We scoured the internet looking for parent-specific resources and, apart from PFLAG, we found very little. We were shocked. In response, we are working to create a first-of-its-kind digital presence for parents of LGBTQ kids that will include videos, advice, and resources."
Unfortunately, money. To combat this issue, Kristin and Dannielle launched an Indiegogo campaign. With nine days and more than half of their fundraising goal to go, making this project a reality is going to be an uphill battle, but luckily, there are plenty of ways to help! The easiest way to help is by donating, mostly because there are sweet perks including a Tiger Beat-style poster, which: amazing.

They're also encouraging everyone to write a reason why the success of this project is important to them, take a selfie, and upload it on social media with the hashtag #parentsproject. As someone who is celebrating the two-year anniversary of my parents cutting ties with me, this project and its goals hit really close to home, and the idea of putting faces with the people who will be most directly affected by this work seems to me like a powerful concept.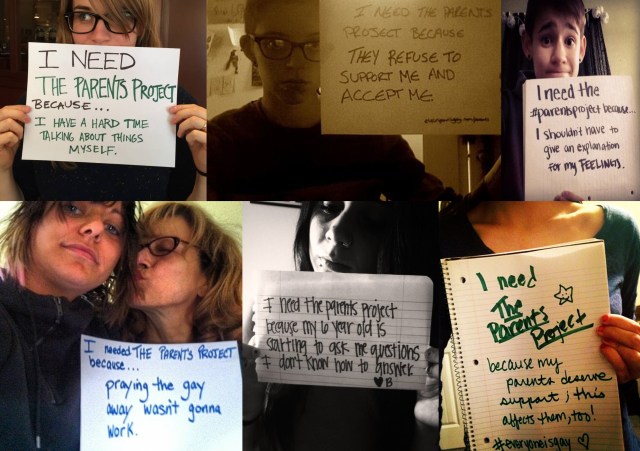 Check-ch-check-check-check-ch-check it out! Donate now, if that is what your heart and brain tell you to do!
http://vimeo.com/77101041