Comedian DeAnne Smith, Friend of Autostraddle and A-Camp Fave, has released her debut comedy album and you should download it right now, today! Tell It To My Balls is stuffed to the gills with all the DeAnne Smith greatness you'd expect, and obviously some shiny new greatness you didn't even know about yet.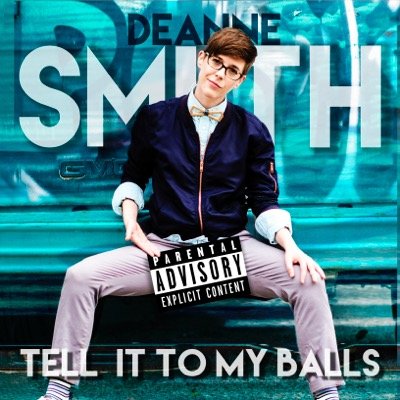 If you haven't had the all-out pleasure of crawling inside DeAnne Smith's comedy mind, I suggest you start off with a sampling of her sharp, wholly relatable and hilarious column right here on Autostraddle from wayyyy back in 2011. Here I've chosen this one for you: DeAnne Smith and the Hook Up, because it's perfect. Oh, and also this one: DeAnne Smith and the Unfashionable Utopia of Yore.
Ok maybe you've already read everything DeAnne Smith's written for AS, maybe you've even caught her set at A-Camp, which, CONGRATS. You know what you haven't heard? This comedy album! The goddess shines upon you on this day.
Grab your headphones and get ready for such gayness, so much Canada, such laughs! You'll hear DeAnne (lovingly) poke fun at your veganism, sing a song titled "Consensual as Fuck", sing yet another song about something we all have in common (not spoiling it for you), get so real about girls in skirts on bikes (amen), and other things relevant to your interests!
"We had some fun with that moment," DeAnne tells a guy who questions her during the set. "But the fun we had was all due to my skill, and not due to your contribution. Keep that in mind."
BLESS.
Hey real quick, I know you might want to talk about the title because I feel like I know you and because we at Autostraddle take transmisogyny extremely seriously and don't support or condone it, so let's go: "Tell it to my balls!" is the punchline of a joke that skewers that bafflingly inflated cis male self-importance DeAnne Smith regularly encounters from "comedy confident guys" in the business. It's not a joke about DeAnne Smith having or not having balls, and it's not a joke about women in general having balls, or even a joke about balls being a bad thing to have or not have. "Balls" are not literal in this case, they are entirely symbolic. "Tell it to my balls" represents cis male entitlement and how frequently and forcefully it's thrust upon us all, day in and out, especially when you let men have microphones and stand in front of audiences. Obviously your mileage may vary on this reasoning, and it's okay not to see it this way, but for what it's worth, that's how it was intended. Wheeeee! Ok cool, good talk.
Download Tell It To My Balls on iTunes and get yourself some more DeAnne Smith via the Questionable at Best podcast!
We'll let this classic DeAnne Smith song play us out:
#DrumWolf