I fucking love having crushes. Seeing someone and them giving you that fluttered feeling, stumbling over your words when you finally talk and of course — floating in the clouds when you find out that the feeling is reciprocated. In order to find out the feeling is mutual though, you have to start with letting them know. You gotta take the scary dive of sending that morning text one day that says, "I am feeling you something crucial." and then wait 3-7 hours for the reply.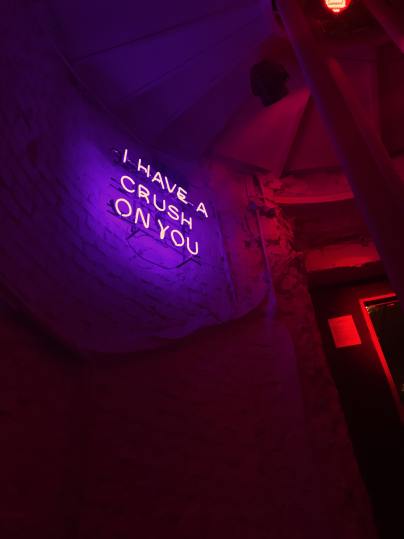 When I was a youth, I had no problem telling people I had a crush on them. I had bold, blind confidence — sending notes, scheduling 3-way phone calls, and then boom it all stopped. Middle school came and snatched that confidence away from me, so I just lived vicariously through Manny Santos and crew with all their terrible crush decisions. Once I started high school, that confidence started reappearing but crushes weren't my focus. I was just so happy that I was actually having a good time and not being traumatized, I didn't have much interest in being with anyone.
College came around and I slipped back into that shutting down vibe. I was finally coming out to myself, but that didn't mean I was ready to knock on every dorm door and say in one breath, "So, my boyfriend and I are done and I know I'm gay now and I think you're so pretty and I wanna hold hands for hours in your twin bed". But I did know that eventually, I was going to have to start talking to these girls. Every interaction didn't have to be a full profession of my undying love, but how would they know I liked them if I didn't say it?
I talk a lot about communication. I often yell at y'all and have said a million times "If you niggas don't just start talking to each other I am going to lose my fucking mind." It's not the easiest but — it's also not all that hard. I think the fear lays in the rejection, which is scary as heck, but isn't it better to drop your feelings and tell someone what you want rather than live in an anxious space of constant wondering?
Now my communication is top-notch, even the Libras of my past can admit to that. I sometimes get so many butterflies that it takes longer for me to say what I feel but, I still say it. So, in the spirit of the capitalist holiday that is upon us soon — try talking. Tell that person you like how they make you feel or finally send her that text you've been editing in your notes app for a week.
Just do it because in the end…. it's just a little crush.
Sweet Sunday babes.
---
---
Again, I am begging you to just leave Black women alone — like, let Chloe Bailey cleanse her room in peace please.
Carmen talked about this in AAA but you know I have to mention it again. The only Cinderella that matters is coming to Disney+! Go read my thread when I live-tweeted the film for last year's "Home for the Holigays"!
Arlo Parks has a new music video out and again, I am begging her to serenade me.
Over on Time Magazine, poet Amanda Gorman and Former First Lady Michelle Obama have a chat about The Black Renaissance.
Mary Retta wrote a guide you can use as a start to radicalizing your parents, and don't stop there pass it on and use it for your aunt and uncles too.
Rafiki
A film with color, love and friendship at it's core.
Rafiki is constantly beautiful. It took me a few years to watch it because I was worried there would be lots of trauma. It was banned in Kenya due to the homophobic nature of the story, So i figured it would be full of harsh scenes but — that is absolutely not the case.
I have always believed that the strongest relationships are based on a friendship first, and that's what this film shows me. Although Kena & Ziki have so much going against them — their fathers running against each other for a government seat, their religion rejecting homosexuality, and their friends misunderstanding them — they manage to find something beautiful in the arms and eyes of one another.
---
I LOVE Therapy for Black Girls and the loveliness that is Dr. Joy. They are hiring for two different positions (Community Assistant & Assistant Producer for the podcast) and you should def check it out and shoot your shoot! I also love a New Moon moment and a ritual. They are often made better when you get to connect with others, Seph Young invites you into their circle to unite in the moon and to celebrate them on their birthday. Lastly, discussing a book on abolition while writing cards to LGBTQ incarcerated folks can be your next Thursday night, just click here for more info for the first in this series of meetups!
If you have anything happening that you think would be a good fit for the community love virtual billboard, send it my way via Instagram. Please remember that anything you send must have a focus on people of color.
---
A talented stunner with an accent to match. Please marry me. That is all.
This playlist not only lets someone know you have a crush, but tells them what you wanna do if it's mutual.
Photo by Ioana Cristiana on Unsplash