I miss not having to talk so fucking much.
I miss using my body to connect with people instead of using my words.
Many people will read that and automatically think I'm talking about sex. Yeah, it's one way to say what you mean without talking, but I'm thinking of something different — dancing. The way you can have a whole ass conversation through sways, bumps, and grinds instead of opening your mouth is a luxury that I've been craving this week.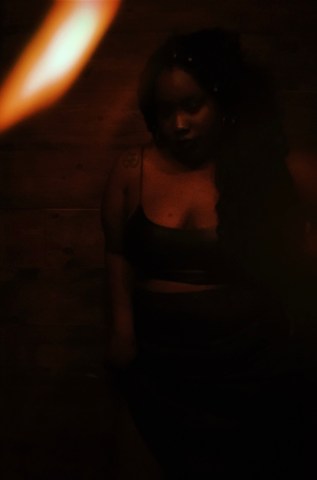 Like many of you, I've been in this cycle of phone calls, texts, virtual meetings, and email chains. That would be all be fine if I had the perfect form of non-verbal communication to look forward to. That used to mean a party. It meant getting off work or closing my computer to get sweaty in the dark with some of Chicago's finest.
My favorite type of dancing comes with that smooth first initiation. Off to the side of the dance floor, whiskey hitting mid-song, and the sudden touch of a hand flat against my waist. A jumpy reaction until I turn to see a smile from just the right type of stranger. Then the conversation starts using just our bodies — tighter grips on the waist they're already familiar with, catching the scent of their sweat as we move closer, and then not being able to discern the bass from their heartbeat when our bodies ultimately collide in a perfect grind.
So yeah, I don't want to talk to anybody, but I do want to dance with somebody. I'm gonna log off, blast this week's playlist and pretend that somebody is one of you.
Sweet Sunday bbs.
---
I was excited for Lizzie McGuire to be back on the screen, but Disney just isn't ready to let her grow up.
I just got on Clubhouse and I hear it's Black Twitter 2.0 — But is it just another place for folks to bash on Black women?
Mena and Zena Nasari are on a mission to get books featuring female Muslim characters into more libraries! Once again, the kids are alright.
Over on Hellogiggles, Julie Nguyen talks about how your attachment style plays into how you date. There is a link in the piece to find out your style, if you don't know it yet!
A few black performers talk to Cosmopolitan about the racism, unequal pay, and more that they have experienced while working in the porn industry.
Them has an interview with director, George C. Wolfe to talk about all things Ma Rainey's Black Bottom, which is officially out on Netflix this weekend!
---
Tangerine
Just like everyone else should be when they see this film, I was blown away. It follows two friends, Sin-Dee Rella (Kitana Kiki Rodriguez) and Alexandra (Mya Taylor), on Christmas Eve while they look for Sin-Dee's cheating ass boyfriend and pimp, Chester.
The film stars two trans women of color, shows an honest portrayal of what sex work looks likes for some and was also shot entirely on iPhones.
It's incredible and even if you've already seen it — watch it again.
---
This week on the virtual bulletin board Lena Waithe announced the launch of Hillman Grad's new mentorship lab! You can apply until January 10 2021and if selected you'll take part in a 10-month program that's meant to bring more diversity to entertainment, please apply because we need it. And over at a new fav of mine, The Nap Ministry encourages us to remember that rest is a form of resistance, call the hotline at 1-833-Luv-Naps for a calming message of rest, trust me — it's incredibly worth it.
If you have anything happening in your city (or virtually) that you think would be a good fit for the community love virtual billboard, send it my way via Instagram! Please remember that anything you send must have a focus on people of color.
Click images to enlarge.
---
All I want this week is a little less talking and a whole lot more action. Just a few songs that make me want to be on a dance floor using my body to start a conversation.
this article's feature image is by Sam Mar on Unsplash