[Hi! It's me Laneia in the brackets! You'll keep seeing me in the brackets throughout this post, be prepared!]

Clutter City takes place every two months at the UK's Norwich Arts Centre (which is distinctly lacking a Bette Porter-esque figurehead, I must admit) and is a hot-bed of undiscovered indie artist/crafter/DIY talent. Clutter City describes itself as:
…an alternative market for Norwich. We provide a platform for creative independent crafters / artists / collectives to sell their work and focus on original, quirky and unique items including DIY clothes, jewellery, badges, sewn items, paper goods, prints, paintings, comics, zines and more!
Offering everything from jewelery to prints and cupcakes to clothes, the market has a distinctly relaxed, folksy vibe, with visitors ranging from the young hipster to the aging hippie. While the visitors shop and the vendors…well, vend, live music is provided by local unsigned acts. All this comes together to make Clutter City a truly diverse event. [SOLD! –Laneia]
Some of my favourites from this past
(26th September) market include:
Jewellery by The Mookie Market, which combined resin and dried flowers in the most delicious of ways: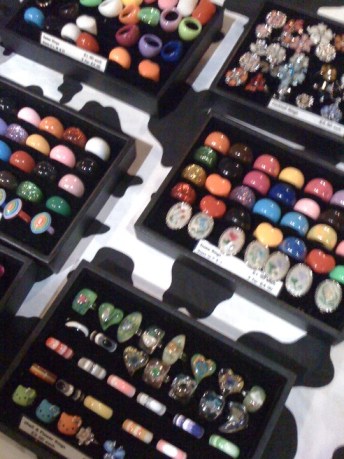 Girly costume jewellery not your scene? If you like 'a bit of gimp,' try Teeth & Snarlz: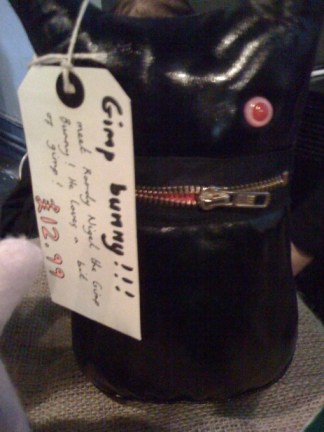 Emily Rose Brown, an up-and-coming regular at Clutter City, showcases beautiful illustrations and ceramics.
I particularly enjoy the snake egg cup…just sayin':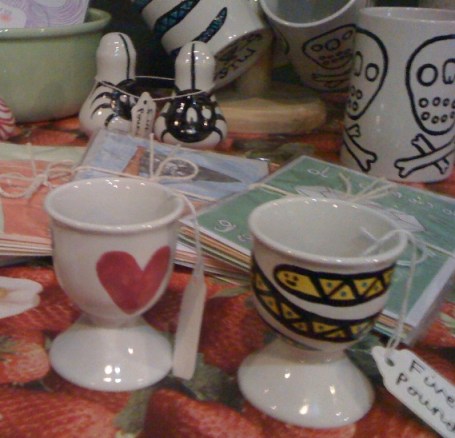 Are you a human? Do you have hair? Well then perhaps you need this: hair slides for humans! Funky Mutts also offers leads and collars in matching fabric patterns: [Paging Riese and Tinkerbell! –Laneia]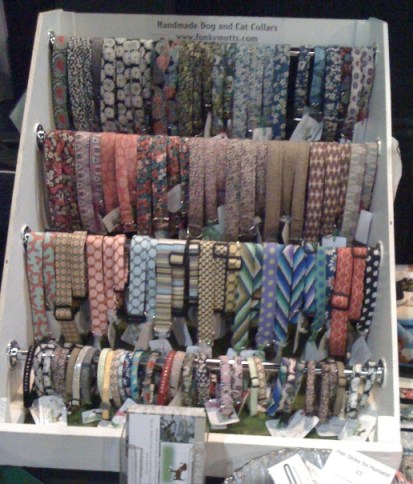 Thake's Perfect Cakes were on hand to satisfy the mid-morning growl; I'm recommending the Coffee and the Banana Custard! You can email Jemma for more info at jemmathake at hotmail dot com. [Also if you're looking for a cupcake-baking housewife, try Autostraddle's Intern Hot Laura. –Laneia]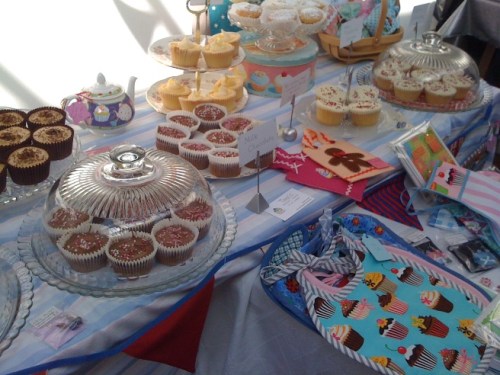 Oh look — talented, pretty girls in cute dresses!
+++
On a more serious note, I was most impressed by Nude Magazine and lucky enough to grab a quick interview with the brains behind the operation. Created six years ago by Suzy Prince ('like the pop star!') and Ian Lowey (…no analogy provided), Nude aims to "bring different strands of alternative culture together in one magazine." Also, they admit that they 'like things' " and cast aside the cynical and bored approach of other such publications.
They proudly sport an "independent spirit" and "increasingly feminine" (a movement we can get behind) [that's what she said! –Laneia] vibe as time goes on. In fact women shot the last two covers; a rarity in this business. With diverse articles and killer photography, Nude is definitely going to be a firm fixture on my coffee table.
For more information and to support this counter-cultural, female-friendly venture, visit www.nudemagazine.co.uk. Alternatively, copies can be purchased in all branches of Barnes and Noble.
The next Clutter City is scheduled for 28th November from 10am – 4pm, so if you're in the area we definitely recommend a visit. In fact, even if you're not in the area it's worth a try; I drove 3 hours to get there and was not disappointed.