A Day of Work zooms in on the daily routine and work habits of Autostraddle team members. Read about the coffee, the cats, the Slack meetings, emails and minutiae that makes Autostraddle go.
---
Here's the vibe — I very rarely wake up before 12:30 on weekdays and I fall asleep probably around 3 AM. There is a nap or two in there somewhere, and there are a few times where I push my computer off my lap and ignore work while I watch a few episodes of something gay. Since I've become Culture Editor here at Autostraddle my work has def doubled, and I've had to do some rearranging to make sure my work week still fits my vibe while also making sure I'm doing a great job at, well — my job. So my mornings look a little different then they did a month or two ago but the vibe is still the same — Chill Music, Great Writing, Sweet Coffee.
My home and my space is very important to me. I've curated it to match the energy I want to have, and want others to feel, when in my home. It all starts with the bedroom, I have 3 big south facing windows that I wake up to every morning. Light flooding in to hit my white bed with accented blush and copper tones, windows hopefully dancing in the breeze and of course — music. I make a playlist for every season, and my alarm is set to go off at the same time every weekday, shuffling songs from that playlist to encourage me to get up and start the day. Sometimes I tell it to stop so I can laze about, but most times I wake up with and still laze about but just to a dope song.
When I'm in bed I pray — to my God, to my ancestors, to my spirit guides — and then I think about what I have to do. What I need to get done, what I can put off for another day and more. I get hit with a lot of creativity after (and sometimes during) prayer, so I have a notebook at the side of my bed to write shit down. I often pray to my ancestors for my creativity to have longevity, I fear sometimes that it won't. But then I'm constantly reminded what they have blessed me with, and they tell me to say "fuck you" to imposter syndrome and to look at all I've filled that and many notebooks with.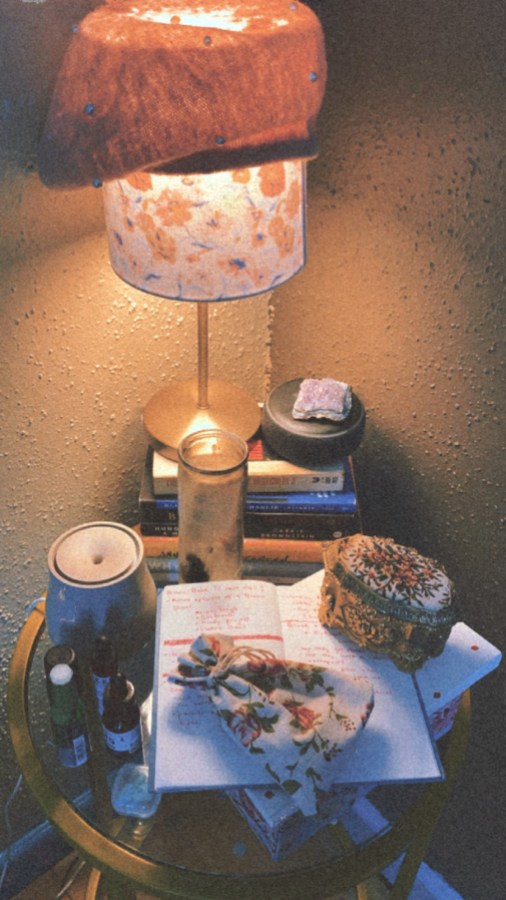 After I get out of bed, I usually head to my kitchen to turn on my Kettle to get hot water going for coffee. If I wasn't lazy the night before it's already filled with water but most of the time — I was probably fucking lazy. While the kettle starts I hit the bathroom to do my thing and that includes taking meds (I have AFib & PCOS), brushing my teeth, and skincare. My mind is still going for the day, ideas are popping up while I'm brushing, remembering the days meetings and all that good stuff. This whole time my space is being filled with music, I constantly have music playing in my apartment. I think it stems from my childhood where my parents always had music playing in our home.
My morning skincare consists of me washing my face with just hot water some days. I don't use face wash products every morning anymore, it's something I learned from a dope skincare expert and homie, Iman, who has taught me so much about skincare just from being in her rooms on Clubhouse. After that I use Glossier's Exfoliating Skin Perfector Solution, then I combine my Mario Badescu Collagen Moisturizer, two drops of The Ordinary's Alpha Arbutin 2%, two drops of Niacinamide 2%, and work it into my face. Combining it all works for me and my skin is pretty fucking beautiful.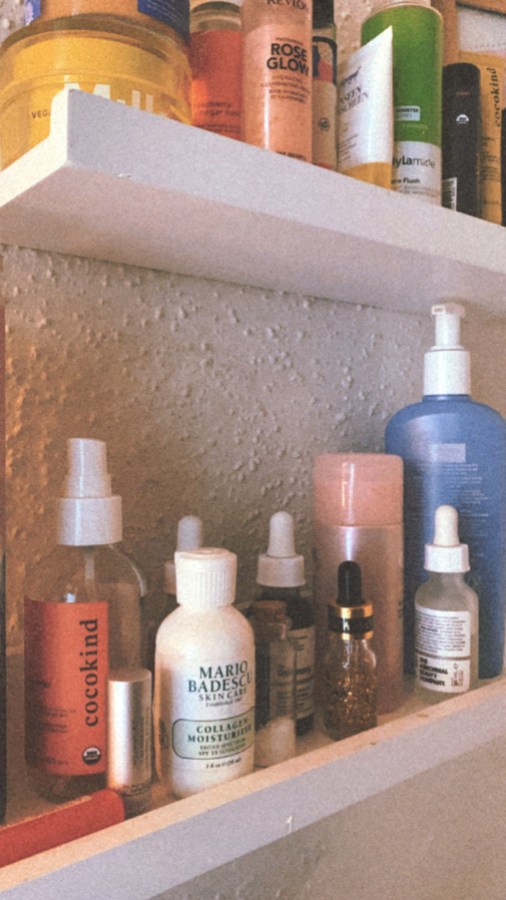 At this point, it's time for coffee and it's probably nearing 2 PM. I don't really eat much in the day and thrive on coffee, It's a combination of my service days of being a barista and also my disordered eating of the past but also — I just fucking love coffee. It's one of my fav parts of the "morning", I always make something different. Taking the time to create something, let my mind focus and center on it before I get into the chaos of what a workday may sometimes bring. I'm still in PJ's from the night before, which I don't change out of until the evening, and you all know from my Come Vibe With Me days that I sleep in the cutest fucking sets. On this particular day I kept it simple, made some coffee in the french press, poured it over some ice to chill, and then poured in some homemade horchata I picked up the day before from down the street. After that, I went to the living room to get ready to work.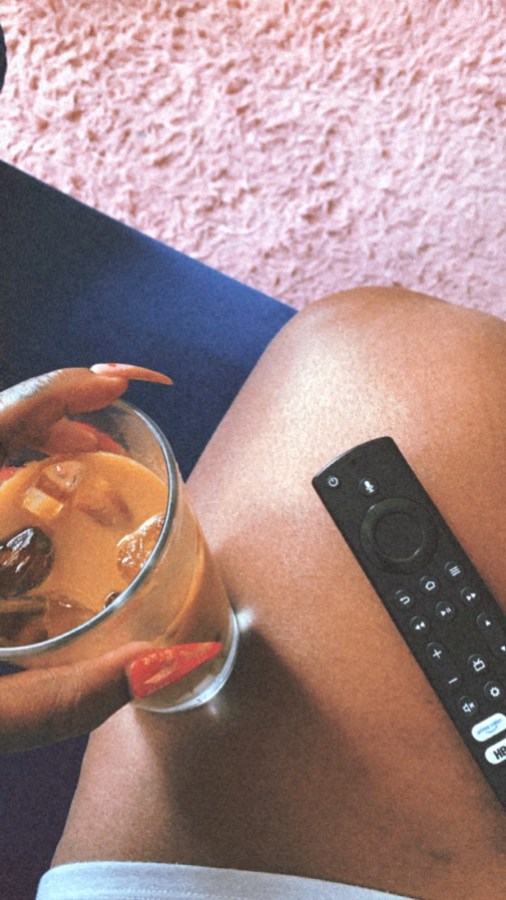 I've been freelance for nearly 3 years and it's something that absolutely fits me. It hasn't always been easy financially but I've made do and now am in a comfortable position. I don't like "workspaces", I prefer to get shit done at a cafe or just work in my living room, sitting on the floor and using my couch or coffee table as my workspace. At the start of the month, my calendar looks light, but about a week in it's filled and continues to get things added. I bullet journal — I used our own Gay Agenda notebook by the way — because my mind works in blocks, and bullet journaling allows me to lay out my world in a way that makes sense to me. The calendar gets filled with pitch calls I need to put out, drafts that are due for me to edit, meetings to go to, meetings to request, social media shit I need to send out or create, and also just my own personal stuff like yoga classes and dates.
Then, I start fucking working on the shit to do for the day. The music gets swapped for TV or Movies to have on in the background, and my tabs are open and ready to go. I check Deadline a lot to keep up with film stuff (Like I'm keeping constant tabs on the new Netflix show First Kill), check social media to see whats happened over the night, look at movie reviews on Letterboxd to find new talent to maybe do one for us, of course check Autostraddle and read through the fly shit we post, and also check on other sites too just to get a feel for what everyone is putting out.
I've been working on Pride things for the site today, putting together something special to have a chat around our theme of "An Honest Pride". It's been difficult again this year and also it's wild because I mean – we are prideful and queer af no matter what month it is – but I still know we need to have a way to hold space for our community.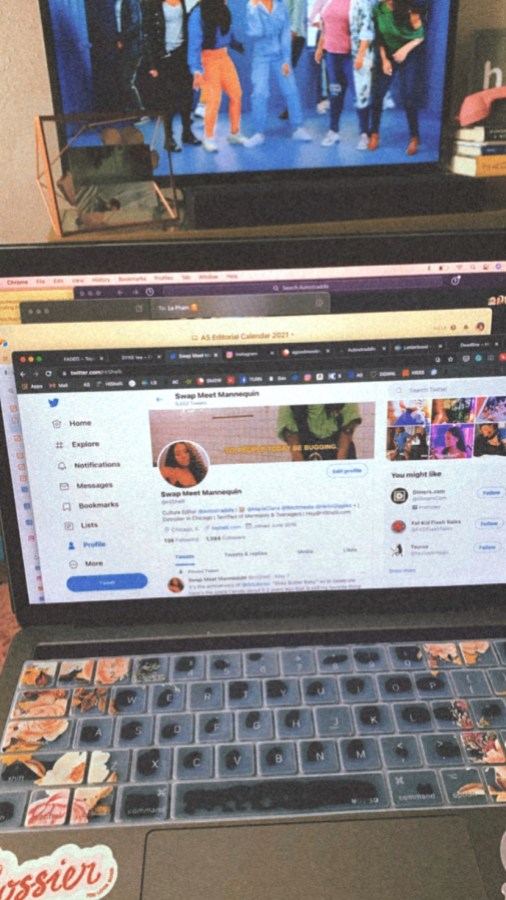 It's the fact that we do this work, every day, all year that we're having a member drive this month. So that if you can, you can put your dollars toward supporting queer creators like me who want to hold and create space in the ways that feel natural and real. So join A+ if you can and support my work, and the work of everyone here at Autostraddle?"
I spend the next few hours writing, editing, pitching, and more. A lot of time spent in Slack chatting with the Autostraddle crew, going on and off of Twitter, and I am always watching something while working. Maybe I've ordered something to eat or made a snack (depending on how much work I have to do) but I end my day usually at night. I of course put my computer aside a lot but I often work well into the wee hours of the next day, but that's how I like it. I like wrapping up everything I need to do for the day in my own time and being freelance and working from home affords me the ability to do that. I don't often let things roll over into the next day because I don't want to work on weekends. I used to and I hated it, I had no separation and I needed it. So I happily bust my ass until 2 or 3 AM during the week doing what I love and what I've always wanted to do.
My night will usually end with that 2 AM shower, switching over to music again, and my nighttime skincare routine. Then I pop on another cute outfit, crawl into bed (or on my couch) and watch something until I fall asleep. If I can't figure out anything I check out A Good Movie To Watch and it helps me out.
I love what I do, writing is my passion and has been since I can fucking remember. I dreamed of the days where I would have my grown-up beautiful apartment filled with things that make me happy, falling asleep in front of my laptop working just like all the cool girls I would see in the movies and on TV. I am living my dream and being an editor is just the next phase of it. I'm so happy to be where I am at, doing what I love at a place like Autostraddle. In only 2 months I've been able to get some Black queer folks their first published pieces, amplify the Black and brown folks who are already part of our crew, and am currently working with more to create pieces and columns about queer subcultures from the folks that live within them. I'm proud of what I've done so far and I can't wait to keep going, growing, and creating more and more for y'all to see.
So again, if you can, consider joining A+. It helps the site and everyone who works here, and you'd be helping to support all the plans I have that I wanna make come true as Autostraddle's first Culture Editor.