If you've been thinking of making your own zine but don't know where to start, or maybe you'd like to contribute to a zine but also don't know where to start, the DC Zine Fest is here to help! They're accepting submissions from unpublished zinesters until Monday, July 8, and all you have to do is send it in. The zine is being compiled by Ariana Stone and will be available for free at the DC Zine Fest on July 20. How freakin' neat is that? So freakin' neat.
Here's everything you need to know, from Ariana herself: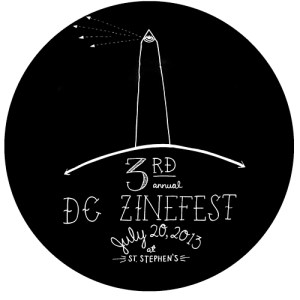 WHO: Anyone who's never had any work published in a zine before or made their own.
WHAT: A contribution to a collaborative zine about D.C. This year's "theme" for the fest is D.C., so I thought I'd stick to that. It's broad, so you can do whatever you want! Write about/draw/photograph which Congressperson you want to make out with, your favorite places to read in the city, the worst living experience you've ever had… the possibilities are endless. Hit me up if you need ideas and we'll brainstorm.
WHERE: Send them by e-mail to ariana [dot] a [dot] stone [at] gmail [dot] com or, I can get it in person if you want. Text can be sent however you'd like, photos and art should be the highest quality images you can get together.
WHY: Because zines are all about accessibility and I want as many new voices, names and faces at this year's fest as possible!
HOW LONG: As long as you want. You can send me the raw text, photos or art and I'll lay it up. Or you can lay it up yourself and get that to me.
DEADLINE: Monday July 8
You're all voices worth hearing, and I really hope you participate in this collaboration! And yes, it's open to people who don't live in/have never been to the DC area. As long as you stick to the theme, you're golden.
Let us know in the comments if you're sending stuff in so we can tell you how awesome and fucking brilliant you are, because you are.
Yes, even you!
Especially you.
Go be part of a thing!