Oh has it been a year already? Has it been a whole year since the last time I anxiously waited to see who I'd be getting dehydrated and sunburned with in Manchester, TN? I mean I haven't been counting down the days or anything.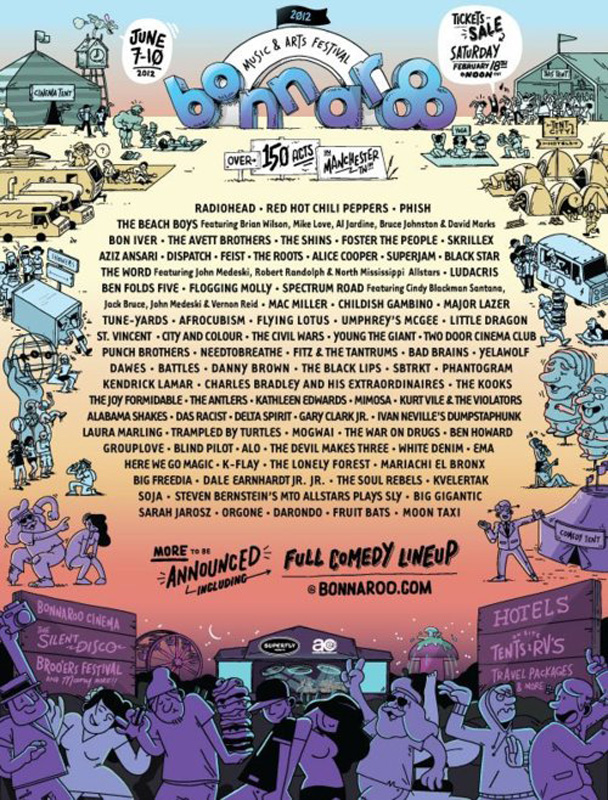 Bonnaroo announced their lineup on Valentine's Day and the most I can say about it right now is: the Beach Boys? Actually I saw the Beach Boys with my mother when I was a teenager and it wasn't terrible — I would go so far as to describe it as fun, even. And anyway, I'd be excited about Bonnaroo regardless of who was on the lineup. You know how you feel about CAMP? That's how I feel about Bonnaroo (and CAMP)!
See, Bonnaroo's where I go to remember that we're all here. It's an honest place with big trees and faces everywhere and the most unreliable internet connection I've ever endured. Also: music. It's 80,000 people just being people, out in the woods, set to music. I fucking love it. And I don't know if it's the inherent stress of the holidays or just a 6-month itch, but somewhere around December/January, Bonnaroo begins to gently elbow its way to my cerebral cortex. By the time February rolls around, the 4-day music festival is right up there with breakfast and checking my phone. Now I'll spend the next three months hoping I get to go — but that's a different twitter meltdown.
The only thing I can do now is daydream about what Bonnaroo 2012 might feel like. I wanna say, based on this lineup, that Bonnaroo will feel vaguely like being 14 in August, sitting on a cloud, meditating in a cave, running, shaking hands with a stranger and taking a deep breath.  I will for sure be putting together a playlist for you, complete with many many feelings, just like last year, but for now we just wanted to talk about ourselves, obviously.
Every show/concert has a unique and specific vibe, but the best thing about music is that you experience it alone and as a group, all at the same time. What you saw was what you all saw, but what you felt was just yours. So that's what we're talking about: that one time you saw [artist] at that one show and felt [the feelings]. I asked the team if they'd seen anyone on this year's lineup and, if they had, to tell me what it was like. If you've seen any of these bands live, we'd love to process with you. I brought tea.

Alice Cooper
I've been slightly obsessed with Alice Cooper ever since my 8 year old self saw him perform "Feed My Frankenstein" in the 1992 classic motion picture, Wayne's World. So when he announced in 2007 that he was bringing his Theatre of Death tour to Sydney, I just had to go. While my friends and I had our doubts about whether the Prince of Darkness would still be able to rock out at age 59, we knew that at the very least his stage show would be as goth as fuck and that in itself would be worth the admission price.
We were not let down on either count, the man still knows how to rock and as for that darkness schtick, he made Marilyn Manson look like an amateur. In between a killer set list of his best songs ("School's Out", "Poison", "I'm 18", etc), Alice repeatedly killed himself on stage. Not even 30 minutes into the show Alice was sentenced to death by guillotine for impaling a roadie and once the blade came down, he held his severed head up to the crowd. He came back to life, of course, only to later be killed via noose and then again via a syringe filled with poison. Morbid theatrics aside, the music was excellent. Alice's vocals were strong, the band were tight and the hits sounded as epic as they did in the 70s. And in case you were wondering, the man can still rock a skin-tight leather jumpsuit. We weren't worthy.
Childish Gambino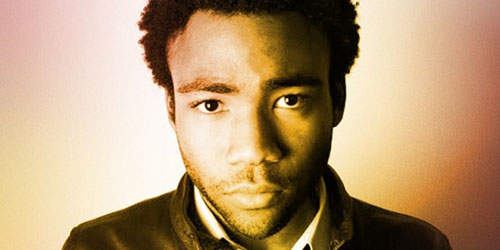 In December 2010, I went to the IAMDONALD preview tour in San Francisco. As far as music went, I think it was one of the biggest shows to date for Donald Glover, aka Childish Gambino. He was still our little secret. This guy who had so many things he was passionate about and who'd reached pinnacles in multiple fields that most people only dream of was there, on a stage, hoping that we liked him at something he didn't really need to do but we all knew he had to. I wasn't as miserable as I would come to be but I wasn't happy. "Culdesac" made me think about what it was I had to do and there was nothing. At the time, the only thing I had to do was listen to him. He talked about being bullied, being weird, being overlooked. And though I was never tormented in school, as one of the "cool kids," I never quite fit that mold. I got called weird a lot for liking things that didn't necessarily fall into the scope of what other people I hung with thought was cool. There was always a part of me that felt different, so when he rapped "ain't it funny in a year I went from different to special" on "Hero," I listened. I decided if I were to ever get a tattoo, it would somehow incorporate that idea. That there was something more to it. That it wasn't enough to be different. You owed it to all your fellow weirdos to make something of it. Something for us that they might not get.
There weren't many black people at the concert. Not that I expected there to be. It just reaffirmed this feeling that his music was just for me and him. We are Hov with glasses. We are Weezy but geeky. We do stay weird and fuck chicks like we're Gonzo. We're black nerds and watching him on stage embody the extreme confidence and crippling insecurity that's tied to this identity we didn't forge for ourselves but still came to understand over time, something finally clicked: I had to get the fuck out of there. I didn't know how. I didn't know when. I just knew that place wasn't where I was supposed to be. I stuck around after the show to meet him. Most people emptied out but a few of us stood around confidently, sure that he would emerge sooner or later. We milled about nervously suffering from the silent embarrassment of being one of those types. The type that had to tell him something. I don't remember what he said. I definitely don't remember what I said. I know he looked tired because he'd just given us a piece of him that he didn't need anymore. That little piece of him led me to LA less than a year later where "I'm walking in this darkness and I'm trying to find a light and I'd rather die than be average and chances are I might." I'm different now. We probably both are. That show changed my life and if you relate to his music on the raw emotional level in which he performs, seeing him live just might change yours too.
Red Hot Chili Peppers
I saw the Red Hot Chili Peppers at the Sydney Big Day Out festival in 2000. It was a really big deal for two reasons. Firstly, because it was my first ever music festival and I had no idea that there could be so many people and bands and stages, that it was actually possible to experience ten life-changing concerts in just one day. And secondly, because it was during a period of my life when every night I'd sooth my tortured teenage soul by playing "My Friends" on high rotation. I loved that song, I was dying to see it performed live.
2000 was a lifetime ago and so my recollection of RHCP's performance is sketchy. But these are the few things I do remember. I remember feeling mortified over the fact that I had gotten injured in the Foo Fighters moshpit and was forced to watch RHCP's set from the safe but uncool stadium bleachers. I remember watching Flea walk out on stage with bright red hair and no shirt and thinking that was rock and roll. I remember the roar of the crowd when John Frusciante followed him, their excitement (and mine) over his return to the band after 8 years. And finally, I remember my heart breaking when Anthony Kiedis announced the final song and it suddenly hit me that they weren't going to play "My Friends". There's just no pleasing teenagers, I guess.
Radiohead
The summer I turned 20 was also the summer I inadvertently saw Radiohead twice on their In Rainbows tour. The first show is more important—it was at some megaplex amphitheatre thing in St. Louis and I was with two friends from the student newspaper. Before the show we stopped at a McDonald's and our driver yelled "McNUGGETS ARE MADE OF PEOPLE!" in the parking lot. This seems like a detail worth remembering. The air was perfect and I tried to take photos, but I'm not a photographer so it was mostly of the neon liquid light show that took place behind them.
My other gig buddy, Kelsey, told me they never play "Fake Plastic Trees" live, so I learned all the songs from In Rainbows beforehand as to not be disappointed by lack of old Radiohead. And then, at the close of the set, out of nowhere. I know some people think singing at shows is gauche, but you can make an exception for "Fake Plastic Trees." I'd say probably a third of the audience was also probably crying. And that's okay too.
Also, Thom Yorke does this ridiculous wonky dolphin dance and that alone makes them worth seeing.
This, I guess, is a decent example:
THe LONELY FOREST
I saw The Lonely Forest open for Death Cab for Cutie at the 9:30 Club in Washington, DC this past June. I was there for Death Cab as a work perk, and felt more or less indifferent to the opener. Then the band played the song "Two Pink Pills." "Two pink pills / To fall asleep!" Yes, an ode to Benadryl, the magical pink pill that is both antihistamine and causer of drowsiness. Like many are moved by Adele's "Someone Like You," I was moved by "Two Pink Pills." The Lonely Forest was singing about ME, after all — a night-shifter who regularly relies on those little pink pills to sleep during daylight hours.
If you're less moved by "Two Pink Pills," I understand. There are plenty of other earworms from The Lonely Forest. Try "Turn Off This Song and Go Outside" and "We Sing in Time." This band from Washington state hovers between pop punk and indie rock — think power chords littered with addictive harmonies and catchy melodies.
Antlers
The Antlers happened to me when I was a sophomore in college, the first time. I was doing that weird little thing where I was trying to be a music journalist 1) because I had watched Almost Famous one too many times, 2) because I wanted to impress girls with free concert tickets, and 3) because it was actually a total fucking blast that I could not possibly believe could be considered work. It was thrilling. It made me feel high. And I mean, so did a lot of Adderall and various other substances, but if you'll refer back to point number one, all of that just seemed like it was there to supplement the experience.
I didn't know much about the band. In fact, I had just heard of them two days ago when I first got the assignment and promptly neglected to do my research. I knew they were boys who sang about Sylvia Plath, and I knew that they were very sensitive and a little macabre. I knew they started in 2006 in Brooklyn, which was so much the right place at the right time that you could practically drown in everyone trying to make it. I think I asked them a bunch of dumb questions about a lot of inconsequential things. I wasn't looking forward to it too seriously; it seemed like the kind of show that would be a little too quiet, that might be full of swaying hipsters in beards, and that it might have been a generally uncool idea for this first date that I had been chasing for months.
And in a way, I think those assumptions were right. The Antlers had sold out the tiny bar that we were too young to be in, but despite this, the show was pretty quiet. It was more than quiet; it was so intimate that I didn't realize anyone else was there. Frontman Peter Silberman spoke only a few timid 'thank yous' between songs, leaving no room between you and his desperate, heavy warbles. It felt quiet and close, it felt sort of like a whisper or a shudder. So yeah, I mean, was it cool? Not necessarily. But only because a swirling vortex of emotional inertia isn't conventionally considered 'cool.' Oh well.
The date went well. Actually, it went so well that it turned into the year-long intoxicating, tumultuous, and sometimes harrowing experience that was our relationship. At the time, The Antlers were touring to promote Hospice, their third studio release, which I later found out was a concept album about an emotionally abusive relationship narrated through the analogy of a hospice worker and a terminally ill patient. But what's done is done. I'm not 19 anymore, and neither is she. We're friends, The Antlers have since released another studio album, and their first single, "Two," still makes me shiver, every time.
Black Lips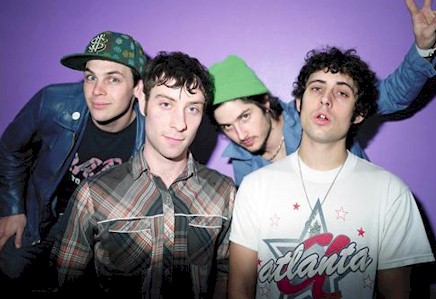 "You know, the world's supposed to end tomorrow." I am too drunk and sweaty to care about this fact, and it's the first point in the entire evening I haven't pondered the notion that the world might end tomorrow. Cole Alexander and Jared Swilley have just brought it up to my fellow drunk and sweaty concertgoers and I. The notoriously ornery bouncers have already punched at least one band member. One of my festival companions has taken refuge under the DJ booth to hide. He's wearing flannel and sweating a lot, because we decided earlier in the evening that we were going with an "urban cowboy" theme.
I saw Black Lips at Sound City, a burgeoning festival in Liverpool that is trying really hard to be a British SXSW and could get there. They were our last band of the evening, the room was hot, everyone dancing and moshing and touching each other. It's all joyous and something about it feels urgent, maybe the rapture. They play the hits — "O Katrina!", "Bad Kids," etc. — and a cover of "Hippie, Hippie, Hoorah" that straight-up smolders.
The world is still here, but the club has since closed down and I have since left England. But I remember thinking after that show, stumbling out of the cab and into to my attic bedroom, that I would have been entirely okay with the world ending tomorrow because I spent my last night at a raucous, loud rock 'n' roll show with some of the best mates I will ever have, and if there is a better way to go out, you'd be hard pressed to find it.
A Love Letter to Leslie Feist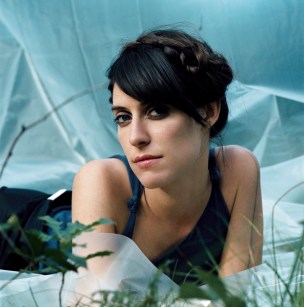 Dear Leslie,
I listen to you a lot on the metro
and I invite you into my home
to serenade me while I eat dinner
alone.
I saw you in December in Montreal
and you wore a purple dress.
It was hot.
I said I wasn't going to buy a t-shirt
'cause your concert was $45
but you really wooed me
when you played that acoustic version of Cicadas and Gulls
so I did.
I was wearing my new boots
and my feet kind of hurt
but it was totally worth it.
I had a lot of fun
I think you did too
Let's date again soon.
You have a very beautiful voice.
Sometimes I can't understand what you're saying
but that's okay.

What about you? Tell us what it was like to be you at a place where one of these bands sang songs. I would like to read about it. You can also get excited about Sasquatch! Even though I won't be there.